Best Eyeshadow Palettes Online in India in 2020 & Their Price
It is a famous saying that eyes are the window of the soul. So why not make them a little more gorgeous? There are nights when you and your BFF's are all set to rock it. Be it a function or a casual date, you do not need any special occasion to doll up. There are times when you do not sleep for days in a row and your pretty eyes could use a little charm. Eyeshadow literally gives a new life to your tired and dull eyes. Your eyes can go from a no-no to a wow look in seconds.
There are countless products available to enhance the look of your eyes. Mascaras, eyeliners, kohl, eye pencils and eyeshadows are the products which we generally use. When it comes to picking up the right eyeshadow palette, it can get really confusing. You can not just pick any one of them. There is a lot to eyeshadows than just pretty colours. Of course, the range of shades is important that goes with every look of yours. But the texture, brand and several other factors matter too. Since the area around your eyes is really sensitive and the skin is the thinnest around your eye orbit, so you have to be careful about what products you apply around your eyes.
Choosing individual eyeshadow is comparatively easy but also expensive at the same time. Investing in a palette would be a better option. You can experiment with the range of colours available to get a stunning look. Some eyeshadows go with your skin tone while the others do not. How do you decide which eyeshadow palette is perfect for you?
Here is a complete buying guide that will help you to decide the budget, range of colours suitable for your skin type, the brand and answers to some common questions related to eyeshadow.
Best Products
Getting your hands on your ideal eyeshadow palette can be a little hard. With well-known companies like L'Oreal Paris, Maybelline and Start Makers, confusion is bound to take place.
La Petite eyeshadow palette by L'Oreal Paris, The Blushed Nudes by Maybelline and Star Makers desert rose eyeshadow palette has to be in our top 3 list. These three eyeshadow palettes score full marks in every category. Pigmentation, texture, shades and pricing of an eyeshadow palette are the most important things to consider before investing in a palette. Other factors like packaging, etc are secondary. Below, we have reviewed our top 3 picks in detail.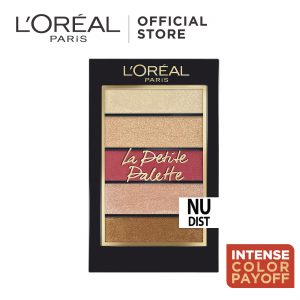 L'Oreal Paris is one of the pioneering brands in India for the stream of cosmetics. This prominent brand has successfully existed and gained the trust of people for years now.
Coming to its Nudist eyeshadow palette, this one is extremely popular among all ladies and makeup experts.
The La Petite Nudist palette contains five shades to suit your every occasion. This palette has shades that are warm and in golden tone. The top two and bottom two shades are in copper and golden tone whereas the middle colour is matte red. The pigmentation of these shades is just mesmerizing and comes with natural appearance. Decently pigmented warm tones can go with every kind of look. From your office looks to evening glamour, these shades will make your eyes look spectacular. You can blend these shades easily in very less span of time. Whether you are using your fingers or a brush, this eyeshadow palette will not give you a hard run.
The texture is really soft and creamy to soothe your eye makeup. All and all L'Oreal Paris La Petite Palette Eyeshadow – Nudist is enough to compliment every special moment of your life. Only with these five shades, you can create your desired look.
Another popular brand is Maybelline which offers a wide range of makeup products. The Blushed Nude eyeshadow palette is trending for a long time. The palette consists of 12 shades which are rose gold infused. There are matte and shimmery shades both, in this palette. You can literally create unlimited looks with this one. You can create a soft peachy look or go for a bold smokey eye. This eyeshadow palette will cover all sort of makeup theme for you.
The pigmentation of these shades is simply incredible. The colour is buildable and you can layer it however you like. The palette's colour is light and will not make you feel as if you are wearing something heavy on your eyelids. Maybelline is already a leading name when it comes about the reliability of cosmetics. You can prefer to grab this product without any second thought in your mind. No matter what the occasion is you will always end up with a decent makeup with the Maybelline New York the Blushed Nude Eyeshadow Palette
The shades are soft and it is great for people who like to wear a natural glam look. The texture is smooth and butter-like. There is a brush provided along with the palette which is a plus point. The packaging is cute and pinkish that suits the theme of the eyeshadow palette. The bend-ability of these shades is amazing. All the shades are in a cool rosy tone so they look light on the skin when a single coat is applied.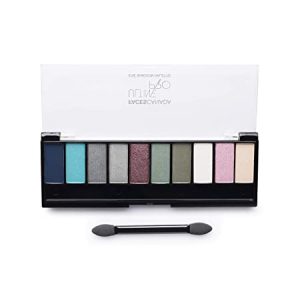 Faces Canada is yet another popular brand that has the best selling products. The Ultimate pro eyeshadow palette mermaid 04 is a beautiful palette that is a must-have in your makeup collection. This palette will go with all of your day and night looks. All the shades are glittery and will give a nice finish. Apart from that this palette tends to be really long lasting. So, you need not to worry about the magic of this eyeshadow. If you are looking out for an amazing eyeshadow palette at a fair price then you can take the decision of including it in your kit.
In case you are going for a formal look then you can apply a light shade from the palette. You can pick the shimmering shades for parties. The glitter in the shades will really make your eyes look bright and pretty. Some nude shades tend to make your eyes look dull but such is not the same thing with this mermaid palette.
As the name suggests, the palette is inspired by a Mermaid theme and all the shades are dreamy.
From beginners to makeup professionals, you have to try this one out. This palette is truly worth the hype.
Research Process
Eyeshadows look gorgeous but you should know the proper way to select and use them. We would like to make you a bit more informed about the significance and selection of the right eyeshadow palette. Here are the key points that you should remember while looking for your perfect palette.
Why should you trust these eyeshadow palettes?
All the brands mentioned are prominent and very well known. To know more about these brands, you can visit their official website anytime. There is nothing more valuable than user experience so always read reviews before buying any eyeshadow.
This will give you an idea of the claims made by the company and whether they are genuine or not.
You can see the ingredients with which the palette is made up of. These eyeshadow palettes are trending and you will find them in every store and even online.
How should you choose an eyeshadow that suits you?
You can choose your eyeshadow palette in the following way-
Colour of your Eyes
Choosing an eyeshadow palette according to your eye colour will give you a more enhanced look. Instead of applying any shade on the random basis it would be better if you blend it with the natural colour of your eyes.
People with dark brown eyes can experiment with any colour as everything will suit them. But, colours like navy blue and brick red will make their eyes look extraordinarily beautiful.
If you have hazel coloured eyes then go for brown tones. Deep purple shades like burgundy and brownish shades like mocha will bring out the best of your hazel eyes.
People who have green eyes can rock pink shades easily. Peach, mauve and lavender are definitely going to be your colours. For blue eyes, choose subtle brown and shades of red like copper, bronze and wine red.
Go with the occasion
The colour scheme you are going to opt should match your mood and the occasion. Going to the office with glamorous eye makeup can be a bit disastrous. Here are some colour schemes suited for different occasions:
For your working hours
Wear neutral tones when you are going to the office as they go with everything. You will not have to worry about matching your eyeshadow with your outfit. Peachy and light brownish shades are a safe option for formals. You can also create a perfect no makeup look with matte eyeshadows. Add a little shimmer if you want to enhance your eyes a bit more. When you are in a hurry, apply a little nude shade and you are good to go.
Night Out
If you are planning to go to a party or a night out with friends then opt a darker shade palette. Dark shades look mesmerising in low lights whereas lighter shades fail to stand out. Smokey eyes are the ultimate look for a night out. Add shimmer to your matte eyeshadows to make your eyes noticeable even in low lighting.
Weddings and other festivities
You have to go bold in weddings. There are heavy and breathtaking dresses that need to be justified. Bright colours with a lot of shimmers, metallic and matte shades are some easy options for a wedding. You have to stand out in pictures as well as in real life so go for jewel-toned eye shadows.
The Lipstick and Eyeshadow Rule
If you are going for a bold eye makeup then neutralize it with a nude shade lipstick. Similarly, if you want to wear bright lipsticks then go for nude eye makeup. This will balance out your makeup. Everything too bright or too dull is a big no. You can avoid such disasters from happening by keeping in mind this simple thing.
Match it with your outfit
You can either match your eyeshadow with your outfit or contrast it. Mixing and matching different shades and topping it with a layer of shimmer can be done. Once you understand the colour scheme and know how it works then you can start experimenting and playing around with your eyeshadow palette.
Ingredients
Different companies have a different formulation for their products. Ingredients change from brand to brand but some basic things remain the same.
Talc or mica are used as base fillers in eyeshadows. Zinc and Magnesium have binding properties which help eyeshadows in staying to the skin. Mica pigments are added then to get the desired look. Glycol is added to the eyeshadow to preserve them. Beeswax, silicone, shea butter, castor oil and jojoba oil are some ingredients used for a creamy base.
Ingredients like boron nitride and silica are added to powdered eyeshadows. This helps in the smooth application of eyeshadows.
Avoid products that contain bismuth oxychloride, coal tar, formaldehyde and aluminium powder as these ingredients may cause harm to your skin. Some people can have rashes, irritation on the skin and other skin issues if any of these ingredients are present in the product.
Brand
L'Oreal Paris, Maybelline, Swiss Beauty, Urban Mac, Faces Canada and Start Makers are some really popular brands for eyeshadow palettes. There are other renowned brands too that offer a wide range of eyeshadows. You can compare all the pros and cons of the brand and then come to a final decision. What really matters is the quality of the product. The mentioned brands have proven to be in the top choice of people time and again.
Budget
Eyeshadows can be as cheap as Rs.150 and as expensive as Rs.3000. If you think that the more expensive the product is, the more promising it will be, then you are highly mistaken. Good eyeshadow palettes are available at a decent price too. You do not necessarily have to splurge a lot on eye shadows. For beginners, a decently priced eyeshadow should work. Professionals and makeup enthusiasts can explore the products on the higher end. Do not go for cheaper products as they may contain cheap and harmful ingredients. Since the area around your eye is sensitive, go for products that can be trusted and have a history of satisfied customers.
Benefits of wearing Eyeshadow
There are a number of benefits which relate directly to wearing Eyeshadow. In case you are not familiar with some of the most interesting benefits of eyeshadow, let us tell you about them. These benefits are as follows-
Makes your makeup complete
Your full face makeup look will look complete with your eye makeup. A bright face with dull eyes surely won't look as attractive. Since eyes capture the attention first, they have to be in shape and look bright. Eye makeup can make your eyes look smaller, larger and basically can transform your eyes. Even if you are going for a no-makeup look, make sure to apply a nude shade to your eyes. Keeping your eyes natural and applying makeup to the rest of your face will make the overall appearance seem odd.
Provides a base to your eye makeup
If there is one eyeshadow that you should own then it has to be the ultimate brown shade. It works as a base, gives a nude look and you can even apply it on your lower lash line as a liner. It is important to give a base to your eye makeup as it will maximize the staying power and will enrich the shades.
Adds on to the grace of your eyes
Everyone is undoubtedly beautiful in their own way. But if you are a makeup enthusiast and love experimenting new looks, then eyeshadows will definitely add to the grace of your eyes. You can go for a little eyeshadow or a full dramatic look, whichever best suits your mood. Since your eyes can win hearts, why not do it with a little more glamour!
Compliments your look
A beautiful dress needs makeup that makes it even more fulfilling. For functions where there are lights and cameras all around, you surely don't want to look dull. Eye makeup will bring out the shine of your eyes. You can wear the shades according to your outfit to create the perfect appearance overall.
Bring out the best of your eyeshadow
Use an eye primer or eyeshadow base before applying eye shadow. Primers and base smoothen your eyelids and your makeup will literally stay for hours without any touch-up. There will be no lines on your eyelids. Whichever shade you are applying after primer or a base, it will look more pigmented. You can also use a concealer if you do not have a primer or an eyeshadow base. This step makes a whole lot of difference.
There are several ways to apply eyeshadow. Choose a way in which you are comfortable and bring it in your routine. You have to figure out your eye shape and then see what suits your eyelids the best.
Highlight the inner corner of your eyes and brow bones for brightening your eyes. The crease, eyelid, outer corner of the eye and the lower lash line should all be blended well with the eyeshadow that you are applying.
Our Recommendations
Below are the top 6 eyeshadow palettes in India.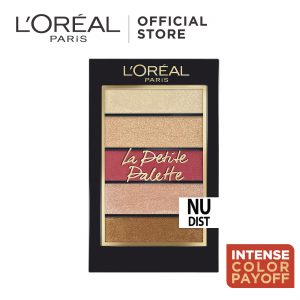 L'Oreal Paris La Petite Eyeshadow Palette, Nudist is a five shade eyeshadow palette. The tones are golden and copper. All of the shades have a little colour in them and some shimmer. The top two shades are warm tones. The bottom two are shades of golden. The middle one is a silky red shade which brings out a pop of colour in the palette.
These eyeshadows are perfectly pigmented. They have a smooth texture which makes it extremely easy to blend. The nudist palette has a range of colours that you can wear on a daily basis. They are also light in weight.
The eyeshadow comes in a nice little packaging. The lid is transparent which enables you to see the shades directly through the box. The palette is small in size and it can be fitted easily. You can carry it anywhere in your bag or your makeup pouch. The pricing is reasonable and people can afford it. According to the quality and quantity of the product, the pricing is just right.
Pros
•Comes in a handy packaging.
•Smooth texture.
•Affordable.
Cons
•No mirror is attached to the lid.
Check the cheapest price on Amazon

All the shades in this palette are cool tones. The first six shades in the palette are rosy pink. They have shimmery pinkish, peachy shades with brown undertones. The sparkles are extremely fine and shiny. The last six shades are greens and deep purple based browns. All the shades are soft and will not feel heavy on your eyelids.
The texture is really buttery. You can blend the shades easily. Pigmentation is great of all the shades and they are build-able. You can create the colour in layers and it will not look cakey.
The eyeshadows will stay on your eyes for a good 6-7 hours. A little bit of touch up may be required after 7 hours if you have oily eyelids.
The eyeshadow palette is very affordable. You can create unlimited looks with these 12 shades. From a smokey eye to casual eye makeup, this single eyeshadow palette has made it all possible. The packaging is really cute. It comes in a pink palette which gives a chic look.
Pros
•Affordable and attractive packaging.
•Applicator provided.
•Comes in 12 shades.
Cons
•No mirror is provided with the palette.
Check the cheapest price on Amazon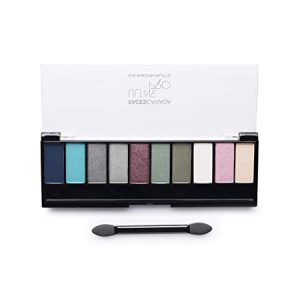 There are 10 shades in this Mermaid palette. The colours are shades of blue, grey and pink. All the shades belong to the golden family. The formulation is pressed powder and it gives a glittery finish.
This palette is great when you want a party look. The grey and pinkish tones can be used to create looks for a daily basis.
The packaging is decent and the lid is transparent. It comes with an applicator. The pigmentation is rich and the shades can be blended easily. The formula is long-lasting and will stay for 4-5 hours without any touch-up. You do not need to worry about the formation of the crease on your eyelids. This Mermaid eye shadow palette by Faces Canada is economical.
Pros
•Comes with an applicator.
•Different ranges of shades.
•Affordable.
Cons
•Some shades fall out easily.
•No mirror inbuilt in the palette.
Check the cheapest price on Amazon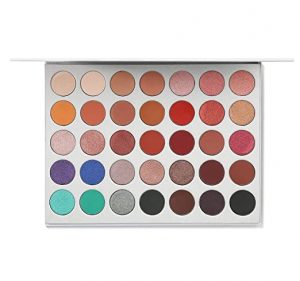 This Urbanmac eyeshadow palette is excellent for beginners. It has 35 shades which means you can create a number of looks. The first 14 shades are from the nude golden family and one shade is bright red. The next 14 shades are shimmery and come from deep brown and red families along with 2 navy blue shades. The last 7 shades contain dark greens and aqua shades. This is a very complete palette and you can create looks for every occasion. For people who like to experiment, this palette has all shades for you to play around with it. You can layer it up or wear a single shade alone, either ways you will get an incredible look.
The texture is quite smooth and the sparkles are really fine. The company claims that this eyeshadow palette is made from the highest quality ingredients. This palette is suitable for all skin types as it has a variety of shades. The lasting power of these shades is impressive. They stay for a good 4-5 hours and then require a touch up if your skin is oily. This palette is extremely affordable and is a good choice for beginners who don't want to invest a lot in eyeshadows. The packaging is very impressive. It comes in a rich white palette. There is no applicator inside and you have to use your own brush.
Pros
•Contains 35 shades.
•Affordable.
Cons
•Does not contain a mirror inside the palette and you have to carry your own mirror.
Check the cheapest price on Amazon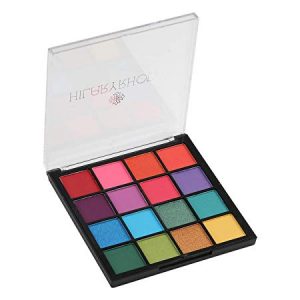 The Hilary Rhoda mini eyeshadow palette by Swiss Beauty is a multi colour palette. It has 16 shades that range widely. From reds to pinks to blues to greens, this palette has everything. All the shades are mesmerizing and give a glittery finish. The company claims that this eyeshadow palette is environmentally friendly. The texture is smooth and nice. The shades can be blended easily and are build-able.
The design of this palette is quite functional as it is compact in size. You can carry it in your bag or even in your smallest of clutches. Because who knows when you will require a quick touch-up? The lid is transparent and it does not contain a mirror inside it.
The palette is affordable for the shades that it offers. This eyeshadow palette can be used on a daily basis as well as in functions. You can mix and match the shades to create a gorgeous look.
Pros
•Affordable.
•Provides 16 multi colour shades.
Cons
•A bit of fallout when applied.
Check the cheapest price on Amazon
6. START MAKERS Eyeshadow Palette Desert Rose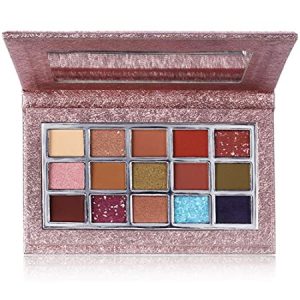 This Desert Rose eyeshadow palette consists of 15 shades. The second, fifth and twelfth shades are glitter powders. You can apply these shades on a nude or coloured base. First, third, seventh, ninth, tenth and eleventh shades are matte. These shades can be applied individually or in layers. The remaining shades are shimmery that also give a pop of colour. The shades are really pigmented and give the perfect look to your eyes.
The packaging is lovely as it comes in a glittery rose gold palette. It has a mirror inbuilt which is a huge advantage. You can do your makeup even in a cab if you are in a hurry. The palette is travel friendly and packaging is classy and gives a sleek look.
The pricing is reasonable for the things the brand offers. The shades are quite long-lasting. It is easy to blend the shades and the texture is buttery.
Pros
•Has an inbuilt mirror.
•Affordable.
•Decent pigmentation.
Cons
•Has a fallout in glitter shades.
FAQ's
Some of the most essential questions in regards of the eyeshadow pallets are as below-
How to apply eyeshadow?
Applying the eyeshadow may seem a bit intimidating. But once you get it, then there will be no stopping you. The two things that are very important for eyeshadow application are: Understanding the colour scheme and Blending. Here are the steps that you need to follow to apply eyeshadow for a basic look:
Step 1: Primer
Apply eyeshadow primer to your lids. If you don't own one then you can use a concealer. You can also top your concealer with some translucent powder. This will enhance the shades you apply to your eyelids.
Step 2: Create a Base
Apply a nude shade to your eyelids that match your skin tone. Use a fluffy brush and blend it nicely. This will help in intensifying the colours that you use.
Step 3: Start with a lighter shade
Choose your colour that is a bit darker than the shade of your base. Apply this shade to your lid, covering the lash line as well as your crease. Use this shade to your lower eye line as well.
Step 4: Darkest shade
Pick up your darkest shade and start contouring your eyelid. Start from the outside corner of your eye. The eyeshadow should be the darkest along your lash line. Use a half-moon motion from the outer corner of your eye to the center of your crease.
Step 5: Blend
Blend all the colours nicely so that no line is visible. All the colours should blend evenly so that no individual colour looks partitioned. Blending is the most important part.
If you are in a hurry, you can simply use your ring finger to apply a nude eyeshadow to your eyelids. Blend it using your finger and you are good to go.
What are the main types of Eyeshadow?
There are basically 6 types of eyeshadows. Each one has a different formulation and also there are several ways to apply them. The texture, finish and effects are unique for each eyeshadow type.
1. Powder Eyeshadow
This eyeshadow type is the most common. Powder eyeshadows come in different pans which are then placed in a palette. From matte to glitter, all types of shades are available in these palettes. Beginners usually go for powder eyeshadows as these are the easiest to blend.
2. Cream Eyeshadow
Cream eyeshadows come in pans, sticks and tubes. These are easily blendable and come in a wide range of colours. However, cream eyeshadows can melt down easily in summers.
3. Liquid Eyeshadow
These eyeshadows are trending as they are highly pigmented and provide a sleek look. They come in tubes like lip gloss. You can use these liquid eyeshadows as a liner too. They are long-lasting and look great if applied properly.
4.Loose Powder Eyeshadow
These eyeshadows are for makeup professionals. They come in small bottles and are highly pigmented. The particles are really fine. They come in metallic as well as matte form. For people who love going to parties, this eyeshadow will give you breathtakingly dramatic eyes.
5. Stick Eyeshadow
Stick eyeshadows are less time consuming and all in one package. They have primer and pigmentation both. These eyeshadows will stay up to 24 hours. What else can you expect from an eyeshadow? The shades available are wide in range and give an intense colour. The blend-ability of these stick eyeshadows is commendable. These are perfect for parties and even for your go-to look.
6. Baked Eyeshadow
These eyeshadows blend easily and give a nice appearance to your eyes. You can wet your brush a little and then apply the eyeshadow for an intense look. This eyeshadow is made by baking it into an oven, as the name suggests itself.
Myths related to Eyeshadow
Myths related with eyeshadow are killing the real vibe of these perfect products. You really need to give them a blow. Main Myths in association with eyeshadow has been specified as below:
Myth: Moisturize your eyelids
This is a big mistake that most of the people make.
You may think that moisturizing your eyelids will prepare your skin for makeup. But it is not so. Eyelids are the oiliest part of the face. Moisturizing this area will lead to a short life of eye makeup.
You can use cleanse your eyelids and then apply an eye primer.
Myth: Do your eye make up first
Many people do their eye makeup first and then they start with the rest of the face. This is not a compulsion. It just gives you a benefit as you can clean the fallout from the eyeshadow and then apply foundation. But it actually depends on you. If you wish to do your foundation first and eyeshadow the next, then you can totally go for this routine.
Myth: You cannot wear eyeshadow that matches your eye colour
You don't have to necessarily follow this trend. Colours that contrast with your eye colour will definitely enhance your eyes. But you can wear a shade similar to your eye colour. It will still look good as long as you apply and blend it properly.
Myth: Glittery eye makeup does not suit after a certain age
You do makeup to enhance your features and it also gives a sense of confidence to people. You can apply any shade, be it matte or shimmer, irrespective of your age. You just need to carry the things well that you wear. If you are 45 and you have an urge to go all shimmery with your eyeshadow then go for it!
Best Eyeshadow Palette in India under Rs.500
We understand the interest of beginners in eye shadows and how you don't want to invest a lot in them just yet. Miss Claire Ultra Glow Eyeshadow Palette, Lakme 9 to 5 Eye Colour Quartet eye shadow palette and Europe Girl Eyeshadow palette are some good options. These eyeshadow palettes are under Rs. 500. All of these are prominent brands and will give you budget-friendly glamour.
Best Eyeshadow Palette in India for Beginners
Our top 6 products mentioned above are a good call for beginners. If you are just starting out with makeup, then go for products that are decently priced. For eyeshadows, powdered shades are the best for beginners because of their easy application. More than that you need not invest much of your time in doing the makeup stuff with these kind of products.
Makeup Revolution Eyeshadow palette, NYX Professional Makeup Ultimate Eyeshadow Palette and Nyka Just Wink It are some other eyeshadow palettes that are popular and trendy. Precisely, these two products are considered to be most suitable for beginners in India.
Best Glitter Eyeshadow in India
There is no such thing as too much glitter. Who loves dull eyes anyway? Swiss Beauty Hilary Rhoda Mini Eyeshadow Palette 02 is hands down the best glitter eyeshadow. It is super affordable. Swiss Beauty eyeshadow palette, Wet n Wild and Maybelline New York The Blushed Nudes palette are some best sellers when it comes to glitter eye shadows.
Conclusion
Eyeshadows give depth to your eyes and accentuate them. There are shades that will suit every mood and every outfit of yours. With eyeshadows, you will never look dull even for a second. Invest in the right palette keeping in mind all the factors. Keep experimenting with different shades as normal is too boring. Eye makeup will give you new confidence. These products will just enhance your already stunning eyes. Own a nice set of eyeshadows and then be ready to own all the meetings and parties.