10 Best Oils For Low Porosity Hair
Low porosity hair needs special care and finding the right products for your hair can be an intimidating task. But before we get on to the oils, let us understand what low porosity hair is and how it influences the choice of oils.
What is Low Porosity Hair?
This might sound like a strange question but it actually is a relevant one. When your hair's cuticle layer is closed for the protection of your hair, it has low porosity. As a result of this, water cannot penetrate the hair shaft and thus your hair is unable to absorb moisture. This results in a build-up of hair products and your hair start looking dull, greasy and dry.
Test To Determine Hair Porosity
There is a very simple test to determine your hair porosity. It is known as the "float test" and you can do it at home. Follow the steps below to determine your hair porosity –
Take your hair strand and ensure that your hair is clean at this time. It shouldn't be dirty.
Have a glass of room temperature water nearby and place these strands in it.
Wait for 5 minutes for the results
Normal Porosity – Hair neither floats nor does it sink
High Porosity – Hair sinks at the bottom
Low Porosity – Hair floats
Your hair's oil needs will depend on its porosity. Here we have 10 best oils for low porosity hair.
10 Best Oils For Low Porosity Hair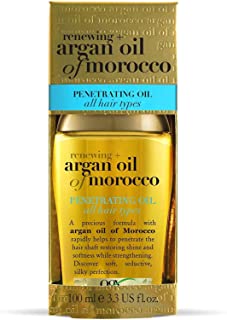 Argan oil is the same as Moroccan oil. This is one of the best hair oils in the world and is perfect for low porosity hair. The reason lies in its ability to moisturise hair by creating a layer around the strands, thus locking in the moisture. In other words, your Argan Oil is a hair mask, heat protectant, deep conditioner and also an excellent hair styling product.
The mineral composition of this oil treats the scalp and strengthens your hair. It is rich in ferulic acid, vitamin E and unsaturated fatty acids that are essential for healthy and strong hair.
Best Argan Oil – Organix OGX Penetrating Renewing Argan Oil of Morocco for All Hair Types
Check the cheapest price on Amazon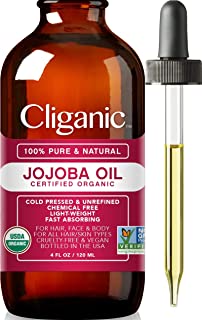 This lightweight oil is extracted from the seeds of the Jojoba plant, commonly found in North America. It is another very popular oil because of its natural oil characteristics and moisturising effects. Jojoba oil is composed of esters produced from straight-chain alcohols and fatty acids. It forms a protective layer around the hair strands and the hair remains protected till your next wash.
This oil also has antibacterial and antioxidant properties that do not leave behind any residue.
Best Jojoba Oil – Cliganic USDA Organic Jojoba Oil for Hair & Face
Check the cheapest price on Amazon
Sweet Almond Oil is an extract of the almond tree and contains Vitamins A, E, potassium, zinc and proteins. It is also rich in stearic acid, linoleic acid, palmitic acid and oleic acid.
Stearic acid deep conditions the hair and linoleic acid helps retain moisture. Sweet almond oil helps soften the hair and make it shiny.
Best Sweet Almond Oil – Dabur Almond Hair Oil
Check the cheapest price on Amazon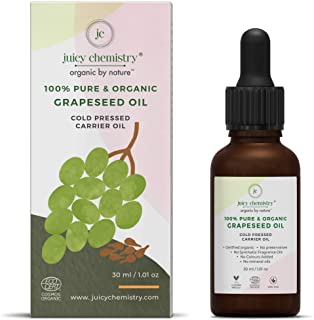 If you want light oil, then grapeseed oil is the best choice. It is extracted from grape seeds using the cold extraction method and is excellent for thin hair also.
This oil is suitable for people with an oily scalp and thin hair as it can seal moisture in the strands effectively. Also, this oil can be used as a heat protectant and is suitable for people with sensitivities, especially those who have a heightened sense of smell. Another benefit of grapeseed oil is its ability to strengthen hair.
It contains linoleic acid, Vitamin E, oleic acid, stearic fatty acid and palmitic acid.
Best Grapeseed Oil – Juicy Chemistry Organic Grapeseed Oil
Check the cheapest price on Amazon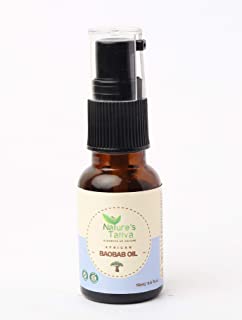 Most people wouldn't have heard of baobab oil and it is not very popular. The only people to know about this oil are those who have low porosity hair. This oil is extracted from the Baobab tree found in Africa.
Baobab oil is one of that oil that contains Omega 3, 6 and 9 fatty acids. In addition, it is also rich in Vitamins A, C, D, E and F which are essential for dry and brittle hair. It also contains moisture-retaining linoleic acid, which increases moisture penetration, strengthens hair and makes it extra shiny.
Best Baobab Oil – Nature's Tattva Cold Pressed Baobab Oil
Check the cheapest price on Amazon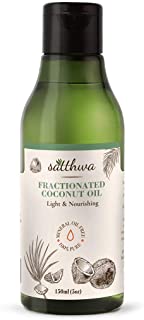 Coconut oil is not suitable for low porosity hair but fractionated coconut oil, which is without the fatty acids, is extremely good. It helps tame frizz and penetrates low porosity hair strands easily because of the process of hydrolysis that it undergoes.
Best Fractionated Coconut Oil – Satthwa Fractionated Coconut Oil
Check the cheapest price on Amazon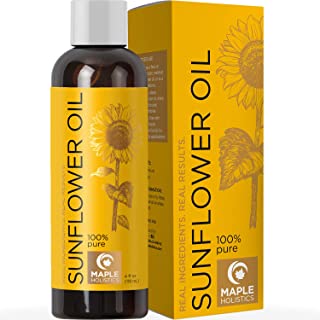 This oil, as the name indicates, is extracted from the seeds of the sunflower plant. It is one of the most popular oils for low porosity hair as it is easily absorbable, light and functions as a conditioner and moisturiser.
This natural oil strengthens hair, promotes growth and imparts lustre to dull and lifeless hair. It contains Vitamins A and E, which fight bacteria and treat dry and itchy scalp.
Sunflower seed oil is also one of the best oils for split ends and prevents hair thinning.
Best Sunflower Seed Oil – Maple Holistics Sunflower Seed Oil for Skin and Hair
Check the cheapest price on Amazon

Pomegranate oil is extracted from pomegranate and it nourishes low porosity hair but stimulating blood flow. It contains vitamin C, punicic acid and linoleic acid that promote hair growth.
If you have been losing hair, then this oil is magical. It stops hair loss and eliminates dandruff.
In addition to all these benefits, this oil is lightweight, making it ideal for low porosity hair.
Best Pomegranate Oil – Nature's Tattva Pure Pomegranate Carrier Oil
Check the cheapest price on Amazon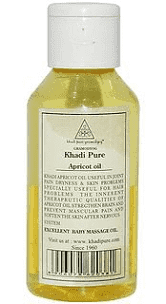 Apricot oil is easily absorbable and retains moisture for a long time. This oil is extracted from the kernels of Asian apricot and contains palmitic acid, stearic acid, alpha-linoleic acid and linoleic acid, which improve the levels of moisture absorption of hair and restores good hair health.
It is also gentle and very light.
Best Apricot Oil – Khadi Pure Herbal Apricot Oil
Check the cheapest price on Amazon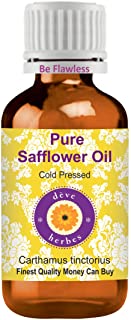 Derived from the saffron flower, this plant was originally used for dyeing. Today, it is popularly used for stimulating hair growth. It treats hair loss, reduces hair fall and nourishes hair by stimulating blood flow to the scalp.
It contains linoleic acid, which is a good moisture retention acid and gives a shine to hair.
Best Safflower Oil – Deve Herbes Pure Safflower Carthamus Tinctorius Coldpressed Oil
Check the cheapest price on Amazon
What Is The Best Way To Moisturise Low Porosity Hair?
Low porosity hair needs a lot of moisture and moisturise it without using chemicals is really hard. However, the following tips should help you –
Clarify Hair – Use a clarifying shampoo to eliminate and cleanse hair of all buildup.
Deep Condition – Deep conditioning is excellent and recommended for low porosity hair, especially when it is combined with heating. Use a thermal heat cap or a hair steamer as they will open up the cuticles and help in the absorption of oil.
Use Light Oils – Try out the oils recommended above and use them before you shampoo your hair.
Use a Satin Pillowcase – This is a recommended tip to maintain hair health whatever your hair's porosity is. However, using a satin cap or satin pillowcase is essential if you have low porosity hair.
Avoid Styling Products – These products cause buildup and add weight. Therefore, they are not too good for low porosity hair.
Avoid Heavy Oils – Heavy oil prevents absorption of moisture and thus, using light oils will help you.
Conclusion
Understanding your hair porosity is essential for taking good care of your hair. Your hair should be able to absorb nutrients and moisture. Using light oils will help increase moisture as they can penetrate the cuticles easily.