How To Make Rose Water At Home For Eyes and Hair
How To Make Rose Water At Home? Learn here!
Every South Asian family needs rosewater regularly. This everlastingly lovely and fragrant flower offers several health advantages. This is the key to understanding the beauty of previous generations. Even now, our forefathers and mothers utilize rose water for most of their skin and health issues. Its soft texture makes it perfect for multifunctional use regularly.
Rosewater may be used for a variety of purposes, from preparing lattes to healing sore throats, but it's especially popular in skincare.
It's critical to ensure that the organic roses are free of pesticides and chemicals. (If you're in a hurry, dried rose petals will suffice.) If you're looking for a certain rose, consider English, cabbage, or French roses.
The colour of the roses you pick might also be influenced by the scent. Other roses (yellow, white, and orange) frequently give off scents of violet, lemon, or clove, while pink and red roses have a stronger smell and more petals.
What are the benefits of using rose water?
Let us have a look at the benefits of using rose water in 2021:
Aids in the Relief of Skin Irritation
Rosewater contains anti-inflammatory qualities that can aid in the reduction of redness, irritation, acne, and Eczema.
Maintains pH Balance And Controls Excess Oil
When opposed to typical soaps and cleansers, rosewater has a pH level of 5.5, which can help restore your skin's natural pH. Maintaining the pH level of your skin will aid in the control of excess oil and the reduction of bacterial infections.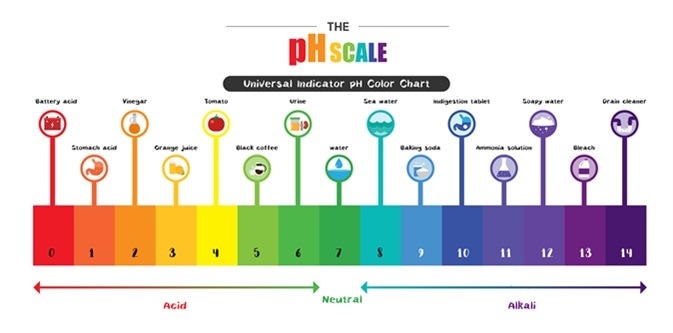 Rosewater is a holy grail for anybody suffering from dry skin. It hydrates, refreshes, and moisturizes your skin without creating any irritation or response.
This is the ideal option for anyone prone to injuries. Rosewater's antibacterial qualities can aid in the healing of scars, cuts, wounds, and discolouration.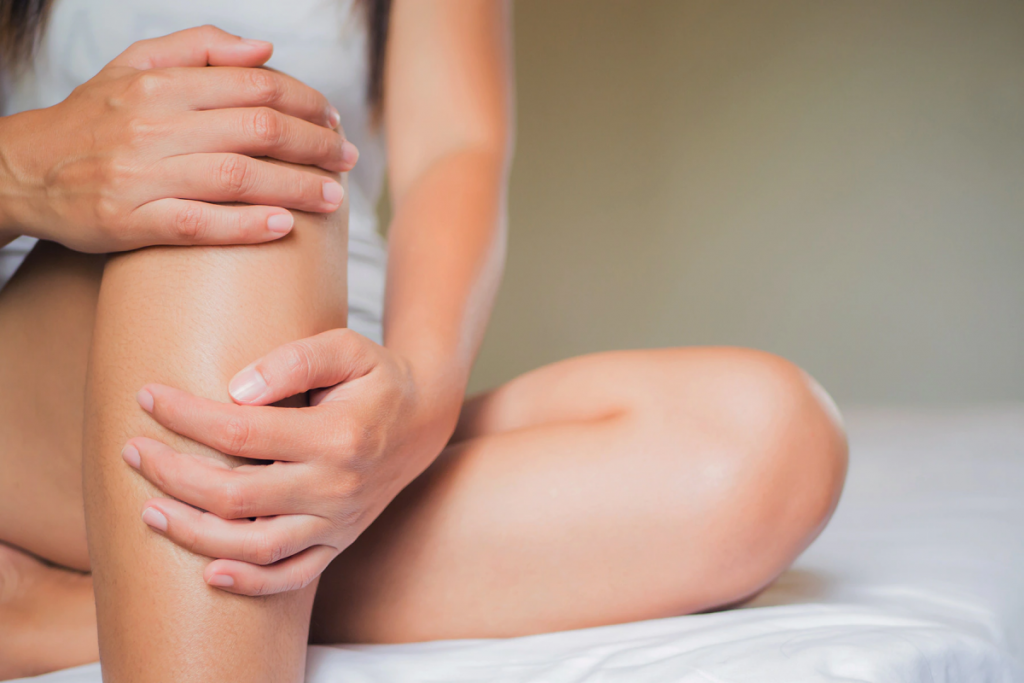 Rosewater is high in antioxidants, which can aid to strengthen skin cells and repair tissues, decreasing fine lines and wrinkles.
It aids in the pore cleansing process.
Ideal for those with sensitive skin. Rosewater contains an astringent, which helps to thoroughly clean and tone your pores.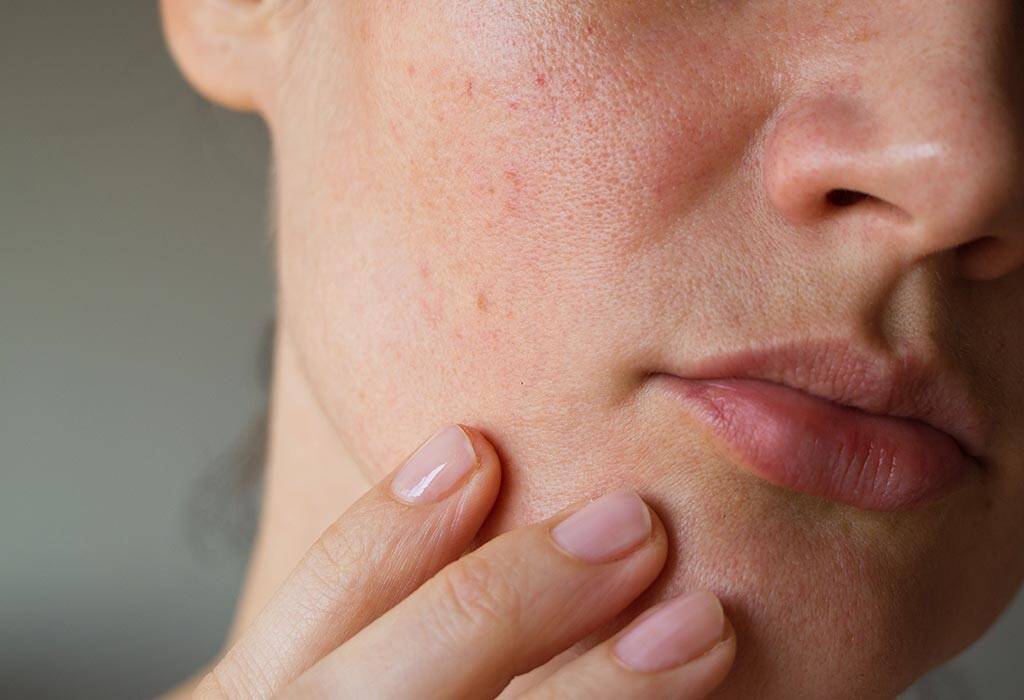 Reduces Dandruff And Treats Mild Scalp Infections
The nourishing and moisturizing qualities of rose water are ideal for hair maintenance. It can help relieve minor scalp infections and get rid of dandruff if you include it in your hair care routine. It's also a fantastic conditioner that promotes hair development.
Reduces puffiness under the eyes
Have your eyes swollen out from late-night binge-watching? For you, we have a solution. Rosewater can help to decrease puffiness and provide the right amount of moisture and cooling for your under-eye area. Simply spray a cotton pad with rose water and gently lay the pads over your eyes. After 5 minutes, you'll notice a brighter, more energizing glow.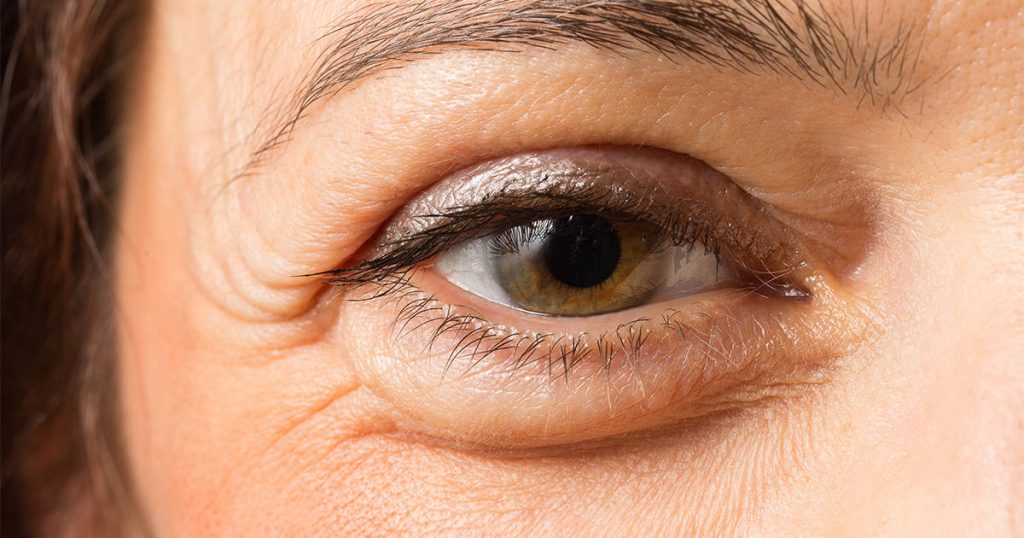 Rosewater is thought to be effective in reducing persistent dark circles. In a dish, combine 2 teaspoons cold milk and 2 tablespoons cold rose water. Place a cotton ball in it and let it there for 20-25 minutes. Apply the mixture to your eyes and let it there for a while. For best results, rinse with cold water and repeat the technique every day.
Stress and discomfort in the eyes are fairly frequent after working for long periods in front of computers. It is usually a good idea to keep rose water on hand to get rid of the problem. All you have to do now is wash your eyes with the same solution. Add a few drops of cold rose water to some regular water. Close your eyes and rinse them with the same solution.
Irritation and burning sensations in the eyes can be extremely irritating. If you suffer from the same problem, rose water can undoubtedly assist you. Close your eyes for 10 minutes with a few drops of rose water. Your eyes will be greatly soothed if you do so.
How to make rose water at home?
Infusing and distilling are the two most common ways to create rose water. While both are simple to accomplish at home, the techniques and results are slightly different.
Submerge rose petals in water and simmer covered with a dish in the centre to catch any condensation droplets (also called the steam method). The rose "hydrosol" produced by steam distillation is transparent and shelf-stable.
Submerge rose petals in water and heat until the colour and aroma penetrate the water (also called the heat or the simmer method). The rose tea produced by infusing hot water is perishable and must be consumed promptly. However, this process is quick and straightforward, and it also has the bonus of absorbing the lovely color of the rose petals.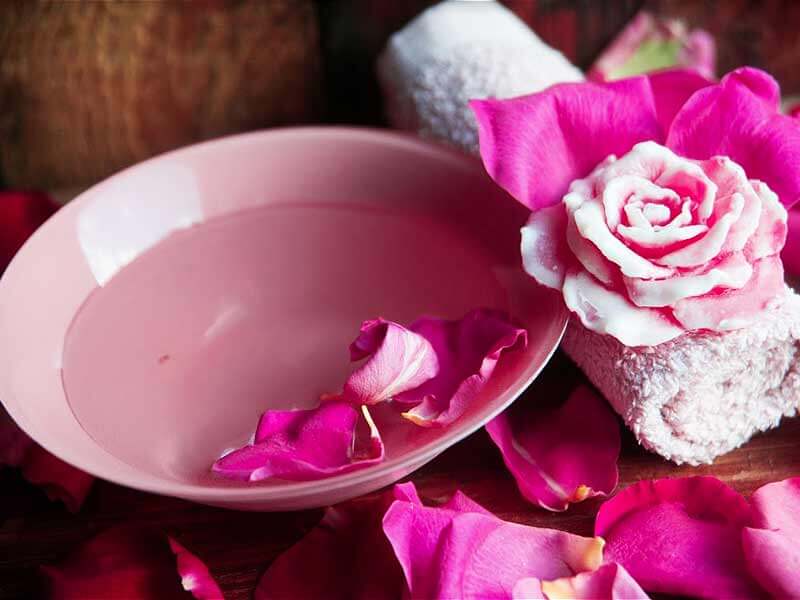 Things you need
Rose petals from fragrant, fresh roses It's critical to utilize preservative-free blooms when making rose water for culinary or aesthetic purposes. As though they came straight from your or a friend's garden. Roses from the grocery store or ordinary roses can be used to make a linen spray. If you're choosing your roses, do it first thing in the morning when they're at their most fragrant. Fresh flowers can be substituted with dried petals and rose powder, although this is not ideal because the greatest effects come from the freshest flowers.
Distilled water protects against pesticides and germs and is essential for culinary and cosmetic applications, but not so much for fragrance and linen sprays. Can't locate or don't want to buy distilled water? Boil filtered water and let it cool to room temperature to distil water at home.
Procedure
Collect the rose petals in a container after removing them from the flowers. The petals should then be washed in lukewarm water to eliminate any pesticide or residue.

Clean the petals and place them in a large cooking saucepan with just enough distilled water to cover them. If you use too much water, the rose water will get diluted.

Boil the water to a low-medium simmer and cover it with a lid over low-medium heat.

Allow the mixture to boil for 25-30 minutes, or until the petals have faded to a faint pink colour.

Strain the mixture and remove the petals from the water once the rose water is ready.

Pour the rosewater into a Glass Jar and keep it in a cold, dry location after it has chilled.

If you wish to use rose water as a toner, combine the ingredients in a spray bottle for a more convenient application.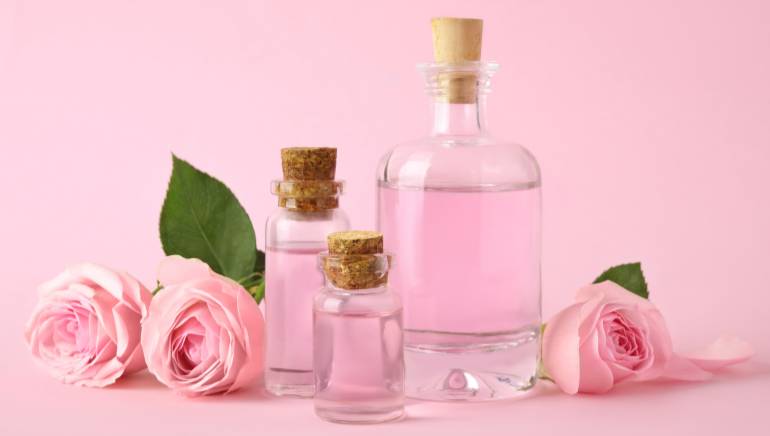 What are the different ways of using rose water?
You may get that extra moisture by mixing rose water into your face mask. Combine two teaspoons of rose water with the remaining ingredients in your favorite face mask. As usual, apply the face mask on your face.
Rosewater is excellent for the scalp and can help you get beautiful locks. Simply mist rosewater over freshly washed hair and finish with your favorite conditioner. This will assist to relieve any inflammation on your scalp and will give your hair a natural shine.
Rosewater is the finest source of hydration and antioxidants for a healthy glow for any skincare enthusiast. This spritz can quickly freshen your skin at any time of day and is suitable for all skin types. After cleansing, use it and quickly follow with your favorite moisturizer to seal in the moisture.
The natural scent is the way to go! Rosewater is a wonderful alternative to natural perfumes because of its beautiful aroma. This won't stain or discolor your favorite clothes, and it'll offer you the finest start to your day.
Aside from the wonderful skin advantages, the smell of rose can help you relax and unwind after a long day at work. You may use rose water to spritz on your pillow to help you achieve a good night's sleep. This will make it easier for you to relax and will not irritate your skin like most other pillow mists.
Rosewater has been utilizing favorite for thousands of years, beginning in the Middle East, when roses and water were combined for beauty, food, and beverages. Water has been proved time and time again to boost metabolism and remove toxins from the body, while roses have long been respected for their anti-inflammatory, antibacterial, and antioxidant qualities.
Conclusion 
These are home remedies, so don't expect them to work right away. These treatments can help maintain the health of the eye region, which is particularly fragile.
As long as it doesn't include any hazardous ingredients, rosewater is harmless for your skin and eyes. If you don't want to buy rose water, you can make it yourself. However, do not use rose water to treat any ocular problem or to put it in your eyes (as eye drops) unless you have been advised to do so by a medical practitioner or doctor.
Also Read: