Organic Beetroot Powder Uses For Hair
People usually look for different veggies and superfoods for their skin and hair care. Nutritional benefits and eating habits of certain food items can easily contribute to the beauty and medicinal properties. One such real remedy for your hair problems is already sitting in your kitchen in the form of a modest vegetable called BEETROOT. 
This vegetable is a storehouse of proteins, vitamins, minerals, fibres, and other nutrients. It not only helps the body to purify blood but also nourish hair follicles and replenish dead cells. You can easily use this vegetable in different forms such as juice, salad, beetroot powder for hair and skin treatment. If we talk about its hair-related benefits, it will help you to stimulate hair growth, prepare hair dye, get relief from dandruff, scalp, itchiness and make your hair healthy. 
As beetroot is a vegetable rich in iron, potassium, antioxidants, vitamin B, c, phosphorus, etc., it helps you to stimulate your hair follicles and thus boosts hair growth. Moreover, it prevents hair fall by tightening the pores in your scalp and acts as a natural dye as well. 
Besides this, there are some more uses of organic beetroot powder that can help you to make your hair healthy. Let's check them out in detail.
Benefits of Beetroot Powder for Hair
1. Enhance Blood Circulation
You might have always considered beetroot for eating and drinking purpose, but have you ever considered it for your hair growth? If not, then you need to know beetroot powder can help your body to promote better blood circulation and helps your hair to grow. In addition to this, it nourishes the hair follicles from inside and tightens your scalp.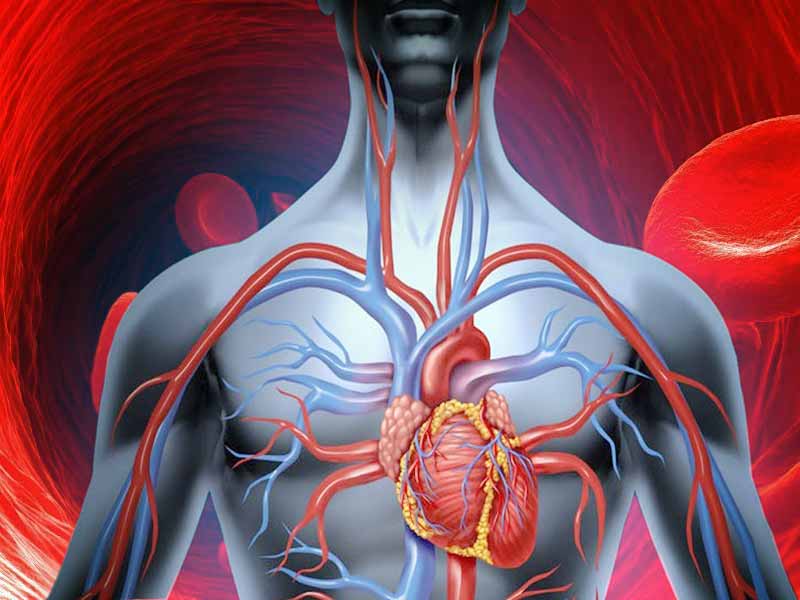 2. Reduce Itchiness and Scalp
If you are experiencing itchiness in your hair scalps, it shows that you have weak hair. For this, you can try beetroot powder and can get rid of dead cells. Being a natural antipruritic, it fights with dry scalp and eliminates the problem of itching as well.
3. Prevents Hair Loss and Baldness
Good eating habits improve your body health and reflect on the outside. Lack of nutrients like potassium, iron, etc. causes hair fall and contributes to baldness. To prevent hair loss, you must focus on improving eating habits and must consider veggies rich in potassium. Beetroot, being rich in potassium thus plays a vital role in hair growth. You can use it in the form of powder and can apply it to your hair to prevent baldness. It also contains a rich amount of iron and electrolytes which further repair damaged hair and reduce hair fall.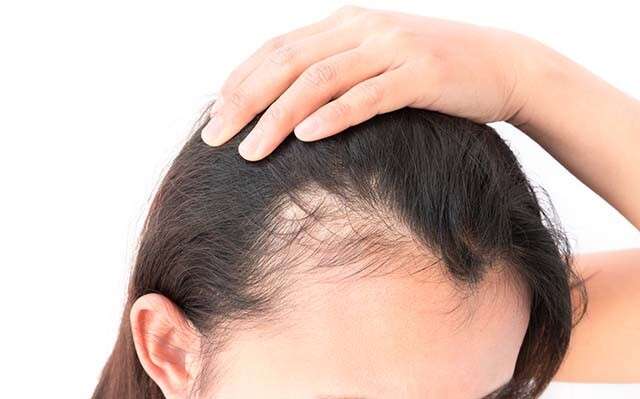 4. Improves Hair Health
Stress is the main cause of hair fall. If you are stressed, you can experience a greater hair fall as compared to your relaxing days. But considering beetroot in your daily diet can help you reduce stress levels and increase hair health. Furthermore, lack of iron causes anaemia which in turn causes hair loss. As beetroot is known for increasing iron levels in your blood, you can apply beetroot powder to take care of your hair.
5. Prevention of Dandruff
If you want to get rid of dandruff from your hair, you need to focus on removing the dead skin cells from the scalp first and removing excess oil to promote hair growth next. If your scalps are not able to produce enough oil, it leads to dandruff and prevents hair growth. Thus, applying beetroot powder helps in preventing the growth of dandruff and gives shine to your hair.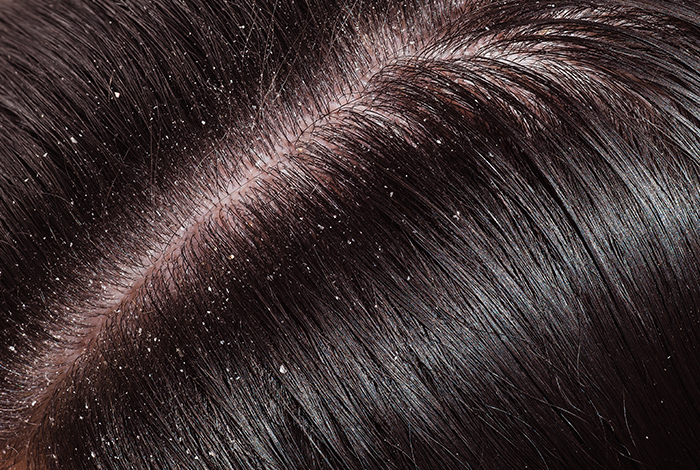 Ways to apply beetroot powder on the hair
Now the question arises, how to apply beetroot powder on hair to get better results. Well, here are some of the tips that you can try at your home. Have a look:
1. As a paste
Make a paste of beetroot powder and apply it to your hair scalp deeply. Leave it for 15 to 30 minutes and wash your hair thoroughly. It will help you to reduce the chances of inflammation and scalp infections.
2. As a hair mask
Beetroot powder can be used with ground coffee to form a paste. Mix both the ingredients well in a bowl and rub the paste on your hair. Shampoo your hair once you are done with the rubbing process. It will make your hair smooth, shiny and will improve your overall hair health.                      
3. As a hair colour
As beetroot powder can be used in the form of hair dye, you can mix the powder with a half cup of black tea and rose water to make the dye. Apply the paste to your hair and leave it for about an hour. Once it dries, wash your hair with water. Black tea, being rich in antioxidants, will leave your hair with a healthy lustre. 
Benefits of beetroot powder for your hair
If you want to consider beetroot as your hair growth remedy, there are many ways to promote your hair health as well. It includes:
Massaging your scalps with beetroot powder paste increases the blood circulation to the scalp and thus strengthening the roots of the hair. It prevents hair fall and hair breakage.

Rinsing your hair with cool water and not warm or hot water after applying beetroot paste helps in strengthening hair follicles. At the same time, hot water dries out the hair and affects overall health of the hair.

As beetroot contains a good amount of castor oil, its anti-fungal and anti-bacterial properties help out in fighting against scalp infections. As scalp infections affect hair growth, beetroot provides the required nutrients to the hair and promotes healthy hair growth.
Thus, applying beetroot powder to the roots of the hair prevents scalp baldness,  reduces hair fall and itching of the scalp, preventing the growth of dandruff, and provides enough nourishment to the hair. It also adds shine to the hair and keeps them healthy.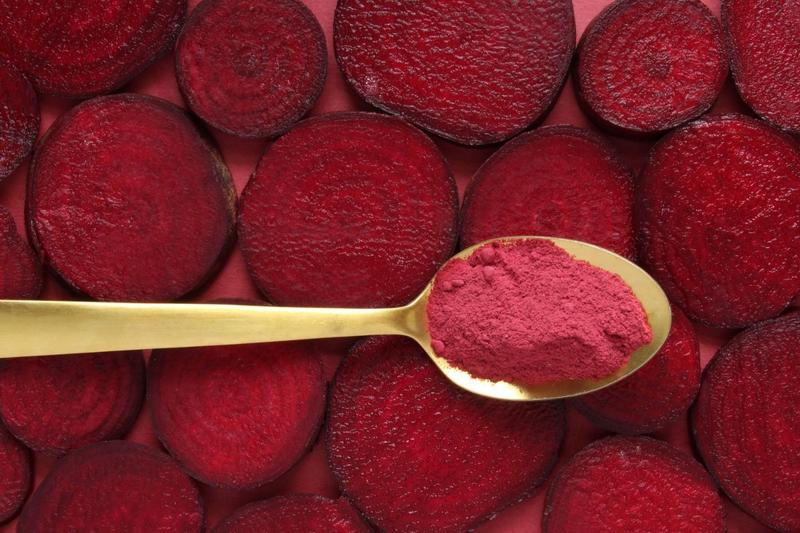 To prevent premature baldness and hair loss, you can:
Take beetroot powder, ginger juice, and olive oil in a bowl.
Mix them to form a paste and rub in the scalp of the hair deeply.
Leave it for 15 to 20 minutes and let the nutrients seep down the scalp.
To get relief from itchy scalp, 
Mix beetroot powder with some cool water.
The beetroot nutrients will seep into the scalp and will help you to remove dead cells by moisturizing them from within. 
Leave for 15 minutes, and it will relieve you from dandruff and itchy scalp.
To prevent dandruff, you need to
Mix beetroot powder with neem water.
Leave it for half an hour.
Apply it to your hair and wash thoroughly with shampoo once it dries. 
To provide natural colour to hair, 
Apply to your hair and wash your hair thoroughly. It will add natural colour to your hair and will act as a natural hair dye. 
Conclusion
The best thing about beetroot is its medicinal and nutritional properties. Being rich in antioxidants, it leaves a healthy lustre on your hair and never damages them chemically. Due to the presence of loads of calcium, vitamins, proteins, phosphorus, iron, and potassium, it boosts hair growth and stimulates hair follicles. By tightening the pores of the scalp, not only prevents hair loss but also reduces dandruff and itchy scalp.
In conclusion, beetroot is the ultimate solution for your hair problems. You can consider this veggie in different forms such as paste, juice, vegetable, and even powder, etc. Just apply beetroot powder with other ingredients, if required to your hair once a week and get good results super soon. 
Also Read: Sweet Almond Oil For Hair: Benefits, Disadvantages & How To Use