Different Ways Of Styling French Bob for Round Face
A haircut can change the whole way of appearance. A suitable haircut makes you look more confident, charming and attractive. And French bob is one of them to complement the features of a woman with a round face. The Instagram-worthy hairstyles are good enough to make you feel better. And there are endless ways to style a French bob cut on a round face. Here are the in-depth details.
What is a French bob?
French bob is a short haircut commonly seen among Parisian women. But global fashion therapy has helped this haircut to get the limelight! And it is a go-to haircut for corporate professionals who love no-fuss hairstyles for a daily look.
The length of the actual French bob haircut comes till the chin complementing the jawline. And it is supposed to have a bunch of feathery bangs on the forehead. But hairstylists are recreating French bob style without bangs too.
French bob is an excellent choice to refresh the haircut and hairstyle. It gives a younger touch to the appearance. Women with round faces and chubbier cheeks see a noticeable difference after getting a French bob cut!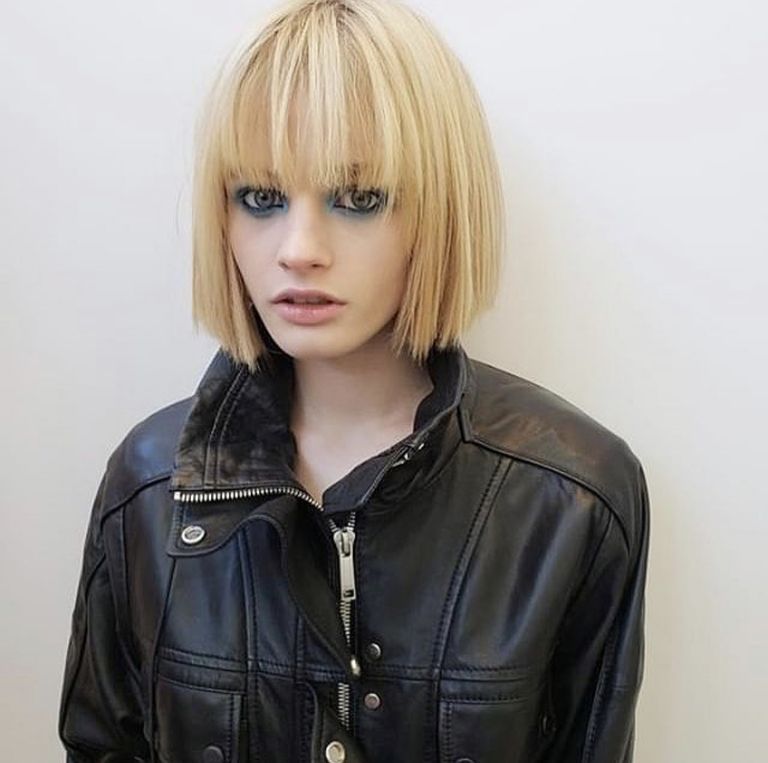 Ways of styling French bob for Round Face
French bob has certain attributes that make it suitable for almost every woman on the earth! It suits the girl-next-door look. It is also a no-drama style for women who love to wash and rush and do not pay much attention to heat styling. It is also a new favourite among the chic ladies who are rocking the street style! So, the French bob is worth heed for the women who want to get a head-turning look.
Here are the styles that you must know before getting a French bob done!
1. Curtain bangs
Curtain bangs are a classy yet effortless style to frame your face. It provides a shape to the round face. And it also gives an all-new style to the French bob length! Some people assume that getting curtain bangs is all about a high-maintenance hairstyle. But the truth is not like that! It is pretty easy to style and maintain.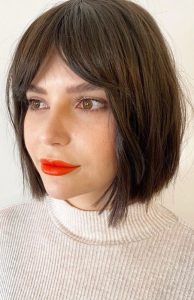 2. Beach Waves
Think about French bob and beach waves at the same time! Because both of these complements each other. The short and sharp length of the French bob haircut fascinates the jawline. In contrast, the soft beach waves come up with a wispy presentation. It is easy to maintain. And this hairstyle looks cool on round faces. The classic touch of French bob gets a new trend to exhibit!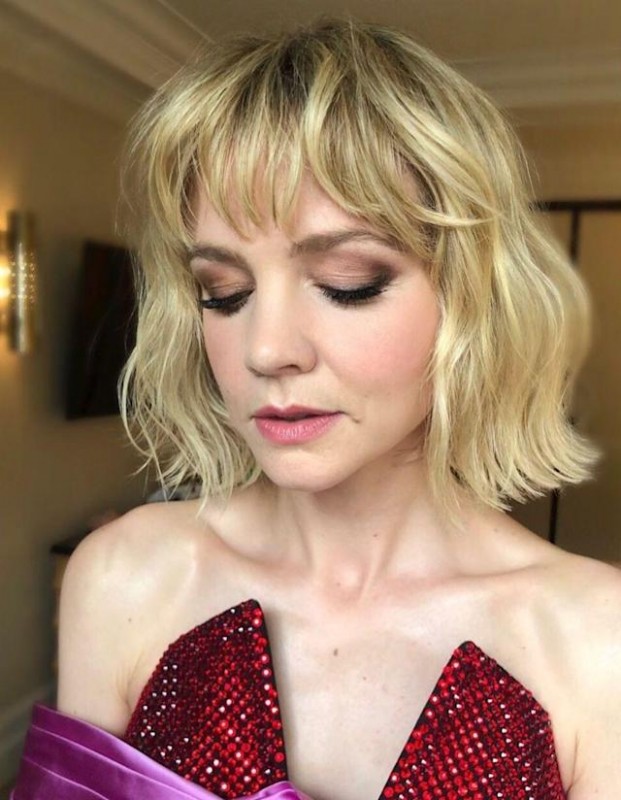 3. No-fuss bangs
French bob with no fuss bangs is the absolute favourite for those who love to wash and go hairstyles! The bangs are supposed to touch the eyebrows complementing the eyes. And the length of the French bob for this style should not be too short or long. This hairstyle goes well with straight hair texture.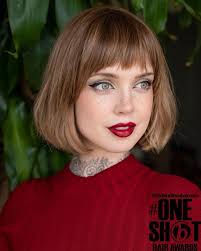 5. Soft curls and short bangs
If you are someone who loves a girl-next-door appearance, then soft curls style is for you! And if your hair has a naturally curly texture, then you have gone halfway through the styling. Otherwise, grab a texturizing spray and a hair curler to set it. And voila! Your short bangs and soft curls are ready to win hearts.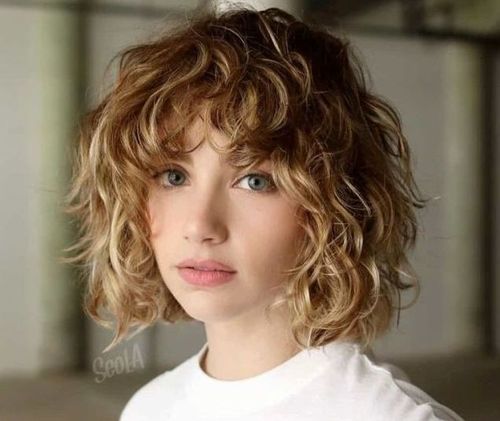 6. Vintage style
The classic French bob looks vintage and sharp! Straighten your hair after getting a French bob with bangs. It looks apt with black hair. Think about black straight hair and red lips! We know you are visualizing a red-carpet event! This vintage style of French bob has a timeless beauty that suits anyone with a round face. Give it a try!
7. Textured style
Curly hair and wavy hair squads should mark this hairstyle! Women with curls have a natural texture to sport such French bob style. But women with straight hair can manage styling this with some heat styling tools and texturizing sprays. One secret point is you can get a layered French bob to get fluffier waves naturally. It looks so beautiful on a round face! You can wear hair bands and clips to give a fancier touch to the style!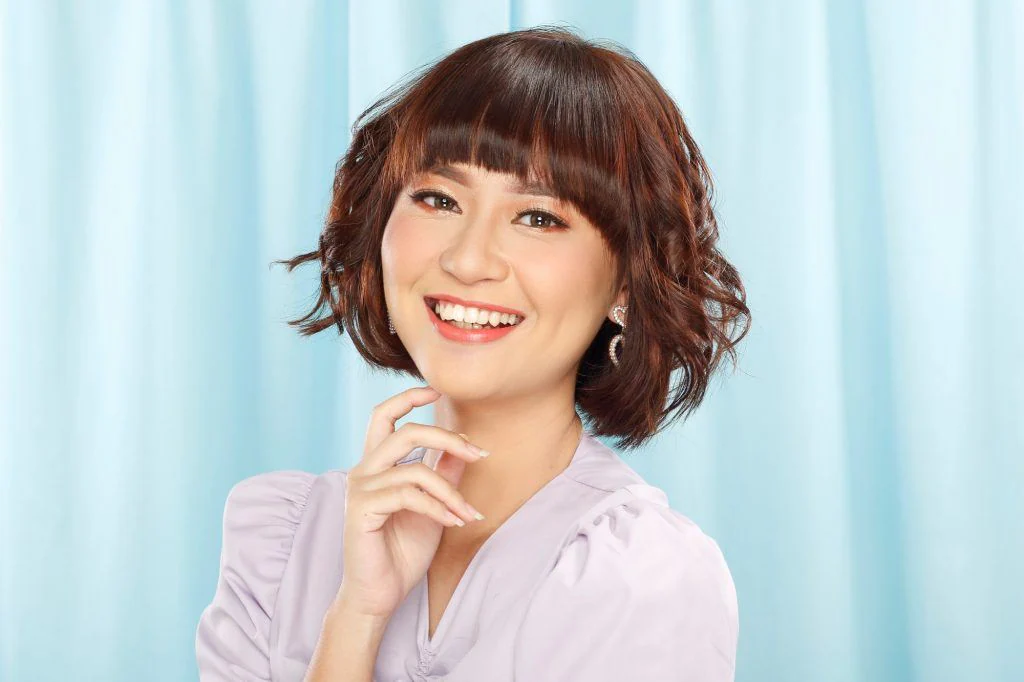 8. Chin-length style
One of the jaw-dropping hairstyles for a round face is the Chin-length French bob. It suits the style quotient of a sophisticated woman. The chin-length style attracts the jawline more than chubby cheeks. So, it shapes up the round facial structure with an illusion of structured cheeks.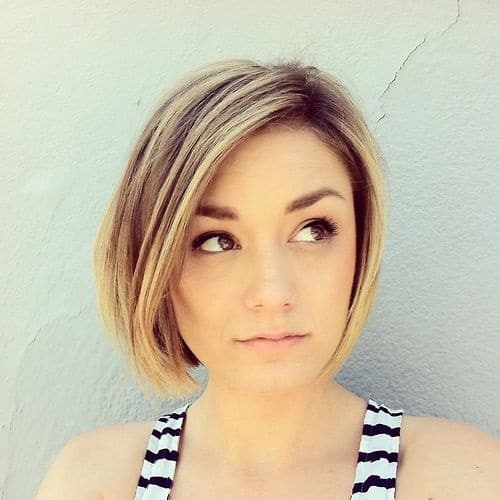 9. No-bang French bob
Are you tired of the intruding bangs on the eyes? No worries! You can still get a French bob done without bangs. And the good news is it suits a woman with a round face. A grown-up side-swept bang is almost the same. You can trim the length leaving the bangs when you want to continue the French bob style without any bang!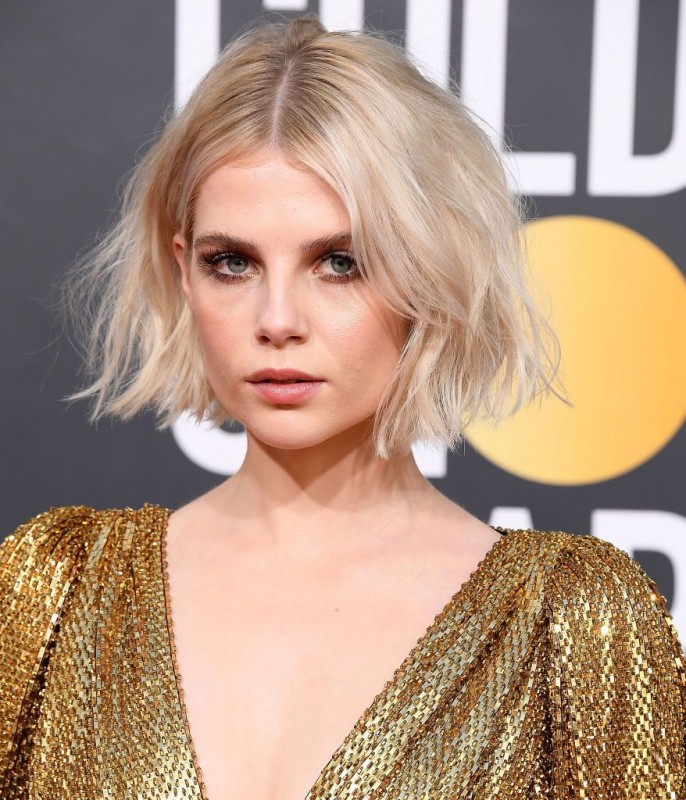 10. Longer length with waves
If you love to flaunt a French bob with a longer length, then set the hair with a wavy texture. Heat styling will make it easier for you! Do not forget to use heat protection spray and texturizing spray to add volume. The volume of hair shapes a chubby round face. The longer length gives you the liberty to do some hair updos at special events!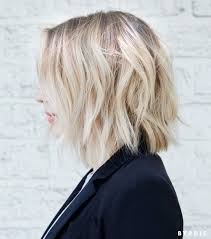 11. Messy hairstyle
If you have wavy hair, then a messy French bob style is just for you! Your hair gets natural waves after airdrying, and it adds a texture to the haircut. Women with a round face look appealing in such hairstyle as the messy waves touch the jawline! Moreover, it is an excellent way to get into a wash-and-go hairstyle that saves time before leaving for work or college.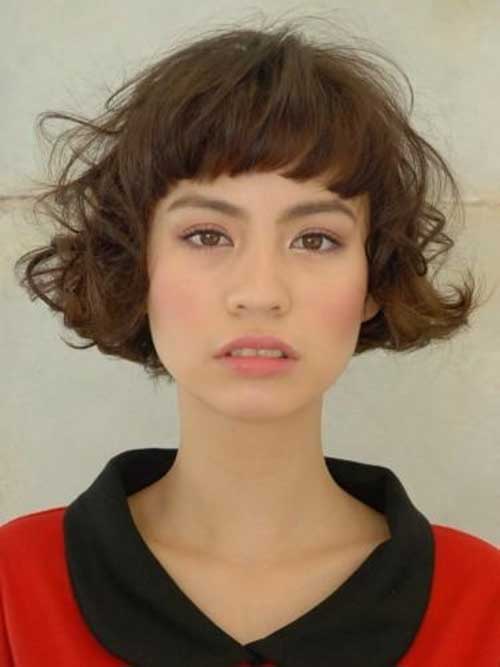 12. Angled style
Let your haircut define the worth and personality in you! Go for this super chic style to refresh the boring haircuts. The trend of angled French bob is ruling over the Instagram pages nowadays. Styling this angled bob is not so difficult. All you need is to get a regular trim! It is the best choice for straight haired women. This style suits the round face as it frames the face beautifully!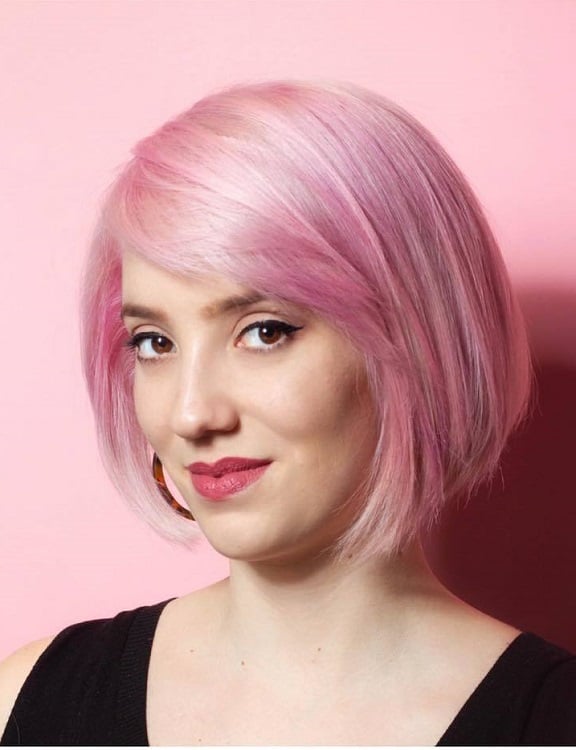 13. Super-short French bob
If you love to sport something edgy, then go for a super-short French bob. This type of haircut is done with a razor to give a sharp look to it. Super short French bob style is a simple yet attractive one. It looks great with a corporate look as well as a casual look. And it is a low maintenance hairstyle that saves your time and energy!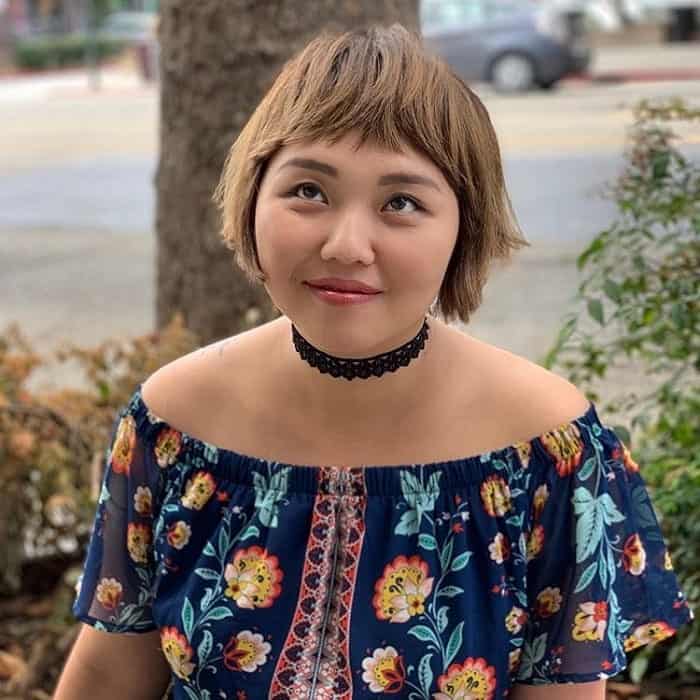 14. Layered style
A layered hairstyle goes well with a French bob haircut. Ask your hairstylist to put some gradient layers to showcase a voluminous style. A layered hairstyle is perfect for round faces. It complements the jawline. If you are comfortable, then add some fringes on the forehead for a wispy look! Layered hairstyle goes well with highlighted hair.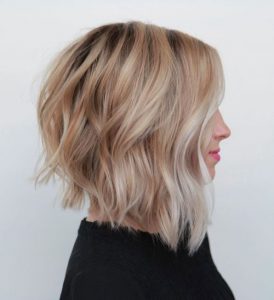 Pro-tips for a stylist French bob
If you have a round face, then these styling tips from pro-hairstylists can help you for sure. French bob is the best short hairstyle for a round face, as you know now! And now you also know the popular ways of styling it. But you can make it super gorgeous with these tips. Here you go!
1. Hair colours
Women with a round face can go for attractive global hair to enhance the beauty of the hairstyle. You can also try new trends of hair colour to sport something like high street fashion! You can go for a blue, green, pink, and even rainbow colour to change the look.
2. Hair highlighting
Styling hair with highlights is an age-old theory now! And it works to add an illusion of volume and structure to the haircut. So, try something new if you are bored of seeing the dark coloured tresses in the mirror every day!
3. Spectacles and red lips
French bob is an excellent choice for round faces. And it looks catchier with spectacles. The frame of spectacles embraces the bangs. And the eyes get the total attention of the people. So, if you have spectacles, then ditch the contact lens after getting a French bob done! And wear red lips on special dates to follow the classic Parisian French bob style.
Final thoughts
French bob is an ageless hairstyle. It is getting more attention among young bloggers and fashionistas for the versatility of the haircut. This hairstyle is an absolute favourite among millennials too! Women with round faces struggle to find apt hairstyles for everyday looks. And here their search ends!
French bob allows you to follow trendy hair updo as well as heat styling! Only regular trim makes the haircut look charismatic! So, ask your hairstylist which style of French bob is the best choice for you.
Also Read: