DIY Shikakai Shampoo at Home
Who doesn't desire long, beautiful, and silky-smooth hair? Your hair not only adds charm to your beauty but also gives you an identity. That is why people today are spending large proportions of money on hair-care products and treatments.
Until a few decades back, most people relied on homemade ayurvedic shampoos. They were simple to prepare and had the same effect as any commercial shampoo of today. However, more people are now shifting to cosmetic products owing to the fast-paced lifestyle. But are these products safe for your hair? Certainly Not! These cosmetic shampoos are full of harmful chemicals that are bad for your hair health.
Do your hair a favour by preparing your own DIY shampoo at home using the natural ingredient Shikakai – also known as "fruit for hair". Since ancient times, Indians have been using it as a natural hair cleanser. Its extracts are used in the preparation of homemade shampoos as well as hair powders. Shikakai shampoo is the perfect hair-care formula.
Why is Shikakai Good for your Hair?
Shikakai has acidic properties and a low pH, which is essential for your hair that has a pH level of 3-4 (the scale ranges from 0-14). Water has a neutral pH of 7. So, naturally, it needs a shampoo with a low pH for ideal hair growth.
It is rich in Vitamin C, a powerful antioxidant that nourishes your hair follicles and provides essential nutrients to keep it healthy.
Shikakai helps in strengthening and deep conditioning your hair. It has antifungal and antibacterial properties that protect the scalp from dandruff and itchiness.
The vitamins and minerals present in Shikakai help reduce hair fall, hair damage, and dryness of the scalp. It makes your hair smooth, soft, lustrous and healthy with consistent application.
DIY Shikakai Shampoo At Home
There are different ways of making Shikakai shampoo. You can add ingredients of your choice to see what works best for you. One recipe may not show the same results for everyone – simply because we all have different hair. Nevertheless, I have listed down the key ingredients and some additional ingredients along with their benefits to make it easy for you.
Key Ingredients You Need:
Shikakai- 6-7 pieces
Reetha/Soap Nuts- 6-7 pieces
Add-in Ingredients (Optional):
Amla- 4-5 pieces (For nourishment)
2 tsp. fenugreek seeds (To soften hair)
Few drops of Aloe vera (To moisturise)
Neem leaves (To combat dandruff/itchiness)
Hibiscus leaves (For hair growth)
The basic recipe for this Ayurvedic homemade shampoo involves three main ingredients – Shikakai, Reetha and Amla. These form the base of the shampoo. However, you made add other ingredients mentioned in the list as per your choice to get extra benefits. You can also change their ratio depending on your preference.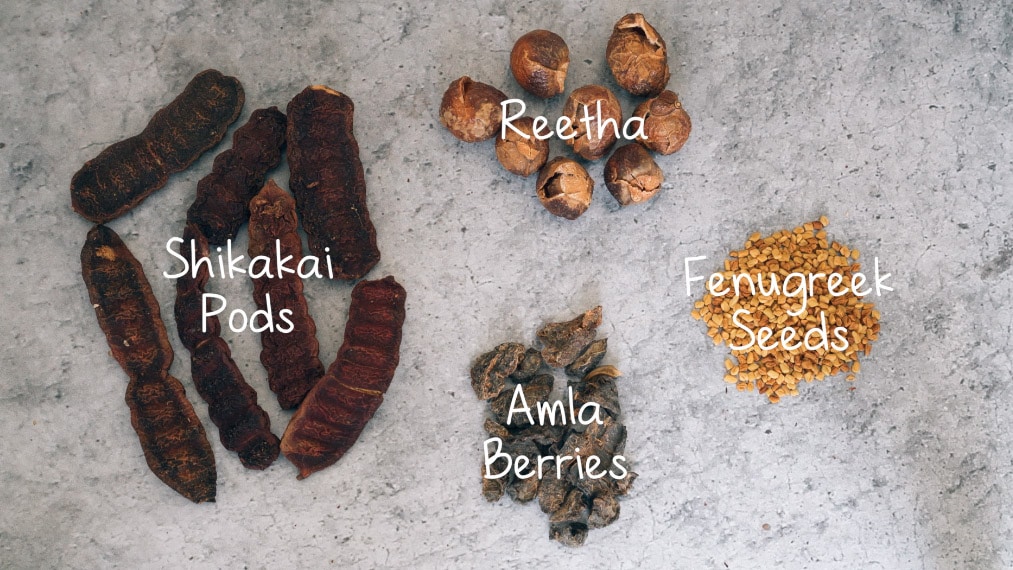 Steps to Prepare the Shampoo:
Step 1
Mix all the ingredients that you wish to add preferably in an iron utensil (use any if you don't have this). Then soak them in 600 ml water and keep it aside for overnight (or at least 3-4 hours before its application).
Step 2
In the morning, heat this mixture on a low flame for about 5-15 minutes. The more you heat, the better will be the concentration. Turn the heat off as it begins to boil.
Step 3
Take out the mixture in a pan and allow it to cool. After that, blend the ingredients using a blender or crush them with your hands until you get a thick pulp.
Step 4
Now strain this mixture and remove the residue of the ingredients. Your shampoo is now ready to use.
Helpful Tip: If you do not want to use the entire mixture, you can freeze the remaining in ice trays and use it whenever you want. Take out 2-3 cubes (or more depending on your hair length) a few hours before using.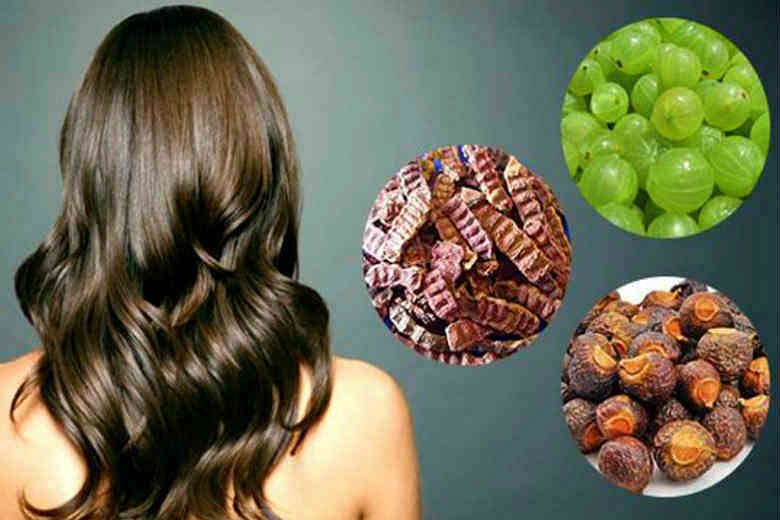 How to Use This Shampoo?
The application of this shampoo is simple – like any other shampoo.
Step 1: Wet your hair with normal water.
Step 2: Take out the shampoo in your palms and apply it in your hair. Give your scalp a gentle massage using your fingertips and slowly move towards the end of the hair.
Step 3: Let the shampoo rest in your hair for about 3-4 minutes. Then, rinse off with normal water.
Note: This shampoo may not form much lather as it is chemical-free. However, its effect on your hair will be visible as it deeply cleanses the scalp.
How this DIY recipe will help you?
I'm a huge fan of DIY. They are simple to use and show remarkable results. Bonus, it saves you a great deal of money! If you are wondering how this DIY will benefit you, keep on reading.
The first thing you will notice after using this shampoo is 'reduced hair fall'. Your hair will become 3 times stronger as it has the richness of fruits and herbs.
Secondly, it will give your hair a beautiful shine and take away all the dirt, dust and oil from your scalp.
This Shikakai shampoo will deeply nourish your scalp promoting hair growth and reducing dryness/itchiness.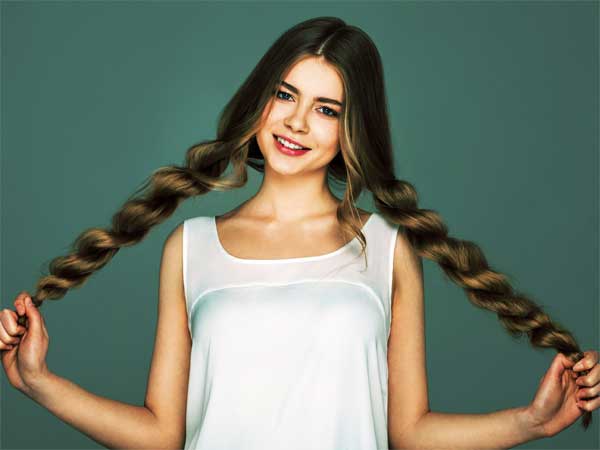 Why use these Ingredients?
Now you must be thinking why use all these ingredients – what's so special about them? Well, we have already discussed the benefits of Shikakai. Let's talk about the other ingredients and their benefits for hair.
Reetha/Soap nuts – Reetha makes a great natural cleanser for hair as it has natural surfactants called saponin. They contain agents that help take away all the dirt, grease and pollutants from your hair. The presence of antifungal properties in Reetha protects your scalp from infections and itchiness.
Indian gooseberry (Amla) – Amla is packed with vitamin A and C, which help reduce hair loss and promote hair growth. A great source of antioxidants and anti-microbial properties, Amla prevents your scalp from parasites and premature-greying of hair.
Aloe Vera – It acts as an excellent conditioner preventing your hair from damage and improving the overall health of hair. It also reduces itchiness and provides moisture to your scalp, keeping it hydrated. Read about some aloe vera hair masks here: Aloe Vera Hair Mask for Oily, Dry, and Combination Scalp
Fenugreek Seeds – The vitamins and minerals present in these seeds provide nourishment to the hair, prevent hair thinning and promote hair growth. These seeds also hydrate the scalp and reduce hair fall.
Neem leaves – Neem contains several antibacterial and antifungal properties, which again help in fighting dandruff. In fact, the powder from these leaves is known for benefitting your skin and hair so well. You can know about how it does so here: Benefits of Neem Powder for Skin and Hair
Hibiscus leaves – Hibiscus is a rich source of Vitamin C and amino acids. These provide extra conditioning to your scalp as they help increase blood circulation and make your hair grow faster.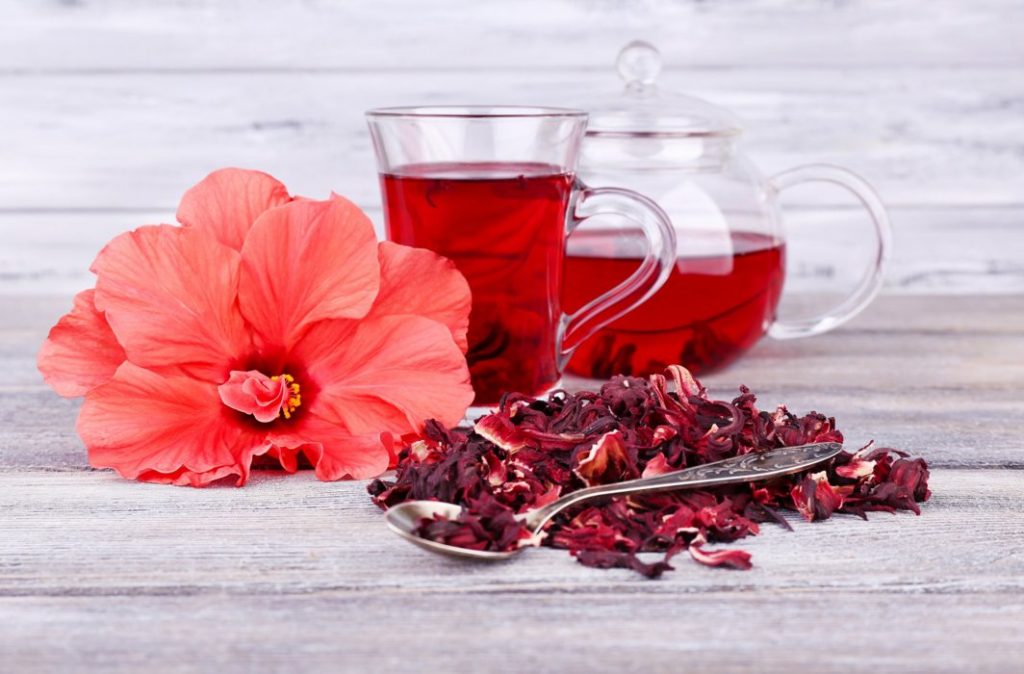 Safety Advice
While shampooing your hair, be careful that the shampoo does not enter your eyes as this may cause irritation and redness around your eyes due to the compounds present in Shikakai and Reetha.
Where to buy the shampoo ingredients?
The three main ingredients – Shikakai, Reetha and Amla are available in both online and offline stores. You can get them from your nearby Ayurveda store or order online on a site like Amazon. They come as whole dried herbs and in powder form as well. I would recommend you to use whole herbs as they are of the purest form, though you can also buy herb powders of a trusted brand.
Since Winter is almost here, do try this if you wish to avoid hair fall. Let us know if it worked for you!