5 Best Calamine Lotion Under 500 In India And Their Uses
Skin covers every corner of your body, making it the largest organ in the body, and perhaps one that you take most for granted. Caring for skin is as important as taking care of your heart or liver or brain. Your skin will always speak to you about the problems in your body before you even realize it. For instance, if you have dry skin, it could be because you are not drinking enough water.
People use Calamine lotions to treat various skin-related problems. These lotions have medicinal value and are used for skin troubles such as acne, scars, itchiness, etc. You may remember your mother dabbing your chickenpox outbreak with pinkish calamine lotion. While no one can truly determine the origin of calamine lotions, people believe that their origin dates back to 1500 BC.
What Is Calamine Lotion?
Calamine is a historical name for 'ore of zinc,' derived from the Latin term, 'lapis calaminaris.' It is a topical drug that generations have used for its medicinal and healing values. You can use it to treat cuts, injuries, insect bites, itching, rash, sunburn, inflammation, etc. Most calamine lotions are safe and efficient in nursing your skin in a cost-effective manner.
Calamine lotions are reddish-pink in color owing to the presence of zinc oxide and iron oxide. Zinc is known to prevent itching and also has anti-inflammatory properties. However, nowadays, calamine lotions are not limited to medicinal value. They have ventured into the territory of beauty products and are used for moisturizing too.
Apart from zinc oxide and ferric oxide, most calamine lotions also contain glycerin and kaolin clay. The lotion works as an astringent to leave a cooling effect on your skin while also moisturizing it.
How To Apply Calamine Lotions?
When taking care of your skin, you must first determine your skin type. For that, all you have to do is wash your face with soap or a face wash and dry it. Do not apply anything on it, and after 30 minutes, you can figure out what type of skin you have.
If you see a shine on your nose and forehead, then you have normal skin.
If you notice a shine on your cheeks apart from the forehead and nose, then you have oily skin.
And if your skin feels like it's being pulled, then you have dry skin.
Suppose you are using calamine lotions for daily moisturizing, you should start by washing your face with a facewash and, preferably, with warm water. Dab your face dry and take a tiny amount of the lotion on your fingertips and apply it thoroughly across your face. Massage the lotion fir for a minute or so. Calamine lotions are liquid and spread easily, so you don't need to use too much of it. Don't forget to shake the bottle well before using it.
If you are using calamine lotions for medicinal reasons, wash that part of your skin with soap and warm water and dab it dry. Then apply the calamine lotion using a cotton pad and let it dry. You can either leave the lotion as it is or wipe it gently with water. Shake the bottle well before using it.
5 Best Calamine Lotion Under 500 In India And Their Uses
The Indian market has grown into a hub for beauty products, and calamine lotions are definitely on the list. Here are a few calamine lotions that you can regularly use to keep your skin healthy and moisturized.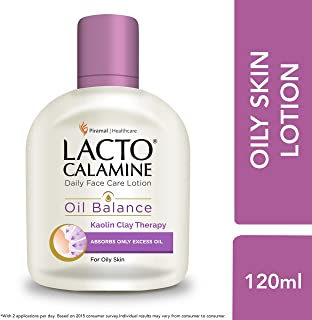 Piramal acquired Lacto Calamine in the mid-1990s from Duphar Ltd. This was when Piramal entered the beauty products market. Back then, Lacto Calamine was used more for medicinal reasons only. In 2008, the moisturizing version of Lacto Calamine- Oil Balance Formula was launched. Besides, zinc oxide, it contains kaolin clay, glycerin, and aloe vera. You can use the moisturizer twice a day after cleaning your skin well.
Uses Of Lacto Calamine

• This moisturizing lotion can be used daily. It also works as a sun-block lotion.
• The kaolin clay absorbs excess oil from your skin and only leaves behind what is necessary for your skin.
• It keeps the oil balance on your skin for up to 8 hours.
• The glycerin in the lotion prevents dryness of your skin by retaining your skin's natural moisture.
• Zinc oxide tightens the pores on your skin. It can also reduce acne growth and prevent new spurts of pimples. It also helps control the development of blackheads.
Check the cheapest price on Amazon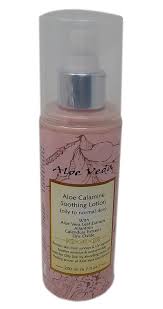 Aloe Veda is a personal care company that uses aloe vera in all its products. Their calamine lotion has natural ingredients such as wheat germ oil, calendula oil, and almond oil, besides aloe vera. It also has zinc oxide and calamine powder. The lotion is lightweight and non-greasy and has astringent, which leaves a cooling effect on your body. You can use this lotion twice a day all over your body to nourish your skin.
Uses Of Aloe Veda

• The aloe vera in this lotion softens dry, dead skin and nourishes it.
• It balances the oil on your skin and controls the growth of acne/pimples.
• The almond oil acts as a sunscreen and protects your body from harmful UV Rays.
• You can use this lotion as a base when applying make-up to protect your skin.
• You can also use this lotion to heal from sunburns and other damages.
Check the cheapest price on Amazon
3. Murtela MDSoft Calamine Lotion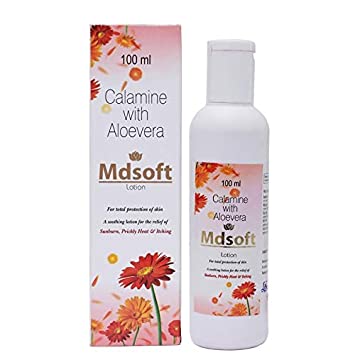 Murtela MDSoft calamine lotion is a product manufactured by Murtela Cosmetics. Murtela is well known in the skincare business and has been in use for almost a century. This calamine lotion contains vitamin E, liquid paraffin, light kaolin, zinc oxide, aloe vera, glycerin, and honey. You can use it daily to protect your skin and keep it glowing.
Uses Of Murtela MDSoft Calamine Lotion
• You can use this lotion to improve the texture of your skin.
• It gives a soothing effect when applied over sunburns. Additionally, you can use it as a layer for sun protection.
• Murtela can help reduce scars and marks, especially those left by acne.
• You can use it to reduce the inflammation you feel post threading your eyebrows and upper lips.
• It helps in preventing early wrinkles and reduces them too.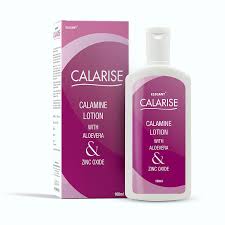 Calarise is a calamine lotion developed by Elegant Cosmed Pvt Ltd, which is an Indian company based out of Gujarat. The company was launched in 2006 and is into skincare and beauty products. Calarise lotion soothes your skin. Once you apply it, you feel a cooling result due to its astringent effect. The lotion contains zinc oxide, aloe vera extracts, and glycerin, among other ingredients.
Uses Of Calarise Calamine Lotion

• This lotion works very well for oily skin by soaking-in all the overload of oil from your skin.
• It dries out acne and pimples and helps clear your skin.
• You can use this lotion to soothe and heal your skin from sunburns.
• The lotion is gentle on your skin and keeps it healthy and glowing.
Check the cheapest price on Amazon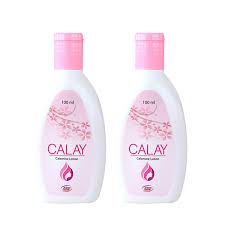 Haledew Remedies, part of Dewcare Concept, are the creators of Calay calamine lotion. The company was registered in 2018 for skincare products. Calay is a lotion that can be used on dry skin. It contains rose oil, besides zinc oxide and aloe extracts, which soothes your skin.
Uses Of Calay Calamine Lotion

• This lotion helps in maintaining your skin's natural glow.
• It replenishes the moisture in your skin and keeps it soft and supple.
• Calay is excellent to prevent wrinkles and premature aging.
• It works as a sun-block and also heals sunburns quickly.
• Calay calamine lotion can also reduce dark spots and pigmentation.
Check the cheapest price on Amazon
8 Tips For Taking Care Of Your Skin
1. Wash your skin at least twice a day to keep it clean and remove any dirt or dust that settles over it.
2. After a wash, make sure you apply a moisturizer or lotion to nourish and protect your skin.
3. Be gentle with your skin. Don't wipe it harshly with a towel; instead, dab it softly to remove the water.
4. Make sure you eat healthy food that has enough vitamins. Avoid oily food, especially if you already have oily skin.
5. Drinking loads of water can help keep your skin hydrated. It can retain its natural moisture and add a glow to your skin.
6. Apply a layer of skin cream or lotion on your face before using make-up. This way, your skin will get protection from any chemicals in the make-up.
7. Waxing, shaving, threading, etc. are often painful and can cause inflammation. Make sure you apply a calamine lotion post these services to soothe your skin.
8. Always use sunscreen post moisturizing, especially if you are stepping out in the harsh sun.
Final Words
When it comes to skincare, calamine lotions can prove exceptionally beneficial. Most of these work on any skin type unless explicitly mentioned. Look for a calamine lotion that you can regularly use to keep your skin soft and smooth.