Best Body Lotions for Summer In India
Indian summers are scorchers. The temperatures soar and you need to protect everything from the top of your head to the tip of your toes. That may sound cliched but there is no other way to say it. Your body needs the utmost care inside out. Pamper your body this summer with the best available body lotion that will protect you against the scorching rays of the sun and moisturize it.
Here we have the best body lotions for summer in India.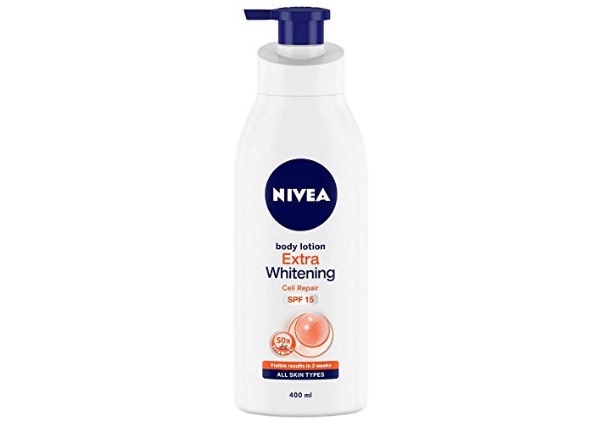 This body lotion is ideal for Indian summers. It is not at all greasy and is enriched with Vitamin C that perfectly hydrates your skin and nourishes it. In addition, it lightens and brightens the skin too. It also contains SPF for sun protection. So you don't have to worry about skin damage in the sun.
Key Benefits
1. SPF
2. Hydrates skin
3. Nourishes and moisturizes the skin
4. Affordable price
Check the cheapest price on Amazon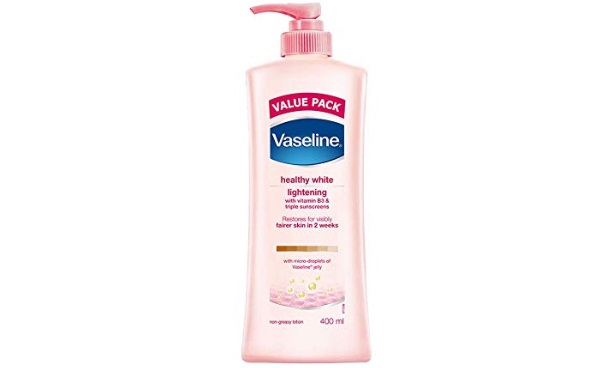 This body lotion has vitamin B3 and triple sunscreens to protect your skin from the harmful sun rays. It restores moisture balance in the skin and lightens it, giving you a fair complexion in as less as two weeks. The product promises to reduce the production of melanin and eliminate sun tan. Vaseline Body Lotion is a non-greasy, quick absorbing formula that is perfect for oily skin too. In fact, it is suitable for all types of skin. It contains microdroplets of vaseline jelly that heals skin damage and helps it retain water.
Key Benefits
1. Triple sunscreen formula
2. Traps moisture in the skin
3. Reduces melanin production
4. Removes sun tan
5. Reasonably priced
Check the cheapest price on Amazon
If dark skin and sun tan is your primary problem, then this body lotion by VLCC is the product for you. It is a de-tanning body lotion that has SPF 30 with aloe vera. The aloe vera moisturizes and nourishes the skin, while the SPF 30 protects it from the harmful UV rays of the sun. Use it every day before you step out or inside the house for the best results. It is also extremely suitable for dry and sensitive skin and repairs damage caused to the skin due to environmental factors such as photodamage, aging and drying.
Key Benefits
1. SPF 30
2. Prevents photoaging
3. Diminishes lines and wrinkles
4. Nourishes damaged skin
Check the cheapest price on Amazon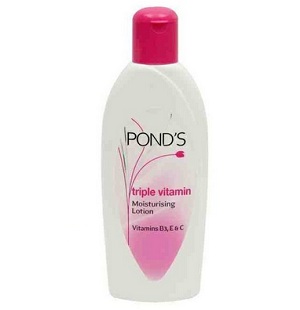 Ponds is a well-known beauty brand in India that is trusted by many. This moisturizing body lotion contains Vitamins B3, C and E. It is non greasy, non sticky and suitable for all types of skin. The mineral and vitamin-rich formula repairs skin damage. Besides, unlike many body lotions, it does not leave a white residue on the skin.
Key Benefits
1. Non greasy
2. Non sticky
3. Repairs skin damage
4. Does not leave behind white residue
Check the cheapest price on Amazon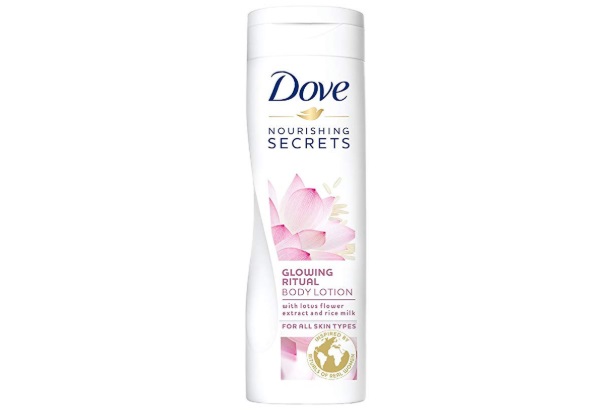 This body lotion is enriched with extracts of rice water and milk that have been used for thousands of years to whiten, lighten and brighten the skin. It reduces melanin production, improves skin texture, giving it a glow. Apply it every day to get protection from environmental pollutants that cause skin damage. The only con is that it does not contain any SPF.
Key Benefits
1. Smells good
2. Reduces melanin production
3. Improves skin texture
Check the cheapest price on Amazon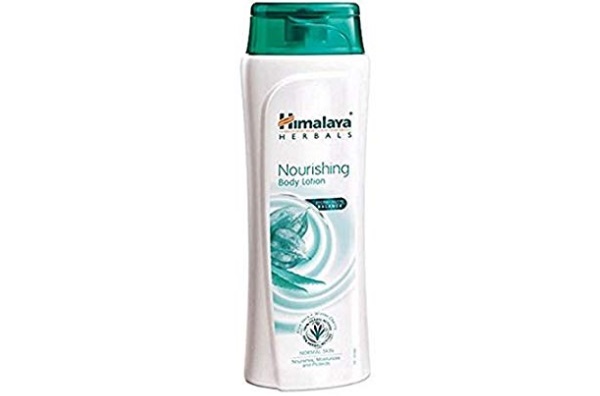 This is an extremely popular body lotion from Himalaya Herbals. It contains aloe vera that nourishes the skin. It also contains plant extracts that enhance cell regeneration and fight the harmful free radicals that speed up aging. This lotion does not contain SPF.
Key Benefits
1. Nourishes and hydrates skin
2. Moisturizes the skin
3. Fights free radicals
Check the cheapest price on Amazon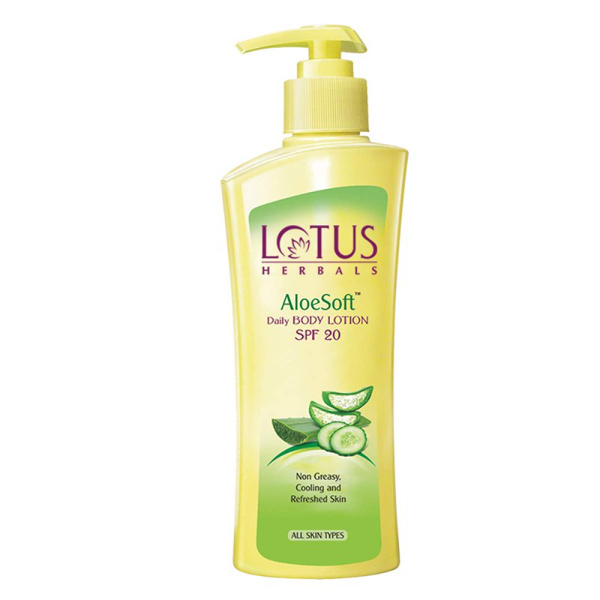 If you need one thing in summers, it is a body lotion that can also double up as a sunscreen. This body lotion from Lotus Herbals offers you just that. With the added protection of aloe vera, it cools, soothes, and refreshes the skin. It also repairs skin damage, improving texture. It is a non-greasy formula that is perfect for oily and dry skin both. In addition, the Aloesoft Daily Body Lotion contains skin whiteners that prevent tan and darkening of skin.

Key Benefits
1. Prevents tan and darkening of skin
2. Cools, soothes, and refreshes the skin
3. Repairs skin damage
4. Improves skin texture
Check the cheapest price on Amazon
How to Choose the Best Body Lotion for Indian Summers?
You first need to check your skin type. That will decide the body lotion for you. Although most body lotions are suitable for all types of skin, dry skin needs special care. Thus choose a gel-based formula that can hydrate the skin without being greasy. There are plenty of such body lotions available.
Gel based lotions are lightweight and can be used throughout the year. Avoid creamy formulas in the summer as they attract dirt.
Another point to consider before buying a body lotion is the texture and smell. Although a good and nice smelling lotion would always be welcome, make sure that you are not allergic to the smell. Yes. Some people are allergic to fragrances. The texture should also be smooth.
Lastly, if your skin is sensitive, do a patch test on the inner elbow to check for reaction. If there is no reaction, you can proceed with the purchase.
Ingredients You Should Look For
The best body lotions are those that hydrate the skin. So, look for these ingredients:
1. Ceramides – These form a barrier on the skin, protecting it from pollutants that can speed up aging. These hydrate the skin and nourish it.
2. Humectants – Humectants are used in lotions to increase the moisture content. They attract water and seal the moisture. Humectants include glycerin and hyaluronic acid.
3. Emollients -They prevent moisture from escaping and keep the skin soft.
4. Occlusives – Cocoa butter and beeswax are occlusives. They create a barrier on the surface of the skin and prevent moisture loss.
Points to Consider Before Buying a Body Lotion
1. Skin Type – This should be the first consideration. Always buy a body lotion suitable for your skin type.
2. pH Balance – Avoid alkaline lotions as they may disturb the natural pH balance of the skin.
3. SPF – You need to check this if you go out a lot. Choose a body lotion with SPF.
4. Natural – As far as possible, try and choose a lotion that has natural ingredients. However, be warned that most natural products do not disclose their active ingredients and hence, you also need to check the brand image.
Remember that you are buying a body lotion, which is different from a body cram. A lotion is a gel and water-based. It is non-sticky and non-greasy. Use a lotion at least twice a day and as far as possible, apply it to damp skin to enable it to be absorbed.
Conclusion
Using a body lotion should be a routine. You should use it as regularly as you wash your face and use a moisturizer. The skin on the rest of the body needs care and you should give it the best available care. As said before, Indian summers are scorchers that tan and cause damage to the skin if there is not enough protection. Use the body lotions compiled here for you and give your skin the TLC that it needs.
Also Read: