Best Face Washes for Glowing Skin in Summer in India: Himalaya Face Wash, Garnier, and Many More
Healthy skin is a reflection of overall wellness. Pampering it requires both time and good products. Skincare comprises several steps, among which the first and the most important step is cleansing. It is the most common product needed by all. As our daily skincare regime begins with cleansing, it is important that it should be effective and the best from the rest. Face wash is the basic necessity for skin care that none of us should compromise with. For getting that fresh look in the morning or getting rid of all the fatigue after a long day, nothing but washing our face with a good cleaner can make us fresh immediately.
Picking the best face wash for your face is never an easy task. The face wash you buy has to be as per skin type and the weather condition out there. People often neglect these points and end up buying something that is cheap and also not suitable for their skin type. So, it is necessary to know your skin type before buying a face wash as the face wash you use directly affects your skin.
The market in recent years has experienced a tremendous growth of facewash offered by different brands offering different benefits, made specifically for different skin types. With a lot of mind-bobbling options available there, it becomes difficult to choose that one face wash that is best for your skin. So, here we are for your rescue because the first step to cleanse your face shouldn't start with a mistake. Here, in the article are the details about the 5 best face wash for summer. With all the information available in the article, it will be easy for you to choose the one for your face easily.
What do we recommend?
Having that consistent blemish-free smooth and glowing skin is the dream of many. But not everyone is blessed with the skin that's always glowing. This is where you need custom skincare products. One such important skincare product used in daily life is a face wash.
While searching for that face wash for summer you will come across several brands offering a variety of face wash varying in terms of price, benefits, key feature or skin type. We often ignore the fact that our skin needs the best and ends up buying a product that costs us less. Eventually, we get to pay for this. The cheap face wash we buy starts creating a problem for our skin and thus damages it, resulting in open-pore, acne problems etc. Thus, it is important to buy the best one for your skin type.
So, keep following things in mind before choosing correct face wash for you:
It is important that before buying any face wash, you should know about your skin type.
For the people with dry skin, we recommend getting a face wash that is a gentle cleanser with moisturizing ingredients and fatty acids in the form of oil.
For the people with oily skin, we recommend getting a face wash with the ingredients like aloe vera and tea tree oil which will balance the oil production and support clarity of the skin.
For the people with sensitive and combination skin, we recommend getting an ultra-gentle cleanser. Micellar water acts as a miracle for this skin type.
Always look for the face wash that is hypoallergenic, free of fragrance, alcohol or chemicals and has a non-foaming formula
Avoid the usage of antibacterial soaps and cleansers with exfoliators like salicylic or glycolic acid.
Always choose your face wash according to the weather condition in your city.
Buying a face wash as per your skin concern is important
Never forget to test the product on a small section before actually using it
Always buy from certified places as there are several duplicate products available in the market that can harm your skin.
After going through and examining various face wash for summer, we have found some of the best face wash for every skin type. With great benefits, the face wash given below gives you that instant freshness immediately. But our most favorite ones are-
Lakme blush and glow strawberry gel face wash
Himalaya herbals purifying neem face wash
Biotique Advanced Ayurveda bio neem purifying face wash
Among the three the best one that we found suitable for all skin types is the Biotique Advanced Ayurveda bio neem purifying face wash. With all ayurvedic ingredients present in it, the face wash also works effectively to provide you with pimple-free clear and smooth skin. It is made up of 100 percent natural ingredients that do no harm to your skin. Also available at an affordable range you can easily find it in the market. Biotique has been in the market for years and has lakhs of happy and satisfied customers. You can completely rely on the brand for your skincare.
Lakme is one of the leading brands in makeup products and skincare, it has left no stones unturned to provide its customers with the best. The face wash by Lakme is enriched with the properties of strawberry with which every usage leaves your skin with a gorgeous strawberry glow. With the anti-oxidants and beads present in the face wash your skin gets the proper care. You won't stop using the face wash after you try it once. You will fall in love with it immediately.
The face wash from Himalaya with the properties of neem and natural ingredients is a must-have for the oily skin. The face wash effectively eliminates pimples and clears out the impurities. It is also suitable for all skin types and is considered the best for pimple-prone skin. It even helps to even out your skin tone and helps retain skin elasticity, making it supple. The natural blend of haldi and neem with their antibacterial and anti fungal properties prevent the recurrence of pimples. Also, it works to improve general skin health and immunity by combating bacterial infections like acne boils and ulcers.
Few factors that influence your purchase of a perfect face wash for summers
Please note the factors which influence your purchase of face wash must include the following, first of all please assess and analyze your skin type. Do not use any facial cleanser or face wash which is not appropriate for your skin. As this can damage your skin.
The next factor is, you need to choose a face wash with natural ingredients such as food and vegetable extracts, which do not damage your skin by destroying its properties. Facial skin is extremely soft and sensitive hence the face wash chosen must be appropriate one.
A face must have an ability to extract oils from your skin and provide you a clear and glowing skin. Face wash should have a good collagen content which restore the natural properties of your skin. It should not be very harsh on your skin. Please consult a chemist or a dermatologist or a beauty expert before you choose to purchase a face wash. Never use a face wash which does not suit your skin type. Always consider popular brands for your skin, as local unknown brands may cause severe damage to your skin.
Please ensure your face wash is not made of any products or ingredients which can react with your skin. It is your prime duty to select a face wash which protects your skin and enhances the quality of your skin. The most important factor that people consider today is the price of the product. Face wash must suit your skin at the same time must be pocket friendly too. It is not necessary that an expensive product will definitely suit your skin.
You can ask your close friends and family for good recommendations regarding face washes which not only suit your skin type but also ensure that your skin becomes clear. The nutrients in the face wash also fight germs and bacteria which can damage the skin.
The best and the most effective way to choose a face wash is use a face wash which caters to a specific skin problem for example. If you are facing a problem related to pimples you should adopt a face wash such as Clearasil or neem face wash which acts as a cleaning agent and cure your pimples. Face washes made up of fruits and natural oils focus on moisturizing your skin thus improves the overall skin type.
How does a face wash help your skin?
A face wash assists you to get rid of pimples, dirt, germs, and fights bacteria. Summers are generally very sticky and dry. During this period, you must avoid greasy and oily foods. Your skin should be treated with a face wash which has natural oils and fruits that nourish your skin well.
Face wash with ingredients, such as natural oils, fruits, and vitamins help clear and clean your skin. Ingredients such as cucumber, papaya, menthol, watermelon extracts and lemon extracts suit all kinds of skin types. They help you to maintain a healthy and hygienic skin.
Those face washes must be chosen which are really gentle on the skin. There is a difference in the skin type of men and women. In face washes for men charcoal extracts are used to clean the skin and provide dust and allergy free skin. Since, the skin of men is harsher than women. Lemon and watermelon extracts work well on the skin of women.
Why should you use a face wash?
Face wash is a gentle form of soap which allows you to gain a healthier and beautiful skin. It naturally nourishes your skin and ensures that your skin cells regenerate by removing dead cells from the skin. Pollution, exposure to sun, exposure to UV rays, and eating junk food can cause skin allergies.
Face wash is the first step to maintain your personal skin hygiene on the face. People of any age can use face wash to clean their skin and keep it hydrated always. You can always carry a small face wash in your purse and keep your skin cleansed always.
Why should you maintain facial hygiene?
Leading dermatologists recommend maintaining facial hygiene leads to younger and beautiful looking skin. You must always cleanse your skin 3 to 4 times a day. Use a face wash which suits your skin type. Face wash allows you to remove tanning from your skin. People who do not use face wash the quality of their skin deteriorates faster. Hence, beauty experts and dermatologists always recommend using a good quality face wash to keep your skin healthy and young. Face wash with fruit extracts is more beneficial than other kinds of products available in the market.
Tips for cleaning your skin
Wash your face with water, then use an appropriate face wash which hydrates your skin, please don't let dirt deposit on your skin for long. People who clean their skin daily with face wash and face scrub are able to maintain a healthier skin from those who don't. In winters use warm water to cleanse your skin. Always use a gentle form of face wash. If you don't clean your skin it will cause skin allergies which will lead to medical treatments that are very costly. Using a face wash daily allows you to develop a healthy and attractive skin.
Top 5 Best Face Wash For Summer in India in 2020
Skin care is the most essential thing these days. Face cleansing allows your skin to breathe well. Further the process of face cleaning helps you to remove tanning and improve your skin by providing it a natural glow. A good face wash acts as a cleansing agent and allows you to remove dirt deposits from the skin.
Choosing the right kind of face wash is very important as the face wash must suit your skin type well. The face wash allows your skin to get rid of dirt, oil, grime, dust particles. Nutrients available in the face wash allows you to keep your skin clean and hydrate your skin well. Therefore, it is important that you choose your face wash wisely.
Some of our best picks for summers are: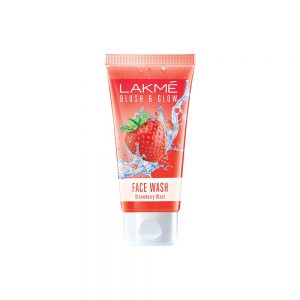 Lakme has always been a very promising brand with its extraordinary products which suits the Indian skin tones beautifully. The Lakme Blush and Glow has been one of the most favourite face washes of women. It comes in a budget friendly price. Some of its highlighted features are fruit-based content which makes it extremely safe to use. The gel-based form makes it free from rashes and weight light without any irritation specially caused to people with dry skin. It is available easily in market. The packaging is extremely attractive and easy to carry while travelling as well.
Pros:
It is very effective and good for dry skin.
It is safe to use as it is made up of natural strawberry extracts.
It is highly recommended by salon experts as well.
It is very light weighted and a small drop on hand does the work.
The packaging is very nice, which avoids wastage of extra product being poured out.
The size is small which makes it travel friendly as well.
The face wash adds instant glow and radiance to the skin as well.
It is very delicate and gentle on the skin.
It removes acne marks, blemishes and cures pimple and pigmented skin as well as dark spots.
It is not very expensive.
Cons:
The face wash is not suitable for oily skin or combination skin.
The face wash is not recommended for people who have allergy with strawberry or vitamin C or citric acid.
It is not paraben free.
The quantity is little less as per price and the granules fail to exfoliate deeply inside the skin.
The Lakme being an established brand, gives full assurance on the quality. The product is really great for dry skin, and adds instant glow and suitable for daily sage as well. However, after sometime it makes the skin tight, so a moisturizer is needed to be applied or else it may start itching. But overall it is a very nice product, just a little expensive compared to other brands but totally worth it.
Check the cheapest price on Amazon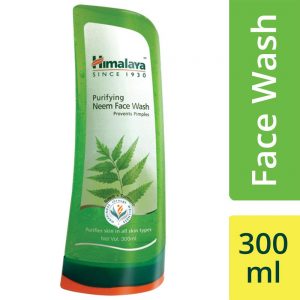 Himalaya has been a healthy and affordable product and loved by its users because of its herbal products. The Himalaya Herbal Purifying Neem face wash is a beautiful combination of price and quantity both. The best quality of this face wash is that it is made of natural products like neem and turmeric which makes it 100 percent herbal and organic. It suits all skin types and even possesses antibacterial properties which helps in deep nourishment and healthy skin with no side effects.
Pros:
The face wash is 100 percent organic and has no side effects.
In the long run, it provides a healthy and glowing skin as it repairs skin deeply.
It contains neem which helps in treating pimples and also removes pimple marks beautifully.
It is very affordable and comes in a good quantity.
It adds instant freshness and softens the skin.
The open flip cap design prevents overflow or wastage of product.
It is gel based, which feels light on the skin.
It is good for acne prone skin too.
It lathers very well in the skin and reduces chances of pimples in future.
Cons:
As per general review, it does not work well for oily skin and even leads to redness or irritation.
As per it promise, it fails to give a clear pimple free skin, and does not work on existing pimples on skin.
It is not effective in treating acne.
As per the general review in the market, we can conclude that it prevents pimples but does not work well on existing ones, nor treats acne but is an affordable ayurvedic product which can be used daily for a healthy skin. It has no side effects and is even organic and safe to use. The neem and turmeric add to its herbal benefits as well, and suited for both men and women.
Check the cheapest price on Amazon
Garnier is a renowned beauty brand providing excellent products with effective results. The Garnier Skin Naturals Light Complete Duo Action face wash is among the favorite choices of women. One of the best features of this product is that it provides whiteness, fairness as well as cures dark spots. It is rich in Butylparaben, Benzyl Salicylate, Gentian and lemon fruit extract. It also removes dullness as well as is quite decent in its pricing. It cures spots caused by exposure to sun, pollution & harsh environmental conditions. If used daily, it also helps in recovering a clear and even complexion.
Pros:
It consists of white clay, which helps in absorbing excess oil and recovering a fair white tone skin.
It comes with an easy to use and attractive packaging.
It is very gentle on the skin and provides instant fairness.
The lemon extracts help in reducing dark spots and pigmentation as well.
It cleanses the face very well and provides freshness.
Cons:
It is not paraben free.
It contains alcohol which is a controversial ingredient for a sensitive part like face.
In some cases, it provides itchiness or redness due to lemon which is not suited by all.
It does not remove dark spots, just hides it for a consistent time upon usage.
Overall, it is a well to do affordable product with basic features like being suitable for all skin, adding freshness, removing dullness and so on. It can be used daily to get effective glow and cures dullness caused by pollution, or sunlight. However, a patch test is recommended due to the presence of lemon in high quantity which is not suited by all.
Check the cheapest price on Amazon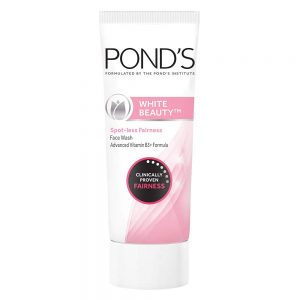 Pond's White beauty fairness face wash is among the best summer face wash available in the Indian market. During the summer season, the skin is more prone to infections and acne, and this face wash prevents infections. Over the time, glowing skin tends to get dull due to the accumulation of dead skin cells. This clinically proven face wash is known to remove dead skin which leads to healthy beautiful skin. It is formulated with Potassium Hydroxide, Glycerin, Glycerol Distearate, Vitamin B3 and all the skincare ingredients. It has a creamy consistency that feels soft, smooth on the skin. Also, the anti-pollutant ingredients act as a great cleanser and remove the dirt within the blink of an eye.
Pros:
Weightless formulation: the product is so lightweight that it does not feel heavy on the skin.
Dark spot removal: this face wash ensures the reduction of any kind of dark spots or scars to a great extent.
Non greasy: apart from being lightweight, the face wash is not oily and gives a fresh, non-sticky skin.
Rich in Vitamin B3: this face wash also gives the required nourishment for the skin.
Pocket friendly: its packaging comes at a very affordable price and does not feel heavy on pocket.
Cons:
Not a fairness product: this face wash fails to justify its claim of giving fair skin.
Not a chemical free product: since it is not chemical free, it can create problems for sensitive skin, therefore a patch test before use is recommended.
Drying properties: this product can dry down the skin, hence not preferable for dry or normal skin types.
Overall, the pros of the Pond's white beauty fairness cream outweigh its cons. It is a great product at a completely affordable price.
Check the cheapest price on Amazon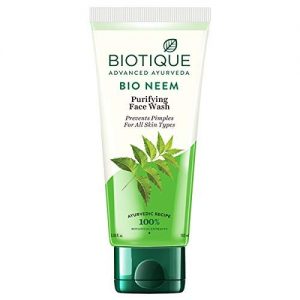 Made up of all-natural ingredients like ashwagandha, kulankan, ritha, madhu, coconut oil and majorly neem. Biotique Neem face wash is designed for all skin types. Not only is it natural, but it's designed in such a way that it would resolve all skin problems from dry to oily skin. Neem has anti-acne properties that fight with dust, sweat, pimples and any kind of blemishes on the face. It is an antibacterial cleansing gel that gives the skin an apt amount of moisture without leaving it too oily.
Pros:
Antibacterial formula- this face wash has antibacterial properties fight with dust, bacteria which may cause skin irritation or any other skin problems.
All natural- the product is made up of natural products, so it does not have any side effects.
Alcohol free- unlike the products consisting of alcohol, it does not take away natural oils from the skin.
No parabens- this is another plus point as parabens can disturb the ph balance of the skin.
For all skin types- this face wash is appropriate for a dry as well as oily skin types.
Cons:
Greasy consistency- it gives a sticky texture to the skin.
Poor packaging-  the packaging is not a user friendly and is difficult to use.
Soapy fragrance- A good face wash should have no smell at all or a smell that gives a fresh appearance. But this one has a pungent smell which makes you feel disgusted.
This is an all-natural product. It is free from any kind of chemicals and comes at a very economical price. This is a must try product specially for vexatious summers.
Check the cheapest price on Amazon
Frequently asked questions
Is using a face wash regularly really useful?
It is necessary to do needful care of your skin. Especially, facial skin needs much more care. Therefore, using a face wash regularly is important, this will help in removing dead cells, preventing acne and pimples and keep your skin soft and moisturized.
What is the importance of choosing a face wash according to skin type?
It is very very important to choose face wash according to your skin type otherwise you can experience allergies and rashes. Only if you use facewash according to your skin type then only face wash can show right benefits on your skin.
Conclusion
Using a face wash is a part of our daily routine but choosing correct face wash for you is not that easy. It is important to keep certain factors in mind while purchasing a face wash for you. We really hope that after going through above mentioned products, it will be much easier for you in picking up the right face wash. According to our research if you are looking for a product depending only on the qualities then you should go for Lakmé Blush and Glow Strawberry Gel face wash. In case you are looking for a more budget friendly product then you can go for Biotique Advanced Ayurveda Bio Neem Purifying face wash. Choose correct face wash and enjoy summers freely!