Best Foot Scrubs to Remove Dead Skin in India in 2020
After a long day at work, all you need is a relaxing massage of your feet that will give you a good sleep. What if we tell you that along with relaxation, you can exfoliate your skin at the same time? We often neglect our foot care and they literally take us everywhere so pampering your feet is a routine that everyone should opt for and your feet will be glad that you did so.
There are times when you wear footwear that hides your feet because they are cracked, tanned, dry and it embarrasses you. Get rid of all these problems with a nice foot scrub and make your feet beautiful again. Be ready to flaunt your feet in open footwear and confidently walk out of your house because there will be no more cracks, scraps, dry skin and damaged feet.
You all may be aware of the importance of exfoliating and cleansing your skin regularly. But we often forget that our feet need most of the exfoliating since it handles all the dirt and roughness of the ground. Foot scrubs have incredible ingredients that work on repairing your cracked skin, removing dead skin cells and preventing the growth of calluses. The presence of essential oils that lightens, brightens and hydrates your skin is a cherry on the top.
From your dark spots to your blemishes, foot scrubs will help you in every situation as they are enriched with antioxidants and SPF to prevent any further damage to your feet. You do not need to wait for an appointment to the salon every month because now you can do your pedicure at home with great ease.
You can have the *just had a pedicure* look every day with foot scrubs and your feet will never look or feel dull.
Here is all you need to know about the foot scrubs: how they work, the best products and its related FAQs.
Buying Guide
Why should you buy a foot scrub?
Investing in a foot scrub is more of an essential thing and not just a luxury. First of all, your feet deserve to be pampered as they are running around all the time carrying our body weight. They get tan, dark spots start appearing and your feet get rough and cracked if you don't pay attention to their care. A foot scrub will ensure that your feet stay pretty, moisturised and clean all the time. Your skin needs to be exfoliated at least once a week and foot scrubs will do that for you. Your pedicure appointments are necessary too but once a month is not enough for feet to heal. With foot scrubs, you can do your pedicure at home within no time and have happy feet all the time. You should definitely go for a foot scrub and enjoy its benefits.
Budget
There are foot scrubs for Rs.100 and there are foot scrubs for Rs.1000 as well so it totally depends on you which one you want to get. If you want to splurge a little on yourself then well and good, invest in some fancy foot scrubs. But if you are not sure about what will work for you then buy a medium-ranged product but never invest in a cheap product as it will only worsen your situation. Do a little research to see which product has all the things according to your needs at the moment.
Ingredients
A foot scrub must contain essential oils in it like rosemary oil, lemongrass oil and tea tree extract. All these oils have several benefits of their own and also give you a relaxing effect. Most good foot scrubs have antioxidants present in them which is again, another important ingredient. Some of them even have SPF so that your feet will not be harmed by the UV rays. The presence of a nice exfoliant in the foot scrub makes all the difference as exfoliating is the most important part while scrubbing. Avoid products which have too much chemicals present in them as they may have a side effect on your skin.
Brand
Investing in a reputed brand will be much better because the chances that the product will work for you are much higher. When it comes to skincare products, do not blindly follow any trend or pick up just any product. Considering other factors along with the brand is important too. See if the brand has a reputation for best selling products and if the product is real or not. Renowned Brands give you a sense of security that nothing will go wrong with the product and all the ingredients are safe. Go for brands that test their products dermatologically and are cruelty-free, if possible.
The right scrub for you
Before investing in any product, know your skin and know your needs. If you have dry skin, then go for foot scrubs that especially made for dry skin. Other foot scrubs may leave your skin even drier so it's better to go with specified skin type products.
If you have cracked heels and pain in your feet all the time, then go for foot scrubs that contain ingredients that will relax your muscles and have coarse action to repair your damaged heels. If you have nice feet already without any issues and you want a scrub for everyday use then go for a foot scrub that has good exfoliating action and is a little mild. You can go for tan removal scrubs as well if your feet are tanned from all the Sun and pollution.
Reviews
Read reviews from verified customers and see how their experience with the product went. The sole purpose of the product should be to satisfy the customer and meet their expectations. The reviews will tell you if the product does what it claims or not.
From the packaging of the product to its application to the results, you will get a clear idea about everything from the reviews. The ratings of any product play an important part in deciding if it is worth it or not so do check them out from trusted sources.
Benefits of a Foot Scrub
Prettier feet
Foot scrubs make your feet all pretty as they smoothen the skin and wash away all the dirt. If there are cracks or blemishes on your feet then you can get rid of them by using a foot scrub regularly.
Most cracks and blemishes are caused by calluses which arise if you wear heels, spend a lot of time on the field or simply just walk around a lot. You can stop these calluses from growing if you bring foot scrubs in your routine. They also tend to whiten your toenails so that you can have beautiful and smoother looking skin all the time.
Less Foot Pain
When calluses start building on your feet, some of them get too hard and cause your feet to ache. Dealing with cracked feet is really difficult as you are in constant discomfort no matter how comfortable your footwear is. Foot scrubs will soften and eliminate these calluses which will lessen the foot pain. All the foot scrubs require a little massaging on the application that helps in relaxing the foot muscles and also leads to improved blood circulation. So along with beautiful feet, you also get relaxed muscles with one product. If your feet are tired from walking or standing all day then use foot scrubs to eliminate the pain.
Pedicure at home
There are times when you are too busy to go to a salon for a pedicure and your feet look quite upset. When you decide to do your pedicure at home then foot scrub is the most important product. It will not only smoothen the skin but will also allow you to apply nail polish easily. Foot scrubs will remove the hard skin around your nails easily giving your feet a polished look. With foot scrubs, it is not a biggie anymore to do your pedicure at home by yourself. Moisturising and scrubbing your feet regularly is the key to happy feet.
Exfoliates Skin
Foot scrubs gently exfoliate your skin by removing the dead cells and rejuvenating your skin. Since feet get dirty easily and their thorough care is often neglected, dirt keeps on building on the skin. Scrubs will deep cleanse your skin making it smooth and glowing. Monthly salon pedicure is not enough to keep the skin of your feet healthy, exfoliating it at least twice a week is extremely necessary.
Antioxidants and Sun protection
Foot scrubs contain Alpha Hydroxy Acid that is a great ingredient with several benefits. Alpha Hydroxy Acids help in brightening the skin and prevent ageing. These acids promote collagen production, minimize discolouration and help in better blood circulation. So basically, all the goodness of this acid will help in making your feet on fleek. There are foot scrubs for tan removal and some of them even contain SPF for protection from the harmful UV rays. If you invest in a foot scrub with SPF protection, then you can flaunt your pretty feet on the beach and wear slippers or sandals with no worries.
Best Products
There are several foot scrubs available in the market and it can be quite overwhelming for you to land on one perfect product. There are some foot scrubs like the Kama Ayurveda, Biocare and VLCC pediglow kit that are always on the top products list. These companies are prominent in their own ways and provide the best features that a foot scrub can offer. The mentioned brands have amazing customer reviews and ratings and you can completely trust them.
Kama Ayurveda foot scrub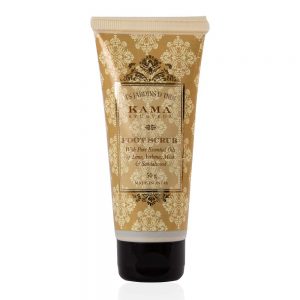 Kama Ayurveda has amazed us with its products for a long time now. The product claims that the ingredients are 99 percent natural. This foot scrub removes blemishes, dark spots and de-tans your skin. After using this product regularly, you will get clean, beautiful feet and your pain will be reduced drastically. There will be no soreness left and you will have smooth and silky feet. All your dead skin cells will vanish and this scrub will rejuvenate your skin.

Kama Ayurveda foot scrub is a dual-action cleanser and it deeply cleanses your feet. It is enriched with the goodness of tea tree extracts which have anti-inflammatory, anti-ageing, antimicrobial and antiseptic properties. Tea tree is a natural sunscreen, cures several skin diseases and takes care of skin burns and scrapes. Ground Apricot present in this scrub works as an excellent exfoliator and Chamomile fights against dry skin. From pricing to packaging, everything is great about this foot scrub and it is easy on the application. This product is definitely worth your money and time as it will give you amazing results in a short period of time.
VLCC Pediglow Foot Care kit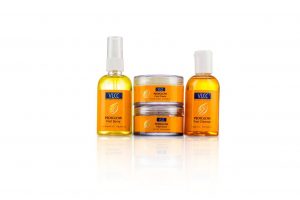 This kit contains four products which give you salon-like feels and is a great pedicure kit. All the 4 products have amazing ingredients in them and serve their purpose. Pediglow foot cleanser contains soap nuts and costus extracts that remove pollutants and dirt from your feet.

Pediglow foot scrub has the goodness of walnut and lemongrass which stimulates blood circulation and provides a soothing effect. Pediglow foot cream contains cocoa butter and orange oil that will hydrate and nourish your feet so that you will never have dry and flaky feet again.

Pediglow foot spray has patchouli oil and liquorice as its ingredients that will make your feet really fresh and you will get a lightened skin tone. You can now do four pedicures at home with great ease by simply following the directions of use that are given at the back of every product. The pricing and packaging both are incredible and it will cost you much less than a salon pedicure.

All the products of VLCC are effective but this pediglow foot care kit will get you hooked on it because of the amazing results it gives. You should definitely get your hands on this incredible kit and you will have silky smooth feet.
Biocare foot scrub
Biocare foot scrub comes with organic peppermint and shea butter which provides both hydrating and cooling effects. This foot scrub is really effective for aching feet and rough skin. Biocare claims that it has the purest and natural ingredients available in the foot scrub which makes it a leading product.

The scrub is suitable for all skin types so all of you can invest in this product without thinking about oily or dry feet issues. It also contains rosemary extracts, jojoba oil and apricot whose benefits are well known. Apricot helps in excellent action of exfoliation and helps in repairing your damaged skin. Clean, clear and hydrated skin will be left behind after using this Biocare foot scrub.

With regular usage of this foot scrub, you can get rid of your cracked heels and soreness. The quantity is decent and the scrub can be used every two days if you have constant pain and dryness in your feet.
Our Recommendations
1. Kama Ayurveda Foot Scrub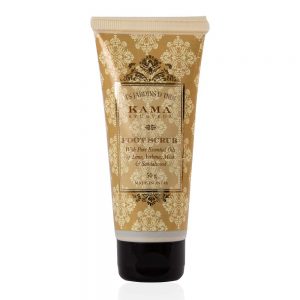 https://www.amazon.in/dp/B01MSLCEZR/ref=cm_sw_r_cp_api_i_hkyIEbV48ATPE

Kama Ayurveda is a gel-based foot scrub which has really fine granules. The product claims to be a dual-action cleanser and defoliator that deep cleans your feet. The granules are made up of Apricot which provide antioxidant action and are rich in vitamin A and vitamin C. There is Chamomile present in it which heals your skin and has antibacterial properties to deal with your calluses. Another soothing ingredient is Basil which along with essential oils will help in relaxing your feet. This foot scrub will hydrate your skin well and will not dry out leaving your feet flaky.

Kama Ayurveda will help in removing your tan and also lightens your skin. It has a fragrance which is not bothering at all. It lathers well, is easy to apply and exfoliates your skin with its mild action.
The packaging is really elegant as it comes in a floral plastic tube of golden colour and a black coloured flip flop cap. This product is travel friendly, will not mess up your place and is super hygienic.

This foot scrub is a little expensive as compared to other products but then again, the excellent ingredients it has makes this scrub totally worth it.
You can use this scrub on a daily basis after or before shower and then moisturise your feet for even better results. Overall, Kama Ayurveda foot scrub will make your feet look gorgeous as they will brighten your skin, hydrate it and then make it smooth with scrubbing action.
Pros
*Presence of antioxidants.
*Brightens your skin.
Cons
*Mild action.
2. VLCC PediGlow Foot Footcare Kit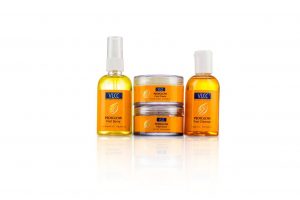 https://www.amazon.in/dp/B00HN1MRIW/ref=cm_sw_r_cp_api_i_zgyIEbQ2GXXY4


VLCC PediGlow foot care kit comes in a set of 4 products:
•Pediglow foot cleanser with soapnut and margosa
•Pediglow foot scrub with walnut and lemongrass
•Pediglow foot cream
•Pediglow foot spray

Starting from the top, Pediglow foot cleanser contains soapnut and margosa that removes the dirty germs from your skin and makes it soft.
Shikakai, dalchini and lemongrass oil are some other ingredients in this cleanser. The directions of use are clearly mentioned on the back of the product to avoid confusion. You soak your feet in this cleanser when mixed with water and it gives a nice lather.

Pediglow foot scrub contains walnut powder, lemongrass oil, glycerine and salicylic acid. The texture of the scrub is creamy and the granules perform the exfoliating action really well. It has a nice fresh smell and the scrub helps in healing your skin.

Pediglow foot cream contains margosa, olive oil, cocoa butter and fenugreek. This pleasant smelling foot cream has water-like consistency which moisturizes your skin really well and there are no signs of dryness or flakiness.

Pediglow foot spray contains patchouli oil, liquorice, triclosan and glycerine. This spray makes your skin refreshing and is the final step of this kit.
All the products have amazing ingredients which come in a great quantity according to the price. The packaging is really nice as all the bottles and boxes are decently packed. The directions of use are given behind each product and the application is easy.
Pros
An affordable choice.
Loaded with great ingredients.  
Cons
Smells bad.
3. Biocare foot scrub
GEMBLUE BIOCARE Foot Scrub, 500ml https://www.amazon.in/dp/B07YS8F3ZJ/ref=cm_sw_r_cp_api_i_TH0IEbZESQD3V


The main ingredients in this Biocare foot scrub are Organic rosemary with Apricot. There are essential oils like jojoba oil in the scrub that makes this product even more special. This scrub comes in a nice quantity and this is the most attractive part about this scrub. The packaging is decent as the scrub comes in a plastic container which is quite large. However, it could be better since the pricing is a little expensive for what the product has to offer.

Biocare foot scrub removes all the blemishes from your skin and makes it glowy. It improves your blood circulation, gives a new life to your tired muscles and also makes your feet silky smooth. You can use the product twice a week or more according to the needs of your feet. Also, this scrub is suitable for all skin types and will keep your feet hydrated all day long. There is a certain chemical like smell to this product that can be nauseating for several people.
This is a great scrub for removing dead skin cells and rejuvenating your skin.
Pros
*Good quantity.
*Presence of antioxidants.
Cons
*Chemical like smell.
4. Lotus Professional Pedicure & Manicure Citrus Hand & Foot Scrub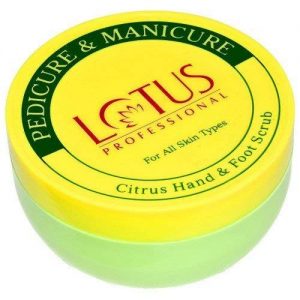 Lotus Professional Pedicure & Manicure Citrus Hand & Foot Scrub,300gm https://www.amazon.in/dp/B019FKOWA4/ref=cm_sw_r_cp_api_i_D10IEb6VPF6AY


As the name suggests, Lotus Professional is a hand and a foot scrub that means you get your manicure as well as pedicure in a single product. This product has a citrus fruit extract that will cleanse your skin and remove all the dead cells. There are antioxidants present in this scrub that are really beneficial for your skin. After using this Lotus Professional scrub, you will get a silky smooth skin and a brighten skin tone. Massage your feet with this scrub for at least 5 minutes and all your muscles will feel so relaxed. The best time to use this product is at night as the scrub will remove all the pain and tiredness that you get from working.

The product comes in a small circular plastic container with a lid that opens anti-clockwise. The pricing is unbelievably affordable for the features this scrub provides. The packaging could be a little better but is decent according to what you will pay for it. The major advantage of this scrub is that it is suitable for all skin types and gives a salon-like finish. Even if you have super dry skin or oily skin, this product will simply work wonders for everyone. For a nice manicure and pedicure, you should give this Lotus Professional. scrub a try.
Pros
*Affordable.
*Suitable for all skin types.
Cons
*Packaging can be a little more attractive.
5. Jovees 2 in 1 Foot Care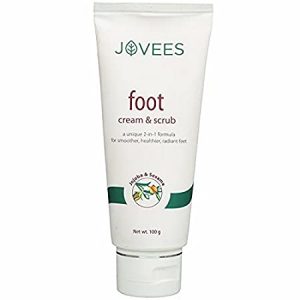 Jovees 2 in 1 Foot Care, 100g https://www.amazon.in/dp/B077MDHGJ4/ref=cm_sw_r_cp_api_i_lN1IEbT0AR496


The product claims that it is a unique cream formula for smoother, healthier and radiant feet. There are jojoba seed nuts, sesame, kokum butter, geranium oil, lemongrass oil and rosemary extract in this scrub. Jovees 2 in 1 Foot care works as a scrub as well as a cream so you get all the benefits in one single product. Wash your feet and then soak them into warm water for 5-10 minutes. Dry them with the help of a towel, then take the scrub and start massaging it gently in circular motions. Massage the scrub nicely in your heel and sole area until it is absorbed completely. Voila, you are done!

You can scrub your feet and hydrate them in one go without any extra efforts. The packaging is decent as it comes in an inverted tube and has a flip open cap.
This scrub cum cream works great for blemishes and cracks but you have to use it regularly for visible changes. All your shoe bites will start to lighten and your feet will look incredibly soft. There are granules still left on your foot after the application so make sure to wipe it as it can mess up your clothes.

The product is affordable and for a two in one product, you are getting this at a great price. With Jovees 2-in-1 foot care, be ready to say goodbye to your dark spots, dry skin and cracked heels.
Pros
*Scrub along with the cream.
*Affordable.
Cons
*Granules stick on your feet which can be quite irritating.
6. Vaadi Herbals Foot Scrub with Fenugreek and Lemongrass oil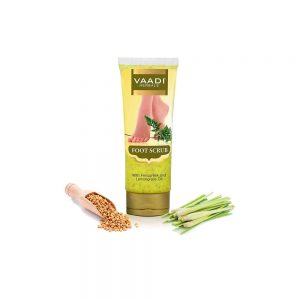 https://www.amazon.in/dp/B00XOGNECS/ref=cm_sw_r_cp_api_i_vfyIEbV7M69M0

This foot scrub has a unique formulation which consists of precious herbs and natural exfoliants. It removes your dead skin cells and rejuvenates your damaged skin. The brand Vaadi Herbals claims that all the ingredients present in this product are natural. We all are aware of the goodness of lemongrass oil and fenugreek as they exfoliate, moisturize and lighten your feet. Jojoba seed grains are excellent exfoliants and are used in this scrub to remove the dirt from your feet.

The packaging is decent as the scrub comes in an inverted tube form with a flip open cap. The pricing is super affordable and if you are a beginner to the world of skincare products then go ahead and invest in this foot scrub. Vaadi Herbals Foot Scrub will leave your feet looking healthy, clean and hydrated. Use this product at least twice a week for better results. This scrub will protect your feet from Sun damage and fenugreek extracts provide anti-inflammatory action. Lemongrass oil gives an additional benefit by providing a soothing smell so that you can have a good relaxed sleep.
Pros
*Affordable.
*All-natural ingredients.
Cons
*Mild action.
FAQ's
Best foot scrub for dry skin
The Body Shop Peppermint reviving pumice foot scrub is the best scrub for dry skin. Its formulation is done in a way remembering the problems of dry, flaky and cracked feet. It has volcanic rock granules that will remove the dead skin cells and rough skin. The foot scrub contains pumice granules along with peppermint oil that will make your skin smooth. The formula is like a thick gel and you need a very little amount that will glide on to your feet. It has a mint-like smell to it which is very refreshing and the scrub will leave a cooling effect on its application.
It comes in a circular container with a screw lid and is travel friendly. The pricing is decent according to the features it offers.
Best foot scrub under Rs.500
Avon Foot works exfoliating scrub is a great product under Rs. 500. This scrub contains macadamia nut oil and nutshell powder. Avon's foot scrub will cleanse your skin and make it really smooth. All your dead skin cells will vanish leaving behind rejuvenated skin with a salon-like finish. This scrub will nourish your feet, keep them hydrated and help in giving you a nice pedicure at home. The foot scrub comes in a tube and the packaging is decent as well as hygienic. Avon's products never fail to impress anyway and this one will definitely have your heart.
Best foot scrub in India
Sally Hansen Smoothing foot scrub is the best foot scrub in India as its formula is designed for multiple purposes. This foot scrub has vitamin A, C and E and also has a really impressive ingredient that is the tea tree oil. This foot scrub primarily focuses on making your feet very smooth and soft. Tea tree oil has anti-fungal properties that will prevent calluses from growing on your feet and also remove the rough skin. All sorts of dirt and infections can be treated with this tea tree oil. The product is a little expensive but it works effectively and will show drastic changes in your feet. This is a luxury foot scrub that you should try to pamper yourself.
Types of foot scrubs
Sugar Scrubs
These types of scrubs contain granulated sugar which acts as an exfoliant along with essential oils and glycerin. Sugar scrubs are really popular nowadays and provide effective action.
Salt Scrubs
If your skin is not too sensitive and can handle a little coarse action then salt scrubs will do wonders for you. These scrubs contain salt granules which are great for cleansing of the skin and provide vigorous scrubbing.
Herbal Scrubs
Herbal scrubs contain natural ingredients only which are enriched with different essential oils. These scrubs are mild but effective and are always trendy.
Coffee based Scrubs
Coffee is a great ingredient when it comes to skincare products and is a natural stimulant. Coffee based scrubs along with natural oils will exfoliate your skin as well as give you a therapeutic session.
Moisturising Scrubs
Some scrubs are made only for dry skin type so that you can get rid of flaky and irritating skin. These foot scrubs will moisturize and hydrate your feet well so that you can have pretty feet.
Can you use a body scrub on your feet?
The skin on your feet is comparatively thicker than the rest of your body and will not exfoliate with mild action of scrubs. Body scrubs usually are of daily use and do not have coarse granules for exfoliating or other purposes. Whereas foot scrubs are made keeping in mind the problems our feet face and what exactly can cure them. If your body scrub is not too gentle and you already have undamaged feet then you can use it on your feet. But if you have cracked heels, dry and tanned feet then it is advised that you go for a foot scrub for healing your feet.
How to use a foot scrub?
First of all, wash your feet nicely. Never apply foot scrub to dry feet directly. After washing, dry them a little so that they are damp. Then, take a little amount of foot scrub and apply it to your heels, your soles, around your toenails and start spreading it. Massage your feet for around 5 minutes in a circular motion. Make sure that you are massaging in a gentle manner. After that, wash your feet with clean water and see that no granules are left on your feet. Dry your feet with a towel and you are good to go.
Can you use a foot scrub daily?
It is best advised to use a foot scrub once or twice a week. Using the foot scrub daily can lead to dry skin and will remove the essential oils from your skin. Twice a week is more than enough for exfoliating and cleansing your feet. However, there are some products available that claim that they are made for everyday use because of their mild action. If you are going for a foot scrub that is mild then you can use it daily before going to sleep to relax and make your feet happy.
Do foot scrubs remove cracks?
No foot scrub can remove your cracks in a jiffy as the healing process requires time. You have to be regular in the usage of foot scrubs and choose the right scrub with essential oils and natural ingredients that will slowly reduce the cracks. Foot scrubs do work when the application is on point and you really take good care of your feet. Moisturizing your feet is extremely necessary if you are dealing with cracks, apply a generous amount of the foot cream whenever you get time. If you follow these simple steps regularly, then you can see the changes for yourself
Best foot scrub homemade
For homemade foot scrub, you will require 2 tablespoons of brown sugar, 1 tablespoon of lemon juice, 1 tablespoon of honey, 1 tablespoon of olive oil and a tub half-filled with lukewarm water.

Take a bowl and mix all the above-mentioned ingredients nicely till you have a thick consistency paste. Soak your feet in the tub filled with lukewarm water for 10 minutes so that all the dust is removed. Take the paste that you prepared and start applying it to your feet and massage it for 5 minutes. After you are finished massaging, rinse off your feet and dry them with a towel. You will have smooth feet within half an hour and this will also relax the muscles of your feet. Do not forget to apply moisturizer generously to your feet after this process is done.
Conclusion
By now, you must be convinced that your feet require special care and investing in a foot scrub will only give you benefits. Give some time to a particular foot scrub as no product can give instant results. Use it twice a week and see how your cracked heels turn soft and smooth, not forgetting the heavenly feels it gives to your feet after a little massage. Don't jump onto any product too quickly, but see if it is suitable for your skin type, under your budget and has the right ingredients for your problems.