Best Hair Dryers For Women In India in 2020
Having a good hair day is the dream of all, but to achieve those salon finish hair you have to work hard. Generally, women prefer to go to the salon to get their hair styled by paying a good amount for the service. It is after the entry of hair dryers in the market that you need not spend that money every time you want to look your stylish best. Hair dryers have always been a part of the history of fashion and women's evolution. It is a perfect tool for those women who love to style their hair daily.
Life sounds incomplete without a hairdryer. A good hair dryer not only dries hair but also helps in experimenting various hairstyles. When combined with different hair styling tools, your volumized look can be enhanced. It is due to the growing popularity of hair dryers that the market is full of different brands offering hair dryers with great features. Thus, resulting in a tough choice for the buyers. So, here we are for your help. Along with reviewing the best hair dryers for women, with which you will get a better understanding of the dryers, in this guide we have also covered consumer guide to ensure a wiser purchase according to your needs and hair kind such as straight, wavy, fine, natural, thin etc.
Our Research Process / Tips on Choosing Your Perfect Hair Dryer
While searching for that perfect hair dryer, you will come across several brands offering different types of hair dryer that varies in terms of their affordability, versatility and also the technology used among them. With the features varying from one hairdryer to other, hair dryer brands are also not the same. The market has got only a few manufacturer brands known for offering high-quality hair dryers. As hair dryers work well for all kinds of hair textures and length, we recommend to focus on hair dryers with attachments as they have got a serious effect on different hair types and textures.
The hair dryers with diffuser and concentrator can help you better in styling your hair. Hairdryers are known to destroy the hair texture and quality and so it is always advisable to look for a dryer with different heat settings and additional styling features.
It is good to see the material of the dryer as due to excessive use they can melt and can even catch fire. So, be alert while using them and style accordingly.
The selected brands in the article have been in the market for years and have proven to be a perfect tool for both individuals and professional stylists. With all the innovative technology used in the dryers, it ensures that your hair gets dried or styled in a short time. They are all a one-time investment which can be used for years. With the sleek, stylish and light-weighted features they are all easy to use too. You need not get a professional degree or a stylist to make it work. By reading some instructions you can bring to style your hair.
With a good hairdryer, you can get that sleek and straight look or can easily add volume to your or cam get those wavy or curly hair look. A hair dryer can be used in numerous ways but no matter what style you are going for always remember to look for the dryers that are gentle on your hair and does not destroy your locks. It is also important to select a hair dryer that suits your hair type and does not burn your hair.
Having both cool and warm temperature settings in a dryer is the best choice for you as this will ensure minimal damage to your hair. The article below provides you with 5 different best hair dryers for women in India. They are all according to the varying hair type of Indian women but we have got our 3 favorites from the list.
After examining dozens of hairdryers, ranging from budget-friendly to luxury ones, here are some of our favourites:
1. VEGA X-Style 1200 Hair Dryer (VHDH-17)
2. Philips HP8120/00 Hair Dryer
3. Havells HD3201 1500W Ionic Hair Dryer
All the above-mentioned hair dryers are among the best sellers in the market. They are not only trustworthy but are also known for delivering a high-quality result. They are all a new age hair dryer for the contemporary women of today. With a perfect combination of style and quality that also has got 2 heat settings, VEGA hair dryer is perfect for gentle drying and also fast drying with its high heat setting. Also, the dryer has got a cool setting that will dry your hair at a relatively cool temperature. While the hair dryer from Philips is small, powerful and cute. With its high-power motor, you can dry your hair tenderly and rapidly. Also, it comes with different drying needs that give additional care to your hair. With some great features, the Philips dryer will never disappoint you. Our next favorite dryer from Havells is here to give you frizz-free tresses without causing any damage to your hair. With the robust motor and heat distribution technique, the hairdryer ensures to keep the softness of your hair intact during the whole process of drying and styling. The best part of them is their price range. At an affordable rate, you can get these hair dryers and style your hair with ease at home.
Key features to keep in mind before choosing a hair dryer
A bad hair day is something that no girl would want to wake up to. It takes a billion sorts of hair items, styling devices and long periods of persistence (likewise an opening in your wallet!) to get the looks. To make a rundown of all such hair items would be an overwhelming assignment (most definitely) consequently we center around the individual consideration apparatuses section in this survey. 'One for all' is the mantra with regards to styling apparatuses. Henceforth the unassuming hair dryer is really a lady's closest companion. Be that as it may, picking the best hair dryer in India ought to be your objective.
Be it to battle frizz, highlight your layers, set your twists, blow dry your blasts or even twist your eyelash, a hair dryer can truly overwhelm you with sundry other uses (ask Google you'll be astonished). Hair dryers today limit static, take out frizz, decline drying time and furthermore include sparkle.
Various brands offer various highlights and determinations in their scope of hair dryers and to make it worth your speculation you'll have to explore. An essential thought of your necessity as far as the material, wattage, weight and other additional highlights that make blow drying simple would help in choosing the best brand of hair dryer for you. Henceforth here are the key focuses to concentrate on when purchasing a hair dryer.
Highlights to search for when purchasing the best hair dryers in India
Watt: Hair dryer effectiveness is determined by its capacity that is the what, the percentage. The drying time relies upon the wattage of the hair dryer. A higher wattage engine trims down the styling time without presenting the hair to unreasonable warmth. Hair dryer wattage ranges from 1000 watts to 3600 watts. The fundamental hair dryers are of 1000 to 1800 watts and are reasonable. Hair dryers with higher wattage are most appropriate for thick, long and crimped type hair. Since the temperature is higher in high wattage, the warmth isn't reasonable for thin or fine short hair.
Metal used: Metal warming curls produce lopsided sight-seeing and harm the hair at high temperatures. Then again, Ceramic, Tourmaline and Titanium hair dryers give in any event, warming as delicately as conceivable to decrease harm. Hair dryers with this kind of curl material makes hair sparkly, saturated and solid. These are the sorts of hair dryers that are best for normal use. This is pivotal for individuals with fine or dry hair; however, everybody can profit.
Weight and size: When searching for a dryer, weight and size are significant highlights to be searched for. Styling the hair is usually a moderate and repetitive procedure. Hence, you should opt for a brand that goes easy and light with the weight. Since the vast majority incline toward hand held dryers going for a lighter model would be perfect. Minimized, lightweight and ideally foldable are the highlights that make a hair dryer agreeable for styling. Additionally, on the off chance that you are a successive explorer than a little estimated dryer is the thing that you ought to go for.
Innovation utilized: Just like everything else, even hair dryer has developed from the fundamental ones to the ones with the most recent innovation. Hair dryers today come furnished with various innovations, for example, ionic, static atomization and so on. The ionic innovation causes you keep up sparkly saturated tresses and hold your hairdo for a more extended time. Panasonic's recently presented Static atomization produces nano-sized smaller scale particles that lock the fingernail skin and makes hair sound.
Heat settings: Exposure to high temperatures may harm or consume your hair, thus checking for heat control settings while purchasing a hair dryer are a flat-out must. A few dryers accompany 3 degrees of warmth settings (high, medium, low) and some with just 2 levels (high and low). One can choose the necessary warmth setting as indicated by the requirements.
Top 5 Best Hair Dryers for Women in India
Here is a detailed review of our recommended hair dryers with their most prescribed highlights: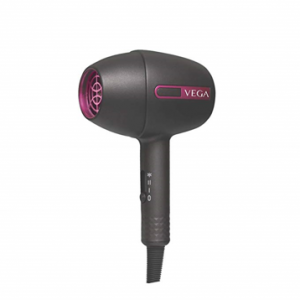 VHD17 is a unique hair dryer, styles your hair quickly. It has two temperature control systems which means it has two heat settings. It also allows you to dry your hair on a cool temperature setting. It is a hair dryer which is best suited for summer as well as for winters.
As per many leading bestsellers for Vega hair dryers, the customers have reviewed and rated this particular product as 4.4-star rating and above. This shows that the product is giving an excellent performance. According to some of the customers who have used this product, this hair dryer proves itself as one of the most efficient items.
Some qualities of this product depending on reviews are given below for your reference:
• It has a good colour and compact design.
• It has good functionality and features.
• It is a pocket friendly device.
• It is a value for money product.
Various key highlights that of VEGA X-Style 1200 Hair Dryer are it has 2 speed settings allowing you to choose speed according to your requirement, it also has 2 heat settings. Voltage capacity is of 1200 Watts coming with a 1.9 m long cord length. It comes with a 2-year warranty and company provides you with a 10 days replacement policy. You can easily avail this product on cash on delivery also.
Pros
• It has a fast-drying system 1200 W you don't waste time.
• Two kinds of heats are their low heat for gentle drying and high heat for faster drying.
• In summers, you can use cool temperature to dry your hair it will not damage your hair.
• It has overheat cut off and automatic detachable nozzle.
Cons
• It is too noisy.
• Plastic body of this hair dryer can break very easily.

Check the cheapest price on Amazon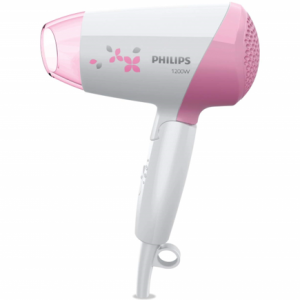 The new Philips essential care, hair dryer, it's a cute and compact hair dryer, working gently and quickly. This is for 1200 W, it's flexible in nature and designed for different requirements of customers and offers extra care.
The thermos protect feature provides optimal heating for your soft hair which helps in preventing hair from exposure to excess heating. It has 3 pre-selected speed for cool caring and quick drying. A cool air setting allows you dry hair at a cool temperature avoids the risk of damaging the hair. This hair dryer comes with a foldable handle, which results in a small compact hair dryer you can store it in the small spaces anywhere you like. This is a pocket friendly hair dryer and one of the best hair dryers in this price range.
The customers have rated this product at 4.3 rating out of 5. As per the customers, it has a compact and foldable design. It is light weight in nature. It's an effective hair dryer that works at 1200 W of heat which provides sufficient heat. Cool air temperature is also provided. It has a foldable handle and it is very easy to carry the hair dryer around.
Pros
• A well-equipped temperature control system.
• A good and foldable compact design easy to set and cater to a greater number of drying needs than other hair dryers of similar kind.
• Hair dryer nozzle works directly on hair pressure.
Cons
• Cool air setting blows out warm air at low speed instead of sending out cool air at high temperature.
• As per our observation, the cool air mode of Philips has created a confusion in the minds of customers who are buying this product from the website.
Check the cheapest price on Amazon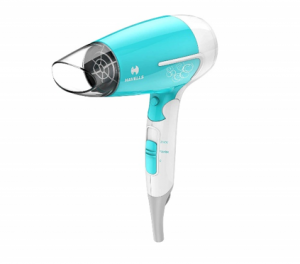 Havells HD3201 1500W Ionic Hair Dryer is a compact easy to use hair dryer, styles your hair at home. The heat balance technology prevents hair damage, with honey comb intended feature, you can say good bye to hair tangles. It comes with a 1.6 m cord.
We observed that it is a qualitative product. It has a compact and essential design. It has a sufficient air flow and an efficient heating capacity. The customers have given an overall rating of 4.4 out of 5.
According to customer review available on various online websites, it is a great product, nice to use and very easy and compact product. It has a double protection under overheating of the product. It has a powerful motor and dries hair in 2 to 3 minutes in a convenient manner. It is a portable hair dryer so you can carry it in the travel bag. It has three stages of heat – high, medium and low. It has good temperature control system.
Pros
• 3 heat setting modes.
• It has a foldable handle
• It works efficiently
• It has 3 modes of setting heat.
It is a product with higher durability, works effectively post 5 months of usage comes with a 2-year warranty. Product can be returned in 10 days if it is faulty in nature.
Cons
• It produces noise while working.
• While working on a high temperature gives a burning sensation in the hair dryer, due to high heating in the dryer.
Check the cheapest price on Amazon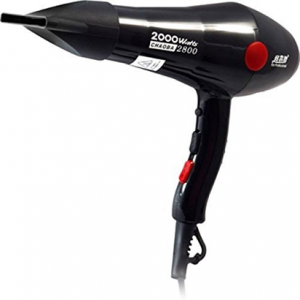 'Hair styling with safety'- is exactly what this product by Chaoba is known for. The convenient hair dryer is made to provide the ease of use to the users. Chaoba 2800 Hair Dryer is designed in such a way so that even new users and beginners can use it using the manual attached to it. The warm air blowing from hair dryer is helpful in restoring the glare of your hair locks without causing harm to your hair. The fast heating feature of this product is effortless to use and comes with an adjusting temperature option.
It operates by default in cold air mode. By pushing the red button downwards will switch hair dryer to hot air mode. To get a cold shot in hot air mode there is a small button above the cold as hot switch, you have to just press and hold it down.
Pros
• According to your needs and hairstyle you can set the speed of hair dryer. Buttons are of good quality and you can adjust fan speed by using them.
• It also comes with a long thick cord which offers you mess free drying.
• Insulation cord provided by the company is of high quality and there is no chance of shocks and injuries while using it.
Cons
• It is user friendly, with its manual but the durability of the product is not something to be guaranteed about.
• It gets heated very fast, just within 10 to 15 seconds, which remains a concern for buyers and new users.
In pocket friendly price this product is comparatively less durable but is known for amazing user reviews.
Check the cheapest price on Amazon
"The hair dryer is cool but too much compact" – that's how the general tagline of this product goes around. The product is an extremely comfort and handy one which comes with a foldable feature to be carried along while travelling as it does not require much space.
This powerful dryer comes with a designed hair concentrator which focuses air on required areas for professional styling. You can widen the use the concentrator and also use the dryer for wider coverage and help you in all ways.
Pros
• It can be used in two different speeds: the medium speed, providing little heat for gentle drying and the high speed for immediate drying and styling.
• It has multiple features and also helps in drying, straightening as well as styling hair.
• It has foldable handle which helps to carry it while travelling from one place to another as the wire is also very long.
Cons
• It does not provide the cool air mode which acts as a hindrance otherwise it gives you a perfect, smooth and consistent style on all hair.
Lifelong hair dryer comes with a 1.8m long power cord which gives you maximum flexibility while drying and styling you hair. The concentrator of this product helps in focused blow drying of hair onto specific areas by controlling the flow of air, which gives results better than expectations in fine hair styling and works perfectly for regular touch ups.
The Lifelong provides 1 year warranty and the reviews make it sound as durable with a good working condition. This hair dryer extremely good for day to day use as well as a budget friendly product and definitely worth giving a try.
Check the cheapest price on Amazon
Some FAQs related to the usage of hair dryers
1. Whether regular use of hair dryer will cause damage to hair?
Excessive use of anything is harmful. If you will expose your hair and scalp to excessive use of hair dryer, then it is surely harmful. But using it in a limit is absolutely harmless.
2. Whether quality of hair dryer really matter, as all of them work similarly?
Yes, it does. As a hairdryer is an electronic device and hence, its quality surely matters. A low-quality hair dryer can damage your hair and can even give you electric shock while using.
3. What is the use of having different heat modes in a dryer?
Exposing hair and scalp to heat on a regular basis can make your roots weak and can cause hair fall. Therefore, different heat modes will help you in using hair dryers without exposing your hair to excessive heat.
Conclusion
Buying a hair dryer is not a difficult task at all, if you have correct knowledge about the products. While buying hair dryer keep ratings and reviews in mind. Also, it is important to buy a product according to your budget. According to our research process VEGA X-Style 1200 hair dryer is the best option because of its amazing features and high quality. But, if you want a more budget friendly product, then, Havells HD3151 1600W Cool Shot hair dryer is worth buying.
We really hope that after reading this buying guide, you will have a clarity about which hair dryer you should go for according to your requirements.