Best Melanin Creams for Pigmentation in India
Most Indian women have experienced patchy skin syndrome. This is when certain areas of their skin suddenly develop pigmentation for no reason at all. This happens due to a phenomenon called hyperpigmentation.
Hyperpigmentation happens when your body produces excessive melanin. Melanin is the pigment that gives skin its colour. Black skin has the most melanin and so it appears dark. Asians have brown skin because of lesser melanin as compared to the Africans. Caucasians have the least melanin and their skin is white.
Melanin protects the skin from sun rays. It is a good guy, really, as it prevents skin cancers. But the problem starts when it is produced in excess. This causes deposits of melanin in parts of your skin. The results of this are often ugly, driving most, if not all, into a buying frenzy for pigmentation removal creams and lotions.
Indian women are more prone to pigmentation as their skin has more melanin. The dark patches are usually seen on the neck, face, back and around the mouth.
Causes of Pigmentation
Pigmentation starts with damage to the melanocytes or the melanin-producing cells in the deeper layers of your skin. When this happens, melanocytes produce more melanin and this bundles together as dark patches. And this can happen to you regardless of your age and skin type.
The main causes of pigmentation are-
Sun Damage– This leads to age or liver spots. When parts of your skin are exposed to high levels of harmful UV- A/ B rays in the sunlight, the melanocytes are triggered to produce more melanin to protect the skin from ultraviolet radiation. This leaves discoloured patches on your skin, also called pigmentation.
Acne Scars– Acne can result in inflammation and patchy skin.
Hormonal Imbalance– This usually happens in pregnant women and is known as melasma. This type of pigmentation is also very common during menopause when the hormones are seeing a lot of turbidites.
Skin Inflammation– This can happen when a cosmetic skin procedure like a chemical peel or dermabrasion goes wrong. You are left with scars and pigmentation that are usually worse than the issue you had earlier.
Pigmentation is also not a unitary concept. It includes redness, inflammation, and can surface as age spots, melasma, and post-inflammatory hyperpigmentation or PIH.
PIH usually fades off by itself in 2-3 months. But, most types of pigmentation doesn't go away by itself. You have to treat it –take action for it to fade away.
Best Melanin Creams for Pigmentation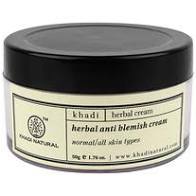 Khadi Anti Blemish cream is a herbal cream that is extremely effective for dark circles, acne scars, skin blemishes as well as pigmentation. It leaves your skin smooth and evenly toned. This cream contains Aloe Vera, rose, papaya, and liquorice extracts. It also contains jojoba oil for hydration and ashwagandha, fenugreek, grapeseed oil, and wheat germ oil for a slew of skin rejuvenating benefits.
Pros
This is a thick cream that absorbs well and quickly.
You can see a reduction in pigmentation after completing the first jar itself.
Check the cheapest price on Amazon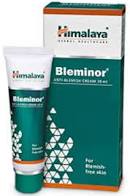 Himalaya Bleminor possesses anti-inflammatory properties that help control hyperpigmentation due to inflammation. It contains 'Sarja', considered a rich source of natural antioxidants. These help in retarding the production of melanin. Silk Cotton Tree or Shalmali is also present in this formulation and it has excellent anti-oxidant as well as tyrosinase-inhibitory properties. Both these properties inhibit melanin production.
Almond soothes and moisturizes and improves skin tone.
Pros
It acts against pigmentation due to different causes like due to photo or sun damage, aging, and melasma.
It tackles post-injury and post-inflammatory hyperpigmentation or PIH.
Check the cheapest price on Amazon
3. Kama Kumkumadi Miraculous Beauty Fluid Ayurvedic Night Serum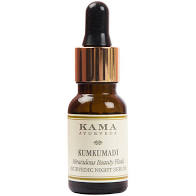 This is an Ayurvedic formulation. It comes to you as a night serum. It is formulated with the legendary Kumkumadi oil. This oil has many benefits for pigmented, dull, damaged and aging skin.
It is prescribed for an even skin tone in Ayurveda. Apart from Kumkumadi oil, the serum contains skin-friendly herbs and ingredients like saffron, sandalwood, Vetiver, and Lotus. Pure Saffron helps give you a radiant complexion. Indian Madder and Banyan tree extracts help smooth wrinkles and fine lines to give you healthier, younger-looking skin. Sandalwood, Lotus, and Vetiver cleanse and cool while erasing pigmentation and blemishes.
Liquorice root which is an antiseptic helps protect against skin infections and also helps improve skin tone.
Pros
It is a hundred per cent natural product that is excellent for reducing pigmentation
It is a non-sticky, orange-coloured facial oil that absorbs quickly into slightly damp skin and is excellent as a night-time treatment.
It brightens dull skin and repairs pigmented patches.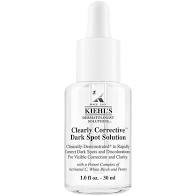 This is a premium dark spot corrector and brightening serum. It visibly reduces hyperpigmentation, dark spots like liver spots, and post-acne marks.
It boosts radiance and evens skin tone. This brightening serum is formulated with Activated C, Peony and White extracts.
It works by reducing the intensity of dark spots over time. It is suitable for all skin types, including sensitive skin and is tested on all ethnicities, including Asians.
Pros 
Clinically- tested to correct pigmentation
It visibly reduces a broad spectrum of hyperpigmentation including due to photodamage, UV radiation, and age. Reduces acne marks too.
A dermatologist-tested product which is suitable for all skin types, including sensitive.
Check the cheapest price on Amazon
5. Bioderma White Objective Serum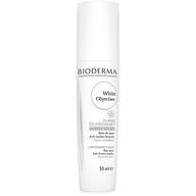 This is an intense lightning night care serum. It is an anti-brown spots product that offers optimum anti-spot and lightening results. It comes armed with the W.O.™ patent. This acts on the big skin mechanisms responsible for skin pigmentation.
Besides, it has vitamin C, which is gradually released to reduce the number of melanin-producing cells in the dermis.
The serum also has glycolic acid and the intense peeling action of this ingredient helps eliminate the cells loaded with the melanin pigment.
White Objective serum also has the Aquagenium patent. It has ingredients that lock in the moisture in the skin. What the patented complex stimulates the production of skin lipids and the working of aquaporins, which are the "water channels" naturally found in the skin to transport water to cells in the epidermis.
The serum essentially works on the water and lipid components, two extremely essential components of the skin. It keeps the skin hydrated at all times, as the major cause of early aging and other problems in the skin is mainly dehydration.
Pros
It evens out skin tone and lightens it.
It enhances skin radiance.
It makes brown spots disappear and prevents them from appearing again.
It is a light-textured gel which has no fragrance.
6. Forest Essentials Lightening & Brightening Tejasvi Emulsion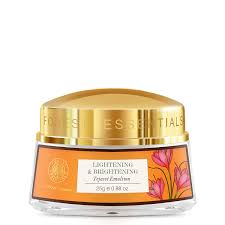 This is a rich textured massage emollient balm. It deeply nourishes deeply dehydrated, wrinkly skin.
It has more than usual collagen-supporting qualities. It contains saffron, pure cow's ghee, wild turmeric, sweet almond oil and works on pigmentation giving your skin a glow and radiance without the dull pigmentation patches.
What's more, it comes in an eco-friendly, reusable glass jar and is free from chemicals and toxic parabens.
Pros
It deeply nourishes dehydrated skin.
It gives plump and radiant skin by boosting collagen production.
It makes the skin supple and soft.
It is a natural product that comes in eco-friendly packaging.
How to Treat Pigmentation?
You can use the above-mentioned skin creams and serums to fight hyperpigmentation. These are the first line of treatment. Be patient with these products. Try for a month before giving up.
Sometimes effects may be visible after only after weeks or months of usage.
Cosmetic procedures can be resorted to too. You can go in for chemical peels, dermabrasion, Pulsed light laser, and other stuff to remove the upper layer of your skin that has pigmentation.
These procedures should only be performed by a certified dermatologist using professional equipment.
Pulsed Light laser works by making powerful and rapid flashes of light to penetrate the pigmented skin. These light flashes break down the melanin and the tiny fragments of melanin are reabsorbed.
Chemical peels are controlled chemical burning of the skin. This reduces the top layer of the skin which is pigmented and the new skin that grows out is fresher and cleaner.
Laser therapy for skin resurfacing comes in useful when your hyperpigmentation is deeper. Light beams are targeted at the pigmented skin to remove the top layers of the skin. And microdermabrasion is an abrasion of the top layer of the skin to remove pigmentation.
Talk to an experienced cosmetic surgeon to understand these procedures, including their pros and cons, before agreeing to them.
Buyer's Guide: How to Buy the Best Melanin Cream for Pigmentation
Always go for creams that contain hydroquinone, kojic acid, retinoids, azelaic acid, corticosteroids, or vitamin C as these ingredients act against melanin deposits responsible for pigmentation.
Avoid creams with toxic parabens, as it has been linked to cancers and alcohol that dehydrates your skin and strips away its natural oils.
The best defence and treatment for pigmentation is using sunscreen and block before going out in bright sunlight. Pick one with 30 plus SPF and wear it at least 20 minutes before going out. Use a cap, hat, and cover your face and arms to keep them sun damage-free.s