Best Organic Herbal Shampoos for Hair fall for Women
You have heard it said that the hair is a woman's crown and glory, now you wouldn't want to be the reason why this crown is shattered, would you? No wonder numerous shampoo companies have developed solutions to help keep this crown in check.
Having healthy and glowing hair has become part of a woman's identity as it helps bring out the symbol of femininity, freedom, and beauty. The average woman will spend at least two hours to wash her hair, coining the famous term "wash day". Wash day is essential and can be a fun activity if you have the right products to replenish your hair and maintain its natural texture.
Organic Herbal Shampoos are trending in the market due to their plant-based nutrients that help you care for your hair and scalp naturally. Below are the top 5 Shampoos we are confident will prevent your hair from thinning, promoting hair health and thickness.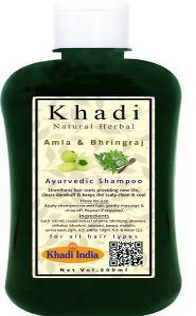 This natural cleanser makes the hair lustrous, healthy, and manageable from its paraben free extracts of amla, reetha, bhringraj, harathki, henna, neem, and almond oil.
The simple amla is a miracle fruit often included in hair products, hair tonics, and medical streams. It has vitamin C that helps in the production of collagen protein, boosting cell regeneration which causes growth of hair and increases the volume.
Bhringraj shampoo has to be used with Amla shampoo for best results. It activates hair follicles when it is massaged on the scalp and this stimulates growth of hair.
Khadi Amla and Bhringraj Shampoo consist of several essential fatty acids that nourish and moisturize the hair. These essential fatty acids penetrate the scalp to destroy dryness and dandruff consequently. It is rich in proteins, flavonoids, vitamins, and minerals, which are best known for preventing hair loss and aids its growth.
Key Benefits:
• It strengthens the scalp and hair.
• The shampoo reduces premature pigment loss from hair or greying.
• It also helps in stimulating hair growth.
• The neem extracts will nourish your hair and add that needed shine.
• The shampoo will prevent greying out of the hair.
• Ideal for all hair types.
• Paraben-free.
Check the cheapest price on Amazon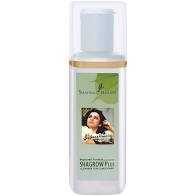 The active ingredient used in the formulation of this herbal shampoo is hibiscus that is essential in rejuvenating the hair and promoting hair growth.
The amla shampoo contains lots of Indian gooseberries. The berry is essential for its nutrients of calcium to strengthen your hair follicles and prevent thinning and premature greying of the hair.
Other primary ingredients
include methi extract, baelgiri extract, arishtak extract, bhringraj extract, gurhal extract and amla extract. These natural extracts will provide vitamins and minerals that will stimulate hair growth and promote scalp circulation. Get ready to experience growth and volume in your hair with this herbal shampoo.
Shahnaz Husain Shamla plus Hair Cleanser promises to cleanse your hair and remove loose dandruff. The Shampoo is ideal for normal and dry hair.
Key Benefits:
• It promotes hair health, nourishes it and adds lustre and body.
• It cleanses the scalp of all impurities.
• Keeps the hair strong, healthy, and lustrous and strengthens my hair follicles
• It will help in controlling dandruff and eliminates itchiness of the scalp.
• It brings about instant freshness to the hair and adds life to any dull hair.
• It prevents hair fall and thinning.
Check the cheapest price on Amazon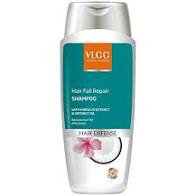 VLCC Hair Fall Repair Shampoo is a herbal formulation containing coconut and hibiscus that nourish hair roots and strengthen it from deep within. It contains essential nutrients like hibiscus extract, coconut oil, and hydrolyzed keratin.
The hydrolyzed keratin formulated in the shampoo will help protect your hair from pollution and reduce signs of damage. Unique minerals of hibiscus flower will promote hair health and prevent hair falling.
This old remedy has proven to do wonders on all hair types. It does away with dandruff, softens the hair, and repairs split-ends. The coconut oil in the formula is essential as it penetrates deep into the hair and provides extra conditioning making it softer and smoother.
With all the pollution around, the repair shampoo strives to protect your hair from severe damage caused by the chemicals floating around. It cleanses deeply and removes all the oil from your scalp, improving circulation.
Key Benefits:
• The shampoo will deeply cleanse and strengthen hair from the roots.
• It provides extra hair conditioning.
• It reduces hair fall effectively and any signs of damage.
• It is paraben-free.
• It is suitable for both men and women.
Check the cheapest price on Amazon
This shampoo is a combination of soya protein, wild turmeric extracts and berberry. It also contains other primary ingredients such as rai tail (Brassica nigra oil), badam tail (Prunus amygdalus oil), soya (Anethum Sowa), Himalayan water Q.S and banhaldi (Curcuma aromatica).
These nutrients in the shampoo cleanse hair without changing its pH balance. Banhaldi has anti-inflammatory properties that help to get rid of dandruff and help prevent hair loss.
It also consists of almonds and vitamin E that provide proper nourishment to hair. It is an ayurvedic recipe containing 100% natural extracts, to repair damaged and dehydrated hair. It also prevents fading of hair color and protects straight hair. The Biotique Bio Soya Protein Fresh Nourishing Shampoo is specially formulated for dry, damaged, and color-treated hair.
Key Benefits:
• The shampoo provides a healthy shine to the hair.
• It prevents itchy scalp and keeps hair beautifully soft and smooth, and dandruff free.
• It nourishes hair from the root to the tip, promoting hair health and growth.
• It is formulated with micro moisture serum to keep hair feeling soft and smooth.
• It is suitable for all hair types.
Check the cheapest price on Amazon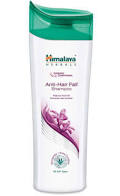 Himalaya's Anti-Hair Fall Shampoo is a revolutionary formula to reduce hair fall and nourish hair shafts. It is suitable for all hair types and improves your hair texture to reduce hair fall due to breakage. It is enriched with natural ingredients that strengthen the hair from its roots, promoting hair growth.
The primary ingredients used in the formulation of the shampoo include but are not limited to Butea Frondosa or 'flame of the forest', a native plant found in Southeast Asia. It contains nutrients that behave like human estrogen that is good in preventing the shedding and thinning of the hair.
Bhringaraj is traditionally used in Ayurveda for hair growth and hair dyeing. The nutrient is essential in promoting blood circulation and revitalizing the hair follicles, promoting growth and strength to your hair.
Key Benefits:
• Enriched with natural ingredients, it strengthens the root of the hair, promoting hair growth.
• It will improve the texture of the hair, making it easy to handle and smooth.
• Strengthens the hair root
• Promotes hair growth
• Prevents hair fall
Check the cheapest price on Amazon
Haircare to prevent hair fall
While having the correct shampoo is essential in taking care of your hair, there are best practices that you must uphold to ensure that the products provide the best results on your hair. Check out some dos and don'ts below;
The Dos
• Wash: The frequency in which you wash your hair depends on your hair type. For most people with normal to dry hair, twice a week is enough to re-grease your scalp. However, for persons with oily hair, it becomes advisable to wash your hair on alternate days.
• Type of Shampoo: Check that you always choose chemical-free shampoos. Always go for shampoos that will be gentle for your skin and scalp. Make it a point to check the ingredients on the shampoo bottle.
• Conditioning: A great conditioner should be part of your hair routine, ensure that you apply correctly to the ends of your hair and not the scalp. You must ensure to rinse well after application.
• Drying the hair: Reduce the number of times you blow-dry your hair. Adopt the no heat lifestyle to protect your scalp. Never comb wet hair.
• Oiling: Oiling of the hair promotes blood circulation if well massaged. Ensure to select the best oils that will enhance mote moisture and repair split ends.
• Combing: Only comb your hair while dry using a wide toothcomb to prevent breakage.
• Styling: Try as much as possible to style your gorgeous curls without heat.
• Trimming: Trimming will make your hair grow faster. Trim your hair at least every 6-8 weeks.
• Diet: You are what you eat. Eat and drink well. Hydrate frequently and eat foods that contain nutrients that promote skin and hair health.
The Don'ts
• Hot showers– You are encouraged to use cold showers to prevent loss of natural oils from your scalp
• Stress- Engage in activities that will help you become stress-free and relaxed
• Saltwater– avoid public swimming pools and chlorine water
• Chemicals-Use hair treatments that contain no chemicals
• Heat– Avoid straightening your hair now and then to reduce breakage.
Conclusion
Taking care of your hair is vital, and it can be as easy as regular shampooing to ensure it gets well-conditioned and nourished. Washing your hair ensures that your scalp and hair is free of dirt and excess oil. Cleansed and well-kept hair is a lifestyle that highlights your natural beauty in different ways.
Check that you only invest in good products for your scalp and hair texture to avoid any damage.
Also Read: