8 Best Coconut Milk Hair Packs for Hair Growth and Conditioning
Everyone wants their finger to roll on smoothly in between their hair. We all mess up while finding the best ingredient to enhance the quality of our hair. It's time to say goodbye to the advertisements that ensure the purity of all the elements because we've found a natural one. Coconut milk is the best ingredient to improve hair quality and supply all the vitamins and nutrients necessary for profitable hair growth. All of these homemade hair masks are easy to prepare and apply.
It is pretty easy to prepare coconut milk at home. A few easy steps and you are ready to supply a better circulation of blood in the scalp with coconut milk.
How to make Coconut Milk?
To make the Coconut Milk at home; there is a need to follow the following steps:
A half-cup shredded Coconut and some hot water.
Add both of them in the food processor and let it process for 20 minutes.
After 20 minutes, take the water(coconut milk) out of that mixture and separate the shredded coconut from it.
Again the shredded coconut will go under processing with hot water and will give the coconut milk.
Continue the same process 3 to 4 times, and the coconut milk is ready.
Once the 4 cups of coconut milk are there, you can store it in the refrigerator and apply it.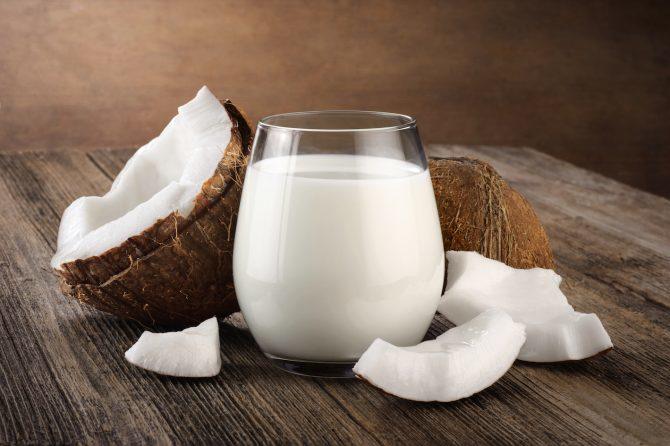 Benefits of Coconut Milk
There are plenty of benefits which coconut milk offers, and some of them are as follows:
1. Supplies a fair amount of protein
The growth of our hair and nails depends on the supply of protein, Keratin, in the body. Coconut milk has ample protein, and applying it on the scalp helps the hair grow well.
Along with the growth, it is essential to have healthy hair to avoid hair fall. All these things never come across when an individual applies Coconut milk.
2. Enormous amount of vitamins
The typical diet cannot supply an adequate amount of vitamins to the body, so it is essential to choose your hair's best ingredient. Coconut oil has vitamin A, E, B1, B3, and B5, making the hair healthy and silky. Several micronutrients are present in coconut milk, and they supply some fantastic benefits to the hair.
3. Prevents dandruff
Many people take Dandruff lightly and wait for it to go on its own. The biggest enemy for healthy hair is dandruff, which makes the root weak, and causes hair fall. It is essential to choose some good ingredients like coconut milk, which can strengthen the roots.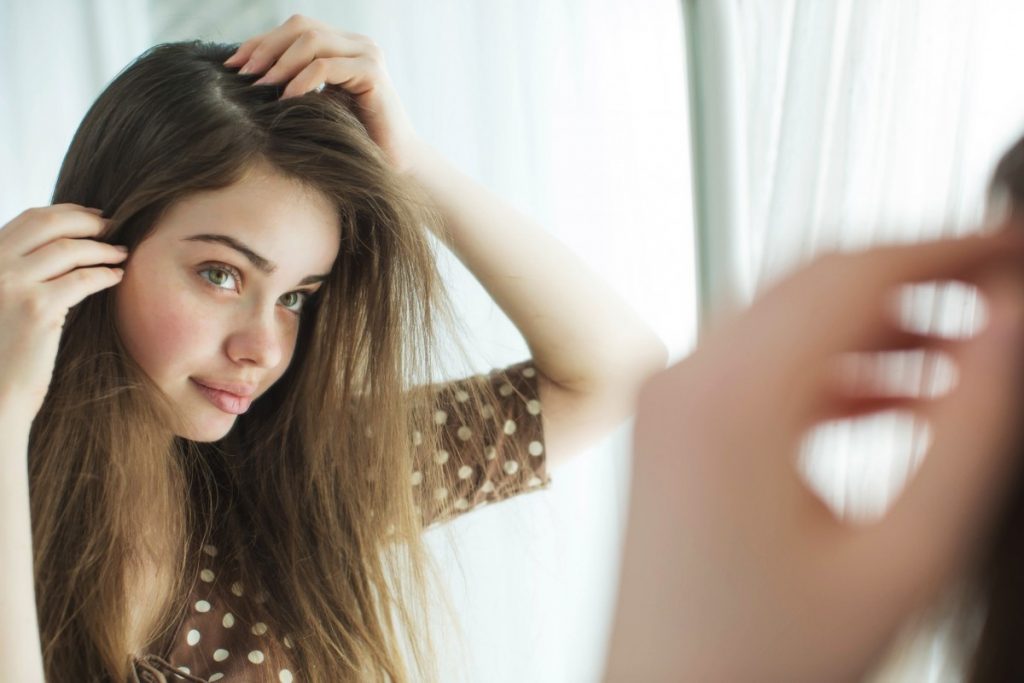 Coconut Milk hair masks
To avail of all these benefits, there are several ingredients with which you can mix the coconut milk and prepare the hair mask for yourself.
1. Coconut milk, Olive oil, and Egg hair mask
The blend of vitamins that coconut oil and Olive oil provides makes the mixture a rich source of vitamin E. The presence of Biotin and folate makes eggs the best solution for the growth of hair.
How to prepare this hair mask?
Take a bowl and add one teaspoon of coconut milk along with one teaspoon of olive oil.
Now break one egg and add it into the bowl.
Stir the mixture to make the solution a little thick like a paste.
Now give your head a good massage of this mixture and make sure it reaches the roots well.
After the massage, leave the mixture in your head for 20 minutes and after that, wash your hair.
Smooth and silky hair would not allow you to take off your eyes. Repeat it 2 to 3 times a week.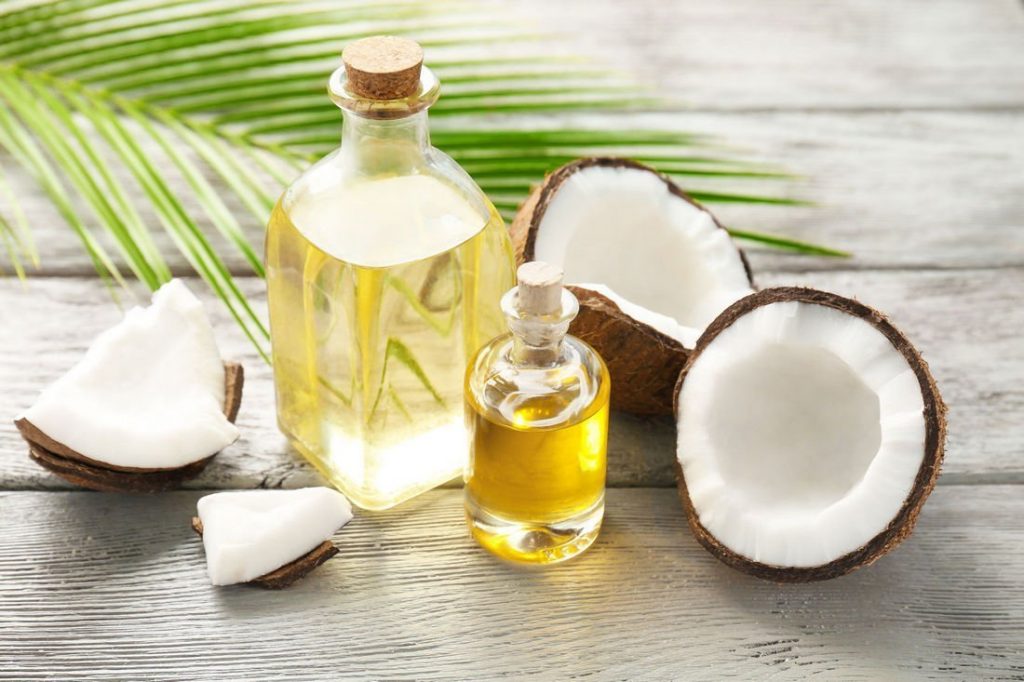 2. Coconut Milk, Coconut Oil, and Banana
Bananas are good for hair, and very few people know this. An element that is silica is present in a banana that promotes the growth of hair. Coconut oil has lots of minerals, which make the hair look silky and shiny. Altogether, this blend comes out to be useful and practical for the nourishment of the scalp.
How to prepare this hair mask?
Take a bowl and add one teaspoon of coconut milk and one teaspoon of coconut oil to it.
Now peel off one banana and cut it into small pieces and add to the mixture.
Stir it well till the point it becomes the paste.
Now apply this mixture on the scalp and give your head a good massage.
It is useful as many people do the same thing to keep their hair quality up to the mark.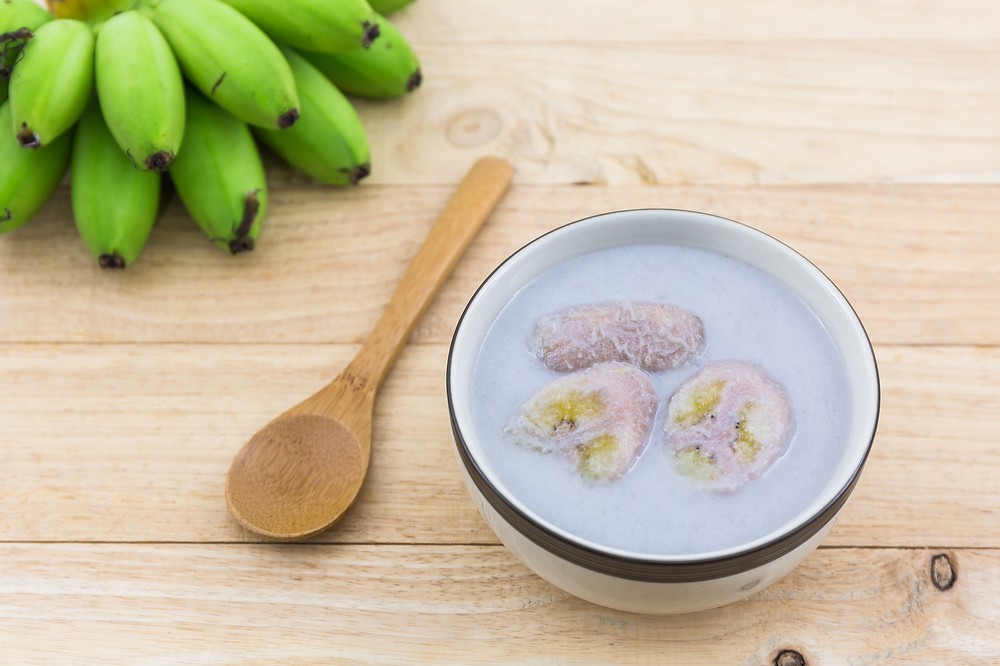 3. Coconut Oil and Lemon
Whether it be face mask or hair mask, lemon acts as the best ingredient to supply an enormous amount of vitamin C. This vitamin is good for hair, and this can easily be understood with simple logic. Doctors ask people to consume vitamin C to stay away from cold and cough. Moreover, one thing which happens most commonly in cold and cough is the hair fall. It is the exact example of why vitamin C is essential for the growth of hair.
How to prepare this mixture?
Add the coconut milk, and some lemon juice drops into it.
Give your head a good massage so that the medicine gets into the roots of the hair.
Continue the same massage for at least twice a week and adore your silky hair.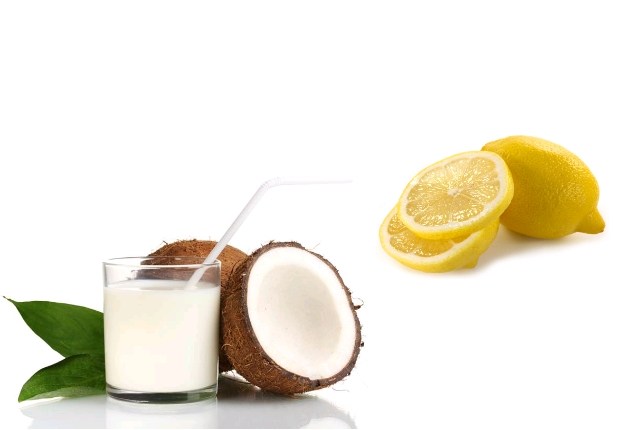 4. Coconut milk, Yogurt, and Camphor
Camphor is a popular ingredient that enhances blood flow. Yoghurt contains a protein that improves hair growth and boosts strength. When both these ingredients come together in a mixture with coconut milk, it makes the mixture rich with all the vitamins and proteins.
How to prepare this mixture?
Please take a few pieces of camphor and crush it entirely so that it looks like white powder.
Now add the camphor to Yogurt and stir it well.
Add coconut milk to that mixture and do it until it looks like paste or a hair mask.
Now apply this mixture in the roots and let it stay there for 20 minutes.
It is the best solution for Dandruff and hair fall.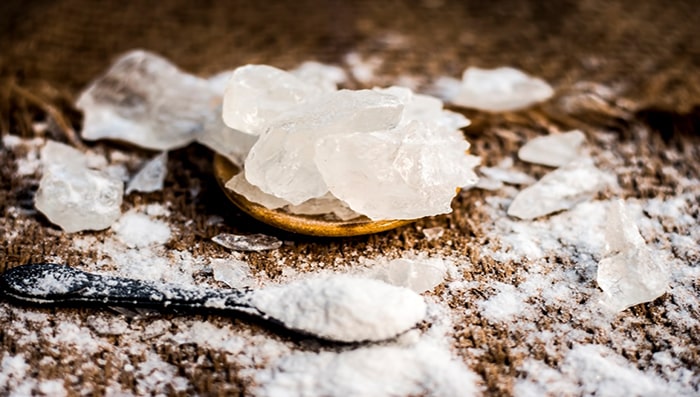 5. Coconut Milk and Aloe vera
To deep clean your scalp and to promote hair growth, you will surely need Aloe vera. It is beneficial in both cases, whether it be face or hair mask. It is easier to prepare this hair mask than any other hair mask.
How to prepare this hair mask?
Take a bowl and a teaspoon of coconut milk and one teaspoon of Aloe vera gel.
Now stir both of them well till the point it looks like a paste.
Now partition your hair and apply this paste on the scalp.
When you are rushing to the office and are getting late, this hair mask would work fine.
6. Coconut Milk, Vitamin E tablet, and Egg
It is the most popular hair mask because the results of this hair mask are much quicker, and it is easy to prepare. A blend of these ingredients provides the vitamins and minerals which are necessary for the growth of hair.
How to prepare this hair mask?
Take one teaspoon of coconut milk, add vitamin E tablet, and break one egg into the mixture.
Stir the mixture well so that everything mixes up well.
Apply this mixture on the scalp and give a gentle massage.
It would be best if you used this mixture for at least twice a week, and you will notice that there is a better shine and strength in your hair.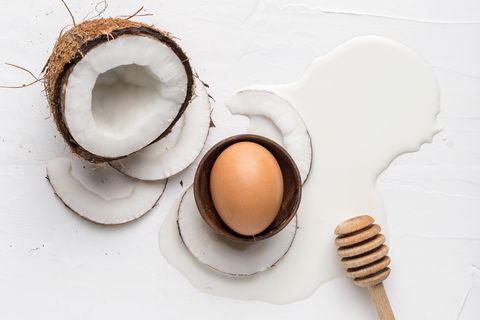 7. Coconut Milk with Avocado
The presence of Biotin in Avocado helps in getting rid of dry and frizzy hair. Along with that, there are several minerals present in Coconut oil which work together with Avocado to prepare this excellent hair mask.
How to prepare this hair mask
Take one teaspoon of coconut milk in ½ Avocado.
Now stir it well and add more coconut milk if there is a need.
You can add honey to this mixture to make it more like gel.
Apply it on the scalp and leave for 15 minutes.
After that, wash your hair and adore your hair.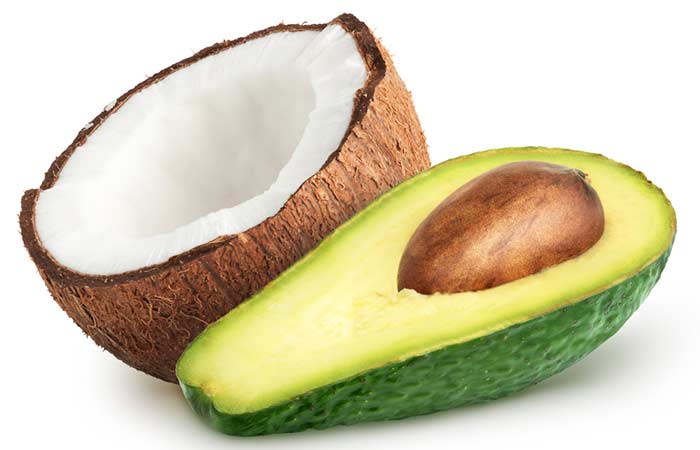 8. Coconut Milk with Methi
To keep your scalp healthy, you can surely choose methi. There are other benefits like it promotes the growth of hair and prevents hair loss.
How to prepare this mask?
Add two tablespoons of methi in 3 tablespoons of Coconut milk.
Now stir it well so that the milk takes the colour of methi and now give a gentle massage in the scalp.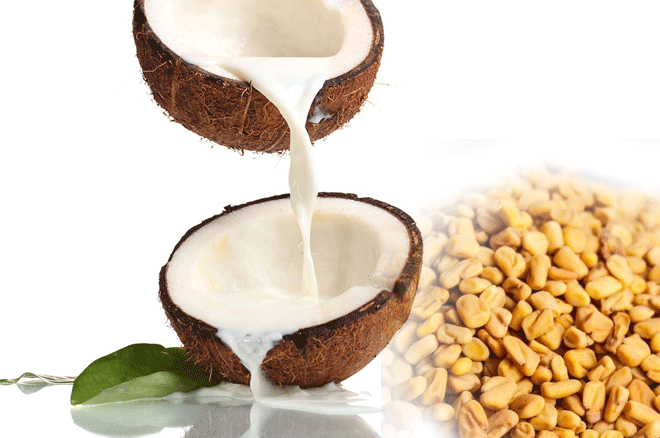 Conclusion
It is easy to apply the hair masks with chemicals in it, but if you work a bit and prepare any of these natural masks, then you can boost your hair's growth for a long time. Try any of these hair masks, and you can change it based on results to identify the one that suits you the best. Ensure that you are doing it continuously because natural ingredients might take a little more time, but the results would surely be there.
Let us know your take on coconut milk for hair growth. Have you tried it yet?