Best Shampoos for Hair Fall Control in India: Say Yes to Hair Growth!
If my hair looks good, I can deal with anything!
Everyone loves good hair days. Those days would be even better if you didn't have to see those chunks of hair in the drain after a shower. Hairfall in monsoon is common in India, but you can deal with it with love and care. You can stop hair fall and, with special care, have your hair grow again.
If you have tried everything and still haven't managed to defeat hair fall, here are some shampoos that can not only stop hair fall but also promote hair growth that will be Instagram-worthy.
Factors Causing Hair Fall
There are several reasons for hair fall, and though each of them is equally important, the key reason is lack of nourishment. Your hair needs specific food, minerals, and vitamins. If it does not receive this food, it starts falling and loses its shine and body. It becomes dull, limp, and lifeless.
To prevent this, you should know what causes hair fall and treat it accordingly. Given below are the factors that can cause your hair to fall.
1. Lack of nourishment
2. Dandruff
3. Alopecia areata or thyroid
4. Skin and scalp infections
5. Stress and tension
6. Hormonal imbalance
7. Poor diet
The Best Anti-Hair Fall Shampoos In India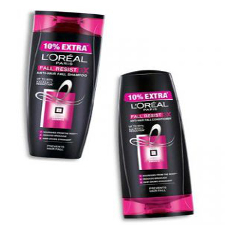 This is an excellent shampoo that prevents hair fall by strengthening the roots of the hair. It also promotes hair growth by repairing damaged roots. The packaging looks attractive, and the price is not too high.
Suitable for: Damaged Hair
Key Benefits
Repairs and Strengthens hair roots
Promotes hair growth
Nourishes hair
Eliminates dryness
Check the cheapest price on Amazon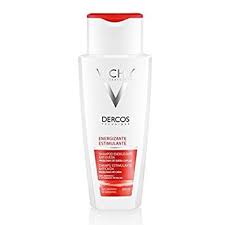 Vichy is one of the most popular brands for its skin and hair care products. This hair loss shampoo contains aminexil that controls and prevents hair fall. The product begins to work from the roots and goes up to the hair strands. It prevents the stiffening of collagen and prevents premature root greying. Apart from aminexil, Vichy Dercos Energizing Anti Hair Loss Shampoo also contains Vitamin B5 and B6 essential for hair.
Suitable for – Damaged and greying hair
Key Benefits
Controls hair fall
Prevents stiffening of collagen
Prevents premature greying
Nourishes hair
Check the cheapest price on Amazon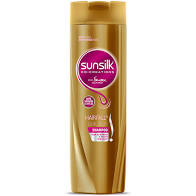 The brand name Sunsilk is synonymous with shampoo. It has been in the haircare market for a long time, and people trust this name. So, when it launches a hair fall solution, it is natural that people would test it. The brand has a loyal customer base. What has created this trust is that this hair fall shampoo is enriched with the soya vitamin complex. This ingredient is essential for the prevention of hair loss and regrowth of hair. Soya, as everyone is aware, is a source of protein.
Suitable for – Falling hair
Key Benefits
Trusted Brand
Prevents hair loss and stimulates hair growth
Does not make hair dry
Affordable price
Check the cheapest price on Amazon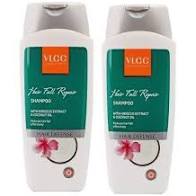 Enriched with the goodness of hibiscus extract, this shampoo starts on a natural note. Hibiscus stimulates hair growth. The leaves of this shrub are crushed and used to wash hair. In addition to hibiscus, this shampoo also contains essential vitamins, coconut oil, aloe vera, shikakai and amla, all of which have been used for years for the good health of hair. It helps in the growth of long lustrous hair and the presence of aloe vera, a natural conditioner, deeply conditions all hair types, even if it is chemically treated.
Suitable for – Normal and oil hair.
Key Benefits
Contains coconut oil, which moisturizes hair
Contains the natural goodness of amla, aloe vera, and shikakai
Promotes growth of hair
Prevents hair loss and strengthens hair roots
Check the cheapest price on Amazon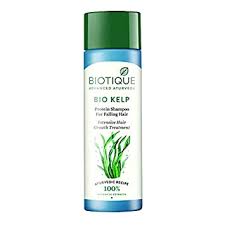 There can be several reasons for hair fall – from dryness to scalp infection and dandruff. These are just a few of them. These reasons can also prevent hair growth. If this problem sounds like your problem, then the Biotique Bio Kelp Fresh Growth Protein Shampoo is for you. It contains amla and neem. Neem, the superfood for hair, has antibacterial properties, which cleanses hair and prevents hair fall. The presence of amla in the formulation promotes the growth of lustrous dark tresses.
Biotique is a trusted brand known for its chemical-free and natural hair and skin products.
Suitable for – Dry and oily hair
Key Benefits
Prevents hair fall
Promotes growth of dark, lustrous hair
Prevents the growth of bacteria in the scalp
Strengthens hair roots
Affordable price
Check the cheapest price on Amazon
6. Blossom Kochhar's Aroma Magic Triphla Shampoo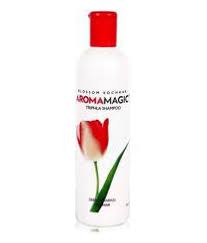 Dr. Blossom Kochhar is a leading beauty expert with experience in aromatherapy. She is responsible for the revival of aromatherapy culture in India. This triphla shampoo, containing active ingredients like the essential oil of green apple and cedarwood, cleanses oily scalp gently and effectively so that the scalp remains clean even a day later.
The shampoo is light green in color and is packaged attractively.
Suitable for – Normal to oily hair
Key benefits
Perfect consistency of shampoo
Cleanses oily scalp effectively
Adds body and volume to hair
Adds shine to hair
Prevents hair loss
Stimulates hair growth
What Should You Look for In the List of Ingredients in Your Anti-Hair Fall Shampoo?
There are tons of shampoos for hair fall, each competing with the other to make a place for itself in your shopping list. All of them promise to stop hair fall and promote hair growth, but only a rare few live up to the promises.
Hair fall of 50 to 100 strands of hair every day is normal, but more than that is an indication of a problem. Try looking for the following ingredients in your anti-hair fall shampoo:
Amla
Bhringraj
Shikakai
Jojoba oil
Coconut oil
Triphla
Neem
Ginseng
Amino acids
Minerals
Vitamins B and E
Look for are SLES and SLS, paraben, and sulphate-free shampoos. These chemicals are used for creating lather in the shampoo but end up damaging hair eventually. They strip the strands of natural oil, making them dry and brittle, leading to breakage.
Good Shampoo Practices
Here are some good shampoo practices that you must follow for the good health of your hair
Do not shampoo every day. If you need to shampoo every day, then dry shampoo is your friend.
Always use a conditioner after shampooing your hair.
Detangle your hair with a detangling brush during conditioning.
Always choose the right shampoo for your hair type. For example, if dandruff is your problem, then wash your hair using a good anti-dandruff shampoo.
Do not use more shampoo than required. A coin-sized dollop is enough and then dilute it with water.
Do not apply excess shampoo on the ends of your tresses. The scalp becomes dirty, not the hair length and ends.
Conclusion
Hair loss is extremely common, but very few people take it seriously. It is a common problem in the monsoon since the scalp remains damp. During monsoon, you need to ensure that your scalp is dry. Apart from this, hair fall can also occur due to dandruff, stress, thyroid disorders, excessive use of chemicals and heat iron, and other medical problems.
The best news is that most of these can be treated with either good shampoos and hair hygiene or treatments. Treatment is the last resort. Most hair problems can be resolved by maintaining good hair hygiene, using a good shampoo, and with a little TLC.
Remember that hair growth is a slow process and give the product at least four months before you give up on it.