Best Chemical Free Shampoo in India in 2020: Go Sulphate-Free
As much as you might love a good lather when washing your hair, know that it sulphates that create it. This ingredient in your shampoo causes more harm than good. Also, a good lather does not mean cleaner hair.
Does this mean that all those ads have been lying all this while? Well, not really because all they did was show us bubbles and models with shiny, silky hair. We read between the lines and equated the shine and gloss with lather.
Sulphate is not good if your hair is naturally wavy and curly. Or color- treated. Or even keratin-treated!
Well!
That covers the majority of the hair-types out there!
It cleanses your hair but at a cost. A sulphate-based shampoo will strip your hair off its moisture and softness.
What are Sulphates?
Sulphates are commonly used in shampoos to promote cleansing. These are chemical compounds that can also be found in the foaming household cleaners such as detergents and dishwashers. These 'anionic surfactants' can cut the most stubborn grease and clean deeply by creating a rich lather.
Why Are Sulphates Not Good For Hair?
It is a common belief that your shampoo must have a rich lather to be able to cleanse your hair. But, such shampoos not the best choice for hair cleansing. Using these shampoos regularly will only damage your hair, causing split ends, making them dry and lifeless.
Sulphates are harsh chemicals that cut out all grease and in the process of cleaning, strip the hair of its natural moisture. This pushes the sebaceous or oil glands on the scalp to work overtime and results in a dry scalp with frizzy hair, that has split ends. Sulphates also cause quick hair loss and sometimes irritate the skin.
So, now you know that you shouldn't be using sulphate-based shampoos. But steering clear of them is not enough. There is no one-shampoo-for-all. Different types of hair have different needs. You need to know what kind of chemical-free shampoo is good for your hair type.
Here we bring the best of sulphate free shampoos, suited for different types of hair –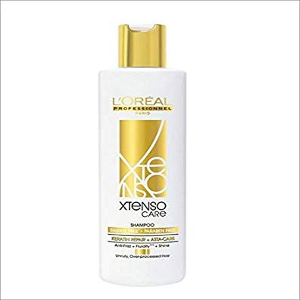 L'Oreal is a well-known brand that manufactures some of the best beauty products. This shampoo is ideal for colour-treated hair. It locks the moisture in the hair and strengthens it from the roots. So you have smooth and strong strands with the colour lasting for a longer time.
When your hair is extensively treated with chemicals, it needs the Nutri-fortifying technology of L'Oreal that repairs damaged hair. In addition, the shampoo also contains Keravis, Arginine, Ceramide and Astaxanthin.
Sulphates are not good for chemically treated coloured hair and to get all the moisture back to hair, you need to clean it with a shampoo that is gentle and does not contain chemicals.
Best Suited for – Chemically Treated Hair
Key Benefits
• Restores hair health and shine
• Has Nutri-fortifying technology to restore hair health
• Repairs chemically treated damaged hair
• SLES and SLS free
Check the cheapest price on Amazon
2. The Body Shop Rainforest Moisture Shampoo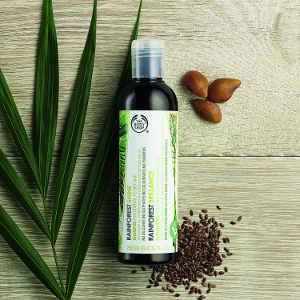 One of the best shampoos, popularly used for hair care is the Body Shop Rainforest Moisture Shampoo, which is excellent for damaged and dry hair. It is an organic shampoo with no traces of parabens, silicones, colourants or sulphates.
It is a good fix for frizzy hair since it does not contain silicone, which must be avoided in shampoos as it is an irritant that can be harmful to a sensitive scalp and skin. The presence of silicones in shampoos have been known to cause acne and hair fall.
Besides, it does not contain any artificial colourant, and hence there is no damage to hair ends, which can make them rough.
Best Suited for – Normal to dry hair
Key benefits
• Parabens and SLS free
• No artificial colourant or silicone
• Has a mild tropical fragrance
• Excellent for hair that has been colour-treated
• Contains cameline and pracaxi seed oils which prevent hair breakage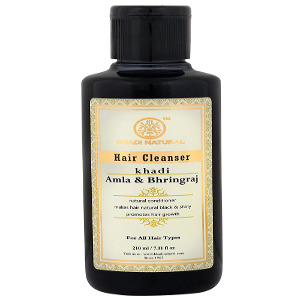 Nothing beats the benefits of this Amla and Bhringraj hair cleaner. In addition to Amla and Bhringraj, this shampoo also contains, reetha, harathki, almond oil and neem. It is an excellent tonic for your hair that strengthens the strands, giving them shine and lustre. This all-in-one shampoo is ideal for everyday use and all hair types.
Best Suited For – All hair types
Key benefits
• Parabens and SLS free
• Contains extracts of Bhringraj, haritaki, amla, reetha, almond oil and neem
• It restores hair health, making it lustrous and bouncy.
• It strengthens hair roots.
• It reduces premature greying and hair loss due to chemical treatment
• It promotes hair growth.
Check the cheapest price on Amazon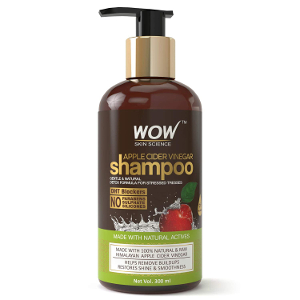 The best thing about this shampoo is that it has no harmful hair-drying chemicals. Check the ingredient list, and you will find that it contains Apple Cider Vinegar, an acidic ingredient, that restored hair lustre. In addition, this ingredient also has anti-fungal properties that fight scalp-flakiness and itchiness.
It ensures faster re-growth of shiny and strong hair. The glossiness remains even after 2 days of wash. Everyday use of this shampoo prevents split ends and hair breakage.
Best Suited for – Flaky, itchy and dry scalp
Key Benefits
• Strengthens hair, prevents split ends
• Retains natural hair moisture
• Fights scalp itchiness and flakiness
• Promotes hair re-growth
• Makes hair glossy and shiny
• Good for daily use
• Does not contain SLS, salts, sulphates and silicons
• Contains Apple Cider Vinegar
Check the cheapest price on Amazon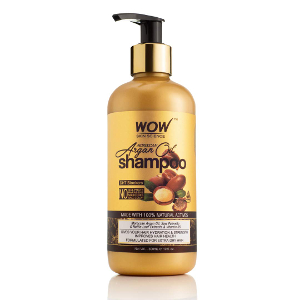 \
If your hair is dry and damaged, then this shampoo is for you. WOW is an organic brand, which is chemical-free. It does not contain sulphates, parabens, silicones, SLS and SLES.
This shampoo reduces hair drying as it has fatty acids to moisturise your hair. This also prevents breakage and gives shine and life to dry and lifeless hair.
The ingredients include Palmetto vitamins and Vitamin B5.
Best Suited For – Dry and Damaged hair.
Key Benefits
• Reduces hair flakiness and hair loss
• Promotes hair growth
• Sulphate, Parabens and SLS free
• Available in 300 ml bottle
Check the cheapest price on Amazon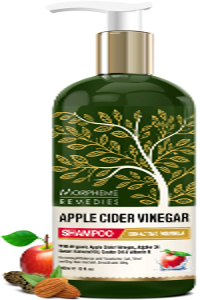 The Morpheme Remedies Apple Cider Vinegar shampoo contains Apple Cider Vinegar, which repairs and restores limp, thin and falling hair. The Apple Cider Vinegar in the shampoo balances scalp pH to promote hair growth. It restores hair shine and naturally de-tangles hair, which makes it best for frizzy, dry and curly hair. Another advantage is that it has a decent lather.
In addition to Apple Cider Vinegar, this shampoo also contains jojoba oil, almond oil, Vitamin E oil and Castor oil.
Best Suited for – Frizzy, dry and curly hair.
Key Benefits
• Contains Apple Cider Vinegar and other natural oils
• Locks in the moisture in the hair
• Makes hair smooth, shiny and soft
• Produces lather and cleanses the scalp
• SLES and SLS free
Check the cheapest price on Amazon
Hair Care FAQs
Does my choice of shampoo make any difference?
There are several brands of shampoos in the market, and all of them are for different hair types. If you are looking for a daily use shampoo, then choose one that is natural and gentle on your hair.
How do I choose the right shampoo?
Choosing the right shampoo is not as easy as 1..2..3. Just because you have straggly roots does not mean that your scalp is oily. Check the scalp for oiliness or dryness to know whether you have oily or dry hair. Your hair condition may change from season to season. You need to get a shampoo that suits the current condition of your hair. If you have any doubts, consult a hair care expert.
How do I check the ingredients in my shampoo?
Your shampoo should not contain the following ingredients:
• Sulphates (SLS) and (SLES)
• Parabens
• Artificial fragrances
• Propylene Glycol
Look for a shampoo with essential oils, natural oils, plant extracts, keratin, proteins, vitamins. Although a natural shampoo will not create much lather, it will still clean your hair without damaging it.
How often should I shampoo my hair?
This depends on your hair type and the shampoo that you are using. If you are using a gentle daily wash shampoo, then you can use it every day. Don't forget to condition your hair after washing it.
Conclusion
The next time you shop for shampoo, you know what you have to look for and what you must not buy. Making a good hair decision will prevent bad hair days.
What has your experience with sulphate-free shampoos been? Do drop a line in the comments section below. We would love to hear from you.