Best Tan Removal Scrubs for Face & Body in India in 2020
All of your friends are having a great time at the beach and you are holding yourself back because you are worried that the tan will never leave. You are on a trip but you stay indoors because your sunscreen can't handle all that Sun? Even on a regular day, you may be sick of covering your face with a scarf the entire time as you get exposed to pollution, dust and the harmful UV rays of the Sun and the tan keeps building on your skin. It's high time that you stop looking for home remedies and invest in a tan removal scrub that is an all in one solution for you.
It does not matter if you have a skincare routine or not, exfoliating your skin and cleansing the pores once in a week is very necessary. All the dead skin cells on your face make you look dull and tired all the time. While other makeup products have got your back, there is nothing better than a naturally glowing skin. There are times when you get a tan on purpose but it goes wrong or it does not suit you, then tan removal scrubs will lighten your skin tone, remove the tan and will give a radiant look to your face.
Normally, the scrubs you use only expertise in one area and either moisturise your skin or cleanse it. But tan removal scrubs will exfoliate, moisturise, remove tan and provide a glow to your face at the same time. They will also smoothen your skin so that you can be in your queen feels all-day long. With tan removal scrubs, you will always be a minute away from fresh, glowing and brighten skin.
For amazing results, you need to know which product suits your skin type the best and how to use it. To give you an idea about the best products, how they work, the ingredients in them and the price that is suitable for a tan removal scrub here is a complete buying guide that has all you need to know about these scrubs.
Research Process
Why should you invest in tan removal scrubs?
If you like your tan, then well and good but if you don't, then you will need a tan removal scrub. You can fix your face with makeup but nothing feels more satisfactory than naturally flawless skin. No matter how much you try to protect your skin, you cannot fully control the situation. But you sure can invest in a good tan removal scrub which will remove your tan so that you will have no regrets about enjoying the sunny moments. From cleansing to exfoliating, a face scrub will do it all leaving behind your ideal skin.
Who will not like to have this all in one package that has great benefits for your skin?
Type of Skin
There are different tan removal scrubs for different skin types. If you have a normal skin type, that is neither too dry nor too oily then all scrubs will be suitable for you. Choosing the scrub according to your skin type is important otherwise you may face breakouts. For dry skin, scrubs that have essential oils and honey will work the best. They will moisturise your skin properly and won't make it even drier. People who have oily skin should go for scrubs with ingredients like aloe vera, cucumber and coconut oil. These ingredients will soak up the excess moisture from your skin and accumulate the impurities as well. Scrubs that contain coffee in them are also great for oily skin type.
Face and Body Scrub
Many of you may not be knowing the difference between a face and a body scrub and you may use one scrub for multiple purposes. This is a big NO!
The skin on your face is really delicate as the skin compared to the rest of your body. The body scrubs contain larger granules that polish your skin and remove tan easily. Face scrubs contain active and natural ingredients and the granules are comparatively smaller and softer. If you will apply body scrub on your face, you may have irritation or rashes on your skin so it's better to be on a safer side.
Scrubbing beads
When you pick up a tan removal scrub, make sure to check out the scrubbing beads and what they are made up of. Several companies sold products that had plastic beads but they are banned, fortunately.
Some scrubbing beads are a little harsh on the application and can scratch the outer layer of your skin which may lead to pain and infections. Go for natural beads like jojoba beads that are gentle on your skin, cleanse your skin deeply and also remove blackheads. Do a little research and see if the scrubbing beads that are present in the scrub are safe as well as environment friendly.
Ingredients
A face scrub consists of an exfoliant that can be rice barn, salt, sugar, coffee, oatmeal or ground but shells. There are essential oils like sunflower oil, jojoba oil, sesame oil, walnut oil or olive oil that moisturises your skin well. For oily skin type, face scrubs consist usually of apricot, walnut shells, almonds and aluminium oxide. Tea tree oil and clays like kaolin help in removing blemishes and control oil production. Salicylic acid is also one of the best ingredients for dealing with oily skin.
These ingredients will provide just the right moisture and will not produce extra oil on your skin that makes you feel uneasy.
For dry skin type, face scrubs consist of alpha hydroxy and beta hydroxy that are perfect for sensitive skin. Shea butter is an important and popular ingredient that not only exfoliates your skin deeply but also prevents ageing and fine lines on your skin.
Brand
When it comes to the delicate skin of your face, it should be a priority for you to double-check the product you are going for. The products of the brands that are successfully running for a long time will assure you that everything is safe with the product. You can go for any renowned brand as long as the product does what it claims and is a hundred per cent secure.
Budget
Tan removal scrubs are mostly budget-friendly and literally, everyone can afford them. You can get some great tan removal scrubs at wonderful offers and under Rs. 500. There are some high-end products that claim to be all-natural and offer several benefits. You can go for the expensive products as well if you wish to splurge a little on these scrubs. But do not buy cheap products as they contain harmful ingredients that can cause side effects on your skin.
Make sure that you are not allergic to any of the ingredients in the product that may cause breakouts or acne on your skin.
Reviews
Nothing gives a better idea of the product as reviews do. Providing customer satisfaction is the ultimate goal of any product. Check reviews by verified customers to see if the product actually works or if it is just a hoax. You will also get to know about various user experiences and how it worked out for different people with different skin types. The ratings of any product tell a lot about it so before buying any product, check them out. Do not buy a scrub just because it is trendy and all over social media. It may lead to disappointment and waste of money.
Best Products
We all know that women love to pamper their skin and most of us can splurge so much on skincare products. That is why there is a wide range of products available for women which makes it even more difficult to land on the right one. When it comes to tan removal facial scrubs, several companies claim a lot of things but we don't know if they will work or not. Everyuth, Biotique and Pond's beauty face scrubs are some of the best brands that can be trusted and the products of these companies are worth a try. These companies actually do what they claim and all of them are prominent brands that are selling their products successfully for years now.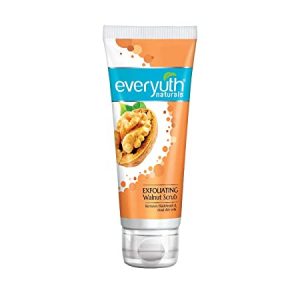 Everyuth Natural claims that it will gently remove the layer of dead skin cells and regenerate new cells. It has walnut shell particles that help in removing the blackheads and also contains Vitamin E. The formula of this scrub is such that it leaves a smooth and velvety finish to your skin.
The presence of nano vitamin A will cleanse your pores deeply and thoroughly. This scrub is suitable for all the skin types and gives clear and healthy skin. The product has a shelf life of 24 months which is pretty great and it has value for money. Everyuth Natural's scrub will not remove the essential oils from your face and your skin will not feel stretchy and dry.
All the products from Everyuth Naturals are quite great and have the highest rating, that is the reason they are always topping the best sellers list. You will not regret buying this product and if you are dealing with tanned skin, then just go for this scrub.
The brand claims that this scrub is blended with pure papaya fruit which dissolves dead cells, unclog pore openings and gives you clear skin. The exfoliation is gentle which will give you a younger-looking complexion. This product will not irritate your skin or leave any redness as most of the scrubs usually do.
The fragrance is similar to the rest of the Biotique products and is pleasant, not nauseating.
We have always trusted all the products by Biotique as they are made up of natural ingredients. There will be no allergies or side effects after you use this product since all the ingredients are pretty safe.
Biotique produces products that are paraben and chemical free which is good news for all of us. Since the product is effective, you must be thinking that it will cost a lot. But it is not so as this Biotique tan removal scrub is affordable and comes in a good quantity. Give this product some time and it will do wonders for your skin.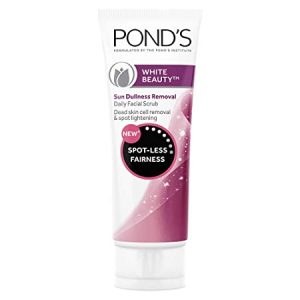 This product is a scrub that contains tan solve beads and also 50 per cent brightening cream. Pond's white beauty claims that it removes daily tan making your skin look fairer. The scrub cleanses your pores thoroughly and leaves your skin looking bright and fresh. One great thing about the product is that you can use it on a daily basis since the action of this scrub is really mild.
We love everything about this product, from its packaging to its application to the results, it is a great scrub overall. You just need a pea-sized drop of this scrub every day and it will be enough for your entire face. The texture is great as it is creamy and light in weight. You just need to massage gently with the scrub on your face for a minute or so in a circular motion and you are good to go. Your face will brighten instantly giving you a dreamy glow.
The granules present in the scrub will not irritate your skin or cause any side effects. All the ingredients present in the product are safe and the brand itself can be trusted. Pond's white beauty scrub is suitable for all skin types and is quite affordable. If you are exposed to a lot of pollution and you want a scrub that you can use on a daily basis, then this is the perfect scrub for you.
Benefits
Get rid of dead cells
Facial scrubs help you in removing all the dead skin cells from your face. New skin cells will replace the dead ones giving you a brighter and younger skin tone. Dead skin cells exist if you do not exfoliate your skin on a regular basis and also due to sun exposure. It is important to remove these dead cells otherwise your face will always look dull. Tan removal face scrubs will clean your skin properly and give you flawless skin.
Improves blood circulation
Good blood circulation is extremely important for healthy skin. You can massage your skin gently with face scrubs to improve your blood circulation. There are various exercises that you can do with your face to relax your muscles. Never use pressure on your skin, strokes with gentle movements will work just fine. This will make your skin firm, reduce ageing effects and you will end up with healthy-looking skin.
Eliminates blemishes
Facial scrubs will help in reducing your blackheads and whiteheads if you use them regularly. They will also help in eliminating acne and pimples from your skin. If you have pigmentation on your skin or white patches, then a good face scrub will reduce all these problems. Rather than investing in multiple skincare products, it would be feasible for you to select a single product that serves multiple purposes.
Removes dirt from the face
When you are stuck in traffic for too long and you get exposed to a lot of pollution and Sun, there are dust particles that settle in your skin. The pores on your skin need to be cleansed deeply and properly from time to time. Face scrubs will solve all these problems for you as they remove all the dirt from your face. You look dull and tired because of all the dirt on your face but these scrubs will provide an instant glow and brighten your skin tone.
Soft and glowing skin
After you exfoliate your skin with a face scrub, you are left behind with really smooth skin. The scrubbing beads or the granules present in the scrub give your skin a smooth texture. They also give a fresh looking and radiant skin so now you will have a glowing face naturally. Tan removal scrubs, as the name suggests, remove the tan from your face. However, you have to bring the scrub in your regular routine to see drastic effects. Use the scrub at least once every week and see the results for yourself.
Prepare your skin
Before you apply your makeup, you should use a scrub to prepare your skin. The scrub will not only exfoliate your skin but will make your skin look naturally fresh which will enhance your makeup even more. People who often experience puffiness on their face should try these scrubs. When you massage a little on your face, you will see that the puffiness is reduced as all the dirt and excessive oils are cleared up.
Our Recommendations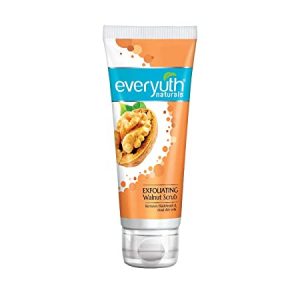 Everyuth claims to give you fresh and healthy-looking skin. It removes the impurities, blackheads, whiteheads, dead cells and gives a radiant glow to your skin. It has ingredients like walnut which help in cleaning your pores deeply and also gives a smooth surface to your skin. It contains Apricot which protects your skin from the harmful UV rays of the Sun and also from dust and pollution.
There are certain plant extracts present in this scrub which will make your skin extremely soft. The great thing about this scrub is that it is gentle on your skin and will not cause any redness or irritation. The Apricot granules will clean your face and regenerate new cells that will give you a fresh look within a minute.
The packaging of this product is just fine and it is available in small tubes which can be carried anywhere. The pricing is great for all the magic it does on your skin and is super affordable. This product is suitable for all skin types, from normal to oily to dry; everyone can use this Everyuth Face Scrub.
Pros
*Refreshes your skin.
*Apricot granules cleanse your skin deeply.
Cons
*None but the packaging could be a little more attractive.
Check the cheapest price on Amazon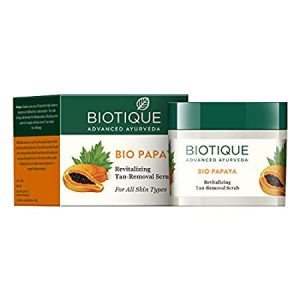 Boutique Bio Papaya scrub is really effective in removing the tan from your face. It contains ingredients like papaya seeds, banana fruit pulp, date (khajur) fruit pulp, neem bark and beeswax which lighten and brighten the skin. The product contains no harmful ingredients and is free from chemicals.
Coming to the packaging of the product, it comes in a small white tub with a green cap. There is a plastic cap in between the green cap and the box to prevent the scrub from flowing out and becoming a mess. The texture is just like the walnut scrub, a little rough but easy to apply. This scrub will brighten up your face and will cleanse your pores deeply. Biotique face scrub is made up of hundred per cent botanical extracts, as the brand claims.
The pricing is reasonable and you get a really good quantity according to what you pay for. There is a mild smell in this product and is suitable for all skin types.
Pros
*Brightens your skin.
*Suitable for all skin types.
Cons
*Smell can be nauseating for some people.
Check the cheapest price on Amazon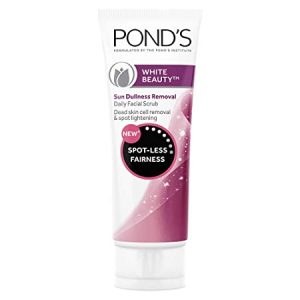 Pond's White Beauty scrub comes in a tube packaging with a flip flop cover. The packaging is very hygienic as you can just take out an adequate amount on your hands and apply it. The scrub contains tiny granules that work as scrubbing beads and are really gentle on application. The texture is really creamy and spreads on your skin easily.
You can use this scrub on a daily basis since it will not dry out your skin which is a major benefit. Pond's white beauty scrub can remove the tan to a great extent and brightens your skin immediately. It exfoliates your skin, cleanses the pores till deep down leaving behind a healthy-looking skin.
However, this facial scrub is best suited for dry skin type and may cause breakouts on oily skin. The pricing is great according to the quantity and is very affordable. There is an extremely mild smell that is pleasant and the product contains no harmful ingredients.
Pros
*Gentle on skin and can be used daily.
*Brightens up your face instantly.
Cons
*Suitable for dry skin type only.
Check the cheapest price on Amazon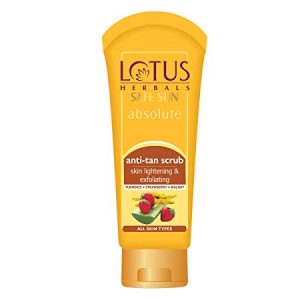 Lotus Herbals anti-tan scrub comes in an inverted tube with a flip flop cover. The packaging is quite decent, travel-friendly and it can be kept anywhere since the lid is tight, preventing a mess being made. It has tiny pink granules which are not too rough along with walnut granules which are a little bigger in size.
The consistency is creamy and spreads evenly all over your face with great ease. The tan removal properties are great and you will see a world of difference if you start using this scrub 2-3 times a week. This scrub will clear your skin, cleanse your pores and the exfoliation part is great too.
When you will start using this, your blackheads and whiteheads will visibly decrease leaving behind a glowing skin. All the ingredients are safe but this scrub is not paraben-free. Talking about the price, it is a little expensive as compared to the other tan removal face scrubs. It is suitable for all skin types, from normal to dry to oily; you do not need to worry about any allergies, excessive oiliness or dryness on your skin.
Pros
*Removes tan visibly.
*Suitable for all skin type.
Cons
*Contains paraben.
Check the cheapest price on Amazon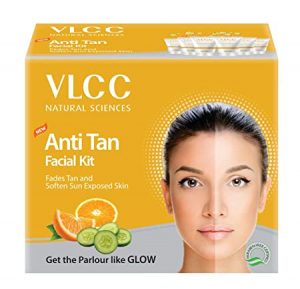 This product is trending for so long now because of its amazing tan removal properties. Let us what all this facial kit contains:
*VLCC Oat Meal Scrub
*VLCC Melawhite Gel: Detan Gel
*VLCC Melawhite Powder: Detan Powder
*VLCC Pista: Hydrating massage cream
*VLCC Melawhite Pack: Detan Pack
You have to use the products in the same order as they are mentioned above. It also comes with an instruction manual so no worries about remembering the order. The shelf life of this product is 24 months and it is super affordable so this one is a great offer for everyone. The product claims that all the ingredients are natural and this kit is based on Ayurvedic recipes.
VLCC oatmeal scrub powder exfoliates your skin, removes blackheads and whiteheads. Olive oil is present in this which moisturizes your skin really well. The next in order, Melawhite Gel contains cucumber and seaweed extracts that will revitalize your skin and give it a fresh look. Melawhite Powder contains long pepper extracts that control the excessive secretion of oil.
Pista Hydrating face massage cream has pista and rose petal extracts which make the skin radiant and younger-looking. Melawhite detan pack contains turmeric and aloe vera extracts that will even out your skin tone and brighten it. It removes the tan and you will see a difference within 2 weeks.
Overall, this kit does wonder for tanned skin and after a few uses, you will have brightened and lightened skin tone. The quantity is great according to the price and will last long. You can even use the products separately if you do not have enough time, they will work equally well. The directions of use are mentioned behind each sachet so you will not have a hard time during the application.
Pros
*Reduces tan effectively.
*Affordable.
Cons
*Packaging can be a little better and practical.
Check the cheapest price on Amazon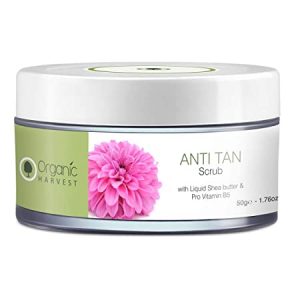 Organic Harvest Scrub contains liquid shea butter, pro-vitamin B5, scrubbing beads and olive oil. The packaging is kind of cute as it comes in a clear plastic tub with a screw cap. There is a separate plastic cap which prevents the screw cap from getting all messy. The scrub is metallic shiny white in colour and has tiny exfoliating beads. The scrubbing beads are not too rough and provide a mild exfoliating action.
The texture is really creamy, light in weight and will glide on your skin. It has a strong citrus odour which is refreshing but can be nauseating for some people.
This scrub gives a nice polish to your face, brightens and lightens your skin. Organic Harvest scrub removes blackheads and whiteheads easily and will leave you with smooth skin.
The scrub is suitable for all skin types and will not dry out your skin. Use this product 2-3 times in a week to see the difference. Another great thing about this scrub is that it does not contain parabens, mineral oil and animal ingredients.
Pros
*Removes tan.
*Paraben-free.
Cons
*Has a strong odour.
Check the cheapest price on Amazon
FAQ's
How to use a tan removal scrub?
First of all, wash your face nicely. Some facial scrubs only exfoliate your skin and not clean them so see what the product is meant to do. Even if the product cleanses your skin, wet your face with normal or lukewarm water. Do not use hot water on your face as it can dry out your skin. Take an adequate amount of scrub and apply it all over your face and do not forget the neck area. Start massaging gently with your fingers and your knuckles. Do not use the scrub near your eye area as it is very sensitive. Excessive massaging and pressure on your skin can cause redness and can peel off your skin so be careful about that. Massage the scrub for about 60 seconds, more than that can cause irritation on your skin.
Once you finish massaging, start rinsing off the scrub. Make sure you remove all of it nicely and smooth skin will be left behind. Dry your skin and continue with your regular skincare routine.
Can you use a tan removal scrub daily?
Tan removal scrubs give you such a nice feeling after application. You all want that softy skin every day but we are afraid that using a tan removal scrub daily can have its own side effects. Sometimes, we want to remove the tan so bad that we think using it daily may give faster results. If you will use a scrub daily, it can peel away your skin cells, causing dryness and it can also remove the essential oils from your face. You can also face redness and irritation on your skin if you use a scrub too often. Use a facial scrub once a week and see how it works out for your skin. If you feel that your skin is responding well to the scrub, then start using it twice a week.
Types of Scrubs
There are different scrubs for your face and your body. When it comes to facial scrubs, they are divided in terms of their application. If you want it for tan removal, moisturising, exfoliating, cleansing or brightening your skin. There are scrubs that have all in one application and are made for your weekly routine. Then these scrubs are further divided according to your skin type, that is there are different scrubs for oily and dry skin. Body scrubs are also of various types like sugar body scrub, salt body scrub, herbal and coffee body scrubs. People who have extremely dry skin on their body can opt for moisturising body scrubs. A lot of DIY remedies are trending nowadays which give you a benefit of making scrubs at home with natural ingredients.
Best tan removal scrub for face
Lakme Clean up pores face scrub is the best in India. This face scrub can be used for multiple purposes and is super affordable. It comes with mini crystals that exfoliate your skin, clears your pores and also works well for blackheads. This scrub has green tea extracts and salicylic acid that prevents pimples and acne. It also has a very mild and pleasant fragrance to freshen up your mood along with your face. The packaging of this product is great and comes in a sea-green tub which is travel friendly as well. This scrub works the best for normal skin type. People with oily or dry skin can try it out to see the results.
Best Scrub under Rs.500
VLCC Skin Defense Indian Berberry Face Scrub is the best scrub that too under Rs.500. VLCC is a promising brand and its products actually do what they claim. VLCC face scrub exfoliates your skin and makes it fresh. It contains turmeric that is well known for its brightening properties. Papaya and neem extracts are some other ingredients that make this scrub of the best. The glow provided stays for 2-3 days which is a great thing. It contains minute granules that help in exfoliating your skin. The scrub has a pleasant and fruity fragrance and the product is free of chemicals.
What is the difference between men and women facial scrubs?
There is a large difference between the skin of men and women so it is obvious that the skincare products will differ too. One major difference is that scrubs for men are made keeping in mind that they shave on a regular basis. Facial scrubs help in moving the hair away from the pores and cleaning them nicely. Also, men have more oil on their skin which may lead to acne and pimples. Therefore, face scrubs of men contain stronger ingredients to overcome all the problems. The skin of women is way more sensitive than that of men and hence, the ingredients are light. There is a wide variety of face scrubs available for women since they pamper their skin and invest time in a skin care routine.
Best tan removal scrub for dry skin
St. Botanica 24K gold face scrub is the best for dry skin type. It has moisturising ingredients like Aloe Vera, Gotu Kola, green tea, jojoba oil and Moroccan argan oil which will completely hydrate your skin. This scrub also reduces anti-ageing effects, brightens the face and reduces dark spots on the face.
You can use this product twice a week. This product comes in classic packaging and is a little expensive.
Best tan removal scrub for oily skin
Himalaya Purifying Neem Face Scrub does wonder for oily and combination skin type. It contains ingredients like Neem that has anti-bacterial properties and is great for acne-prone skin. It also has lemon extracts which will help in clearing your skin and cleanse the pores deeply. The texture of this product is creamy and is easy to use. Himalaya is known for its amazing products with natural ingredients which will give you results in a short period of time. The packaging is simple and this face scrub is very affordable. This product is definitely worth a shot for people with oily skin and for other issues like pimples.
Best tan removal scrub for body
MCaffeine Naked and Raw Coffee body scrub is hands down the best tan removal scrub for the body. This scrub is made from pure Arabica coffee and cold-pressed coconut oil. Coffee has several benefits like exfoliating your skin, removing dead cells, reducing puffiness and most importantly, it gives a glow to your face. The product is paraben-free, and does not contain any artificial fragrance or colours.
Best tan removal scrub for hands and legs
The Body Care Lemon Hand and Foot Spa scrub will do wonders to your hands and legs. It is extremely effective in removing tan as well as exfoliating your skin. The scrub is a little heavy and creamy in texture. It is easy on the application and this scrub will make the skin on your hands and legs glow and make it soft like never before.
Best tan removal scrub for men
Beardo De-Tan Caffeine face scrub is the perfect scrub for men to remove their tan. It is enriched with the goodness of coffee which makes the product very effective. This charcoal activated face scrub will cleanse your pores, eliminate blackheads and make your skin clean and clear. Also, for men who have a beard or are planning to have it, don't worry as this face scrub will not harm your precious hair.
Final Remarks
Tan removal scrubs are literally a saviour for all of us. Now you can go out in the Sun and have the time of your life because these facial scrubs will take proper care of your skin. Do a little research to see which product meets all of your requirements and invest in it accordingly. A facial scrub is a must in your skincare routine anyway because the cleansing of your pores is necessary to remove all the dirt from your face. With these tan removal scrubs, you will never have a dull moment again so say goodbye to your tired skin and be ready to glow.