10 Best Rose Water/ Gulab Jal Brands in India
Rose Water/Gulab Jal is rapidly becoming the most talked-about product, especially in India. This fragrant, rose-flavored water is prepared by soaking rose petals in water. Rosewater is also considered a perfume because of its sweet smell.
Over the years, rosewater has grown in importance. There are different types of rosewater available with lots of benefits ranging from antiseptic properties for treating skin infections to antioxidants that protect the skin cells from damage or flavoring foods, especially during the festivals. They also have anti-inflammatory properties that help soothe irritation on the skin.
Benefits of Rose Water/Gulab Jal
Here are the numerous benefits of gulab jal:
Rosewater is used to control excess oil on the skin by cleansing the skin and removing sebum and dirt that leads to clogging of the pores.
It helps the skin stay hydrated and moisturized, giving it a fresh look.
Rosewater has anti-inflammatory properties that soothe irritations such as eczema and sore throats.
Rosewater helps the skin maintain its PH balance.
It has antibacterial properties that aid in the fast healing of wounds and bruises.
It contains antioxidant properties that help protect the skin against damage while regenerating new skin tissues.
Rosewater prevents the production of collagenase. Therefore, it acts as an anti-aging product reducing the appearance of wrinkles.
Rosewater has antidepressant and anti-anxiety properties that help get rid of feelings of anxiety and promote mental health.
Rosewater has astringent properties that help in keeping the pores clean and the skin tone.
Rosewater nourishing and moisturizing properties help revitalize hair growth and treat mild scalp inflammations.
Fumes of rose water can improve your mood and give you better sleep.
10 Best Rose Water/ Gulab Jal Brands in India with Price
With all the benefits that one can get from roses and petals, below are some of the best known rose water brands in India.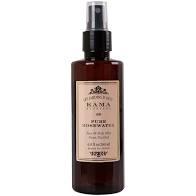 Kama Ayurveda Pure Rose Water is a natural astringent that comprises Kannauj roses, which are grown in white soil conducive to a rose plant's growth. It balances and restores the PH level of the skin. It tightens the pores and acts best as an alcohol-free tone for all acne-prone and oily skins.
Benefits
The perfect solution for soft skin
The product maintains moisture balance in all skin levels.
It gives a radiant glow to all skin types.
It promotes an even skin tone and keeps away the pimples.
Removes dirt and excessive oil and keeps the skin well-conditioned.
Ideal for all skin types in both men and women
Price – Rs.1150/- 
Check the cheapest price on Amazon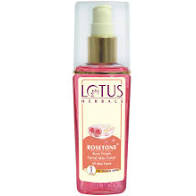 It is composed of nourishing and soothing ingredients such as Tulsi and aloe Vera. This toner revitalizes your skin and restores its pH balance; the rejuvenating quality of this toner soothes your skin.
Tulsi Leaves – Antiseptic & natural astringent
Aloe vera – helps to lighten the skin and gives excellent moisturizing skin healing properties.
Vetiver – Rejuvenating & revitalizing
Benefits
Keeps the skin hydrated and increases its elasticity, reducing the signs of aging.
Keeps the skin smooth and moisturized.
It helps to tighten pores and restores suppleness.
Hydrates and refreshes dull, tired-looking skin
It is absorbed into your skin to revive and moisturize it from within.
The product removes makeup residue and pollutants.
The product removes superficial impurities.
Price – Rs.221/-
Check the cheapest price on Amazon
It is 100% pure and natural rose water with no added preservatives. Its main ingredient rosewater, a liquid made from water and rose petals. Dabur Gulabir Premium Rosewater is used as a perfume due to its sweet fragrance.
Benefits
The product is for all skin types.
Used for cleansing and refreshing the skin.
It helps balance the PH of the skin and tightens the pores.
Moisturizes and tones the skin.
It refreshes dull skin and cools it down after a stressful day.
It provides instant hydration to your skin while rejuvenating tired and sully skin.
Price – Rs.42/-
Check the cheapest price on Amazon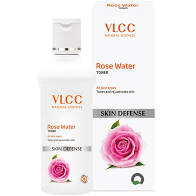 VLCC Rose Water is a natural toner that helps maintain the PH balance of the skin. It also acts as a fragrant liquid giving you a fresh smell all day long.
Benefits
It acts as a cooling and purifying agent, leaving the skin fresh.
The product maintains the PH balance of the skins.
It helps to hydrate and moisturize the skin, giving it a refreshing radiant glow.
It does not sting or irritate the skin.
The packaging is travel-friendly.
Price – Rs.119/-
Check the cheapest price on Amazon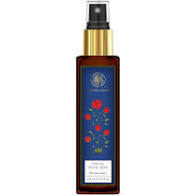 Forest essential pure rose water consists of distilled desi gulab, Taruni, which means unimaginably beautiful.
After cleansing, spray the Forest Essential rose water toner onto the face and the neck to hydrate the skin. Use it whenever necessary without restrictions.
Benefits
It is used as a moisturizer to rehydrate the skin after facial cleansing.
It has a soothing effect on the skin.
It tones and diminishes fine lines that appear on the skin.
It has a divine smell, which is relaxing and helps one have a peaceful sleep.
Price – Rs.1250/-
Check the cheapest price on Amazon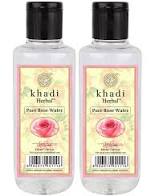 The product is naturally steam-distilled rose water, made from the finest ingredients, aqua, and rose petals.
Benefits
Moisturizes the skin maintaining the PH balance
It gives the skin a radiant glow.
Help get rid of dirt and excess oil present on the skin.
Due to its astringent properties, the product is used as a toner, protecting the skin from dust and oil.
It does not contain paraben.
Price – Rs.164/-
Check the cheapest price on Amazon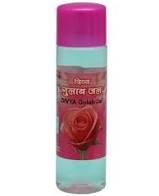 It is a natural formula made of pure rose water extracts combined with fresh water. The rose water cools off your skin and minimizes the appearance of large pores while giving you a natural glow.
Benefits
It relieves itching and burning of the eyes.
It helps improve your vision.
It helps in removing excess oil on the skin.
It moisturizes the skin and regulates the PH balance of the skin.
It contains anti-inflammatory properties.
Price – Rs.24/-
Check the cheapest price on Amazon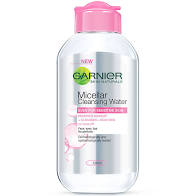 The product is a facial cleanser used as a makeup remover at night. It contains gentle formulas that leave your skin looking fresh and healthy all day long.
Benefits
Gentle on the skin and is recommended for everyday use.
It is suitable for all skin types.
You don't need to rub to get the impurities and makeup of the skin.
It leaves the skin perfectly clean and healthy.
It does not contain paraben.
Price – Rs. 131/-
Check the cheapest price on Amazon
9. FabIndia Refreshing and Hydrating Rose Water (100ml)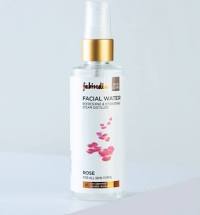 The product is 100% natural and plant-based soothing water collected during the steam distillation of flowers while extracting essential oils.
FabIndia Refreshing and Hydrating Rosewater are used after washing/cleansing your face for maximum results. After face wash, sprays the rose water onto a cotton swab and rubs gently on your face in an upward direction.
Benefits
It helps remove dirt and makeup from the skin.
It protects the skin from bacterial infections.
It helps hydrate and revitalize the skin giving you a natural glow.
It's a multipurpose product, used on both hair and the face.
The product is made up of natural substances, containing no side effects.
Price – Rs.290/-
10. Oriflame Pure Nature Rose Extracts Refreshing Rose Water (75ml
The product is water-based and alcohol-free. It is multipurpose, can be used as a cleanser, toner, face mist, or aftershave for men.
Benefits
It is 100% water-based and does not contain alcohol.
It's multipurpose.
The product is non-comedogenic.
The product is suitable for all skin types.
It comes packed in a portable hand spray bottle.
It contains citric and lactic acid, which aids in skin lightening.
It contains Hyaluronic acid, which rejuvenates and hydrates the skin.
Price – Rs.1099/-
Buyers guide to Choose the best Rose Water brands in India
Rose Water is one of the most used ingredients for skin and hair products in India.
The things to consider when purchasing rose water products include.
Affordability – price is essential as you consider purchasing an item.
Quality – This is an important factor to consider before purchasing a product. You need to look for value for your money.
Usability – Depending on the intended reason for usage, this will be a guide to you on the best brand that suits your needs.
Conclusion
Rosewater is a natural product with no side effects. It contains numerous and powerful
antioxidants that protect the skin from damage. This quality has made rose water a must-have in most Indian homes. Depending on the types of skin and needs you may have, different types of rose water are available for everyone.