Top 10 Facewash for Acne/Pimples for Men in 2020
Pimples and acne are common facial issues, but if not taken care of, they can take a toll on your self-confidence. Acne breakouts not only look awful, but they are also painful and can leave scars that never fade. It is important to start caring for your skin as soon as you see the first signs of trouble. The first step is to invest in a good face wash to cleanse your skin. But if you search online, there are too many options, and it's too overwhelming to read each detail about every product.
When it comes to choosing a face wash, the most important thing to focus on is skin type. For oily skin, go with face washes that help in controlling oil. If you have sensitive skin, then face washes with natural ingredients, and free from harsh chemicals and parabens will suit you. Those with acne-prone skin should look for anti-bacterial and antiseptic ingredients in their products. And finally, if you have dry skin, go for a mild face wash that will not dry out your skin. This list contains many different kinds of face washes to help you choose the best one.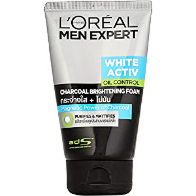 This face wash contains an advanced oil-control formula with charcoal for purifying and controlling oil. The charcoal has a magnetic formula that pulls out impurities, while the white active formula helps in giving the skin a healthy glow. With daily use, it can combat pollution-related damage to your skin.
Key Features
Reduces pimples, shrinks pores, and improves overall skin tone
Detoxifies skin by pulling out dirt and dead cells
Visibly enhances skin complexion with regular use
Lessens whiteheads and blackheads
Anti-shine formula keeps your face matte for long hours
Check the cheapest price on Amazon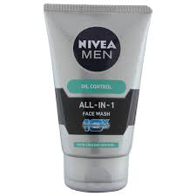 Nivea's Oil Control face wash is a boon for the summer months when all you do is sweat. It is one of the best products to keep excess oiliness off your face for hours. It contains natural extracts of charcoal to reduce acne and menthol to cool the skin from within and keep you feeling fresh all day.
Key Features
Comes with a very convenient pump packaging
Has a mild cooling effect and is great for the summer heat
Gets rid of excess oil that causes pimples
Cleanses the skin to prevent whiteheads and blackheads
Regular use can help clear dark spots and brighten skin
Check the cheapest price on Amazon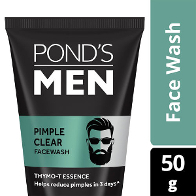 This face wash by Pond's has specifically been developed keeping men's skin in mind. It contains a combination of the patented Thymo-T essence and mineral clay. Together, these two ingredients first dry out your skin mildly to control oil, and then clear pimples. This product shows visible results in just 3 days of usage.
Key Features
Helps with sudden breakouts because of the fast-acting formula
Deep cleans skin and removes the layer of dead skin cells
Prevents your skin from creating excess oil
Leaves skin feeling soft and not too dry
Keeps pimple-causing germs away
Check the cheapest price on Amazon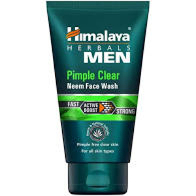 Specially designed for men's skin, Himalaya's Neem Face Wash contains two miracle ingredients for acne-prone skin – neem and salicylic extracts. While neem has anti-bacterial properties to reduce the formation of pimples, salicylic is a natural antiseptic and helps in skin healing. The herbal actives in the product also ensure fast action to minimise the appearance of acne and prevent skin damage.
Key Features
Light gel formula free from soap, perfect for oily skin
Works pretty fast to clear up the skin
Unclogs pores to prevent acne from reappearing
Prevents skin infections and rashes
Has mild exfoliating properties to clear dead skin
Check the cheapest price on Amazon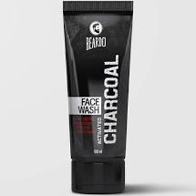 This is another face wash containing activated charcoal to prevent the formation of pimples. It is suitable for all skin types and also contains aloe vera gel, tea tree oil, lavender oil, and olive oil to moisturise your skin while also cleaning it. The oils help in soothing the harshness and irritation caused by pollution.
Key Features
Deep cleanses pores and removes acne-causing bacteria
Protects you from the harmful effects of pollution all day long
Detoxifies skin and helps fight the appearance of blackheads
Helps in controlling oil and is good for summers
Aloe Vera helps in soothing sun damage to the skin
Check the cheapest price on Amazon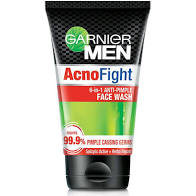 Garnier is one of the most reputed skincare brands, and for a good reason. Garnier AcnoFight combines salicylic acid and herbal repair formula to fight over 99.9% pimple-causing bacteria on your face. It has cleansing, oil-controlling, exfoliating, as well as healing properties and is one of the best face washes for men with oily skin.
Key Features
Helps control oil production on the face resulting in refreshed skin
Contains micro-beads for gentle exfoliation
Dries out pimples and heals skin quickly
Cleanses thoroughly and helps reduce blackheads
Tightens loose pores and improves skin texture
Check the cheapest price on Amazon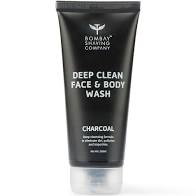 Any face product with charcoal as the main ingredient is sure to make a difference to your skin. This face wash by Bombay Shaving Company is no exception. It tackles the damage caused to your skin by excessive pollution by sucking out excess oils and acne-causing impurities. It also contains fruit extracts like pomegranate and papaya as well as turmeric to combat dullness.
Key Features
Completely free of parabens, SLS, and other chemicals
Removes dirt, oils, and dead cells without drying out the skin
Fruit extracts help reduce dullness, dark spots, and blackheads
Reduces the effects of sun damage
Brightens skin tone and improves texture
Check the cheapest price on Amazon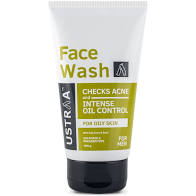 Ustraa is one of the best Indian brands for men's skincare. This face wash performs two essential functions – fighting acne and controlling oil. The lime extracts and salicylic help in control oil production, making sure that you will never have a sudden breakout again, while wild basil extracts give your skin that fresh feeling.
Key Features
Helps control pimple breakouts by keeping skin oil-fee
Has a cooling effect that works for summers
Removes dead skin from the face's topmost layer
Has an amazing lemony fragrance
Free from harsh chemicals, sulphates and parabens
Check the cheapest price on Amazon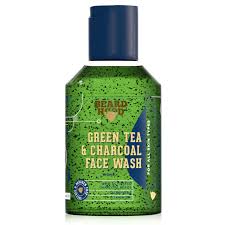 This face wash by Beardhood is not simply a face wash, it's a whole skincare routine in one product! The charcoal in the product helps in cleansing skin and fighting acne, while green tea has hydrating and anti-bacterial properties. It also contains Vitamin B9 and aloe vera to soothe and nourish the skin.
Key Features
Eliminates toxins from the skin and prevents acne
Hydrates and moisturises without making the skin greasy
Helps fight tanning and dullness due to sun damage
Reduces puffiness of skin and combats dryness
Free from SLS and parabens
Check the cheapest price on Amazon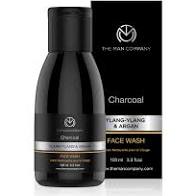 The Man Company's Charcoal face wash contains exciting ingredients that can make all the difference to your skin. First is charcoal, that removes all the impurities. Then comes Ylang Ylang oil, famous for its anti-bacterial properties in treating acne and pimples. And finally, we have argan oil, which moisturises the skin.
Key Features
Moisturizes skin without making it greasy
Kills bacteria on the face and eliminates toxins
Gets rid of the oil without making the skin dry
Has a very refreshing fragrance
Does not contain sulphates or parabens
Check the cheapest price on Amazon
Buying Guide
Why do I need a different product for my face? Can't I just use soap?
The skin on your face is different from the skin on the rest of your body. It is thinner, more sensitive, and more vulnerable to showing signs of damage. This is why skin on the face needs mild cleansers like face washes, so that they can target specific concerns.
Why do men need different face washes than women?
Just as the skin on your face and your body is different, the facial skin of men and women also differs, needing a different type of routine and care. Men get facial hair, so their skin is much coarser than women's. Men need face washes that can penetrate their skin better.
How do I know what my skin type is?
When you wash your face, pay attention to how soon oil returns to your face. If your face gets very oily within an hour, you have oily skin. If your face doesn't get oily but still remains soft and elastic, then you have normal skin. If your face feels tight and stretched after washing and you cannot go without a moisturiser, you have dry skin.
When should I use a face wash?
The best time to use a face wash is in the morning, after finishing your bath, and in the evening, after returning from work. Follow it up with a moisturiser of your choice.
How should I choose a face wash?
Keep your skin condition and skin type in mind while choosing a face wash. If you have oily skin, avoid greasy products or those with intense moisturising effects. If you have sensitive skin, make sure to test out the product on your skin for 48 hours before using it on your skin. If you have dry skin, avoid using products that promise oil control.
Conclusion
We hope this list helps you pick out a face wash for your skin type and specific concerns. If you want to see a fast reduction of acne and pimples, make sure to wash your face twice a day. A lot of oil-controlling face washes can be drying, so will need to use a good, non-greasy moisturiser after your face wash. And the final tip – don't leave your house for work without applying sunscreen!