Garnier BB Cream: Shades, Benefits & Review
BB creams have become an essential part of the skincare routine. They have transformed the skincare routine by creating a beneficial blend between skincare and makeup products. In the past few years, several BB creams have emerged in the market. Only a few creams have earned themselves a tag of excellence, and Garnier BB cream is one of them.
What is BB Cream?
BB cream or 'blemish balm' cream is made by combining various products such as foundation, primer, concealer, SPF, and moisturizer. This multi-beneficial product is widely famous in Asia and is now spreading its roots all over the world. Its ability to give the skin a natural and instant glow is the reason behind its growing popularity. This single cream can replace several products in the skincare and makeup routine.
Skin Type
Every skin type needs special attention. The requirements of every skin type may differ, but BB creams are made especially for all skin types. They can show their magic on every skin type. The only point to note here is to select the correct tone for the skin.
As for dry skins, it is essential to use hydrating and nourishing BB creams that have enough moisturizer. A perfect BB cream contains ceramides or humectants to hydrate the skin. Garnier BB cream is one such cream that hydrates the skin efficiently. It protects the skin giving it a smooth and healthy look.
For oily skin, one looks for a BB cream that can control or remove the excess oil from the skin. Garnier BB cream is the best cream for such oily skins as it is oil-free and provides a shine-free glow. It also reduces the pores and helps to even the skin tone.
SPF
Almost all BB creams contain SPF, which saves expenses on other makeup and skincare items. After applying BB cream, there is no need to apply any other makeup product or sunscreen to protect the skin from the sun. BB creams containing SPF protect the skin from harmful sun radiations preventing sun damage in all seasons. People with fair skin must use BB creams with high SPF. SPF 15 is considered ideal, but one can even use SPF 30 to protect the skin from the sun as 90% of premature aging is caused due to overexposure to the sun.
Shades of Garnier BB Cream
Light/Medium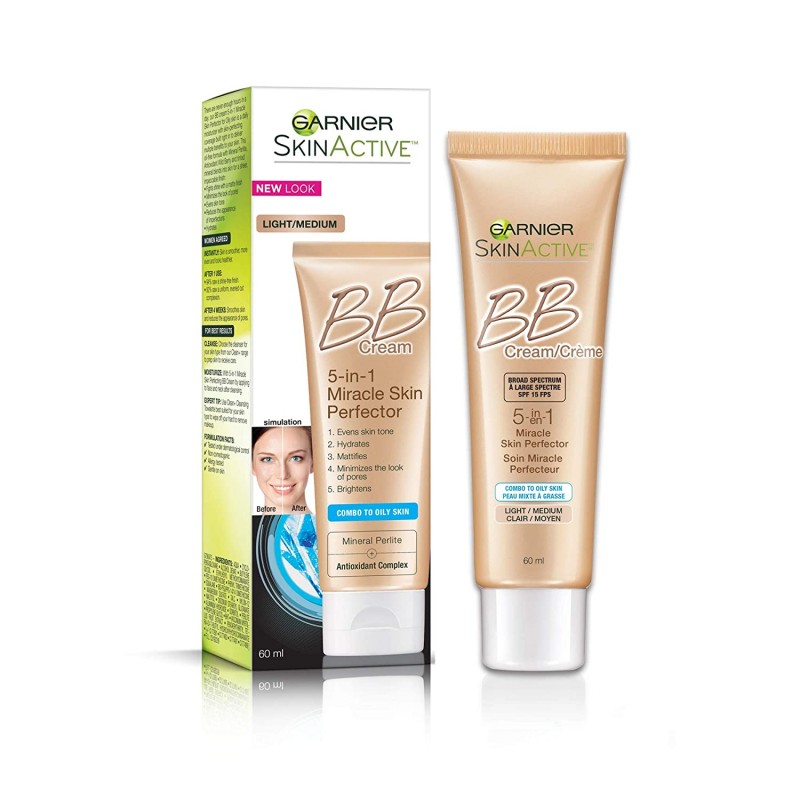 The moisturizing cream consists of Pro-xylene Antioxidant Apricot and some mineral pigments. It is designed specially to fight aging signs and to provide the below-mentioned benefits to the skin-
It helps in minimizing wrinkles.
It helps tighten skin.
It maintains the skin tone.
It provides essential hydration to the skin.
It protects the skin from sunburn.
This cream helps in getting more youthful and even-toned skin.
How to use it?
Before moving out and exposing the skin to the sun, gently massage the BB cream on the skin to protect it from sun damage. Reuse it when required.
It is easy to use this product with other skin renewal products. Before applying this cream, cleanse the skin with the radiance renewer. Use it twice a day for good results. You can also make it an essential part of the skincare routine for advanced care.
Medium/Deep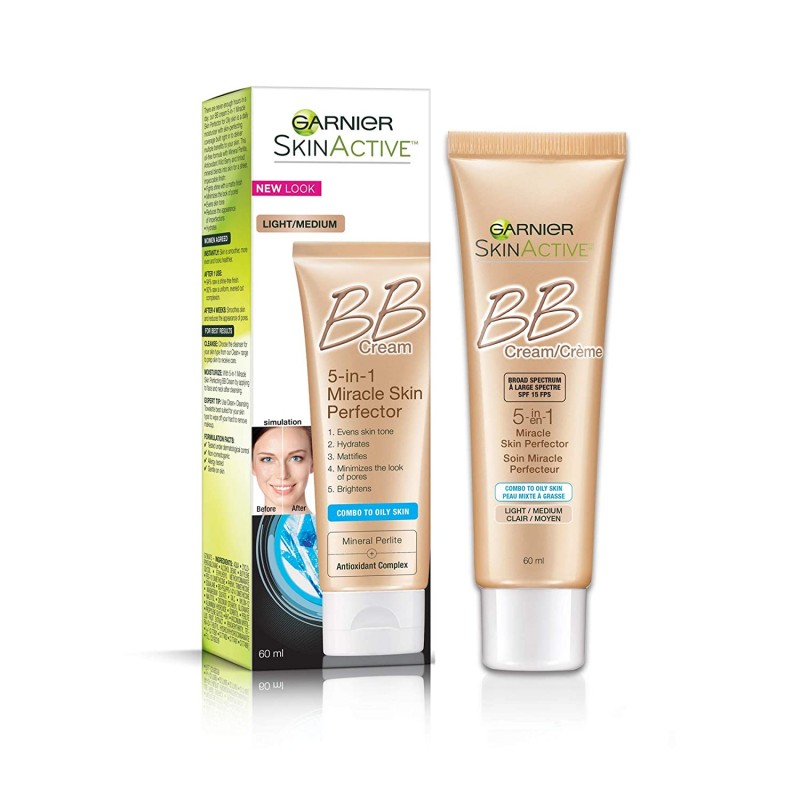 This formulation consists of combining Antioxidant wild berry, Mineral Perline, and some mineral pigments. It is made especially for people with oily skin. Along with helping to fight oil problems in the skin, the cream has the following benefits-
It helps in regulating the skin shine.
It helps in reducing pores on the skin.
It helps in maintaining skin tone.
It helps in hydrating the skin.
It avoids sunburn.
This cream provides an easy way to get shine-free and even-toned skin.

According to a consumer study, 93% of women experienced a better even skin tone, 88% felt a natural shine-free glow, and 84% experienced a reduction in skin pores.
Check the cheapest price on Amazon
How to use it?
It is essential to apply this BB cream on the skin before moving out and exposing the skin to the sun for all-around protection from sun damage. Reuse it if necessary.
Benefits Of Garnier BB Cream
BB creams are perfect for women who fail to spend much of their time in makeup and skincare routine. This cream is beneficial for all skin types and can be used in all seasons. Following are some of the benefits one can experience by using the BB cream regularly-
The SPA 24 PA++ content in the cream protects the skin from harmful sun radiation.
It helps in covering scars and blemishes, providing an easy and solid foundation for makeup.
The mineral pigments and Vitamin C in the cream lighten and brighten the skin. It helps in minimizing dark spots and provides a fair complexion.
The almond extract in the cream provides essential nourishment and moisture to the skin.
It helps in eliminating redness, patchiness, and under-eye circles.
This cream provides a natural glow, even skin tone, and a clean finish.
Review of Garnier BB Cream
~Janhvi Talreja
This cream is so far the best BB cream I have used.
Pros
It has an incredible formula
It contains SPF 24
It provides instant glow
It moisturizes the skin
This Garnier BB cream is a must-have cream in summer if you want to move out without putting much effort into makeup. This cream has replaced my foundation. Though it has less coverage, it is sufficient for me as it perfectly matches my skin tone.
~Pankti Shah
Pros
It is lightweight
It blends well
It nourishes the skin
It contains SPF 24/PA+++
It is a perfect BB cream for regular use. It is not at all patchy and perfectly blends with the skin. It provides an instant glow to the skin. It is also perfect for foundation roles despite providing less coverage as it is perfect for everyday use.
Conclusion
Garnier BB cream is suitable for all cream types. It is an all-in-one makeup kit for a long journey. It provides a quick and natural glow to the skin and spares the time for other activities. It provides essential nourishment to the skin and gives an even skin tone making the skin look healthy.
Also Read: