Best Hair Color/Dye for Men in India in 2020
Are you in search of the best hair colour or dye for yourself? Well, you have hit the jackpot as we have 5 of the best in India just for you. In recent times, greying of hair has become common even among people in their early thirties.
While greying out may be hereditary, your lifestyle choices – stress and eating behaviour – may have effects that become visible through your hair or skin.
For most people, dying their hair or getting new hair colour is a trend they prefer to guarantee that they stand out in social circles. The trend has made both hair and skin companies invest and manufacture the best hair dyes that work best to prevent premature hair greying and ageing.
Colouring of the hair is a personal choice. Not only does it change your overall appearance, but hair colours and dyes can uplift your personality entirely.
We have the best dyes that will be the perfect fit for your hair that are safe and will not change your hair's texture.
Best Hair Colour/Dye for Men
Are you among the many men out there who need a hair colour change? Do you want to camouflage the grey in your hair? We have assembled the top 5 hair colours and dyes that will immediately set you up for success!
1. Garnier Color Naturals Men Hair Color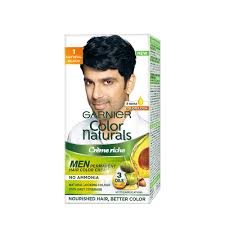 Garnier needs no introduction as it has the highest overlap strength and does not easily get
flushed. This natural hair colour is ammonia-free and promises 100% grey coverage, and works fast. The hair colour is enriched with nutrients from three precious oils. As the primary ingredient, olive oil ensures that the hair is nourished, reduces dandruff, and works well in reducing scalp irritation.
Almond oil will provide that extra shine and softness to your hair. The oil also works best in reducing split ends and itching of the scalp.
Coconut oil in Garnier colour naturals will ensure that theirs is no sebum buildup from your hair follicles and nourish the scalp from its fatty acids.
Garnier offers various shades that you can try out, the natural black, darkest brown, and light brown. Your pick will depend on your preference. The hair color is easy to apply and does not drip.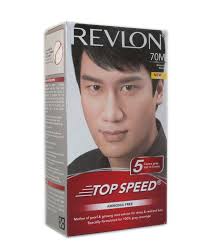 Like its name, this hair colour from Revlon is easy to apply, has immense coverage, and works fast on your hair. It promises to give your hair the natural look and appeal. It is ammonia-free and contains the hydrolyzed keratin, making it gentle for your hair and reducing your hair's shedding and breakage. The protein molecule will help rebuild your hair's natural protective layer giving your hair a fuller appearance.
Revlon Top Speed Hair colour contains ginseng extracts that promote your hair growth cycle and enhance blood circulation in your scalp. This natural ingredient will prevent hair loss and promote the growth of your hair follicles.
You will get several shades from Dark Brown, natural black, light brown, and many others that will help you achieve a unique look. The best thing with this Revlon hair colour is that women can use it too.
Check the cheapest price on Amazon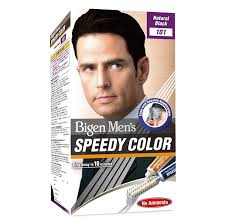 Your solution to the greying of your hair is Bigen Men's Speedy Colour for Men. The hair colour is designed for both short and long hair and promises to give you that chic look, thanks to its natural ingredients.
This hair dye cream contains pullulan, olive oil, and glycine, all the primary ingredients you need to provide your hair with that healthy and natural look. Glycine is an amino acid that promotes hair moisture, strengthens, and repairs your scalp.
Olive oil contains Omega-3 fatty acids that help your hair thickness and prevent dandruff. Pullulan in the hair dye will reduce the flaking that comes from combing your hair.
You will be spoilt for choice as Bigen has several shades that will give you the extra oomph in your hair.
Check the cheapest price on Amazon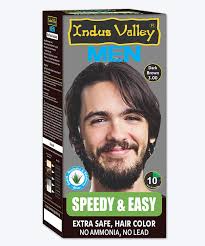 If you are looking for that natural look, this is the hair colour for you as it's ammonia-free and suitable for all hair types. It is easy to apply and works in less than 10 minutes after application.
This hair color contains natural ingredients that include but are not limited to Aloe Vera, Amla, Jojoba, Honey, and Basil.
These natural ingredients contain antioxidants and Vitamin C that help in strengthening your hair. The essential elements also aid in dissolving dead cells that may clog your hair follicles. These nutrients contain anti-inflammatory properties that promote blood circulation on the scalp and prevent hair breakage.
Expect your scalp to be soothed and hydrated with the primary ingredients. Itchiness of the scalp will be a thing of the past once you use this hair dye.
The brand offers different shades you can pick from to grant you access to the new look.
Check the cheapest price on Amazon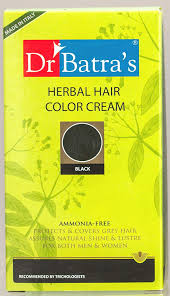 The Herbal hair cream is ammonia-free that promises a natural shine. The hair dye will provide a deep, intense, and long-lasting colour to your hair. It contains herbal ingredients that enhance your hair shine and prevent capillary fiber.
The primary ingredients include henna, thuja, and natural herbs that are essential in conditioning your hair making it thick and shiny. These nutrients will help in balancing the PH of your hair.
If you are worried about hair loss, don't worry, as the thuja in the hair dye promotes hair growth by increasing the size of hair follicles.
The natural herbs contain Vitamin C that enhances the production of antioxidants that fight radicals and absorb iron, which promotes hair growth.
The Hair cream is available in multiple shades and is easy to apply.
Check the cheapest price on Amazon
Taking care of coloured hair
So what's next after you get to rock your dyed hair? Your coloured hair will still need attention. What else can you do to help maintain the colour for long? Below are a few tips you can practice
During colouring, your hair cuticle layer is left open, which helps the colour to penetrate. The pores may still be open after a few days, so it's important not to shampoo immediately after your colour. Wait at least 72 hours before shampooing.
Sulfate-free products are essential in maintaining the hair colour and help retain moisture and natural oils in the hair. Many shampoos will prevent the fading of hair despite your hair type.
You can add a little bit of the hair dye left to your conditioner so that you enhance colour every time you wash your hair.
Do not use hot water during your wash days. You can wash with warm water, then condition and rinse with cold water that will seal in the moisture preventing the hair from fading.
To help retain the colour, minimize the number of times you wash your hair to around 2-3 times a week. Doing this will help you maintain moisture and natural oils for longer.
Use Dry shampoos on your off wash days. Dry shampoos typically freshen your hair and revamp your hair dye.
Pro-Tip
On a concluding note, we would like to mention that coloured hair is more prone to damage, so be ready with excellent hair care products. Generally, lighter shades are more damaging since they need bleaching. Choose darker shades to prevent damage.
Buying Advice
Seek Advice – Whether you intend to dye your hair from home, ensure that you seek advice from a colourist to get advice on the colour level based on your hair type.
Concentrate on your Hair Growth – You need to assess just how much of the grey on your hair you need to cover. Check that you focus on your roots first, as you will later apply the remaining portion towards the end of the application process. You prevent colour buildup by root application.
Be knowledgeable about the sensitivity of your skin – If you have sensitive skin, ensure to select ammonia-free products or add a little sugar that helps neutralize the PH level and prevent itching.
Colour Shade – Go a shade lighter from your natural colour. By going a shade lighter, you are playing safe just in case you get a colour that is totally off from your natural one.
Shampoo Choice – Invest in special shampoos that are colour-safe and will help maintain colour.
Conclusion
It doesn't matter if you are dyeing your hair to look like Jean Harlow, getting the suitable shade for your hair texture is essential if you want healthy and shiny hair that remains replenished and does not fall off.
Get yourself the best hair dyes that are 100% cover-ups for scattered greys. Remember that you can always switch it up a little bit and try out different hair colours now and then. Even that grey can be your new blond.