Top 5 Best Tinted Lip Balms With SPF In India
Lips make a person look attractive. Apply a lovely red lipstick, and your lips instantly turn into something sensual, luscious, tempting, and, most importantly, kissable. Did you know that lips are made of a muscle layer, connective tissue, and a surface epidermis or skin? Whether your lips are thin, medium-sized, or full-sized, taking good care of them is definitely important. That's where lip balms play a vital role in protecting and retaining the moisture of your lips.
Why Do Your Lips Dry?
Lips become dry for various reasons; primary among them is lack of water. If you are not drinking enough water, it instantly affects your lips, making them dry and chapped. Here are a few more reasons for the dryness of lips.
• UV Rays can also cause dryness of lips. As mentioned earlier, lips just have a thin layer of skin over muscles, making them more prone to the sun's exposure. So, using a lip balm or covering your mouth with a scarf are excellent ways to protect your lips from the sun.
• Food is another factor that can irritate your lips. For instance, if your lips are chapped, and you eat something salty, it can worsen those cuts. So, try to eat more walnuts or coconut oil-based foodstuff to help your lips heal faster.
• Contrary to the belief that you should lick your dried lips, licking them might actually add to the dryness. Your saliva has digestive chemicals, which evaporate on your lips and break down the skin. Thus, making them drier and more chapped than before.
• Another reason for dried lips can be a lack of vitamins and essential nutrients in your body. Dry lips can be your body's way of saying you lack zinc, iron, or vitamin B. So, ensure that you consume food with more of these, or consult a doctor and use multivitamins.
• In some cases, dryness of lips is caused due to toothpaste. Some toothpastes have chemicals that can harm your lips. You can solve this problem by trying to use herbal or natural toothpaste.
What Is A Lip Balm?
Lip balms are a wax-like substance whose primary benefit is to form a layer over your lips to protect them from external exposure. In doing so, they also retain the moisture in your lips and relieve you of dry and chapped lips. Lip balms generally contain ingredients such as beeswax, petrolatum, paraffin, lanolin, etc.
It is believed that lip balms have been in existence since the 1880s, although earwax was used as a lip balm back then. Today, as the cosmetics industry has progressed, lip balms are available in different shades and flavors to add beauty and shine to your lips.
Top 5 Best Tinted Lip Balms With SPF In India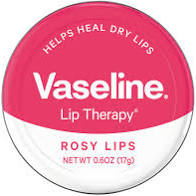 Vaseline came into existence in 1870. They had one mission – to heal dry skin and make them soft and supple. They have since ventured into the world of beauty products that care for the body. Vaseline Lip Therapy is one such product, intended to moisturize your dry and cracked lips and bring back its true beauty. There are many variants in the lip therapy category, but one of the most used ones is the Rosy Lips. If you are not a fan of rose, you can try their cocoa butter version.
Features Of Vaseline Lip Therapy Rosy Lips:

Rosy Lips contains SPF15 to protect your dried or chapped lips.
It has rose oil, which gives it its name, almond oil, and Pro-vitamin E, providing it with the needed nourishment.
The lip balm has petroleum jelly, which moisturizes your skin and keeps it soft for long hours.
It brings back the natural glow of your lips and makes them glossier and healthier.
It adds a pink tint to your lips every time you use it, making them look attractive and beautiful.
Check the cheapest price on Amazon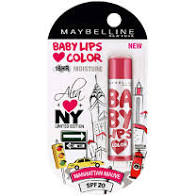 If you walk into any general stores in India, chances are you'll find Maybelline Baby Lips there. Maybelline is an American company that started as a family-owned business and has grown into one of the world's largest cosmetics firms. Maybelline launched Baby Lips in 2011, and it has since become one of their fastest selling products. The lip balm was given the name 'Baby Lips,' as it makes the lips as soft as that of a baby. The different variants of these balms provide different colored tints to your lips, adding to their beauty.
Features Of Maybelline Baby Lips:

The lip balm is enriched with vitamin E and coconut oil, which nourishes your lips and repairs your dried, chapped lips.
Baby Lips claims to protect your pout from the sun with its SPF 20 component, keeping dryness away from your lips.
It hydrates your lips, helping them stay soft while the tints add long-lasting color to your lips.
This lip balm can protect your lips for up to 16 hrs., making them shine and look gorgeous.
The lip balm comes in stick form, which is retractable, making it easy to carry and use.
Check the cheapest price on Amazon
3. The Body Shop Born Lippy Lip Balm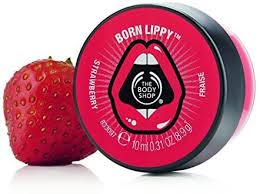 The Body Shop began in March 1976 as a means for family livelihood. Since its inception, the company has grown from a corner shop to a global brand, aiming to provide quality products to its customers. Initially introduced as pot lip balms, the Lippy lip balm is now also available in stick form. Besides using fruit extracts to give it the balms a unique flavor, The Body Shop uses beeswax as one of its key ingredients. You can get these in flavors such as strawberry, raspberry, pomegranate, and more.
Features Of The Body Shop Born Lippy Lip Balm
This lip balm is promoted more like a lip butter to hydrate and nourish your lips instantly.
It has a delicious fruity flavor which makes you want to apply it again and again.
It adds a slight hue to your lips while making them look glossy and stunning.
The beeswax in the Lippy lip balm provides nourishment to your dried lips, making them soft and moisturized once again.
The lip balms come in a pot and stick forms and are convenient to carry around and use.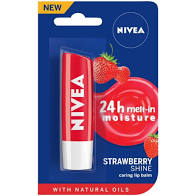 Nivea came into existence with its Nivea Crème in 1911 and has steadily grown and ventured into other cosmetic products. This global brand launched lip balms as it understood the importance of taking care of your lips throughout the day and not just when you step outside. You can get the lip balms in a stick form with fruity flavors such as guava, peach, strawberry, watermelon, cherry, and pomegranate.
Features Of Nivea Fruity Shine Lip Balm

The lip balm provides your lips with much-needed nourishment making them soft, smooth, and lovable.
The fruity aroma and the carefully selected pigments add a subtle color to your lips, making them shine.
Nivea's Fruity Shine lip balm protects your lips around the lock with its long-lasting moisturizing ability.
It relieves your lips from the dryness and heals your chapped lips almost instantly.
The stick makes the application easy. You simply have to twist the stick, apply the balm on your lips, roll it back down, and shut it back.
Check the cheapest price on Amazon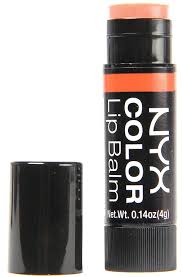 NYX is a cosmetics brand founded in 1999 in Los Angeles, USA, with a particular concentration on makeup products. The company is a strong and open supporter of the LGBT community and creates vegan-friendly, yet, bold products. Their lip balms come in 12 different shades, and each shade adds a fresh look to your lips. Besides, each shade has a variant scent that makes it feel delicious. You can use it while at home when traveling, or as at night before your sleep.
Features Of NYX Color Lip Balms

The lip balms are soft on your lips. They do not leave any sticky residue making your lips smooth and beautiful.
They provide hydration to your lips and keep them moisturized for a long time.
The tints add a refreshing color to your lips for that perfect selfie pout.
These lip balms provide ease of use as they are in the stick form and fit conveniently into your pocket.
It adds a shine to your lips while relieving you of dry and chapped lips.
Check the cheapest price on Amazon
Top 5 Lip-Care Tips
Here are a few tips for taking care of your lips and keeping them moisturized.
Use a lip balm, ideally twice a day. You can use it before applying makeup or before going to bed.
Use a natural sugar lip scrub and gently massage it on your lips to exfoliate them. Try to do this at least twice a week.
Always remove your makeup- lipsticks, gloss, etc. before your bedtime.
Drink more water, eat more nutritious food, and take good care of yourself.
Final Words
Just like you protect other parts of your body, you need to take good care of your lips. Lip balms are an excellent solution to your lip-related issues. Select a lip balm that has SPF to protect your lips from the sun and ingredients such as beeswax, petrolatum, shea butter, coconut oil to moisturize them. Lips need to stay smooth and beautiful. Most importantly, just remember, healthy lips can attract anyone, anytime, anyplace.