Top 10 Blazer Brands In India For Men
Blazers, blazers, in the wardrobe, tell us who is the best of all? Finding a blazer that enhances your personality and comfortability has turned into a complex job as they come in tones of unique, stylish, elegant, classy, and stunning varieties. Blazers go well for all types of occasions and even for holidays. They look appealing and are stylish to wear. Whether you are travelling or have a board meeting, you need to have a blazer that goes well with the occasion.
Here we are, with the top blazer brands in india, satiating every man's desire to look professional, classy, and stylish. Blazers from these brands are known for quality. But, before we go into the brands, let us take a look at what a blazer is.
What is a blazer?
A blazer is a formal and semi-formal jacket that is worn on all occasions. The style is actually a revamp of 100 years old fashion when a navy-blue blazer with the metallic button was a man's classic attire. These days, blazers complete an outfit. Whether it be formal clothing or a party outfit, you need a blazer that makes you stand out. Blazers can be matched with outfits and accessories such as shoes and bow ties.
We now bring to you a collection of the top 10 blazer brands for men in India.
10 Top Blazer Brands In India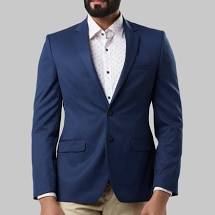 The brand is known for crafting stylish yet comfortable blazers. It offers a nice collection of blazers that are affordable and elegant. Raymond is the most preferred blazer brand in India and therefore tops our list. The brand makes blazers that are suitable for all occasions. You can blindly rely on it for quality.
Material used: Rayon, Poly Viscose, Cotton, Polyester Blend
Best Features:
Affordable Price
Wide range of sizes
Timeless Design
Check the cheapest price on Amazon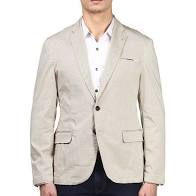 The brand is also popular in the Indian market for its wide range of blazers that are specially designed for meetings, corporate presentations, formal events, and attending weddings. Park Avenue blazers are comfortable to wear as they are lightweight. They have a nice sophisticated range that can be matched with a pair of trousers.
Material Used: Rayon, Wool, Cotton
Best Features
Lightweight
Comfortable to Wear
Affordable Range
Wide Range
Check the cheapest price on Amazon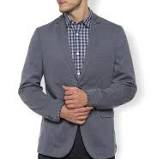 The brand is popular in the Indian market for sophisticated design and style. Its blazers are moderately priced and are easily available in online stores. Van Heusen blazers are crafted for authentic elegance wear. The brand is a sister company of Madura Fashion & Lifestyle. It makes blazers for a strong fashion statement.
Materials Used: Poly Viscose, Terylene blend, Polyester blend
Best Features
Fabric Texture
Stylish
Wide size range
Comfortable to wear
Check the cheapest price on Amazon
4. Ralph Lauren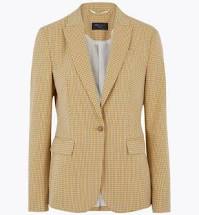 The brand is owned by Ralph Lauren, an American fashion designer who has won awards for making an excellent range of coats for men. The brand has been around since 1967. It is the Ralph Lauren brand that came up with the famous houndstooth blazer.
Material Used: Wool Blend, Polyester
Best Features:
For everyday wear/Casual wear
Comfortable
5. Hugo Boss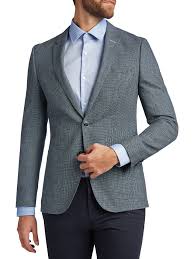 It is a German brand with a worldwide presence and preference. Wearing Hugo Boss blazers makes one feel top of the world, for it provides comfort and style. The Hugo Boss blazers are for a sporty and street-style look. They can be worn for a semi-formal and casual meeting. The blazers can be matched with a pair of track pants for a casual look.
Material Used: Wool
Best Features
Casual Wear
Comfortable
Sporty Look
6. Calvin Klein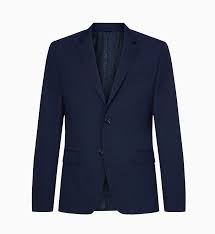 This brand designs unique blazers. It has been making quality products in the menswear niche for a decade and is a reliable brand for a stylish look. Calvin Klein blazers epitomize American style. The brand is famous among celebrities for a wide range of styles that are ever-changing. Every time you visit a Calvin Klein store, you can expect to be surprised with a new range of blazers.
Material Used: Wool and cotton
Best Features
Traditional stylish designs
Elegant
Wide range of collection
Popular
7. Tommy Hilfiger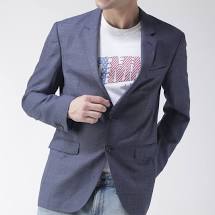 The brand makes perfect formal blazers for meetings, presentations, conferences, corporate events, and interviews. It is a brand you can rely on for quality, especially when it comes to office wear. The fabric, cut, and detailing of the blazer is up to the mark. It is lightweight, and most of these blazers have a nice soft lining.
Material Used: Cotton, polyester
Best Features:
Soft Lining
Formal Wear
Nice cuts and detailing
Lightweight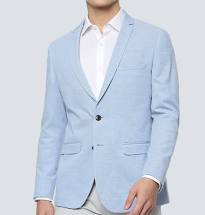 The brand has made its name in the men's blazer market for unique design, impeccable cuts, and stitching. The blazers by Louis Philippe are available at a wide range of affordable prices. They make a stylish statement as the blazers have flamboyant charm.
Material Used: Polyester, Viscose
Best Features
Unique Design
Stitching and Cuts
Stylish
Check the cheapest price on Amazon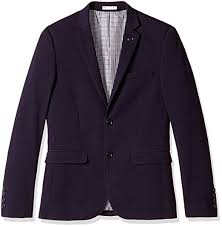 Arrow is a popular brand in the Indian market for its blazers, for it uses extremely comfortable fabric. The blazers by the brand can be worn for hours. They can make a stylish statement and enhance personality.
Material Used: Poly Viscose and Linen
Best Features
Comfortable
Stylish
Wide Range
Popular
Check the cheapest price on Amazon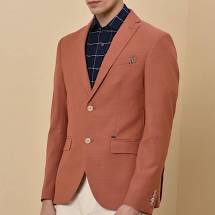 The brand makes blazers for all occasions. It has a wide range of stylish blazers that are comfortable to wear. Its formal range of blazers is pocket-friendly and elegant. You can easily find its blazers on online stores. They are popular and always in demand.
Material Used: Cotton, Poly Cotton, Polyester
Best features:
Formal Blazers
Comfortable
Stylish
Popular
Check the cheapest price on Amazon
Types of Trending Blazers
There are several types of blazers and here we list them according to the current trends –
Striped Blazers
Printed Blazers
Solid Blazers
Contemporary Blazers
Two-button jackets
Double-breasted blazer
Single-breasted blazer
Tuxedos
Check Blazers
Men's Guide to Buying and Wearing A Blazer
When buying blazers, it is crucial to consider certain aspects such as occasion, style, fitting, and more. Here is a quick guide to help you find the perfect blazer.
Style: There are two dominating styles of blazers that you may come across – single and double-breasted. A single-breasted blazer has a maximum of three buttons. They can be worn on all occasions and are quite comfortable as well. Double-breasted blazers are more formal as compared to single-breasted. Their fabric usually folds over the front and has two columns of buttons.
Fabric: Blazers are tailored using a range of fabric – cotton, linen, wool, polyester, and sometimes a blend. You should choose a fabric that is comfortable to wear. For instance, cotton and linen are skin-friendly fabrics.
Measurement and Fitting: Always ensure you buy a blazer that gives you a comfortable fitting. A loosely fitted blazer will give you a shaggy look, while a well-fitted blazer would enhance your personality.
Color: If you don't want to spend a lot on blazers, opt for a black or navy blue colored blazer as they go well with all trousers. Black can be worn on a trouser of any color.
Conclusion
Blazers can make a fashion statement if they are matched with a proper outfit. When buying blazers, ensure you buy the one with the right fitting and style. Some blazers are suitable for formal wear, while some go well for parties and casual wear. Go for a blazer that goes well with the occasion and is comfortable to wear. We hope that this collection of the top blazers for men in India helps you choose the right one.