6 Beautiful Tanishq Gold Earrings Designs with Price in India
Earrings are every woman's best friend! A beautiful set of earrings can change your entire look. No matter what occasion, earrings are an essential piece of jewellery. From everyday look to wedding look, your outfit is incomplete without the right pair of earrings to complement it with. We have listed down some of the most beautiful Tanishq Gold Earrings with their prices and details.
Earrings come in different shapes and sizes. Some people prefer diamond earrings; some prefer silver, while some like to go for the classic gold earrings. Gold earrings have a special appeal and never go out of style.
1. Beautiful Gold And Emerald Stud Earrings
If you are not a big fan of fancy jhumkas or drop earrings and have a thing for minimalism, ear studs are good to go! These beautiful gold and emerald stud earrings are a must-to-have jewellery piece. You can style them with different attires. The green colour gemstone in the centre gives them an elegant look. They can be worn on wedding functions or even for casual hangouts with friends. You can wear them as an everyday statement piece, as well.
Price: INR 34,461.00
Gross Weight: 3.966 g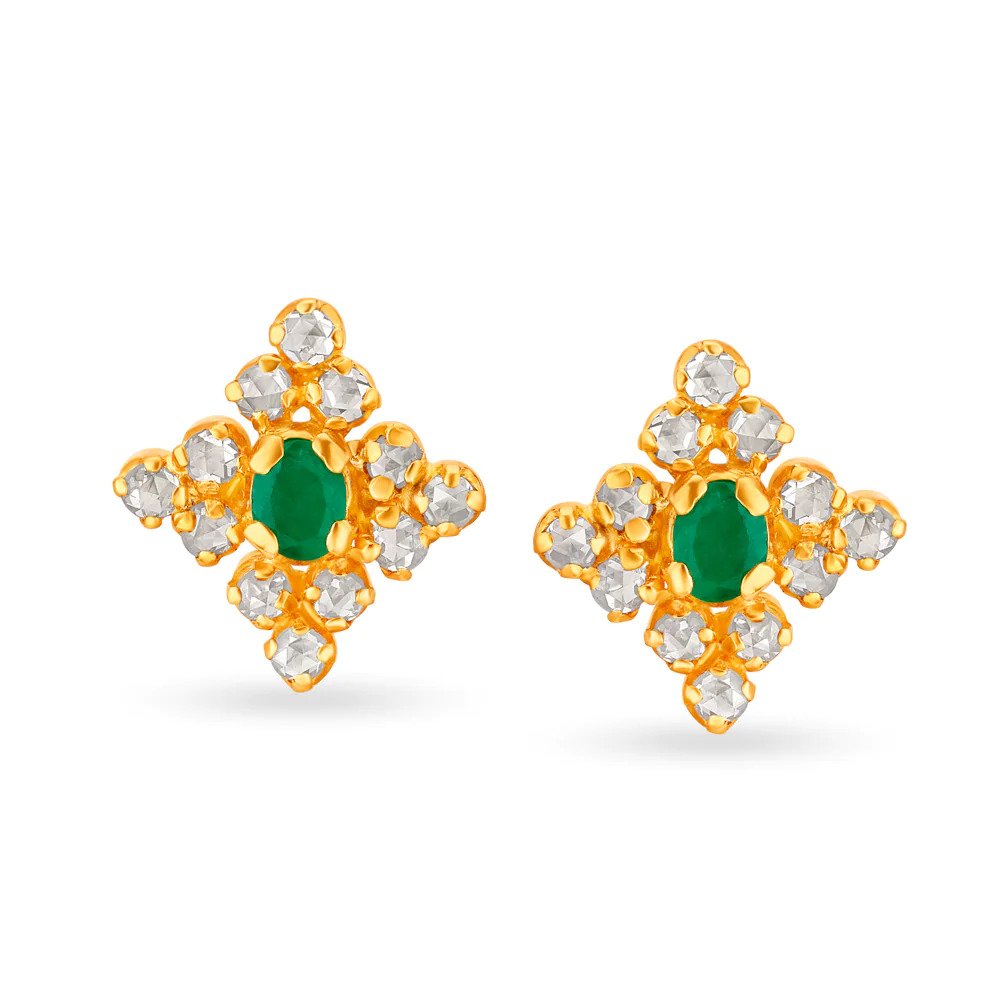 2. Alluring Gold And Cubic Zirconia Drop Earrings
The classy and stylish Gold and Cubic Zirconia Drop earrings are what you need if you have a taste for sophisticated designs. They are designed in a beautiful leaf-shaped pattern and have an aesthetic appeal. Beautiful, versatile and graceful, you can pair them up with both formal and casual wears.
Price: INR 29,769
Gross Weight: 4.198 g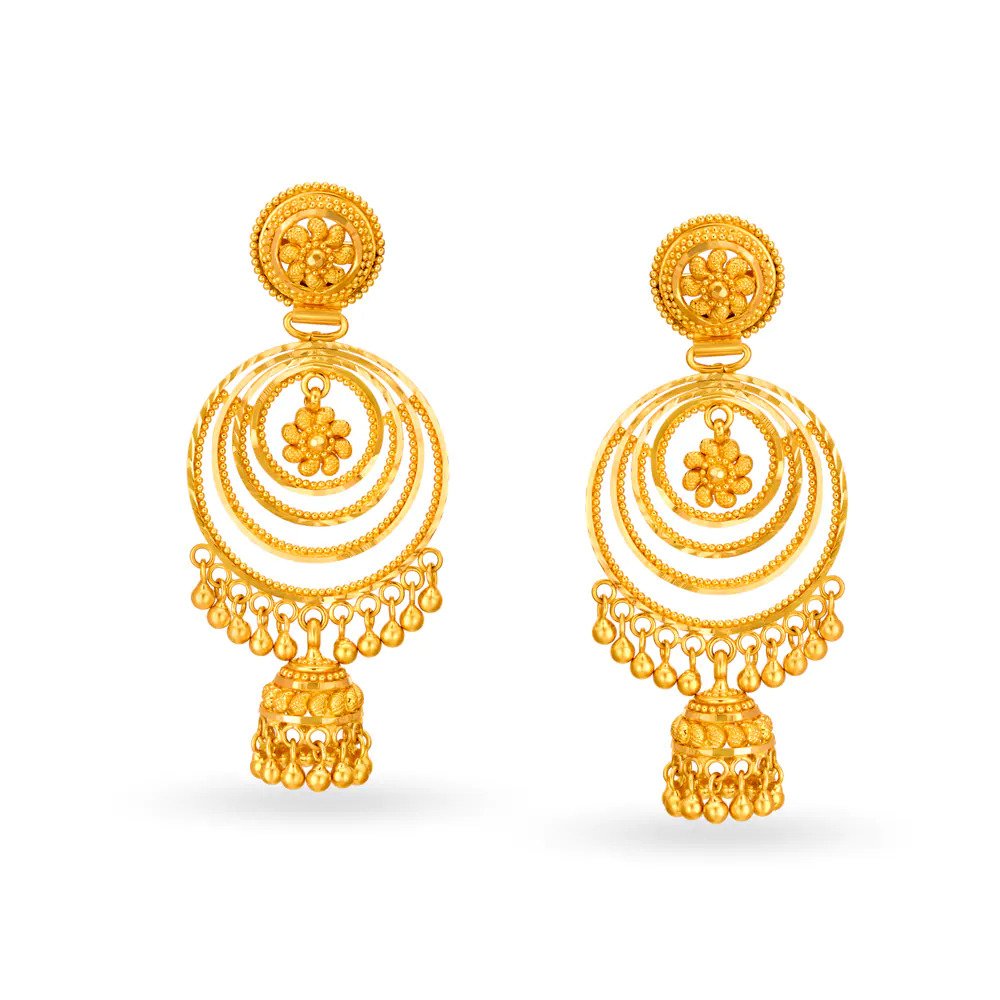 3. Mesmerising Gold Drop Earrings
When we talk about the Indian wedding functions, we simply cannot ignore the Chandbali Style Drop Earrings. They look mesmerising, elegant and attractive. One can pair them with an Anarkali suit, lehenga, or any kind of traditional attire. Designed in a crescent moon shape, these earrings are sure to fetch you a lot of compliments. Next time when you go for a wedding, flaunt these beautiful Chandbali Drop earrings.
Price: INR 1,09,096.00
Gross Weight: 16.059 g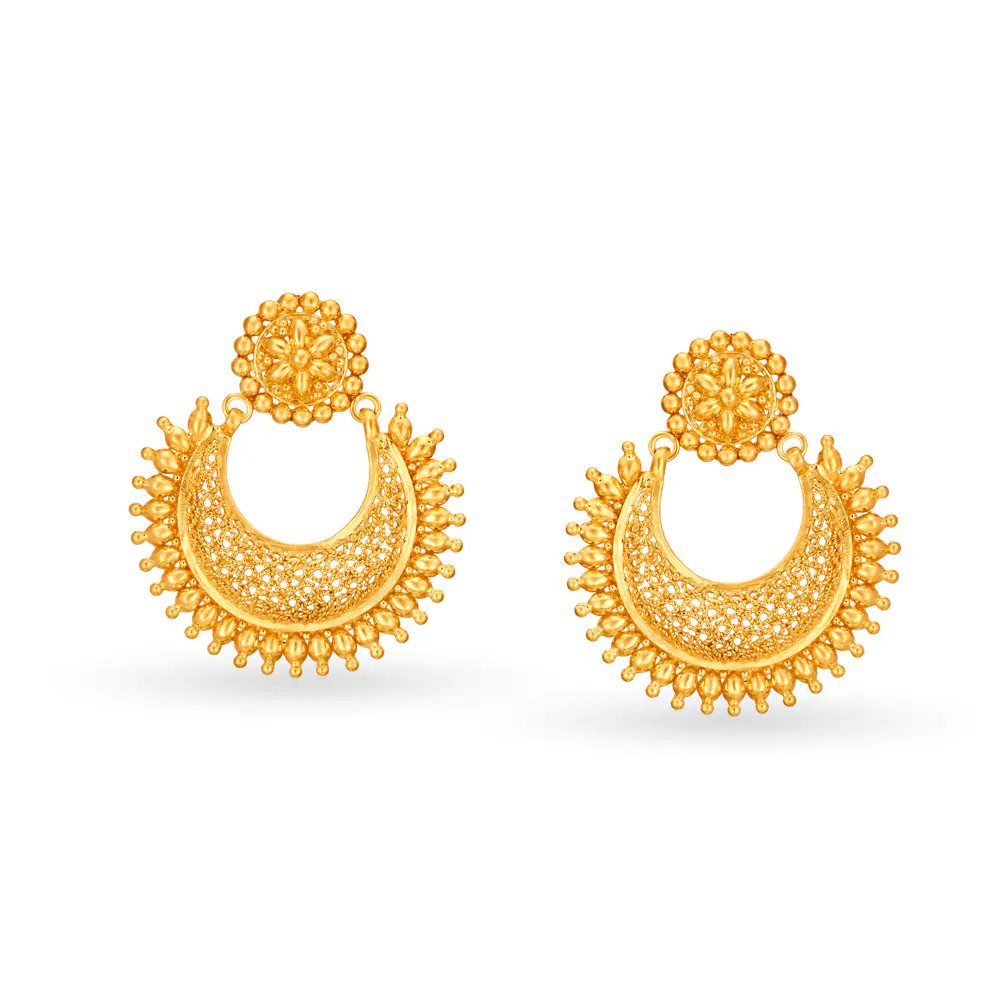 4. Majestic Filigree Gold Drop Earrings
Another Chandbali Style, Filigree Gold Drop Earrings are a stunning piece of jewellery for traditional festivals. They are a classic set of earrings that have an evergreen demand. These are smaller in size and look aesthetic. What makes them stand out is the fine designing and the beautiful crescent moon shape. You can rock this gorgeous set of earrings at any Indian function by pairing it with a beautiful saree.
Price: INR 84,782.00
Gross Weight: Ranging from 12.480g, 12.646g and 13.002g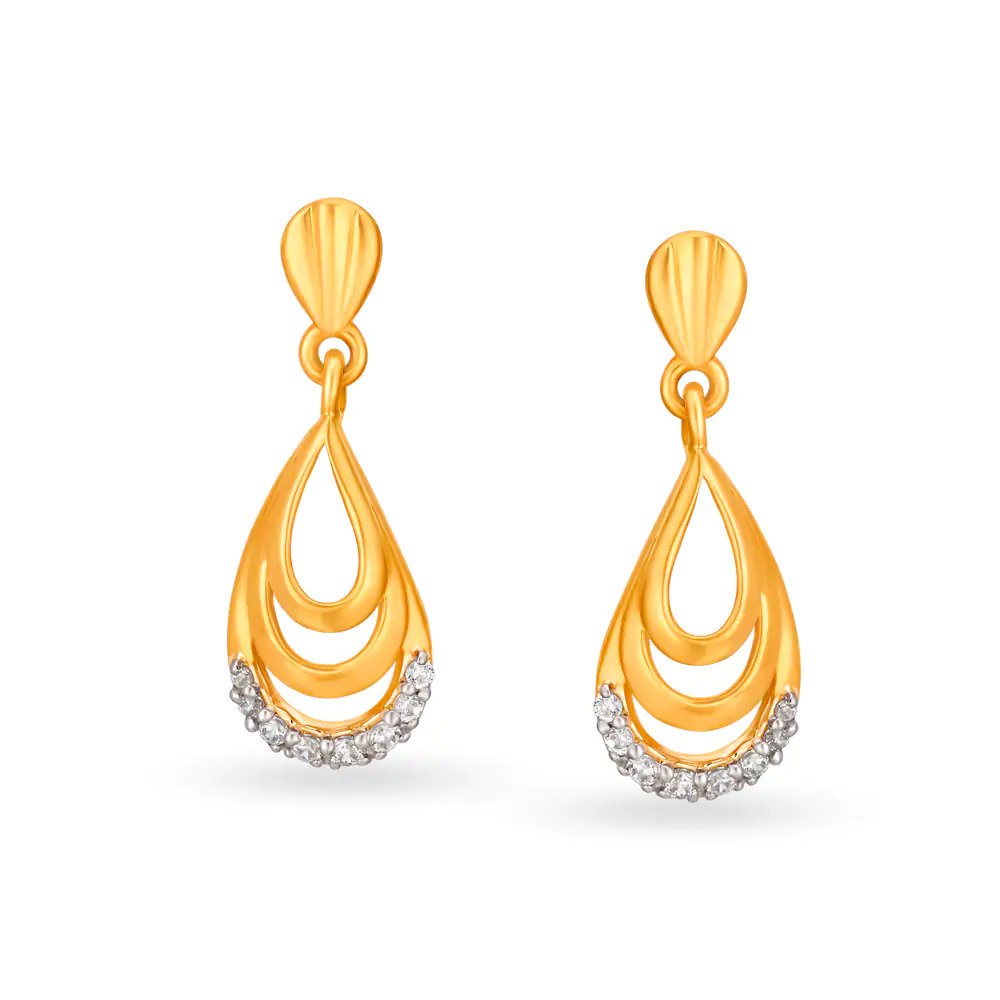 5. Antique Temple Gold Jhumkas
Jhumkas are the most popular traditional wear jewellery in India. Who doesn't love a pair of beautiful jhumkas? They can truly transform your entire look. These earrings showcasing Goddess Lakshmi are made of coloured stones. They can be paired with an Anarkali suit, a saree or even with a simple kurta to give it a definition.
Price: INR 1,54,545.00
Gross Weight: 22.616g
6. Dainty Gold And Cubic Zirconia Drop Earrings
Are you looking for something plain yet attractive? If yes, then you should try these Teardrop-Shaped Drop Earrings with Cubic Zirconia. They have a simple look and are perfect for parties. You can also wear them on casual outings. They can be paired with a simple kurta or even with an evening gown.
Price: INR 24,133.00
Gross Weight: 3.499g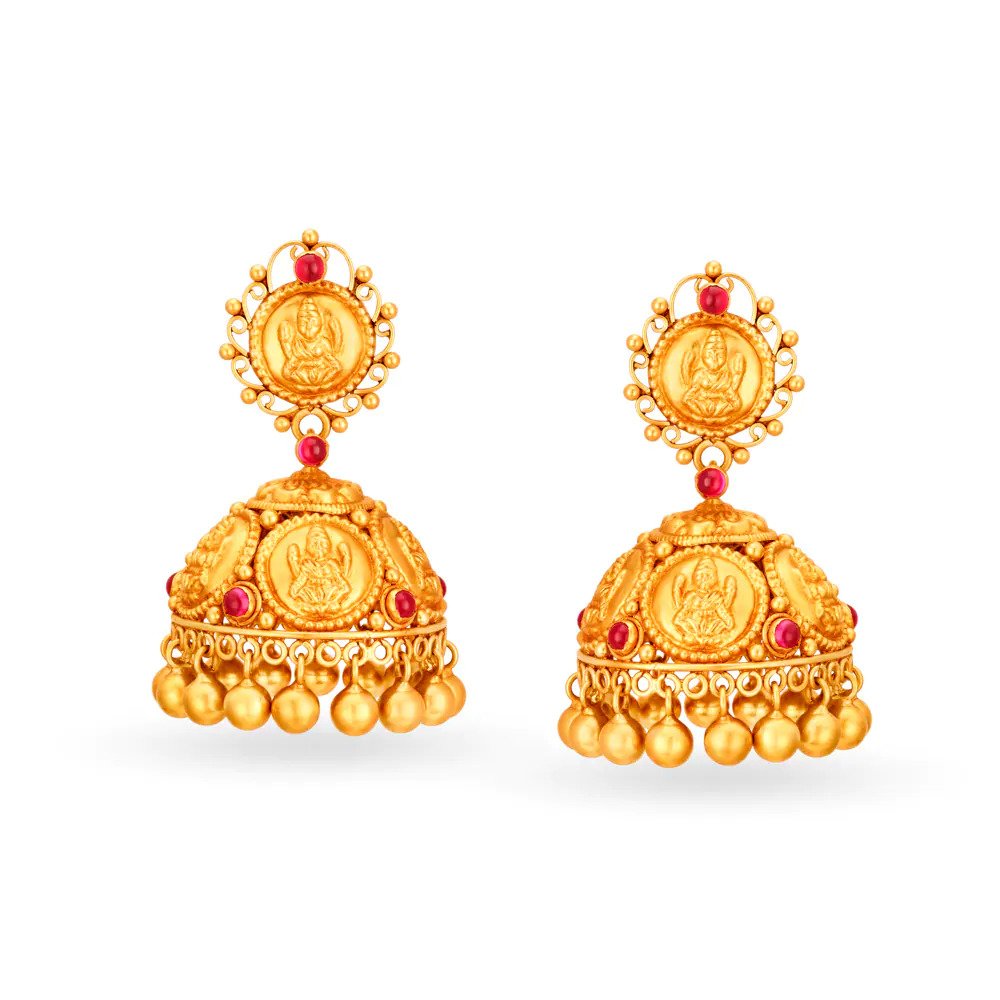 Conclusion
Everyone wants to look their best on all occasions. While you can wear the perfect outfit and makeup, your overall look may be flawed if you do not complement it with the right set of earrings. We understand that it is difficult to find the perfect pair of earrings for every occasion. To help you make the right choice, we have listed 6 beautiful gold earrings by Tanishq in this article. Give it a read and tell us your favourite.