Top 10 Mustard Oil Brands in India 2021- Benefits of Mustard Oil
The reference to 'mustard' dates back to 3000 B.C.E. It was used for several reasons – to treat various illnesses, giving a sharp, pungent flavour to wine and cooking. Although the oil finds mention in the Vedic shastras, it is only now that modern science is exploring its value. Today mustard is used worldwide, with India being a major producer of the seed. We have a list of top 10 mustard oil brands in India.
5 Benefits of Mustard Oil
Mustard oil has numerous benefits as enumerated below –
Mustard Oil for Hair and Body – Mustard oil is used for body and hair massage. It is also used as a serum. In eastern India and countries like Bangladesh, newborns are massaged with mustard oil to enhance the skin's barrier. It also finds a place in homemade face masks and is used on the heels to heal cracked skin.
Remedial Benefits of Mustard Oil – In India, this oil is used as a home treatment for cold and chest congestion. It is mixed with crushed garlic pods and heated to a smoking point, and applied on the soles of the feet and chest. The oil contains anti-microbial properties and helps stop the growth of some harmful bacteria. However, the evidence for this is limited to test-tube studies only, and more conclusive research is needed to determine the effect of mustard oil on health.
Mustard Oil for Pain – It is massaged on joints to alleviate joint pains. Mustard oil contains allyl isothiocyanate, which has a positive effect on pain receptors.
Mustard Oil for Heart Health – Mustard Oil contains monounsaturated fatty acids and is good for heart health.
Mustard Oil Benefits in Cooking – It has a high smoking point and is widely used in Indian cuisine.
Top 10 Mustard Oil Brands in India 2021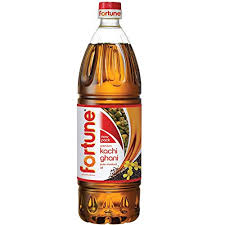 One of the best-selling mustard oils in India, Fortune Kachi Ghani has a good mustardy, pungent smell, which is indicative of its appropriateness for cooking. The taste of this oil is also another point in its favor. Fortune Kachi Ghani mustard oil is widely used in everyday Indian cooking and pickling.
This oil has a beautiful golden color and fragrance that improves the taste of the food. It is extracted from the best mustard seeds and is unadulterated.
Check the cheapest price on Amazon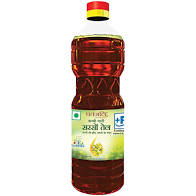 Patanjali has quickly risen to popularity, taking its place among the best Indian mustard oil brands. It is known to be suitable for people wishing to gain weight, strengthen bones and improve heart health. The oil contains PUFA and MUFA, is unadulterated and certified to be free of argemone oil and palm oil.
Check the cheapest price on Amazon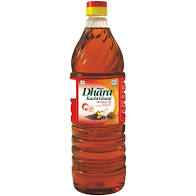 Dhara is one of the popular brands, launched in the year 2000 and sold by the National Dairy Development Board in North India. This makes the brand and the oil trustworthy. It has a lovely mustardy fragrance and is reasonably priced. This oil is used for cooking in Indian cuisine and for remedial purposes too.
Check the cheapest price on Amazon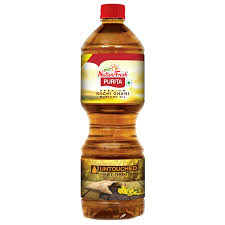 Next on the list is Nature Fresh Kachi Ghani mustard oil. Kachi Ghani is the Hindi term for cold-pressed. This method of oil extraction helps retain the essential oils, natural properties and antioxidants of the seed. This oil is known for its high smoking point – as a result, even when the oil is heated at high temperatures, it does not lose its flavor and nutrition.
Check the cheapest price on Amazon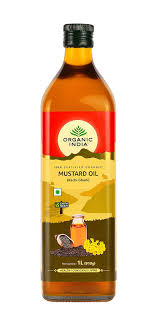 This brand is a high-quality mustard oil manufacturer. The oil provides the natural benefits of the condiment. The packaging is in a glass bottle to make it environment-friendly. It is preservative, and argemone oil-free and USDA certified. It contains PUFA and MUFA, and Vitamin E. The omega 3 & 6 fatty acids help lower cholesterol and improve heart health.
The benefits of Organic India Kachi Ghani mustard oil include improvement in circulation, digestion, and stimulating excretion. It also has antibacterial properties. When used externally, it works as an antifungal agent and insect repellent.
Check the cheapest price on Amazon
6. 24 Mantra Organic Pressed Mustard Oil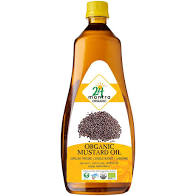 24 Mantra organic pressed mustard oil is 100% organic. It is extracted from organically grown, synthetic GMO-free and pesticide-free mustard. The organic cold-pressed oil is unadulterated and trans fat and cholesterol-free. It helps reduce heart diseases and is rich in antioxidants.
7. Dalda Kachi Ghani Mustard Oil
Dalda Kachi Ghani Mustard OilDalda Kachi Ghani mustard oil has a pungent and sharp fragrance and flavour that is indicative of good mustard oil. It blocks the growth of certain bacteria, moulds, and yeasts, making it a good choice for pickling. In May 2019, "Consumer Voice" rated Dalda Kachi Ghani as the value-for-money brand, unadulterated, making it safe for human consumption.
8. Tez Kachchi Ghani Mustard oil
Tez Kachchi Ghani Mustard oil is one of the best mustard oils, which, along with Dalda has been rated as the value-for-money brand. It is extracted from the best quality mustard seed and is double filtered to preserve its natural properties. It is used for cooking Indian cuisine and for remedial purposes too.
9. P Mark Sarson Oil
P Mark Sarson oil is the only oil in this list with the Agmark certificate and is backed by in-house research and development facilities. This oil has been in business for the past 80 years and is popular with consumers. The sarson or mustard oil is extracted from the highest quality mustard seeds that pass 52 quality tests and 14 rigorous lab tests at the time of manufacture. It has won several international and national quality awards.
The benefits of this oil include lowering bad cholesterol, reducing the risk of heart diseases, resisting bacterial infections in the digestive tract, colon, and intestines. It is excellent cooking oil, and as it is a good source of Vitamin E, it is good for the skin, giving it a glow by increasing blood circulation and reducing hair fall and wrinkles.
10. Emami Mustard Oil
Emami is another popular brand that is trusted by consumers. Over the years, it has made a name for itself because of the high-quality product that it offers. The mustard oil is supplement enhanced and is rich in Vitamins A, D, and E. It also improves heart health.
The oil is extracted from high-quality mustard seeds. It is excellent for cooking and pickling.
Key Findings of Consumer Affairs
All the above-mentioned mustard oil brands have been tested and found to adhere to the specification of national standards.
Dalda has been named as the brand offering value for money.
None of the above brands contains any additives and is unadulterated.
Conclusion
Mustard or sarson oil, as it is locally called, benefits are numerous, and even the ancient texts recognize the benefits. Kachchi Ghani means Cold-Pressed, and this form of extraction of oil is extremely beneficial for health as it is a slow process aiming to retain the natural properties of the oil. In this form of extraction, mustard seeds are pounded at a low temperature. This ensures that the extracted oil retains its antioxidant properties along with its natural compounds. Mustard oil also contains essential oils that have preservative properties, which make it ideal for pickling.