10 Best Brands For Natural Peanut Butter in India 2021
Everyone likes peanut butter. It's delicious and it is good for health too – this protein-packed spread is so popular that have it on your bread or as a filling for your cakes – this globally popular spread is what everyone wants. This butter is made using ground peanuts and can also be made at home. But who has the time and inclination, especially if you can get it at almost any store. However, there are several brands offering peanut butter and here we list the 10 best brands for natural peanut butter India.
10 Best Natural Peanut Butter Brands in India
Pintola Peanut Butter
Alpino Natural Peanut Butter
Amul Peanut Spread
Sundrop Peanut Butter
Skippy Peanut Butter
Yogis Certified Organic Peanut Butter
Run Hi-Protein Peanut Butter
Muscle Blaze Natural Peanut Butter
Disano Unsweetened Peanut Butter
My Fitness Natural Peanut Butter Smooth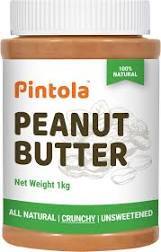 Pintola is currently the best peanut butter brand in India. It is completely natural and unsweetened. This peanut butter is suitable for diabetics and people on diet. A teaspoon of this peanut butter contains 32 grams of the butter by weight and provide the body with 6 gms of carbs and 10 gms of proteins. It is available in four flavors – all natural crunchy, classic, black pepper and chocolate.
Key Features
Unsweetened peanut butter
Natural and healthy
Can be taken by dieters, fitness enthusiasts, and diabetics
This is a very good source of protein and useful for bodybuilders
Complete and ready-to-eat food
Long shelf life at room temperature
Check the cheapest price on Amazon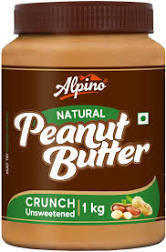 Alpino offers both crunchy and smooth version, each of which is unsweetened and completely natural. The product is also reasonably priced and extremely nutritious.
Key Features
Rich in fibers and protein
Boosts energy levels required for workouts
Contains no trans fat or preservatives
Keeps cholesterol in control and prevents heart attacks
Available in many unsweetened flavors
Aids in weight control and maintains a healthy heart
Check the cheapest price on Amazon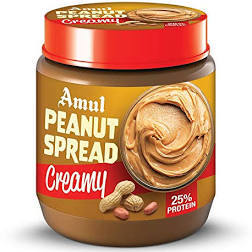 Amul is a well-known brand that offers premium quality affordable dairy products. This peanut butter is smooth and made using premium quality peanuts. It is completely vegan and has high protein content, which makes it suitable for fitness enthusiasts.
Key Features
High protein content that can benefit gym-goers and fitness enthusiasts
Fully vegetarian and non-GMO peanut butter
Made from premium quality peanuts
Creamy and smooth taste
Suitable for vegans
Special discounts for a 3-jar pack
Check the cheapest price on Amazon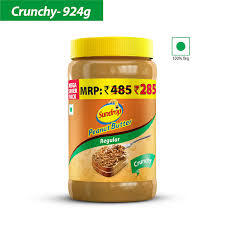 Sundrop is another reputed and popular brand that offers sweetened peanut butter. This peanut butter is completely natural but contains hydrogenated oil, salt and sugar, which does it make it completely healthy but it is delicious to taste. The product is quite affordable.
Key Features
Peanuts are roasted and then used in this peanut butter
8 grams of protein per serving
Tasty and affordable
Best for general use
Can be taken with any food item
Better shelf life at room temperature
Good source of dietary fibers
Made as per standards for protein consumption set by RDA for Indians
Check the cheapest price on Amazon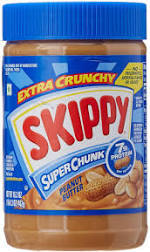 This is manufactured by the American Hormel Foods and has gained popularity in India. It is available in super chunky, chunky and creamy version, with some healthy versions, namely Reduced Fat and Natural. The taste is great and it lasts for a long time.
Key Features
High protein content, 7 grams per serving
Made from roasted peanut
100% vegetarian peanut butter
Extra crunchy texture
Zero trans fat and no cholesterol
Can be added to any beverage or food to enhance the taste
Check the cheapest price on Amazon
This is another unsweetened peanut butter with a long shelf life of 180 days. Organic peanuts are used in the manufacture of this crunchy peanut butter.
Key Features
Made with peanuts from organic farms
Unsweetened peanut butter
Long shelf life of 180 days
Free from hydrogenated oils and preservatives
Fusion of Indian and international taste
Provides energy throughout the day when taken as breakfast.
Check the cheapest price on Amazon
7. Run Hi Protein Peanut Butter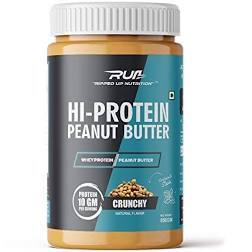 This hi protein and creamy peanut butter is marketed by Ripped Up Protein. Each serving of this peanut butter contains a whopping 10 grams of proteins that gives you an extra boost of energy. It is suitable for athletes and bodybuilders as it increases muscle mass. It is healthy without any preservatives and emulsifiers.
Key Features
Contains 10 gms of protein per serving
Added whey protein for that extra boost of energy
Can be used by bodybuilders and athletes
Increases muscle mass
Does not contain any emulsifiers
No preservatives are used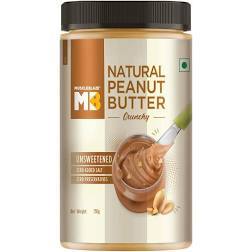 Muslce Blaze is a natural, unsweetened and creamy peanut butter. It is made using premium quality peanuts and is good for people wanting to gain muscle mass.
Key Features
Natural peanut butter that contains no preservatives
Contains 80% handpicked peanuts and 20% best quality protein
Good for bodybuilders and fitness enthusiasts who want to gain muscle mass
Contains no sugar or salt or preservatives
Creamy peanut butter with crunchy chunks of peanuts
It is absorbed fast to provide energy
Check the cheapest price on Amazon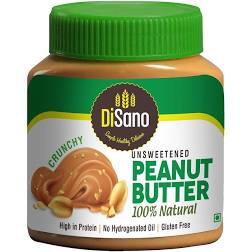 Disano Unsweetened Peanut Butter is completely natural, vegan and healthy. It is suitable for weight watchers. Made using premium quality peanuts, it is rich in Vitamins B3, B6 and E in addition to essential minerals like magnesium, iron, potassium, and phosphorous. It is available in both creamy and crunchy versions.
Key Features
100% vegan product
Healthy peanut butter for fitness enthusiasts and diet watchers
Made from 100% roasted peanuts
Contains Vitamin B3, B6, and E
Contains essential minerals like Magnesium, Iron, Potassium, and Phosphorous
Does not contain any transfat, cholesterol, gluten, or GMO
Available in crunchy and creamy textures
Check the cheapest price on Amazon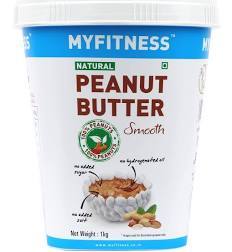 This is an original creamy peanut butter recipe made using premium quality roasted peanuts and rich in vitamins and minerals. It provides energy for fitness enthusiasts and bodybuilders. My Fitness is India's first USFDA Registered butter.
Key Features
Original American peanut butter recipe
Contains premium quality roasted peanuts
Contains vitamins and minerals
No transfat or cholesterol is included
Provides energy for fitness enthusiasts and bodybuilders
Contains pink Himalayan salt
Check the cheapest price on Amazon
Benefits of Peanut Butter
Aids Weight Loss – Peanut butter contains protein, vitamins, and a good amount of fiber that aids in weight loss. It also gives you a feeling of satiety or fullness and suppresses unnecessary hunger. You can follow a healthy diet without craving desserts and junk food.
Helps in Bodybuilding – Peanut butter is recommended for faster bodybuilding. It has a high-calorie content and contains only unsaturated fats. So, it provides you with more calories which are necessary for muscle building. Peanut butter is also full of protein that strengthens your bones and builds muscle mass.
Boosts Energy – Peanut butter contains protein and healthy fatty acids that provide you with a high level of energy. It supports workouts and gym exercises. You can go on with your workouts without feeling tired. Also, a serving of peanut butter with breakfast makes you active in your daily activities.
Supports Healthy Heart – Peanut butter has many nutrients that can make your heart healthy. These include Magnesium, Niacin, Vitamin E, Poly Unsaturated Fatty Acids or PUFA, and Mono Unsaturated Fatty Acids or MUFA.
Controls Diabetes – Peanut butter is a low-carb food that contains fiber, harmless fats, and protein that helps you maintain healthy blood sugar levels. Also, if you are a diabetic, you can try the unsweetened peanut butter.
Provides Relief from Constipation – Peanut butter is a good source of dietary fiber. It helps in natural bowel movements and gives relief from constipation.
Prevents Cancer – Peanut butter is rich in essential vitamins and minerals that improve the immune system. It also has antioxidant properties and can reduce the risk of cancer.
Keeps Cholesterol Levels Healthy – Peanut butter keeps your cholesterol levels healthy as it does not contain any harmful cholesterol. It contains the beneficial unsaturated fats, PUFA, and MUFA that help in balancing the cholesterol levels.
Buying Guide
What to look for while buying peanut butter?
You have to look at the ingredient list and check if peanut is the main ingredient. Usually, the ingredients are listed as per their weight. The ingredient with the highest weight should be at the top. So, peanuts should always be the first ingredient.
Also, check whether it contains trans fat, cholesterol, or harmful fatty acids.
A peanut butter labelled as natural or organic will mean that it does not contain any preservatives or hydrogenated oils that are harmful to your health. A little salt is okay as a binder. Also, it may contain a little sugar is used as a stabilizer.
Which peanut butter is better unsweetened or sweetened?
If you want to lose weight or want to gain muscle mass or you are a diabetic, you should prefer the unsweetened variety of peanut butter. If you are buying it to enhance the taste of your desserts and beverages, or you want to buy it for your children, then you can buy a sweetened bottle of peanut butter. Only buy ones that use molasses, honey, corn syrup solids, evaporated cane syrup, etc that are natural and safe.
What is to be avoided while buying peanut butter?
Many brands use harmful substances to make their product tasty. So, before buying a bottle of peanut butter check the list of ingredients. Do not buy any bottle that contains hydrogenated oils or palm oil as an ingredient. This may cause heart diseases by raising cholesterol levels. You can buy one that uses coconut oil.
Avoid ones that contain more than 1% of salt. Also, avoid buying combinations like peanut butter with jelly that has high sugar content.
Conclusion
When it comes to peanut butter, we forget that we need to consider health implications too. The best peanut butter is that which is naturally sweet and healthy in addition to being delish.