Best Bleach Creams for Oily Skin & Face in India  
The obsession with fair skin is beyond religion, caste, age, or social status. If you are light-skinned, you turn heads. Is that right? And this obsession makes us try a lot of things, right from skin-lightening creams to bleach creams. But don't get so carried away that you end up damaging your skin. Before you use a bleach cream, the quickest way to lighten the skin tone, check what your skin type is and what would suit it the best.
Here we are going to discuss the best bleach creams for oily skin and face in India. This will also cover the best bleach creams for combination and acne-prone skin.
How Do Bleach Creams Work?
The colour of your skin is determined by the amount of melanin produced by your body. Melanin is created by melanocyte cells. These cells are the same in everyone's body, but the quantity of melanin produced differs from one person to another. And when you bleach your skin, the production of melanin is minimized, thereby lightening the tone.
Bleaching Oily Skin
Bleaching your skin lightens the skin tone by getting rid of the tan, dark spots, and lightening facial hair to match the skin tone. But frequent bleaching is not too good. While done correctly, it can give good results; too much can cause harm. So, the frequency of bleach should be once every 15 days.
Benefits of Bleaching Cream for Oily Skin
In fact, for oily skin, bleaching the skin holds a big advantage. Oily skin is usually acne-prone because the excessive production of oil clogs up the pores, causing blackheads and whiteheads, resulting in acne. Bleaching unclogs the pores.
A bleaching cream contains ingredients that kill the acne-causing bacteria and prevent their growth.
Here are some of the advantages of face bleaching: –
Brightens Skin – A facial bleach cream lightens the skin tone and brightens it. Actually, it lightens the facial hair so that it matches the skin tone.
Prevents Acne  – While using a bleaching cream regularly enhances your skin's glow and lightens the tone, it also unclogs the pores and kills acne-causing bacteria.
Removes Tan – It is right to reach out for the bleaching cream after your holiday trip to Goa. A bleaching cream will remove the suntan and also pigmentation if you use it regularly.
Clears Patchy Skin – Bleach cream has shown good results in the evening out the skin tone in case of patchy skin. If your skin is dull, rough, and the tone is uneven, then using a bleach cream will help as it eliminates dead cells and leaves the skin glowing and smooth.
Let us now take a look at the best bleach creams suitable for oily skin that we have rounded up for you.
Best Bleach Creams For Oily Skin and Face in India
1. Fem Fairness Natural Turmeric Herbal Skin Bleach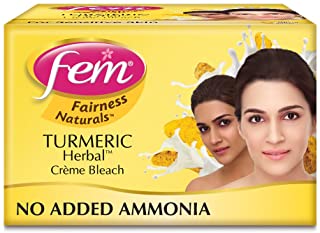 This is among the best bleach creams for oily skin and is quite popular too. This cream is easily available. The use of turmeric in this herbal bleach helps to unclog the pores of the skin and treat pimples and acne. It eliminates dead cells and brightens up the skin.
Frequency of application – Twice a month
Key Benefits
Contains turmeric, which is good for oily skin
Suitable for all skin types
Unclogs pores
Diminishes spots
2. VLCC Pearl Bleach Cream Kit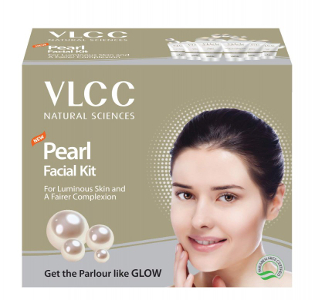 VLCC always has excellent skin care products and this bleach cream is no different. It helps remove tan and lightens the skin. This cream contains pearl extracts that lights up your complexion. You need to apply it for only 15 minutes to have a beautiful pearly glow to your face. The pearl extract also helps maintain the glow and freshness.
Frequency of application – Twice a month
Key Benefits
Suitable for oily, acne-prone, and sensitive skin
Lightens spots
Gives the skin a pearly glow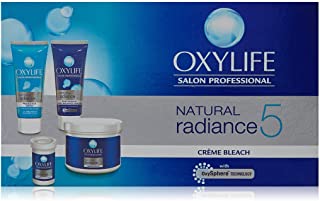 Oxylife bleach cream is the best available product for oily skin. It helps give your skin a natural radiance. It is also pocket-friendly and easy-to-use. This product has been dermatologically tested. It contains aloe vera that does not dry out the skin and keeps it moisturized after bleaching.
Frequency of Use – Every 15 days
Key Benefits
Suitable for all skin types
Unclogs pores
Clears dead skin
Removes tan
Contains aloe vera that does not dry the skin
Check the cheapest price on Amazon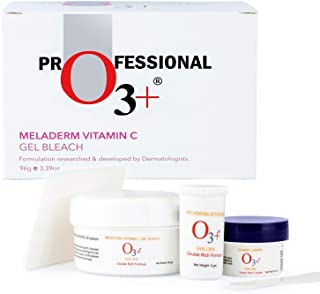 The O3+ bleach contains vitamin C, which is good for sensitive and oily, acne-prone skin. The gel formula is good for easy application. It also contains ammonium persulfate that retains skin moisture.
Frequency of Use – Every 15 days
Key Benefits
Suitable for acne-prone and oily skin
Does not clog pores
Does not contain peroxide
Gel Base
Check the cheapest price on Amazon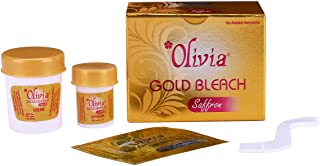 This is another bleach cream that is affordable and the best for acne-prone oily skin. It is made using herbal ingredients such as sandalwood, lemon, turmeric, and aloe vera, to reduce infection. These herbs control the production of oil and inflammation.
Frequency of application – Twice a month
Key Benefits
Turmeric soothes sensitive skin.
Lemon removes tan
Eliminates dark spots
Check the cheapest price on Amazon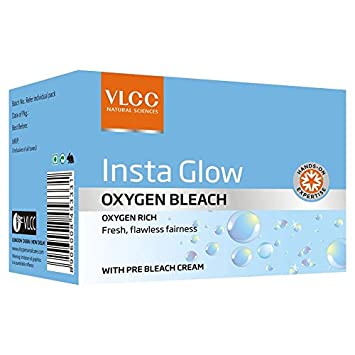 Another bleach cream for oily skin, it can be used throughout the year. In addition to lightening the skin tone, this bleach also eliminates excess oil from the skin and clarifies it, giving it a glow.
Frequency of application – Twice a month
Key Benefits
Comes with a pre-bleach cream
Suitable for acne-prone and oily skin
Diminishes pigmentation and dark spots
Gives the skin a glow
Check the cheapest price on Amazon
Method of Application of Bleach Cream
Applying a facial bleach cream is not the same as applying a moisturizer. You need to know how to mix the different components in the right proportion and how to apply it. Here are the steps given below:-
Each pack of bleach cream comes with a pack of bleach cream and a powder activator.
Mix 1 scoop of the cream with 1 pinch of the activator.
Mix them well with the given plastic spatula.
Spread the mixture evenly on the face. Avoid the eye area.
Leave on the mix for 15 minutes or as given in the pack.
Wipe it off with a cotton ball and rinse your face with cold water.
Precautions
Avoid applying the bleach cream mixture around the eyes and the eyebrows.
Use only cold water to wash your face.
Do not apply any soap on your face after removing the bleach cream.
Use a mild toner after you remove the bleach cream.
Do not go out in the sun after using the bleach cream. Evening is the best time to use the cream.
Final Words
These are among the best bleach creams available in the Indian market. The method of application given is a general method, so do read the manufacturer's instructions before you start. If the instructions are different, then it is advisable to follow the instructions on the pack.