Best Brylcreem Products for Men
Haircare products aren't just for women; men too need to take special care of themselves. Sensitivity, dryness, and roughness issues do not depend upon gender – both men and women can have these issues. And while there are plenty of brands for women, men's brands are barely known. Either these brands that target men's hair care do not exist, or they are not advertised enough.
This does not mean that men's haircare brands don't exist. If you are dedicated and go looking, you will find plenty of options in the Indian market. With the boom in the men's grooming industry, new brands are coming up whose products are designed to keep men's needs in focus. One such well-known brand is Brylcreem. It is a premier brand with a range of beard and hair care products known for their quality and effectiveness.
About Brylcreem
The brand was launched in 1928 in the UK and was used by barbers after giving men a cut. However, Brylcreem became a pop culture phenomenon when military men and pilots began using it. These men needed to keep their hair looking neat and presentable even after high-intensity physical activities. So, during World War II, members of the British Royal Air Force were nicknamed 'Brylcreem Boys' for their sleek hairdos.
Despite being a British brand, Brylcreem products are available worldwide. The company's first product was a hair cream, which was a combination of water, mineral oil, and beeswax. This cream succeeded in making men's hair look sleek and shiny while also giving their style some hold that would last for hours.
Today, Bryclcreem has expanded its range from just hair creams to include products like hair wax, hair gels, shampoos, and beard grooming products. It has become one of the best-known men's grooming brands in the world.
Brylcreem Products
Brylcreem products can be found online or in your nearby stores. Here are our recommendations from the brand.
1. Bold Hold Hair Cream
Brylcreem's Bold Hold Hair Wax is not an ordinary wax. It is a restyling wax with a matte texture. It will give your hair any look you want, from precision styling and bold holds to an immaculate structure. It contains a wonderful blend of ingredients: Almond oil, to strengthen hair from within; Aloe Vera, to hydrate the scalp and hair; and coconut oil to lock the hydration in and improve hair health. To top it off, this hair wax has an incredible fragrance that will have you smelling good for hours. You get about 80gm of product in a sleek, round box.
Features
It contains no added parabens and includes the goodness of almond oil, aloe vera, and coconut oil.
The hold and structure provided by this wax stays for hours.
It has a matte and lightweight texture that enables precision styling and neat texture.
2. Hairfall Protect Hair Cream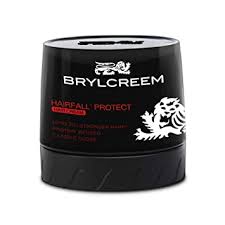 This milk protein-infused hair cream is the new solution to your hair fall woes. According to the brand, this cream nourishes your hair, making it over 30 times stronger than before and prevents it from breaking. It also contains mineral oil that nourishes hair and helps to make it manageable. You only require a small amount of cream. Just rub it between your palms and apply to damp or towel dried hair for a quick fix.
Features
It helps nourish your hair and make them stronger from within.
It moisturizes hair without making it look greasy or sticky.
It comes in handy if you like the classic, slicked-back hair with a glossy sheen.
3. Anti-Dandruff Scalp Care Styling Cream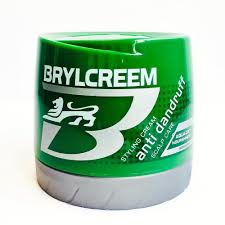 Dry, itchy, or rough scalp can result in flakiness or dandruff, which is awful to deal with. This anti-dandruff scalp care cream helps control dandruff for up to 8 hours while making your hair stronger and scalp healthier. It boasts of the "aqua-oxy" formula, which gives a wet and glossy look without weighing your hair down and making it appear sticky. Those who dislike fragrances will find a friend in this product as it is completely unscented.
Features
One of the best-known treatments for dandruff is controlling flaking like nothing else and helping your scalp get healthy.
It has no added parabens, no fragrance, and works for color-treated hair.
Aside from dandruff control, this cream is great for styling your hair by giving it a non-greasy yet wet and sleek look.
4. Original Hair Styling Cream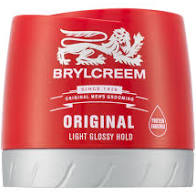 This product is Brylcreem's classic hair cream with brilliant sheen and light but tight hold on the hair. It has a conditioning formula that makes hair styling easy but does not leave it sticky and greasy like other hair gels and creams. Instead, it is enriched with protein and makes hair healthy, soft, and super easy to manage. This cream suits all hair types and is completely free of artificial scents. Its hold lasts for up to 8 hours.
Features
This cream features Brylcreem's original formula that made the brand famous.
Non-sticky and non-greasy despite amazing hold and styling capacity
Free of fragrances and infused with protein for daily nourishment
5. Shine Protect Hair Gel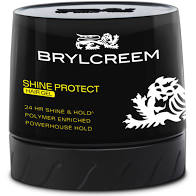 Are you someone who wants a powerhouse hold on your styled hair through high-intensity activities like sports and exercising? Look no further than this hair gel by Brylcreem. It is enriched with polymers and promises superior shine and hold for up to 24 hours after application. Aside from formidable hold, it protects hair from extreme conditions and makes sure it stays healthy and undamaged. It has a gel-like consistency and does not make the hair appear sticky or rough. It is also completely free of artificial fragrances, alcohol and suits all hair types.
Features
Is gentle on the hair and can be used to style hair every day without side effects
Promises a long-lasting hold for up to 24 hours even· Does not contain alcohol and parabens
6. 3 in 1 Conditioning Shampoo
If you thought that Brylcreem products are limited to hair creams and waxes, then you are wrong. Their range also extends to amazing shampoos such as this 3 in 1 conditioning shampoo that contains Climbazole and ZPTO – dual actives known for treating dryness-related dandruff and itching at the root. This shampoo also makes the scalp more resistant to dandruff and strengthens hair, preventing breakage. It has a fabulous masculine fragrance and makes the hair so soft that you don't really need a conditioner after this shampoo
Features
It nourishes and conditions the scalp three layers deep, leaving it stronger and healthier than before.
It controls dandruff, provides relief from itchiness, and eliminates dryness from the scalp.
It is a shampoo plus conditioner, making hair soft and frizz-free and eliminating the need for a separate conditioner.
7. Beard & Mooch Butter Balm
Along with their hair, men also need to keep their beards and mustaches in shape. Brylcreem has some amazing products for facial hair enthusiasts as well. One of them is the Beard & Mooch Butter Balm that will moisturize your beard and nourish it so that it not only looks glossy but also well-styled. It helps in taming flyaway and unruly, reducing dryness and itchiness, and contains nourishing oils. It also has a consistency that is neither too light nor too greasy.
Features
Helps style and manage beard and mustache hair
It gives your beard a soft feel and is infused with Vitamin E to nourish hair.
Has the perfect texture with a glossy look
Conclusion
There aren't many haircare brands available for men, unlike for women. Brylcreem is one such brand specializing in hair care for men. Their styling hair creams are sold worldwide and have amazing reviews. Brylcreem guarantees men the best in hair care because, let's face it, men also deserve to feel pampered every once in a while. With Brylcreem's endless hair and skincare products, men have no reason to feel left out and not treat their tresses with care. The best part is you can find this brand online and in retail stores, and it's easy on the pocket.