The Secret Yao Women Rice Water Hair Growth Chinese Recipe
Do you know that a Chinese Village in Huangluo was named as the 'Long Haired Village'? This is because the Yao women out there have the most beautiful, shiny and long hair. And guess the length of their hair? The majority of the women have hair longer than 1.4 meters, and they even made a place in the Guinness Book of World Records for this very sole reason!
Yao women have a belief that long hair signifies prosperity, good fortune, longevity, etc. Thus their long hair is undoubtedly their prized possession! Also, they do not have a single grey hair even after their seventies.
Strange right? They like to keep things simple, and the remedies they follow are pretty quick and easy. Let's know more about them.
What is the actual secret of the Yao Women?
Well, this is not something very rare. The ingredient is pretty much available at your home, precisely your kitchen. It is just Rice Water!
They love their natural products and rely on rice water hair cleansers and conditioners for everything. And this is nothing new. This has been their staple remedy for ages, and they trust their rice water more than anything! Thus, this recipe is undoubtedly the answer to all your prayers since this will leave your hair soft and shiny.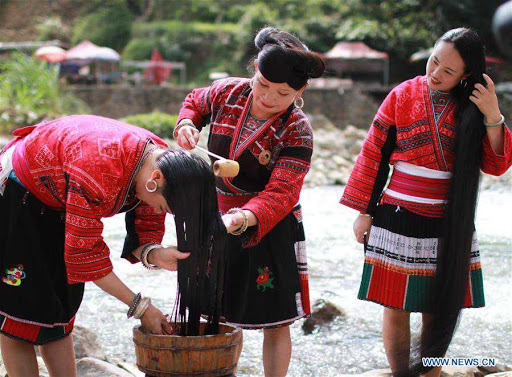 Why is Rice Water so Beneficial?
There are numerous benefits of Rice water for your hair and skin. The list is endless, but we have tried to sum up a few primary advantages of using rice water for your hair. Keep reading to know more about them.
1. Promotes hair growth
We have already been talking about the fascinating length of the Yao women, so rice water inevitably has a significant role in their hair growth. This magical potion is rich in Amino Acids, Vitamin B, Vitamin C and Vitamin E, which encourages hair growth to a great extent. Let's simplify things a bit. The Amino Acids are an excellent ingredient for hair growth. It boosts protein and keratin production, which are the basic necessities for your hair. Vitamin B is significant to maintain your hair's strength, and Vitamin C keeps the sebum production in check to an optimum mark. Vitamin E prevents hair loss and keeps your hair hydrated so that it doesn't feel dry or dull. It is also great to maintain your hair's shine by keeping it sleek, lustrous, and manageable.
2. Prevents Split Ends
The problem of Split ends is pretty common, and this is a real nuisance. The amount of effort and time invested in making your hair long gets wasted completely when you chop off your hair length to eliminate the split ends. This is simply heartbreaking.
Rice water is an excellent remedy to prevent a split end. But if you have split ends present right now, you might have to chop them off. Try using rice water afterwards regularly and forget the pain of having split ends once and for all!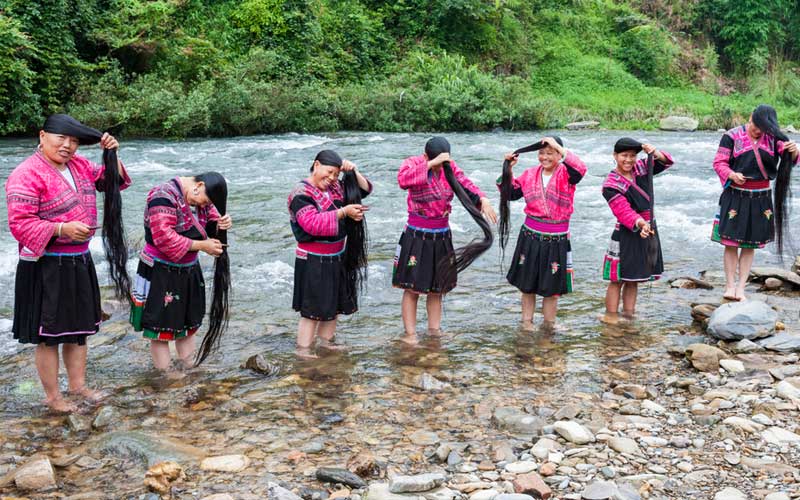 3. Cures Dandruff
There is simply no individual on earth who hasn't dealt with the struggle of dandruff. The white flakes that shed from your scalp and the itching are simply embarrassing! The cause of dandruff can be anything starting from stress to excessive product buildup in your hair.
Rice water has been proven to help with dandruff by fighting the fungi, which causes your dandruff and eliminates those dry white flakes to a large extent. It also helps maintain the Ph level of your hair, which can sometimes be damaged for various reasons.
4. Gives damage protection
Styling tools are common in our everyday life. Perfect straight hair is one of the ongoing trends right now. Investing in a damage protectant or protectant serum is essential but can be costly. Furthermore, why even invest in chemical stuff when you have rice water to your rescue, which is entirely natural?
The carbohydrate present in the rice water is a great damage protectant. It can be used before applying any styling tools. It reduces the surface friction and also increases the elasticity of your hair. Thus, making it less prone to damage by those heating tools.
Which Rice Water does the Yao Women use?
Yao women prefer organic white rice. You can use any white rice that is available in your kitchen. But ensure that the rice you are using is entirely organic.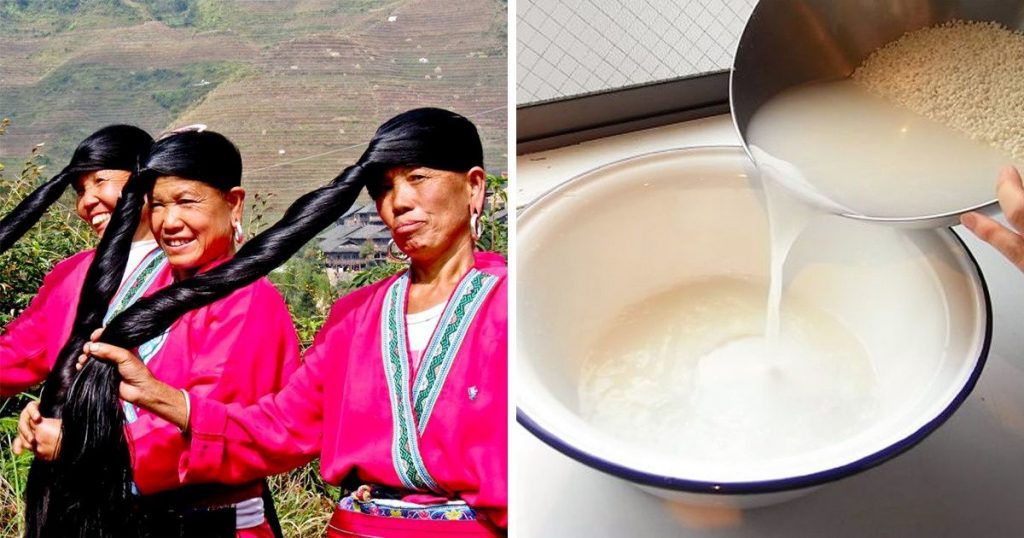 The Special Recipe
As mentioned above, rice water benefits are endless; thus, let's jump on to this magic potion recipe.
We will give you a step by step guide on how you can make rice water for your hair.
The basic recipe
This is the basic recipe with no extra ingredients. It is just rice and water. There are other variations to this recipe as well, which we will discuss below.
Take two cups of Organic Rice whatever is available at your kitchen
Wash it thoroughly to eliminate any dirt from the rice and dispose of the dirty water
Add four cups of distilled water to it and cover it with a lid
Let it rest for about an hour or can even leave overnight
Open the lid and check if the liquid is milky white
Strain the rice water in an airtight jar or container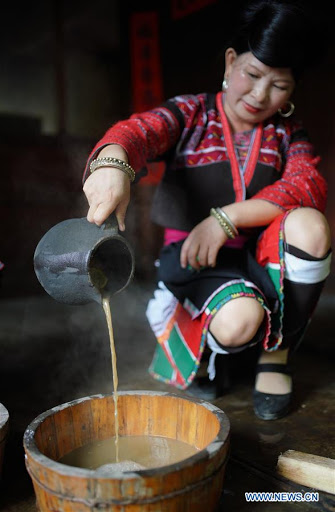 With a Citrus Twist
The above recipe is incredibly useful, but if you want to boost your magical potion's power, try adding two lemon or grapefruit peels in the rice water and let it ferment for about thirty minutes or overnight. This will infuse the advantages of Vitamin C into your rice water.
What is the advantage of Vitamin C for your hair? The benefits of Vitamin C are numerous for your hair. Still, just for the basics, it will help you regrow your lost hair and clarify the scalp from all dead cells or product buildup.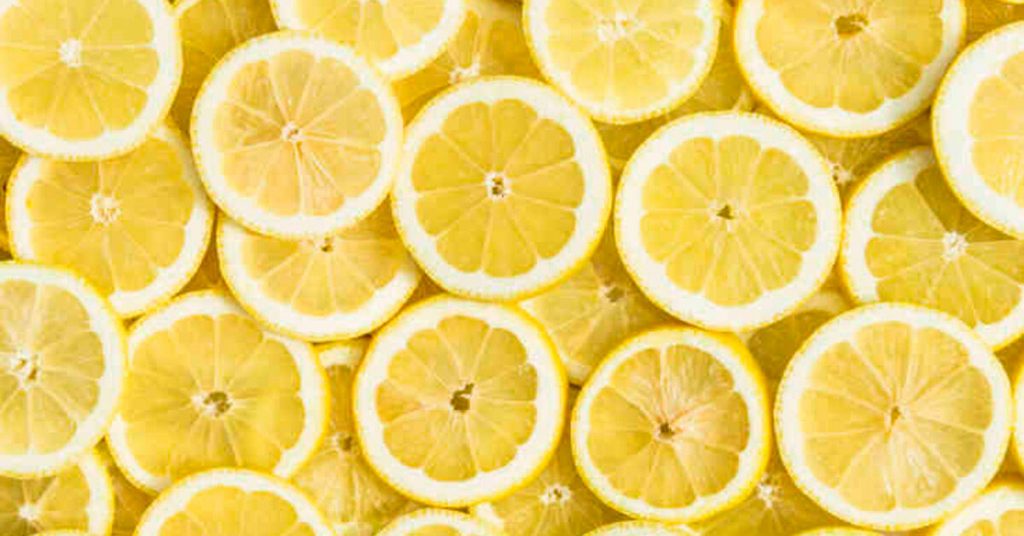 Natural cleanser
Switching from your chemical-based shampoos to this natural alternative will be an excellent initiative for your hair. Let's check out the procedure on how you can make your own rice water shampoo for your hair.
The Yao women usually use Tea seeds powder for the natural hair cleanser. It has microbial properties that will keep all the scalp infections at bay. It helps to keep the scalp squeaky clean and removes any extra dirt from the hair.
Still, don't worry if it is not available in your local grocery store. You can use Shikakai, Amla, Reetha, or Aloe Vera powder instead. The blend of these ingredients is outstanding for your hair's overall health and acts as an excellent cleanser for your hair.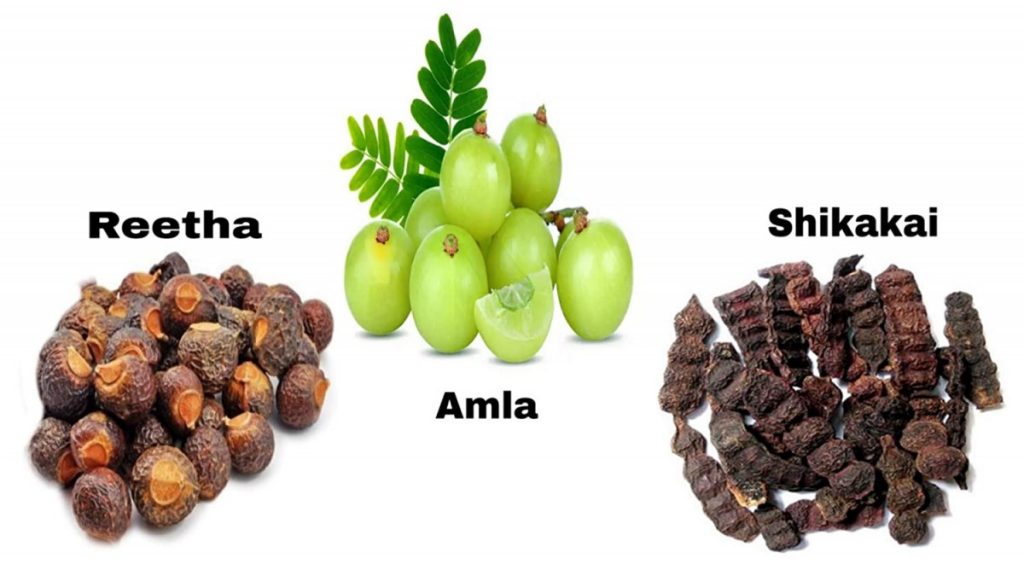 In case if you want foam in your shampoo, then the shikakai will help you with that. The amla, reetha, and aloe vera powder will keep your hair healthy and condition your hair. You do not need a separate conditioner afterwards since this works excellent as a conditioner.
Take a half bowl of water, add the specific powders with the rice water and let it boil for a minute.
Strain the mixture and use it as a regular shampoo.
How to use Rice Water for hair?
Now when we have made the rice water, let's check out how you can use it on your hair.
Shake the mixture before use
Dip a cotton ball and spread the mixture on the scalp and massage gently
Keep the mixture for about thirty minutes and rinse off with normal plain water
If you are using the natural rice water shampoo, just pour the entire mixture and massage it thoroughly to remove any dirt or oil from your hair and rinse it off with cold water.
Kindly keep in mind that there is no need to dilute the rice water. This is because we are not keeping the rice water to ferment for 48-72 hours. That will make the mixture's concentration too strong and might cause protein overload, which can cause severe damages to your hair.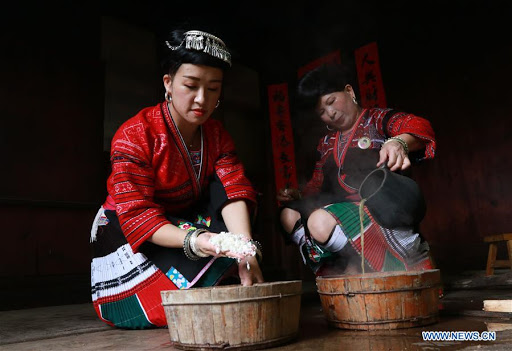 How many times should you use rice water?
There is no specific limit whatsoever, but using it thrice a week will be enough to see optimum results.
By when can you see visible results?
Every hair quality is different, and the duration depends on the quality of your hair. You should be able to see a noticeable difference after a month of regular use. This duration can certainly increase depending on the condition or texture of your hair.
But, be sure that your hair will feel manageable and healthy in the first use itself! So be patient and consistent with your rice water, and you will see prominent results soon.
Wrap Up
Has your hair lost all its strength and does not grow at all? This staple superfood is your best friend! The benefits of using rice water are certainly immense and are great for improving your hair's overall health. This is certainly not an overnight process. Thus, you need to stick to this for quite a long time and use it religiously, as mentioned above.
Let us know your thoughts below regarding this fantastic recipe and how it has been beneficial for your hair.
Also Read: