Best Hair Growth Serum for Men – Livon, Beardo, and Streax
As a man, you must have looked at women with long hair and their multiple hair care products and thought, "thank god I don't have to make that much effort." Well, it turns out that men's hair is also prone to the same damages that make women use tons of products. If dull, brittle, and frizzy hair describes your mop, the chances are that a simple shampoo-conditioner-gel routine is not doing it for you, and you need something more to spice up your hair care routine.
What is a hair serum?
A hair serum is one of the most versatile hair products you will ever own. A good serum can be life-changing and solve most hair problems ranging from hair fall and dryness to frizz and greying. Hair serums can penetrate the hair shaft much deeper than shampoos and conditioners, nourishing hair from within and protecting it from damage. They double up as nourishing products as well as styling products.
Luckily, the hair care market is teeming with brands launching new hair serums for men. These products tame flyaway hair, manage frizz, and get your hair looking smooth and shiny like the ads on TV. If you suffer from an oily scalp, serums also manage oil production and prevent your hair from losing volume. Has this list of benefits interested you in buying a serum yet? You won't have to spend hours looking for them. We have rounded up the best brands for you.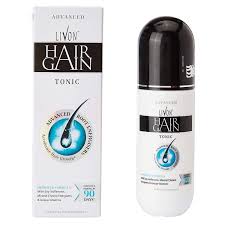 Livon is an old hand at the hair serum game and has a great reputation in the market. Their hair tonic is formulated specially to tackle hair loss in men. It contains Kopexil, an ingredient that reduces hair fall and promotes regrowth all over the scalp. The tonic has a non-greasy consistency that absorbs quickly, along with a nice fragrance that stays all day. Regular use has been proven to make hair thicker and smoother, without any side effects.
Features
Fights hair thinning and hair fall
Accelerates growth of new hair
Thickens hair and improves texture
Check the cheapest price on Amazon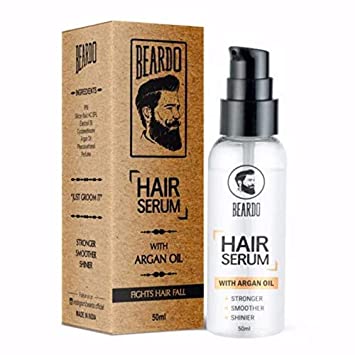 Beardo is a brand known for developing premium hair care products suited for men, be it the hair in your beard or on your head. This hair serum geared towards men is infused with the goodness of argan oil, which makes men's unmanageable hair softer and smoother. This serum also targets prematurely greying hair and keeps you looking young. The best part about this serum is that it's a multi-tasker – it can tame your beard, too, and will solve all your grooming needs.
Features
Combats premature greying of hair
Makes hair extremely soft to the touch
Gives a gorgeous shine to the hair
Check the cheapest price on Amazon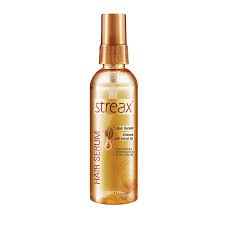 This serum is perfect for men who want shinier, easy to manage hair. It's a unisex product that works equally well for men and women. This serum is non-sticky and boasts of a miracle ingredient – walnut oil, which infuses smoothness and shine into your hair. You can use this serum every day without it weighing your hair down. It also makes frizz and curls very easy to handle.
Features
Gives volume to the hair without the greasiness
Controls frizz and makes hair easy-to=manage
The shine from this product lasts all day.
Check the cheapest price on Amazon
How to Use Hair Serums
Buying a good-quality hair serum is just half the battle won. To reap full benefits from it, you need to know how to apply the product properly. If you are a complete newbie, follow these simple steps to get started:
Apply to Damp Hair
When your hair is damp, it is at its most absorbent. Damp hair absorbs products much better and lets it penetrate deeply, giving your hair deeper nourishment and care.
Apply to the Ends
Start applying the serum to the ends of your hair and go as far up as the midsection. Avoid the roots – they already have plenty of moisture from the oils in your scalp. Concentrate on the ends, which are drier and need hydration.
Warm It Up
At room temperature, serums tend to have the consistency of oil. If you use it like that, chances are that your hair will be weighed down. Instead, let the serum stay on your fingers for a while and rub your fingers together to warm up the product. This melts the serum and makes it much more lightweight.
Don't Over-Apply
Keep in mind the length and thickness of your hair while applying the serum. Too much of anything is bad! Take a tiny, pea-sized amount if your hair is fine and more if your hair is on the thicker side.
Don't Use on Unwashed Hair
One of the main functions of a hair serum is to protect your hair against the dirt and grime outside, so the initial application should be on freshly-washed, damp hair. This way, you can stay protected all day.
Tips on Buying Hair Serums for Men
Buying and using hair serums is not complicated at all, but here are some tips you should keep in mind in order to choose the best product for yourself:
Identify Your Hair Type
A single product does not work for everyone. What worked for your friend might not make a difference to your hair. This is why it is necessary to identify the type of hair you have and buy a suitable product. If you have thin hair that lies flat, you will need a serum that does not weigh the hair down and make it look sticky, but still gives volume. If you have curly hair, you will need a heavier serum that tames frizz.
Identify Your Hair Concern
For some, hair serums are simply a product to tackle hair loss. Others use it every day to manage frizz and unruly hair. Those experiencing premature greying will need a serum that tackles their specific problem. The baseline is, everyone has different hair concerns, and there are many products in the market for each need. You need to identify your concern and invest in a product that will meet your needs.
Check Ingredients List
Sure, serums are a hair care product as opposed to skin care, so you might be under the impression that you don't need to monitor ingredients thoroughly. But don't forget, your scalp is skin too, and it's very sensitive. What you put on it will get absorbed and show results. So, make sure you go through the ingredients list of the product you are planning to buy and pay attention to anything you might be allergic to.
FAQs
Do I need to invest in hair serums as a man?
Contrary to popular belief, hair serums are not just for women or men with longer hair. Men with all hair lengths and hair types can benefit from the product. Serums simply add shine, strength, and an added layer of protection to your hair. If you start using it now, you will see a difference over time.
What is the best way to use hair serums?
Hair serums are not a complicated product at all. You just need to follow some simple steps – start with small amounts, and make sure you apply on damp hair. Then, simply brush or style your hair as usual. Concentrate on the ends and avoid the roots of your hair.
How do hair serums promote hair growth?
Hair serums are loaded with oils that nourish hair by penetrating deep within the hair follicles. When hair follicles are nourished, they grow faster and promote hair growth all over your scalp while also making your hair shinier. With regular usage, serums make a noticeable difference to the density of your hair.
Will hair serums make my hair sticky and oily?
Not at all! While hair serums contain all the goodness and richness of oils, they have a non-greasy, non-oily formula that gives your hair shine and volume without making
them look oily.
Do hair serums help with dandruff and grey hair?
The primary function of hair serums is to reduce hair fall, aid in hair growth, and infuse shine into your hair. Serums are full of the nourishing properties of oils, so they may help with dandruff and grey hair, but they are not made for these concerns.
Final Words
Hair serum is a treatment for hair with a liquid base. It protects the hair fiber, smooths out frizz and gives it a shine. In addition, a good hair serum will also promote hair growth. So, don't neglect your hair. It needs care too.
Also Read: Best Shampoos for Hair Fall Control in India