Best Herbal Face Cream for Daily Use for Women in India
Believe it or not, shopping for daily use skincare needs is much more difficult than shopping for targeted needs. If you need a serum, a pimple cream, or a lip balm, the options are many but can easily be narrowed down. However, the list of day creams seems endless.
If you choose to go herbal, you are in luck because of limited options, but you still need to know which brands to trust. Herbal creams are infinitely better and cleaner because of being all natural, but you can't trust every brand. We have compiled a list of herbal day creams for Indian women that you can trust and add to your cart right now.
Why Choose Herbal?
While chemicals have their own place in skincare, no one can deny the effectiveness of herbal and natural products. Despite their declining popularity, herbal skincare holds a wealth of goodness and ancient wisdom that we can all benefit from. It is good to include one or two herbal products in your skincare routine from time to time, just to give your skin a break from the chemicals.
Herbal skincare is also a saving grace for those whose skin does not react well to the additives and preservatives present in chemical creams. Some chemicals are harsh and prone to damaging your skin in the long run. And while herbal products might take time to show results, they are just as effective at tackling your skin concerns. Remember, fast is not always good. Slow and steady wins the race.
How to Choose the Right Day Cream
The options in the market are endless and might end up overwhelming you. You can narrow down your choices by keeping a few things in mind to choose the best product for yourself:
Skin Type – Different skin types have different concerns and need different consistencies of creams. For example, oily skin needs non-comedogenic creams that don't become greasy and cause oil build-up in your T-zone. Similarly, dry skin needs moisturizing formulations with butters and oils. Normal skin, on the other hand, simply needs a hydrating option that balances everything.
Weather – What kind of day cream you use also depends massively on the current weather. Dry skin beauties need to up the moisturizing quotient of their day creams in winters, while oily skin needs more moisture than usual. Many women can give the usual greasy day creams a try to get that extra nourishment in winters.
Sun Protection – Like it or not, sunscreen is one thing you can't go without, be it summers or winters. If you don't spend too much time outside, a cream with mild sun protection will be perfect since it eliminates the need to apply sunscreen on top. However, if you do go outside, make sure to top it up with an actual SPF 50 sunscreen.
Now let's look at the creams in our list.
1. Himalaya Energizing Day Cream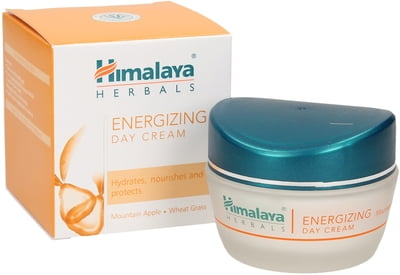 This deeply hydrating day cream from Himalaya is full of herbal goodness! It has licorice, which fades out blemishes and dark spots over time, spiked ginger lily to even out skin tone, and provides antioxidants. It works from within to hydrate, brighten, and provide a natural glow. The best part is that both men and women can use this cream. It can even be used as a base for your makeup!
For: Combination to dry skin
Pros: Evens out complexion, can be used as a makeup base, consistency like a bb cream
Cons: Slightly greasy and can only be used in winters, formula might leave burning sensation on skin, has a weird fragrance that might be off-putting.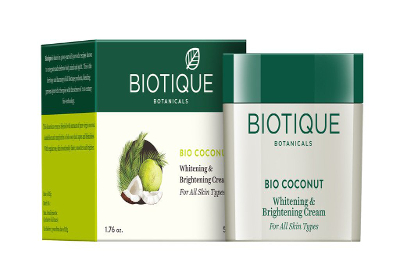 For practitioners of natural skincare, Biotique is a brand that stands out because of its amazing formulations and affordable skincare options. One of them is the Bio Coconut Cream which boasts of virgin coconut, dandelion, and manjishtha as its ingredients. The result? Noticeably smoother, brighter, and even-toned skin. Being a completely natural product, it doesn't contain any additives or chemical preservatives as well. You get exactly what you pay for.
For: All skin types
Pros: Affordable, 100% natural, can be used by anyone!
Cons: Tends to make skin oily in summers, takes time to get absorbed.
Check the cheapest price on Amazon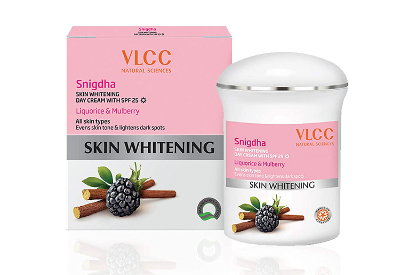 Generally, herbal creams tend to skip on the SPF, but not this one! The Snigdha cream from VLCC contains an SPF of 25, which is not enough (you need at least SPF 50), but does give you a little added protection. Liquorice and mulberry help tackle skin concerns like reducing blemishes and pigmentation, while garden cress extract and vitamin B3 help make your complexion even-toned. Additionally, this cream is also extra nourishing because it contains wheatgerm and olive oils to make your skin extra firm and supple.
For: All skin types
Pros: Blends easily into the skin, has an amazing fragrance, makes the face glow.
Cons: Might be too heavy for oily skin
Check the cheapest price on Amazon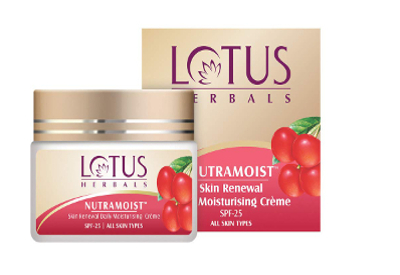 You've heard creams use herbs, plant extracts, and oils, but have you wondered if a cream uses fruit? Well, you are sure to find an answer in this cream by Lotus Herbals. The brand is already well-known and trusted in the Indian market, so this formulation containing natural antioxidants and fruit acids from grape, cherry, and plum is a sure winner. Not only do these ingredients tone and firm up your skin, but they also lock in moisture and help you stay hydrated all day long.
For: All skin types
Pros: Completely non-sticky and absorbs well into the skin, provides sun protection, is non-greasy
Cons: The intense moisture it provides will suit winter months better than summer
Check the cheapest price on Amazon
5. Khadi Omorose Herbal Anti Blemish Cream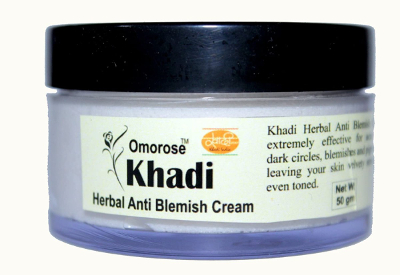 Who hasn't heard of Khadi Herbals? Every beginner in skincare tries this brand once and doesn't come away disappointed. This particular cream contains kesar, licorice, aloe vera, and kumkumadi, and targets dark circles, pigmentation, and blemishes. It is completely free of chemicals and leaves skin feeling soft, supple, and toned, complete with a polished look.
For: Dry and combination skin
Pros: 100% natural and free of chemicals
Cons: Has a very strong fragrance that some might not like, not suitable for sensitive skin
6. Lever Ayush Anti Marks Turmeric Face Cream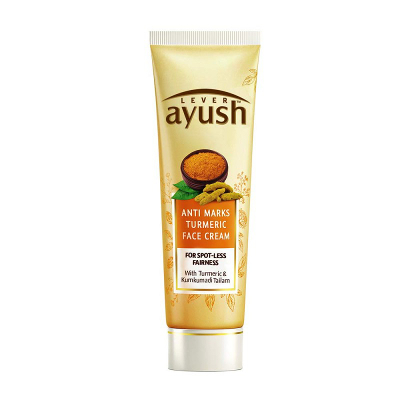 Lever Ayush is slowly but steadily making a name for itself in the ayurvedic and herbal skincare market. This face cream is loaded with the benefits of ayurveda's favorite ingredient – turmeric! It does exactly what you expect turmeric to do – purifies skin from within, dissolving all the unsavory marks and blemishes, leaving it free of spots. It also contains kumkumadi tailum, which is a blend of 16 herbs and oils that nourishes skin like no other!
For: Combination skin
Pros: Completely natural, uses the wisdom of Ayurveda, actively works on lightening blemishes
Cons: Might leave a white cast on the face, ayurvedic formula needs time to show visible results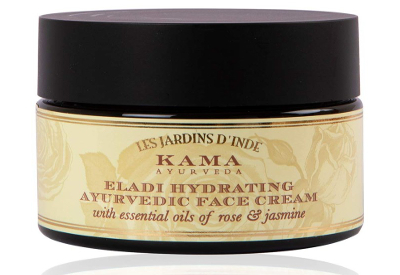 If you want to splurge and treat yourself to a luxury day cream, look no further than Kama Ayurveda. It is the ultimate brand for when you are in the mood to pamper yourself. This hydrating cream comes loaded with the magical powers of rose and jasmine essential oils. This cream blends natural ingredients with coconut milk and sesame oil, providing such intense hydration that your skin will never starve again and feel soft for days.
For: Sensitive, acne prone skin
Pros: The lightweight natural formula works very well on sensitive skin, helps tackle pigmentation, improves skin texture
Cons: Heavy on the pocket, might not suit oily skin
Check the cheapest price on Amazon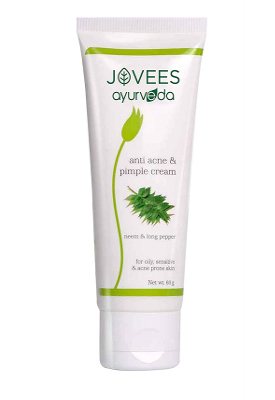 Jovees is one of those brands that doesn't make a lot of noise in the market, but has good products that people swear by. Just like this cream, which is a blessing for those with acne-prone skin. Its formula has been created after extensive research and contains the perfect amount of moisture that neither clogs pores nor dries them out. It will not only prevent breakouts but also lessen the appearance of existing acne scars. This cream is magic!
For: Oily and sensitive skin
Pros: Shows visible results in a week of usage and reduces acne significantly
Cons: Might feel a bit heavy on the face, needs other Jovees products for best results, boring packaging
Check the cheapest price on Amazon
Conclusion
This list of herbal day creams for women in India is not exhaustive but caters to various skin concerns, skin types, and budgets. Keep the needs of your skin in mind and make sure you go over the ingredients list before choosing the best herbal day cream for yourself. Watch your skin come back to life from the edge of dullness.
However, a day cream will not magically solve all your skin problems. Follow a regular skincare routine complete with cleansing, toning, moisturizing, and applying sunscreen to make your skin look the best it's ever looked! Even with the best product in your hands, you will see a lasting difference only when you religiously stick to your routine.
Also Read: Herbal Beauty Tips for Glowing Skin