Best Matte Lipstick Brands in India 2020: Lakme, Maybelline & Many More
"Hey, which lipstick are you wearing? It looks stunning." These are the words every woman wants to hear when she wears lipstick.
Whoever said lipstick is a girl's best friend was totally right! Every woman craves for that one perfect shade that will brighten up her face instantly and will give her a glamorous glow up immediately. A lot of effort goes in finding a good lipstick that will have your heart in seconds and will get you all the attention.
Lipsticks can literally change your mood as well as your looks in seconds. From an ordinary college girl to a diva, the journey with lipsticks is real quick. It does not matter if you are in a mood for a full face makeup or just a natural look, lipstick is that essential product that can make or break your look and that is why lipsticks are our absolute favourite.
All of us love applying lipstick but more than that we love buying and going all gaga over them.
For makeup enthusiasts, it is quite easy to pick up shades as they love to have a collection of lipsticks. But for beginners and people who are not quite into the world of lipsticks yet, it can be overwhelming to find a good lipstick given that there are so many appealing brands. At times it tends to be really confusing which one to pick or which one not. But you need not to worry anymore at all.
There are several things that you need to keep in mind before investing in a lipstick. Checking your skin tone and undertones, the shade of your lips, knowing about the brands and the ingredients that go in your lipstick and most importantly the budget you have set for them are some factors that need to be considered. Here is a complete buying guide for you that will tell you everything that you need to know about lipsticks.
Best products
With the rise in the makeup industry, there are thousands of products that claim to be the best. All of these products may be cheap and may contain harmful chemicals present in them but they always look appealing to us. But then there are some prominent brands like L'Oreal Paris, Maybelline New York and Colorbar that have set really high standards for lipsticks. These brands have maintained a reputation for producing the best lipsticks with amazing shades. From matte to creamy lipsticks, these brands have given us some gorgeous lipsticks that are now a part of our daily routines. Let us see what each brand has to offer and what really makes them the best of the best!
1. L'Oreal Paris Rouge Signature Matte Liquid lipstick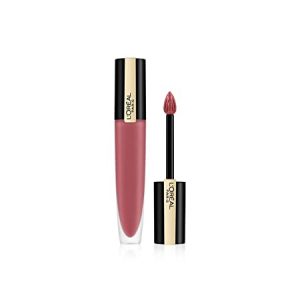 L'Oreal is well known for its cosmetics but this Signature matte liquid lipstick is next level. This line of lipstick is available in 12 shades, "I choose" is the most popular one. The product claims to last for up to 24 hours and gives a matte finish. L'Oreal Paris also claims that this lipstick is smudge-proof and it will not dry or flake out your lips. The formula is oil in water which is unique and extremely light in weight.
There are no harmful ingredients present in this lipstick so you can use it without any worries.
This lipstick provides intense pigmentation and bare lip sensation as L'Oreal Paris calls it: less texture and more colour. The shade I choose is a stunning pinkish nude which will look good on all skin tones.
Since the brand is well-reputed, everyone tends to think that the lipsticks will be really expensive. But L'Oreal breaks this stereotype and proves that great products can be decently priced too.
2. Maybelline New York Color Sensational Creamy Matte Lipstick, Touch of Spice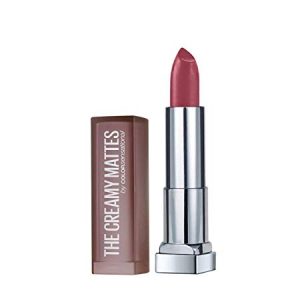 We love everything about Maybelline. From its liquid lipsticks to creamy matte, Maybelline lip shades have managed to win the hearts of every woman with its amazing texture, packaging, pricing and of course the variety of shades it offers.
Creamy Matte Lipsticks by Maybelline has basically targetted all the women who want soft matte lipsticks that can be worn on a daily basis. This range has bold yet elegant colours and the most favourited one is Touch of Spice. It is a beautiful mauve shade that is best suited for people who go to college or office and don't have the time and patience for liquid lipsticks.
You just need one stroke of this lipstick and you will be good to go. Even if you are going for a kajal and lipstick look then this shade will make you look more put together. With minimum efforts, you get great results and what more can we ask for! Maybelline claims that all the ingredients are of premium quality so that you can take good care of your lips while flaunting them.
3. Colorbar Velvet Matte Lipstick, Deep Fantasy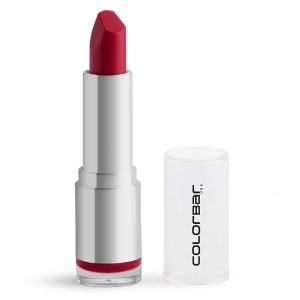 Colorbar is successfully making it to the bestsellers time and again with its range of marvellous lipsticks.
The brand claims that this product will give you fuller lips and will also moisturise them. All the shades are highly pigmented and only a single stroke application is needed to get the actual colour. It has SPF that will protect you from the harmful UV rays. The application is really smooth and it gives a velvety matte finish. The lipsticks are long-lasting and smudge-proof that come in a tube lipstick packaging.
Jojoba oil, shea butter, shea oil, jojoba extract and vitamin E are some ingredients present in this lipstick that makes it even more special. Deep Fantasy is a gorgeous colour that comes from the Pink colour family and has red undertones. This shade will suit all complexions and you can rock the shade at any occasion. This Colorbar velvet matte lipstick is perfect for your regular day events as well as for your evening plans.
Our Research Process
Research Process is a big must for us, before framing the list of topmost reliable products for you. Here, we are landing with our research process for you.
Why should you buy a lipstick?
Lipsticks definitely complete your makeup but they also change your entire look. Even if you are not in a mood to wear makeup, a nice lip shade will make your overall look put together. If you look good, you feel good and that is the reason why lipsticks give you a whole new level of confidence. There are so many shades available for you to play around with and mix and match them. You can focus on hydrating and exfoliating your lips with lipsticks and say goodbye to chapped lips.
Choosing the right shade according to your skin tone
Has a lipstick colour looked great in the shade card but it did not meet your expectations when you applied it? You can wear any shade that you want to but there are certain shades that bring out the best of your lips.
Olive and wheatish skin tones that are known as warm skin tones can rock any lipstick. But red, peach and orange colours will suit these skin tones the best. If you have a medium skin tone then nude, mauve, nude shades of pink and red will work out for you. If you have a chocolaty skin tone then purple, dark red, brown and basically all dark shades will suit this skin tone. People with fair skin tones can pick up shades of pink, red, nude and browns as every colour will suit them.
Suits the Occasion
If you are going to the office then you should wear subtle tones that are not too loud. Nudes of various shades are the best for working hours and go well with formal wear. You have to be extra in parties and shine out so go for bright colours that will draw all the attention to you. Coming to the colour red, it is a shade that never ever goes wrong and suits all the occasions. You can wear red lipstick for parties as well as on a casual day.
Matches your outfit
Gone are the days when the only wearable colours were considered to be pink and red. You can wear any colour that goes well with your outfit, be it an orange lipstick, brown or a blue one. You can match your lipstick shade with your outfit or contrast with it, whatever you like. When you are wearing bright colours then avoid lipsticks that contradict with the colour of your outfit. For instance, black and yellow outfits look great with red lipstick whereas green and pink outfits look good with peachy nude lip shades.
Neutralizes your makeup
Whenever you do your makeup, applying lipstick is the last step so that the lip shade neutralizes your makeup overall. When you are going for a bold eye makeup then your lipstick should be nude and not too loud. If you want to go for bold lips then go for minimal eye makeup. Makeup is always incomplete without a decent lipstick and it balances your look in the most perfect manner.
Design of the case
It totally depends on you if you are okay with a normal packaging or if you want the design to be really attractive. Most of the brands offer decent packaging of the lipstick. The case should be tough so that it does not break and spoils the lipstick if you drop it accidentally. The lid should be tight so that you can keep the lipstick in your purse or bag without worrying if it will spill and ruin your other stuff.
Easily Washes off
Of course, we want our lipsticks to be long-lasting and remain smudge poof for several hours. But when it does not come off easily with makeup removers then it can be a problem. Wasting your time and energy on removing the lipstick by rubbing it continuously will irritate you. You should consider this factor before you buy a lipstick so that you can test it if it comes off easily or not.
Ingredients
Wax is the basic ingredient of any lipstick which gives it a smooth application. There are several types of wax like beeswax, carnauba wax and candelilla wax.
The next very important ingredient in lipstick is oil like castor oil, lanolin oil, mineral oil and vegetable oil. The pigment of the lipstick matters the most and now we have every shade available. Preservatives and antioxidants are added to the lipstick to increase their life span. Some lipsticks do not smell at all while some of them give a sweet and pleasant fragrance. A lot of brands add fragrance in the lipstick to avoid the smell of oils and wax.
Avoid lipsticks that have coal tar, lead and Carmine as they are harmful ingredients that may cause irritation to your skin and also give you nausea or headache.
Brand
There are so many renowned brands that have the best selling lipsticks. L'Oreal Paris, Colorbar, Lakme, Faces Canada and Maybelline are some really popular brands that have the most trending lipsticks. For some people, brands are everything while for the others; the product should be good irrespective of its brand. But with these brands, you get the best of both worlds.
Budget
If you are a beginner, you may be worried about investing in your lipsticks. There are lipsticks that are for Rs.100 but there are also some that will cost Rs.1000. You do not need to spend a lot of money in order to get a good lipstick. However, cheap products can cause harm to your lips so avoid using local lip shades. If you are a makeup lover and you love to collect different shades and brands, then you can splurge your money on lipsticks without thinking about the budget.
Benefits of Wearing a Lipstick
Apart from giving your lips a lovely finish, lipsticks do have several other benefits which make them even more worth it.
SPF Protection
We all know that the skin of the lips is different from the skin on the rest of the body and requires special care. You may not be knowing this but like the rest of your body, your lips can get sunburned too and that my friend, will be way too weird. Melanin is a compound that protects your skin from the harmful UV rays but this compound is absent in your lips. Lipsticks come with an SPF 15 or higher that protect your lips from the Sun and acts as a barrier to prevent your lips from getting damaged.
Heals and Hydrates
For all you busy bees, who are constantly running around no matter what time it is, your lips are bound to damage in all that pollution. Lipstick will form a barrier on your lips that will protect them from the dust, wind and cold. A decent lipstick will hydrate your lips so that you will not have chapped or flaky lips.
If you are having an important conversation and the person is constantly looking at your chapped lips, it can get really awkward. Lipsticks can also heal your already damaged lips and give them a smooth nice texture. Go for lipsticks that contain essential oils so that your lips have enough moisture throughout the day.
Defines your Lips
The most basic reason for applying lipstick is that it defines your lips and gives them a new life. You can get whatever look you want if you know how to apply lipstick correctly. From fuller and plumped up lips to thinner lips, you can get everything within a minute or so. Whether you are going for bright shades or a nude shade, the attention is first drawn to your lips always.
Gives Confidence
If you are going to a meeting or on a date, lipsticks will always boost your inner confidence. Lipsticks will make you feel really empowered and can set your mood for any situation. Whether you are in need of a little spice, drama or assurance just put on your lip shade and you are good to go.
Even if you are feeling down then get up and apply your favourite lipstick that will definitely make you feel great and put together. Not only applying lipsticks but also buying lipsticks can lift your spirits because a little splurging on yourself never hurts.
Enhances your skin tone
If you pick up the right shade according to your skin tone, then the lipstick will enhance your complexion.
It will bring out the best of your features and will define your smile. For instance, a red lipstick instantly brightens your lips and your face which gives you an effortlessly beautiful look.
You can make your lips more gorgeous with just a single stroke of lipstick to give you that wow factor.
Our Recommendations
1. L'Oreal Paris Rouge Signature Matte Liquid Lipstick: I choose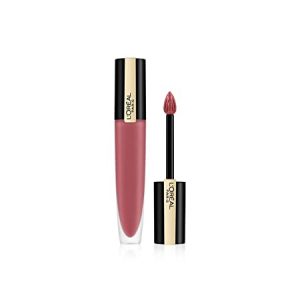 L'Oreal Paris Rouge Signature Matte Liquid Lipstick,121 I Choose, 7ml https://www.amazon.in/dp/B07N34Z986/ref=cm_sw_r_cp_api_i_M5UEEbN3S6SVQ
L'Oreal Paris Rouge Signature Matte Liquid Lipstick is one of the best lipsticks by L'Oreal. The shade I choose is a very nice pinkish neutral which gives a matte finish.
The ingredients are carefully chosen and none of them will cause harm to your skin which makes the product absolutely safe to use.
The formula is oil in water and it is really light in weight so that your lips can breathe. This lipstick will not look cakey on your lips making it easier for you to wear it all day long. Despite its thin formula, this L'Oreal lipstick will give you a soft matte finish and it is completely non-sticky.
The applicator is perfect and will not give you a hard time while you apply lipstick to your lips. However, the lipstick takes 2-3 minutes to dry which usually does not happen with matte liquid lipsticks. The brand is cruelty-free which is a major plus point for everyone.
The packaging is decent, travel friendly and you will not have to worry about the things in your bag being messed up because of this lipstick.
You can apply 3-4 coats or touch up whenever you want to as it does not feel heavy at all. The lipstick will stay for a good 4-5 hours and then it will require a touch-up. The price is excellent for such a prominent brand and everyone can afford it easily.
Pros
*Lightweight formula.
*Affordable.
Cons
*Takes time to dry.
2. Maybelline New York Sensational Creamy Matte, Touch of Spice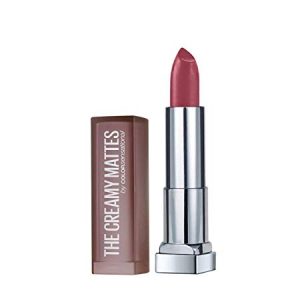 Maybelline New York Color Sensational Creamy Matte Lipstick, 660 Touch of Spice, 3.9g https://www.amazon.in/dp/B00N6YEI6O/ref=cm_sw_r_cp_api_i_J4VEEbEM04XDX
The texture of the lipstick is really smooth and you can glide it on your lips easily. The formula is extremely lightweight and creamy which does not feel heavy on your lips at all. The shade "Touch of Spice" is a beautiful rosy mauve that glides on your lips evenly without leaving any patches. The pigmentation of Maybelline creamy matte lipsticks is to die for and it gives a soft matte finish.
The lipstick has a staying power of 6-7 hours and then you may require a touch-up. These are totally smudge-proof so do not worry about leaving stains on your coffee mug. This lipstick has nice packaging, is super handy, travel friendly and the case is chrome matte so it looks really classy. The application is simple and you will get a decent pigmentation in just a single coat.
Since the lipstick does not feel and look cakey, you can layer it up until you are satisfied with the colour. Maybelline New York Sensational creamy matte lipstick provides extra moisture to your lips to avoid chapped lips. This product is dermatologically tested and the ingredients will not cause any harm to your skin.
The lipstick is super affordable, provides a decent quantity and is great for daily wear. There are other bold shades present in this range as well that will suit every occasion.
Pros
*Lightweight formula.
*Breathtaking shade.
*Dermatologically tested.
Cons
*Careful application is required since the texture is really creamy.
3. Colorbar Velvet Matte Lipstick, Deep Fantasy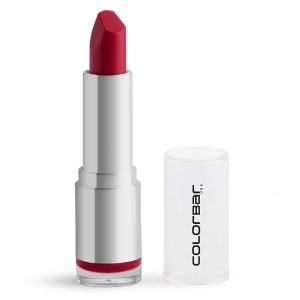 Colorbar Velvet Matte Lipstick, Deep Fantasy, 4.2g https://www.amazon.in/dp/B074F3GS83/ref=cm_sw_r_cp_api_i_rEWEEbNFF43XY
Colorbar Velvet Matte Lipstick has a 2-in-1 formulation which gives a matte yet creamy finish.
Starting from the packaging, it comes in a simple silver tube with a transparent cap and is nothing fancy. The lipsticks can also be identified from their base end which has the name of the shade written on it and it will be easy for you to quickly pick up your desired shade without wasting any time. This lipstick is travel friendly and can fit even in the smallest of your clutch.
The pigmentation is great and you get a strong colour on your lips in just one stroke which is quite incredible. The texture is smooth and is easy to glide on your lips without any difficulty. The lipstick stays for 5-6 hours easily and is not completely removed even if you eat or drink something. There is a nice stain left behind so that your lips do not look patchy and all weird.
Coming to the shade, Deep Fantasy is a deep pink colour which has red undertones to it and the shade truly justifies its name. People of all age groups can totally rock this shade and you will not require frequent touch-ups. Colorbar velvet matte lipstick is priced reasonably, keeping in mind the amazing features it has to offer. You can wash it off with a makeup remover easily and it will not crack your lips.
Pros
*Good staying power.
*Affordable.
Cons
*Transfers a little.
4. Lakme Enrich Matte Lipstick, PM14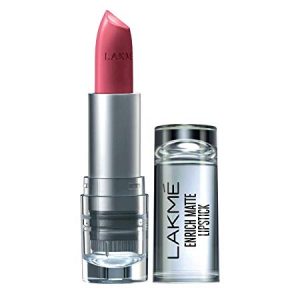 Lakme Enrich Matte Lipstick, Shade PM14, 4.7g https://www.amazon.in/dp/B01GT8J6W4/ref=cm_sw_r_cp_api_i_kVXEEbDPSQ43C
Lake Enrich Matte Lipstick comes in a silver matte packaging along with a transparent cap. This lipstick is again, super handy and easy to carry around anywhere. The texture is very smooth and velvety which gives a soft matte finish. The application of this lipstick is super easy as it glides on your lips like butter. The lipstick has a sweet fragrance on the application which fades within a few minutes but it can be a problem for you if the fragrance bothers you.
The pigmentation is decent and you have to apply 2-3 coats on your lips to get the actual colour. The formula is a perfect blend which does not over moisturize your lips and does not dry them completely. The staying power is also pretty decent as it stays for 4-5 hours. After snacks and heavy meals, a touch up is required otherwise the colour starts to fade.
The shade PM14 is a stunning pink nude with a mauve hue. This lip shade is perfect for college and office hours as this shade is not too loud but is still an eye-catcher. This lipstick is really affordable for everyone and has a shelf life of 24 months. This lip shade settles into the fine lines sometimes but does not usually crease.
Pros
*Affordable.
*Buildable colour.
Cons
*Hard to remove.
5. Wet 'n Wild Megalast Liquid Catsuit matte Lipstick, Rebel Rose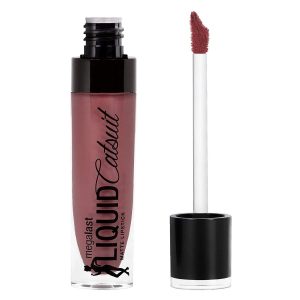 Wet 'n Wild Megalast Liquid Catsuit Matte Lipstick, Rebel Rose, 6g https://www.amazon.in/dp/B071VCF42M/ref=cm_sw_r_cp_api_i_ZMYEEbP6F3HAD
The packaging of this liquid matte lipstick is cute yet simple and you can see through the shades to avoid confusion if you own a collection of lipsticks. The lid is tight and the applicator is really user friendly. The applicator has a little curve that picks up liquid in a good quantity so that you do not have to dip it again and again. The application is quite easy with this liquid lipstick and you will not end up creating a big mess. The shade Rebel Rose is a beautiful mauve pink and will suit fair to medium complexions the best.
Wet 'n Wild Megalast liquid catsuit matte lipstick has a thin and watery texture so that it can glide on your lips easily. However, for the first few minutes, the lipstick will feel a little sticky before it settles in and gives the perfect matte finish. This lipstick is totally smudge-proof and it will not transfer easily. It will not dry out your lips and will work just fine if you do not apply lip balm beneath the lipstick.
The pigmentation is decent but requires 2-3 layers of the lipstick to bring out the actual colour. It stays for 7 hours at least and requires a touch-up only after a heavy meal. The pricing is pretty reasonable according to the quantity and the features it offers.
Pros
*Long-lasting.
*Does not dry your lips.
Cons
*Does not suit all complexions.
6. Revlon Super Lustrous Matte Lipsticks, Look At Me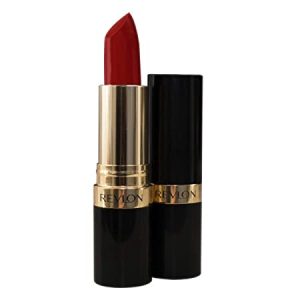 Revlon Super Lustrous Matte Lipsticks, Look At Me, 4.2g https://www.amazon.in/dp/B017HEWT7S/ref=cm_sw_r_cp_api_i_OiZEEbDWS5CAJ
The packaging of Revlon Super Lustrous Matte Lipstick is quite classy as it comes in a black tube with a golden ring. The top of the cap is transparent so that you can identify the shades easily whereas the shade name is written at the bottom.
The texture is really rich and smooth and glides on like butter on your lips. The finish it gives is a soft matte and does not dry out your lips like other matte lipsticks. The formula is light in weight and the pigmentation is incredible. You only need one stroke of the shade and you are good to go. These lipsticks also hydrate your lips while giving a matte finish.
The staying power of this lipstick is really good and stays for a solid 5 hours. Look At Me is a gorgeous red shade that is truly addictive if you once start using it. The pricing is extremely reasonable for a prominent brand like Revlon.
Pros
*Intense Pigmentation.
*Long lasting.
Cons
*None, but the packaging can be a little better for the price you pay.
FAQ's
Can Lipstick cause dark lips?
Cheap products contain harmful chemicals and may cause darkness on your lips. If you use a product that has been expired can severely harm your lips. We think that the shelf life of lipstick does not matter as long as it looks fine and works the same. But it is not so! Removing makeup before you go to sleep is also an important factor.
If you wear your lipstick even to your bed, then it may darken your lips. However, using lipsticks that are branded and dermatologically tested is absolutely fine. Just make sure to remove the lipstick properly and take good care of your lips since the skin of your lips is very sensitive.
How to apply lipstick correctly?
Just like your face needs to be prepared before you apply your makeup, your lips need special care too.
The very first step is to exfoliate your lips which can be done in various ways. You can rub the toothbrush on your lips gently to remove the dead cells or you can make your own exfoliant at home. Then, moisturize your lips with the help of a lip balm. Let the balm stay for a while so that it can settle in and hydrate your lips.
The next step is priming your lips to make sure that there are no fine lines. Primer maximizes the staying power of a lipstick and helps in enhancing its colour. You can use a setting powder or a foundation for priming your lips.
You can outline your lips with the help of a lip liner. This step is optional but is recommended for beginners who may mess up the lipstick if directly applied. Apply the lipstick, starting from the center and then move outwards. You can build the colour or apply a single stroke depending on how intense colour you want. Make sure that you keep on blotting in between to give it a natural look and this way you can avoid lipstick on your teeth.
Are lipsticks hazardous to health?
Most of the lipsticks that are dermatologically tested are absolutely safe and you can apply them to your lips. But there are some harmful ingredients present in the lipsticks that you should avoid at all costs.
Lead is one of those harmful ingredients. It is a neurotoxin that directly affects your nervous system. Heavy metals like Cadmium, Magnesium and Chromium can cause some serious side effects.
Before buying a lipstick, you can check the list of ingredients and avoid products that contain harmful chemicals in them.
What are the types of lipsticks?
There are various lipsticks available now but here are the basic types of lipsticks:
Moisturizing Lipsticks
The main ingredients of these lipsticks are Vitamin E, glycerin and Aloe Vera that will cure chapped lips and will moisturize them completely. These lipsticks are the best for people with dry lips.
Satin and Sheer lipsticks
These lipsticks are again best for people with dry lips. Satin and Sheer lipsticks give your lips a shiny and glossy look and have high quantities of oils present in them.
Matte Lipstick
Matte lipsticks are the most trending nowadays. They are perfect for every occasion and every type of lips. They do not have any shine, just a matte finish.
Cream lipsticks
Cream lipsticks are the go-to lipsticks for many women. As the name suggests, the lipstick has a creamy and smooth texture.
Pearl lipstick
Pearl lipsticks are really shiny and sparkly. These are the best when you want to go all extra. However, these feel heavy on your lips.
Gloss Lipstick
Gloss lipsticks are very popular and probably the favourite of all the girls. They give a nice shine to your lips and you can apply lipsticks and then top it with a gloss.
Long-lasting lipsticks
These lipsticks are perfect for your office hours when you do not have time for even a touch-up. They even contain moisturizer to hydrate your lips.
Best Matte Lipstick for Dry Lips
Colorbar Matte lipsticks are hands down the best matte lipsticks for dry lips. They are really smooth in application and will hydrate your lips. The texture lets your lips breathe and soothes your chapped lips. Be it winters or summers, these lipsticks are perfect for every season.
Best Matte Liquid Lipstick
NYX Matte Liquid Lipstick is considered as one of the best products in liquid lipsticks. They are placed on a little higher end of the products but it is all worth it. The range of shades available is lovely. This lipstick scores full marks in all the departments: Staying power, texture, packaging and pigmentation.
You should definitely consider buying this one as it will go a long way with you. NYX is one of the most prominent brands and we love everything about it.
Best Matte Lipstick Brand in India
L'Oreal Paris is the best matte lipstick brand in India. The brand offers a wide variety of lipstick, from matte to gloss to everything. Its matte range is quite amazing and priced reasonably. The brand is known for its incredible products and has been in the best selling list for quite some years now.
Best Matte Lipstick Brand in India under Rs.300
Miss Claire lipsticks are the best matte lipsticks in India under Rs.300. The lipsticks are extremely popular and are just like NYX but priced at a lower scale. The texture and formula of these lipsticks are really good and they give a soft matte finish. The shades available will never fail to impress you. The lipsticks are long-lasting and will even hydrate your lips. The packaging of Miss Claire lipsticks is super cute and the shades are visible from the tube itself.
Conclusion
There are endless ways to enhance your beauty. You never know when you will find your perfect lipstick unless you keep experimenting. Do your preliminary research before buying any lipstick so that you do not have to regret afterwards. There are swatches and shade cards provided by the brands that will give you a clear idea of what the exact shade will look like. If you are a beginner, pay attention to the application of your lipstick as no one likes messy lips. Go for a lipstick that will suit your skin tone and will enhance your overall looks. As it is rightly said, give a girl the right lipstick and she will conquer the world.