Best Aftershave Lotions in India in 2020: Uses & Benefits
Applying an aftershave is the first thing that you should do after shaving, especially if you have sensitive skin. It's an alcohol-based product in the form of a lotion, gel or paste, with the antiseptic agent that helps prevent infection and reduce irritation. Most aftershaves also tone your skin and prevent ingrown hair from developing.
However, not every aftershave is perfect for everybody. There are a few things that you should consider, and to help you out, we have carefully prepared this buying guide and list of best lotions that you can buy in India. Before we start, let's clarify a few things first.
Differences between the types of aftershaves
There are four main types of aftershaves, and they are all good for different types of skin. These are splash, lotion, gel, and balm aftershave.
Splash aftershave is an antiseptic that helps tighten and dry the skin and is often based on alcohol. It effectively prevents skin infection, but you should avoid it if you have dry skin, and use the ones that come with hazel instead. However, if you have oily skin, splash aftershave would be perfect.
Lotion aftershave usually has the strongest scent among all types of aftershaves. Since the scent is long-lasting, you can even use it instead of cologne. Lotion aftershave tones the skin and tightens the pores after shaving, and it's a perfect choice for oily skin.
Gel aftershave is ideal for cooling down your skin and reducing the post-shave burning. After applying, the skin quickly absorbs the gel and therefore prevents sweating after shaving. It makes it ideal for humid environments, but on the other hand, it won't be able to provide enough moisture for your skin.
Balm aftershave is a hydrating lotion with a very mild scent. It's usually alcohol-free and is excellent for reducing the effects of razor burns. These are great for men with dry skin since they come with an ultra-lubricating feature and provides proper moisturizing for the skin. However, you should avoid them if you are prone to acne.
Main ingredients of aftershaves
Aftershaves have two main ingredients: hazel and alcohol. It's important to choose aftershave with the ingredient that perfectly suits your needs. Hazel is an ideal, natural ingredient for your pores – it helps constrict them without drying your skin, and also soothes the irritated skin. Alcohol, on the other hand, dries out but also aggravates irritated skin. So, if your skin is usually irritated after shaving, you should avoid alcohol-based aftershaves.
Besides hazel and alcohol, aftershaves might also include other ingredients, such as aloe vera, tea tree essential oil, and similar. These are also good for providing a freshening effect on your skin and protect against irritation and infection. If you are looking for the best ingredient to soothe your skin, you should aim for aloe vera. It has remarkable soothing qualities, and it also lessens pain and helps heal burned skin.
Fragrance
It's essential to consider the fragrance of the aftershave, and you should also know how long it will last. It can depend on various factors, such as whether you have dry or oily skin. If your skin is dry, it will quickly dissipate. You should also consider the nature of the fragrance, such as whether it's floral, oriental, circus, or woody. They all have a specific scent that you will immediately recognize.
Another interesting thing is that fragrances are usually multilayered to your sense of smell. Therefore, there are three stages, known as top, middle, and base. The top layer is what you smell immediately after you apply it to your skin, but it doesn't last long. Right after the top layer comes the middle stage. The base layer combines with the middle and comes out last, but also lasts the longest.
Aftershave effect
One of the most vital parts is to choose the aftershave that will have effect after it's used. An effective aftershave will usually prevent future dryness and possible injuries to your skin after the shaving is complete. It should also soothe the skin and prevent any possible infections that might arise. Besides, it should have a proper chemical composition that is also ideal for sensitive skin.
Therefore, among all the required stuff, the aftershave should still be very effective for hours after it's used.
| Brand | Skin Type | Alcohol-Free | Scent | Size |
| --- | --- | --- | --- | --- |
| Biotique Bio Wild Grass | Oily and sensitive | Yes | Light | 120ml |
| Axe Signature Denim Aftershave | All Skin Types | No | Spicy, Citrus | 100ml |
| Old Spice Aftershave Lotion | All Skin Types | No | Fresh, not long-lasting | 150ml |
| Nivea Men Aftershave Lotion | All Skin Types | No | Mint | 100ml |
| Bombay Shaving Company Aftershave | All, but especially sensitive | Yes | Musky | 100g |
| The Man Company Aftershave Lotion | All, but especially sensitive | Yes | Jojoba & Mint | 50ml |
Top 7 Aftershave Lotions in India
As you have noticed, there are several factors that you should consider when buying a proper aftershave. However, to save your time (and money), we have already prepared the list of best possible choices in India. Let's check it out together!
#1 Biotique Bio Wild Grass
Skin Type: Oily and sensitive | Alcohol-Free: Yes | Scent: Light | Size: 120ml
+ Delivers superb cleaning
+ Very affordable
+ Ideal for oily and sensitive skin
− The fragrance is sometimes almost unnoticeable

Biotique is a famous company that makes skin-care products. With many satisfied customers around the world, it's no wonder why we wanted to test it out – and we were overly satisfied.
It's a unique aftershave gel that does an excellent job at eliminating redness and shave-bumps, but what we really like is that it's completely natural. Biotique Bio provides instant relief from razor burns, and while it cools on your skin, it will also provide a nourishing and soothing effect. Therefore, you don't have to use it only after shaving. You can also use it as a skin-care product that hydrates and guards your skin.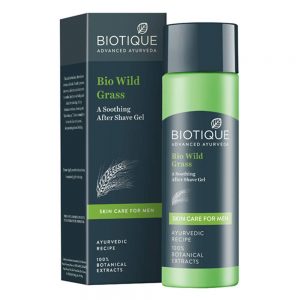 The only downside that we noticed is that its fragrance is too light, and sometimes, it's almost unnoticeable. However, apart from that, we noted a few great, positive effects that it has.
At first, it delivers excellent cleaning, leaving the skin soft and friendly. Then, it leaves a very comfortable and fresh feeling on the face after shaving – you literally feel that "coldness" on your skin. Besides, it refreshes the skin and can be used regularly, and is also ideal for oily skin. It doesn't irritate, and importantly, it gives a very effective result after usage. In the end, its light fragrance doesn't have to be considered a downside – maybe you simply don't like the constant, strong scent all around you.

#2 Axe Signature Denim Aftershave
Skin Type: All Skin Types | Alcohol-Free: No | Scent: Spicy, Citrus | Size: 100ml
+ Nice, sweet fragrance
+ Perfect for both dry and oily skin
− Can break if not handled correctly

If you are looking for a spicy, masculine cologne scent, Axe Signature is your best choice. It provides bursts of fresh citrus and keeps you energized throughout the day. What we like about it is that it leaves your skin feeling fresh, moisturized, soft, and smooth, for a long time. Besides, another great thing is that Axe aftershave is perfect for every skin! No matter if your skin is dry or oily, it will suit you perfectly as long as you like strong scents.
The only thing that we don't like about this aftershave is that the bottle is made of glass. Of course, there shouldn't be any transport problems because it's packed very well. However, if you don't take care of it, it might easily fall and break, especially having in mind that many people will use it with wet hands. Apart from that, Axe Signature is a very good choice for literally everybody who likes strong, citrus scents.
In the end, we should mention that this aftershave is very affordable, with a price lower than 200 rupees per 100ml bottle. Be sure to check it out!

#3 Old Spice Aftershave Lotion
Skin Type: All Skin Types | Alcohol-Free: No | Scent: Fresh, not long-lasting | Size: 150ml
+ Nice, retro design
+ Larger bottle than usual
− Fragrance consistency is a bit short

Old Spice is already quite popular among men. With the "Smell Like a Man" tag on the package, we were really tempted to try it out, and we were very satisfied. Besides its nice scent, we noticed that it also helps in healing tiny razor cuts and scratches that occur during the shaving. Old Spice makes your skin feel refreshed and clean, but we noticed that the skin also looks kind of healthier after use.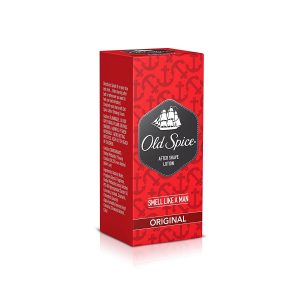 This aftershave lotion is very simple to apply, and it provides an excellent moisturizing effect. There is a special cap on top that you have to remove before use, and among all the mentioned stuff, we really like the actual design of the bottle. Old Spice was popular among our fathers and grandfathers, and it still comes with that kind of a retro look. However, we have to mention that the bottle looks a bit fragile, so you should watch out while using it.
Old Spice aftershave lotion is ideal for all skin types, and it also comes in a 150ml bottle, which is awesome. It will literally last you for months and is pretty good at removing impurities and making the skin feel healthy and smooth. Since Old Spice has provided us with excellent products for more than 80 years, we strongly recommend you to give it a try.

#4 Nivea Men Aftershave Lotion
Skin Type: All Skin Types | Alcohol-Free: No | Scent: Mint | Size: 100ml
+ Very pleasant cooling effect
+ Stimulates and tones the skin
− Fragrance could last a bit longer

There is no way you haven't heard about Nivea. It's almost 110 years old body-care brand from Germany, popular for making various oils, creams, shampoos, facial cleansers, and of course, aftershave lotions.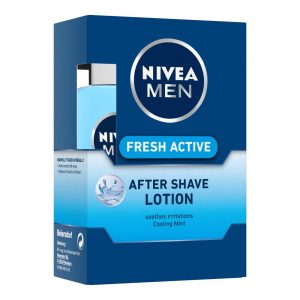 A very nice thing about this aftershave is its cooling effect. It's especially good if you often have skin burns or inflammation after shaving. Nivea Men lotion comes with a special gentle formula that cleanses the skin but without over-drying, which is the problem with many other lotions. It removes excess oils and residues, cools, tones, and stimulates the skin, and is also compatible with all skin types.
With its nice aftereffect and amazing efficiency, this is definitely a lotion that you should check out. We noticed that its fragrance doesn't last long, but if you don't find it to be a problem, you will be completely satisfied with it.

#5 Bombay Shaving Company Aftershave Balm
Skin Type: All, but especially sensitive | Alcohol-Free: Yes | Scent: Musky | Size: 100g
+ Pleasant, musky scent
+ Ultimate soothing effect and long-lasting hydration
− Quantity is a bit small

Bombay Shaving Company is definitely not as famous as Nivea. However, it doesn't stop it from making awesome, high-quality products. As you can see in the title, it's not literally a lotion, but a balm. A good thing is that we found it to be even easier to use, since it's a balm, and there are also no breakable bottles or anything similar. It comes in a simple tube which you can carry wherever you go, without the fear of breaking.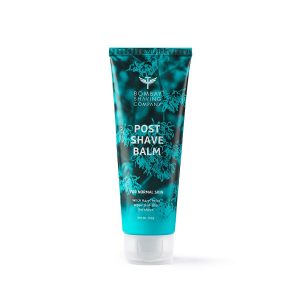 This aftershave is very mild and soothing since it is completely alcohol-free. It's ideal for people who often have skin-inflammation after shaving. What we really like about it is that it has ingredients such as papaya extract, vitamin E, and Aloe Vera, which perfectly remove post-shave razor burns and restore oils that skin loses during shaving. It leaves your skin feeling cool and pleasant throughout the whole day after shaving. Besides it's ideal for all skin types, you will also notice that it provides the ultimate soothing effect and long-lasting rehydration.
Most of the products that we reviewed come in a 100ml or 150ml bottle, but this balm comes in a 100g tube. Although it might seem to be quite similar, if not used properly, it won't last long.

#6 The Man Company Aftershave Lotion
Skin Type: All, but especially sensitive | Alcohol-Free: Yes | Scent: Jojoba & Mint | Size: 50g
+ Jojoba & Mint combination is awesome
+ The best when it comes to freshening effect
− A bit pricey

The first thing that we noticed about this aftershave lotion is its price. Paying 350-400 rupees for a small, 50ml bottle really seemed too much, but after seeing numerous positive reviews, we decided to give it a try.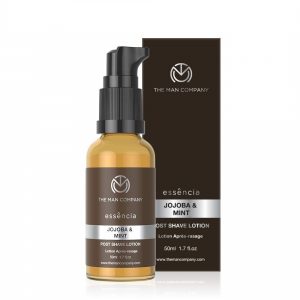 Although we thought that the company is not very popular, it turned out that many people in India use this product. It's made of 100% natural essential oils, and it perfectly moisturizes the skin after shaving, while still maintaining the perfect oil balance after shaving. Besides, it's perfect for all skin types and provides a cooling and calming effect that prevents acne, skin burning, and infections. Another nice thing is that it has jojoba and mint extracts, which provide a unique, very pleasant smell, for a long time after applying. We can confidently say that, when it comes to freshness, this is probably the best product that we have ever tried.
The lotion comes in a very handy plastic package and is not prone to breaking. There is a special kind of "cap" on top, which allows for very simple use. After testing this product, we were tempted to test a few other products that this company makes, and they are all awesome. If you don't find its price to be the problem, be sure to check it out! There are also various discounts for ordering more items, and the company offers free delivery if your order value is over Rs. 500, which is very nice.

Best Aftershave Lotions in 2020 in India
Best Aftershave for Ingrown Hairs
If you often have problems with ingrown hairs, we strongly advise you to check out Marlowe aftershave lotion. It can be used for both men and women who have problems with ingrown hairs.
Best Aftershave Lotion in Spray Format
Some people find it easier to use aftershave lotion in a spray format, and it is. If you are no different, we recommend you to check out Old Spice that we reviewed. Besides a very pleasant scent, you will also get a very nice bottle with the spray cap, which allows a much simpler use.
Best Aftershave for Acne
If you have acne problems, you should get an aftershave with hazel. It effectively cleans bacteria, such as the ones that cause acne. The best hazel aftershave lotion that you can get is the one made by Bombay Shaving Company. It comes at a reasonable price, has no alcohol, and leaves a pleasant scent.
Best Smelling Aftershave Lotion
What one person finds to be a nice smell, some other person won't. However, we assure you that you can't go wrong with Old Spice or any Nivea product. Be sure to give them a try!
Best Ayurvedic Aftershave Lotion
Ayurveda is a special system of medicine that originates from India. It has numerous benefits for our skin and health overall, and if you are looking for the best ayurvedic aftershave lotion in India, you should check out Biotique Bio Wild Grass that we reviewed.
FAQs
Is using an aftershave lotion really necessary?
Obviously, there are people who never use aftershave products, ever. On the other hand, if you want healthy skin in the long-term, with no irritations and redness, aftershave lotion is a must. Especially if your skin is sensitive. Not using a proper aftershave will lead to frequent skin-related problems after shaving.
Should I wash off aftershave lotion after using it?
Washing the lotion off is what many people do, but shouldn't. The fact is that lotions have numerous positive effects on your skin, and most of the time, those effects last for long. So, if you wash off the lotion, you are literally preventing it from calming and nourishing your skin for the next couple of hours later.
How to use aftershave properly?
There is only one way to use aftershave lotions properly. After you finish shaving, you should rinse the face and dry it with a clean towel, although some people make a mistake by leaving the face wet. After your face is completely dry, then you should apply the lotion. First, pour it out into the palm of your hand, rub your hands together, and then apply the lotion to your face. As simple as that.
Conclusion
To be clear, all the aftershave lotions that we mentioned are super great. Most of them have a nice, pleasant scent, and provide numerous positive effects for the skin. However, having all that stuff in mind, we can conclude that our top pick is Biotique Bio Wild Grass aftershave lotion. It's very affordable, and ideal for irritations and all types of skin. Be sure to check it out!
Have you tried any of the products that we mentioned? Please let us know in the comments below.