Cakey makeup is the most horrible nightmare in any woman's life! It can ruin a special date, wedding and other important occasions. And sometimes, it becomes impossible to redo makeup once it goes cakey. So, learning to fix cakey makeup saves the date. And no more hiding the face on the group photos! Here you will get some useful tips for fixing cakey makeup anytime and anywhere.
Why do you end up with a cakey face?
Certain tools, techniques and products can help you to make your everyday makeup flawless! So, cakey makeup is the result of using improper techniques. If you do not know about using makeup products, then your makeup base might not last as long as it should! So cakey makeup does not mean that you have applied tons of products. It means that you have used a lot of products without knowing the right way of the application! No more cakey face after you get to see the makeup tricks that work!
Useful makeup tricks to know
After following numerous blogs and research on cakey makeup, we can say that gather some makeup tools before buying makeup products. Yes! You heard that right! Because tools are the magic wands to create a smooth makeup base. And the base is everything in makeup. The pro-makeup artists also agree with this! Once the base sets in the skin, you are halfway done with makeup! Most of the cakey makeup breaks after a few hours of application for improper application of base makeup. However, it sounds weird but true!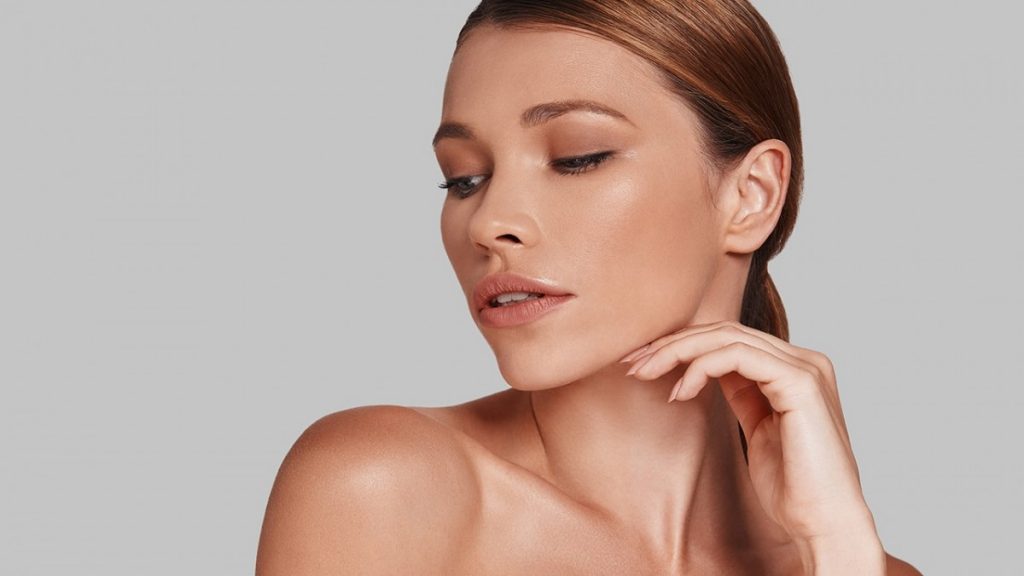 1. Makeup tools
Good quality makeup tools and kits are worth investing in. Makeup brushes and sponges are the superstars behind the flawless canvas of makeup! So, first, buy good quality stippling brush, blending brush, powder brush, concealer brush and beauty sponges.
2. Makeup products
An impulsive shopping spree sometimes ruins the daily makeup skills! You admit it or not, we all love to shop when there is a sale going on! And that time we buy makeup products that are not suitable for us! Not all products are meant for everyone. Buying makeup items should be as per the skin type and the look you want! So, it is better to buy such stuff mindfully and as per your requirements.
The application of such makeup products is equally important as applying the right product. It is about the quantity of the product and also the technique to follow! Using too much makeup product can result in a cakey face in no time. And in the same way, if you apply an insufficient amount of product, you will be far away from the desired result.
Here are some must-have makeup products for flawless base makeup.
Primer is the invisible base for a smoother base makeup! It keeps the possibility of having a cake-face at bay! Choose primer according to your skin type. If you have oily skin, then choose oil-free water-based primers. It helps to hold the foundation for a longer period. And if you have dry skin and dry patches are visible under the foundation, choose hydrating ones!
Hydrating primers moisturises as well as fills up the wrinkle lines. It prevents the foundation from settling in the fine lines. So, what are you waiting for? Go and grab the best primer.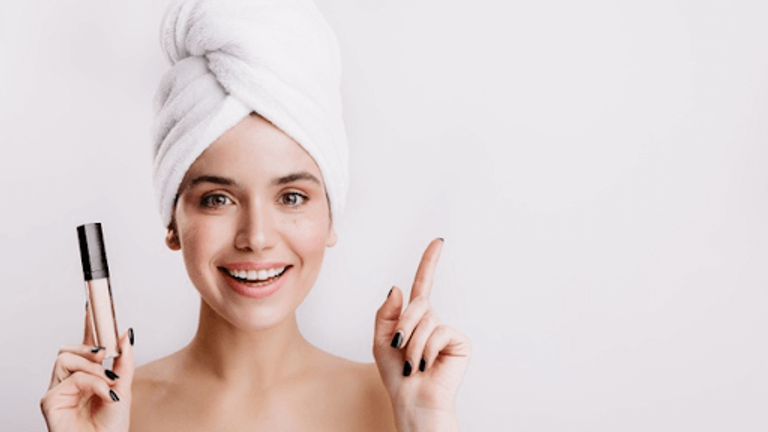 A long-wearing foundation helps to prevent cakey makeup. It is essential for every makeup lover! Avoid oil-based foundation if you have oily skin. Matte foundation is more suitable during hot and humid summer days. So choose accordingly! Use a flat foundation brush to apply on the face. Then blend it with a damp beauty sponge or blending brush. Blending is the key to set the foundation. Lastly, use a foundation that matches your skin tone. Using a foundation that is too light or too dark is inappropriate.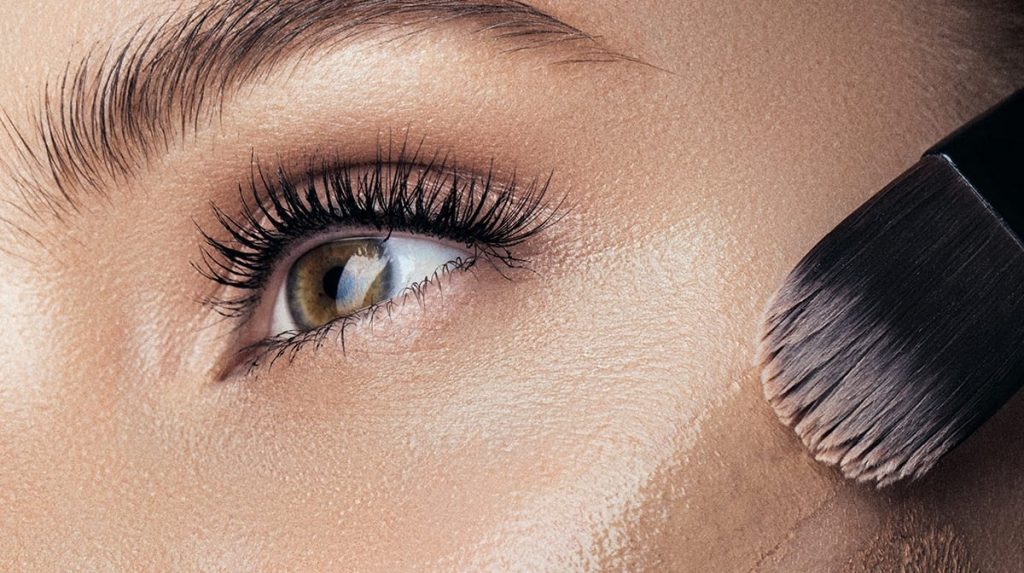 We all have the secrets of the dark circles! But the world should not know its reasons, and it is better to hide on special dates. Concealer cakes up when it does not set properly. Use a long-wearing concealer with a damp beauty sponge or concealer brush. Then bake undereye areas with a translucent powder.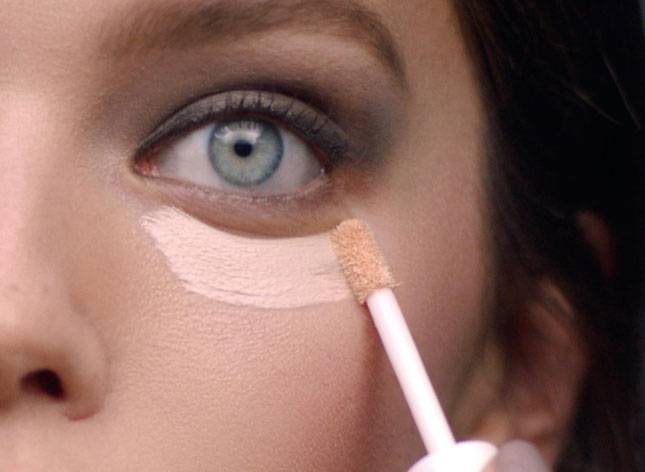 Set the face with a large powder brush and loose setting powder. You can use translucent powder or powder with a little tint for setting the base makeup.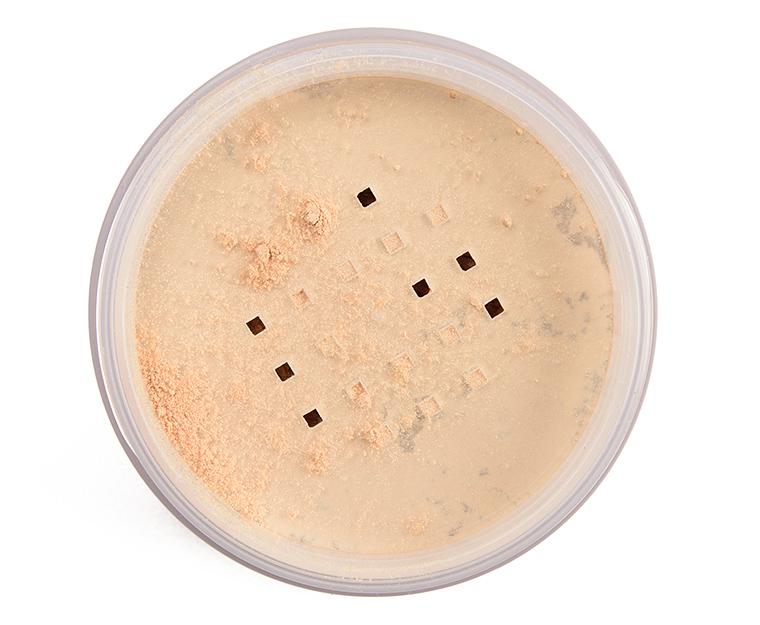 A makeup fixing spray does the job of setting every makeup into the skin. And it helps to make a skin-like finish!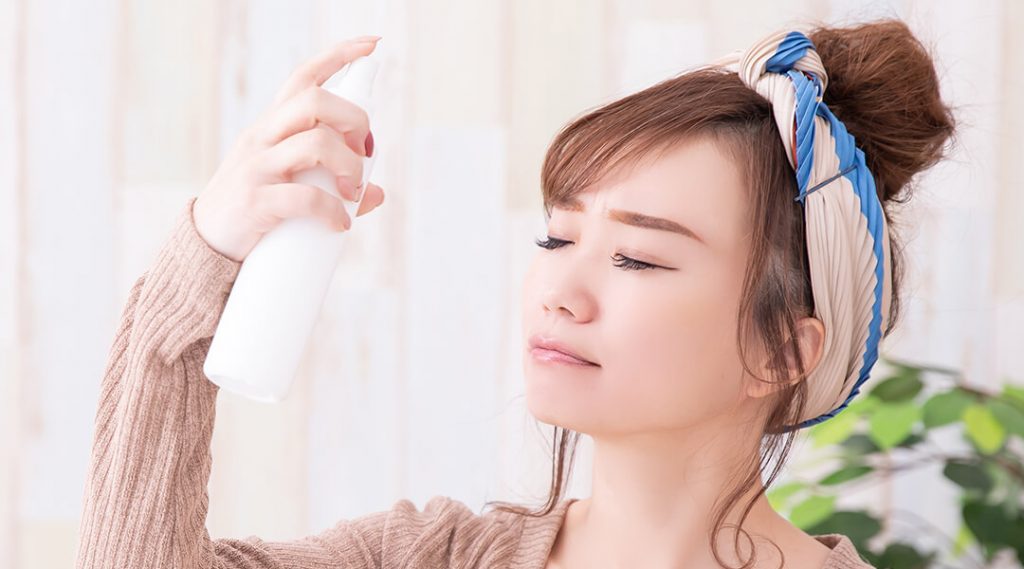 Pro-tips to fix a cakey face on the go
Imagine being on a party night with a cracked foundation on the smile lines or visible pores on the nose! We know how pathetic it sounds! So, here are some pro-tips to set the cakey makeup that you can do even outside the makeup room. But make sure to keep the essentials in the purse before you step out for a special occasion.
1. Damp beauty sponge: the secret tool
If you are still unaware of the secret tool of makeup fixing, then you are at the right place! Carry a damp beauty sponge in the purse to set makeup anywhere. If you carry a dry sponge, then wet it in normal water and squeeze the excess water. Now the sponge is ready to use to fix the cakey areas of the face. Dab the sponge lightly on the cakey areas. But do not press hard to blend stuff; otherwise, you will end up looking like a clown!
2. Loose powder: the saviour
Loose powder is the saviour to set the visible pores and fine lines. Your face looks patchy and cakey for these small imperfections on the skin, and having these makes you a human being! No one has a skin of plastic and having flaws is perfectly fine! But hiding these on a special date is what makes you look like a divine beauty. And loose powder works magically to settle such unwanted imperfections. The translucent powder works best as it does not highlight any area and melts into the natural skin tone.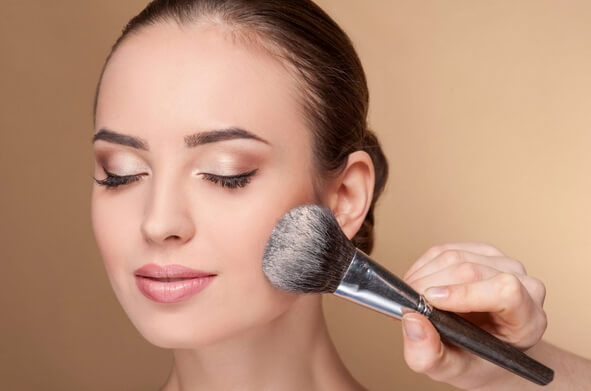 3. A compact foundation: the touch-up master
Carry a compact foundation that provides decent coverage. It is easy to apply even outdoors as there is no need for excessive blending. If you see any area of the face that has signs of cakey makeup, then blot the area with blotting sheets or even tissue paper. Then dab some compact foundation with a damp beauty blender or powder brush. And you are good to go!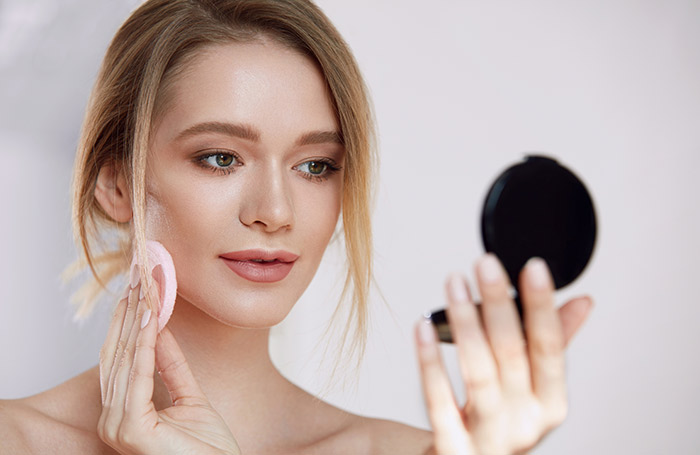 4. Blending brush: the magic wand
Do not forget to carry a blending brush in the purse. A blending brush is ideal for powder foundation. You can also apply a liquid foundation with a blending brush. If you use a sponge to blend a foundation, then skip using a blending brush. After applying the foundation with a sponge, you can use a blending brush to dab the loose powder on the cakey areas.
5. Makeup fixing spray: the game changer
Now fixing the cakey face is over. But you would never want to see a cakey face after a few hours of fixing everything in place! So, here comes the game-changer, the makeup fixing spray! Mist the spray all over the face generously after fixing the makeup. Allow it to dry till it settles into the skin. Please do not touch the face until it is dry to touch!
6. Blotting sheets: the untold hero
Keep the blotting sheets handy so that you can blot the excess oil after a few hours of touch up of makeup! It is going to save the makeup for the rest of the day. And no more worries!
Did you ever think of the reasons behind cakey face makeup? A cakey face is a result of using too much foundation and concealer. And not only that! It is also because you do not wait between the makeup steps so that every product sets in the skin. The golden rule of doing flawless makeup includes the following steps. If you follow the steps one after another, then the result will be excellent!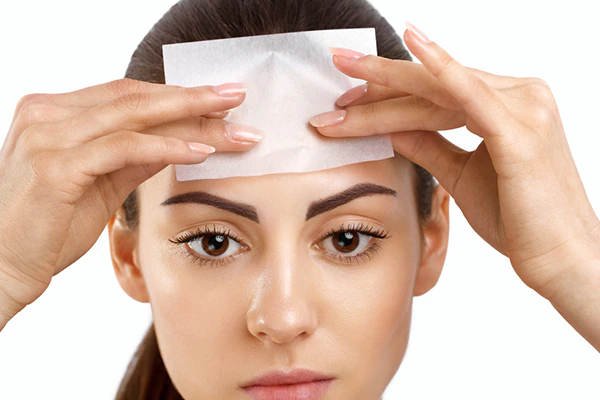 Skincare products
Eye makeup
Concealer
Loose powder
Rest of the makeup, including lips, cheeks and so on!
Makeup setting spray
Concluding thoughts
Skincare is as important as doing makeup to look gorgeous at every event. It is difficult to avoid a cakey face if you have dry skin, blackheads, too many visible fine lines, crows feet, and many more skin issues. So, prep the skin with the right skincare products to make a smooth canvas for applying makeup. And stop using too much makeup to hide imperfections because it leads to a cakey face in the middle of the day. Now enjoy smooth and gorgeous makeup every day as you know how to fix the cakey makeup!