5 Colorful Nail Designs For Short Nails
Nail arts are trending all over Instagram posts nowadays. And if you notice the trend, you will see the new styles on the short nails are setting the buzz! It means there is no worry when you are not a fan of long nails. Most of the women are lovers of short nails as it is easier to maintain. And if you have weak nails and it takes forever to grow, then short nails are the only option for you.
Now we can sum up that having short nails is not out of fashion! Rather it has a clean and aesthetic look that suits everyday outfits. So, let's get into the sizzling and colorful nail designs for short nails you have never heard of!
Check out these colorful nail designs
The onset of the short nails trend==============================================================================================================================================================================================================================================================================================================================================================================================================================================================================================================================
Most women prefer having short nails. It is because short nails are comfortable when you do any job with your fingers! It may be your daily chores, desk job, artwork, or even doing makeup! Some women tend to get an infection around the cuticles after keeping longer nails for a prolonged period. And doctors also recommend keeping nails short and clean! Moreover, after the massive spread of the pandemic Covid-19, short nails are back for hygiene purposes!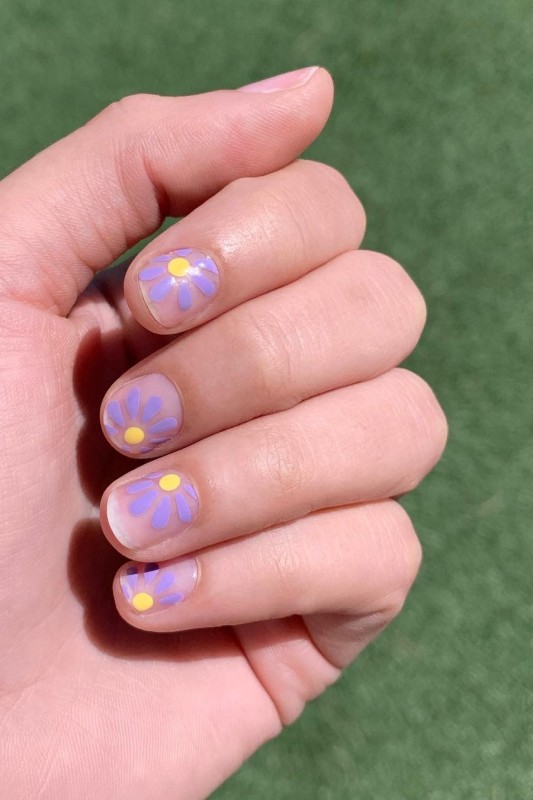 Five colorful nail designs for short nails
Now we are heading towards the discussion of colorful nail designs that complement short nails. Colorful short nails are the new style to keep your manicure eye-catching! With colorful short nail art, you will get immediate attention during board meeting presentations, wedding ceremonies, Friday house party or even at a college fest! Do you know why? Because it looks strikingly attractive among the crowd of the boring long nail arts! So, break the boredom with these unapologetically beautiful short nail art styles.
1. Half-moon pattern
Half-moon style is a trending nail design that you can create on short nails easily! It is a game-changer if you consider the style-theory of the millennials and youngsters. We often look for a typical French manicure before any corporate occasion or formal meeting. But the buzz of the French manicure has got a new dimension with Half-moon nail art. Here you get many color options to choose from, unlike the conventional French manicure. And short nails look clean, simple yet sophisticated with such attractive nail designs.
The versatility of the Half-Moon style has made this a great choice for the young generation. You can add a glimpse of glitter to set a party style on the nails. And you can also go simple, like with two basic nail paints just to design the Half Moon shape. And some nail artists are showing Half Moon shapes even with watermelon and orange patterns! It depends on the choice and preferences of the individual while choosing the colors and vibrancy of the designs. But overall, Half-Moon is a decent choice for almost everyone as it provides the liberty to shift from sober to gorgeous colors!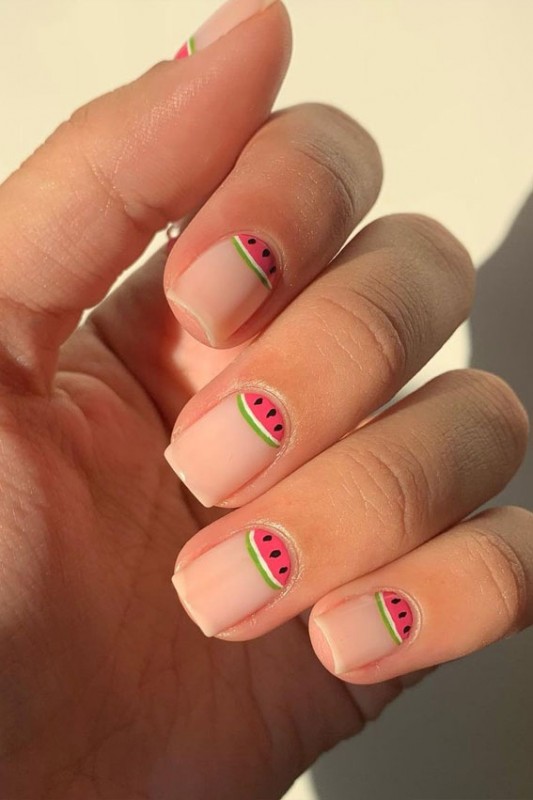 2. Ombre nail art
Ombre nail designs are the new sensation of nail salons across the globe! Ombre nail designs are fun! It creates an illusion of longer nails with gradient colors. And your fingers look adorable with such designs. Most of the time, women feel scared to use dark nail paints on short nails. Because dark nail paints make the nails look shorter! But now, there are no worries as you can even choose bright colors to create an ombre design. There is a new trend of French ombre nail art with sophisticated, classic French nail colors and veneer. It looks posh and magnificent too! But you can choose brighter shades like pink, purple, yellow, orange, and so on for Ombre nails. Pastel colors are into fashion with such nail designs. And pastel shades look cool on short nails.
Doing Ombre nails gives you the freedom to add on any other minute details. Like you can draw flowers, metallic designs, or something cute on the accent nail finger to highlight the style. Ombre nail art alone looks pretty magical. It goes with various choices of dresses and styles. It is also an apt choice for aged women who love no-fuss nail designs. And ombre nail art is not so difficult. You can do it alone at home with a few tools and a sponge!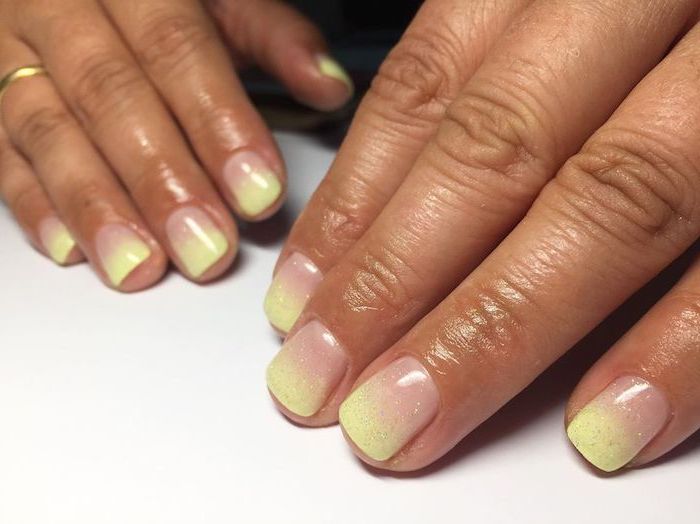 3. Emoji
Are you someone who loves something cool to flaunt? Are you fond of funny and cute emojis and use it all the time? If you have answered 'Yes,' then this nail art is for you! Emoji-inspired nail designs are minimalistic yet catchy. Such nail designs can be mood-lifters when you are going through a bad day! Looking at the adorable faces of the emojis diverts the mind in the coolest possible way. And the good thing to note is that it is a basic level nail art. So, you can try these designs at home.
Choose fresh and bright yellow nail paints for the base color. And for drawing the emoji faces, you can choose accordingly as per the requirements. Some people try emoji designs on white, black, or something else instead of the typical yellow shade. But we can assure you that the yellow shade shows a hint of sunshine on a gloomy day! It is bright and vivid. So, choosing yellow will be the best for you!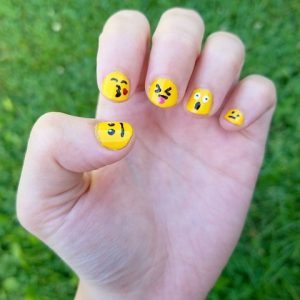 4. Flower and petals
Floral patterns on nails are never out of style! Flowers and petals look serene and aesthetically pleasing to the eyes. You can try such floral designs on short nails with light pastel shades over bright nail paint. Otherwise, you can choose soothing nail paint as a base color and make bright flower patterns on it. So, it is up to your choice what would be the design. This nail art suits with spring-summer fashion. And it also gives a beach vibe! So, if you are about to fly to a beach destination, get this nail art quickly to look the best!
Most of the time, we have the least time to have our manicures done. And this is why we do not pay much attention to nail arts. But flower nail arts are time savers. They give a fresh spin to the short nails. And you can try this at home too! You need basic tools for this, and even a bobby pin can do the job! We know that you are going to love it.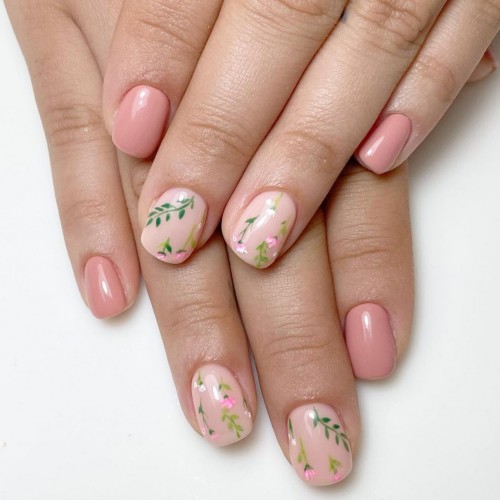 5. Animal print design
Animal print is reigning in the fashion industry. We see it everywhere nowadays! You will find animal print fashion from the red carpet to the college fests! So, why not try it on nails? Animal print nail arts look expensive! And you can do it on all nails or give a touch on accent nails for attraction.
The precision of work is the primary stuff while doing animal prints. Animal prints are commonly seen in beige, brown, yellow, and black colors. But manicurists are experimenting with purple, blue, and other offbeat hues to set a new trend.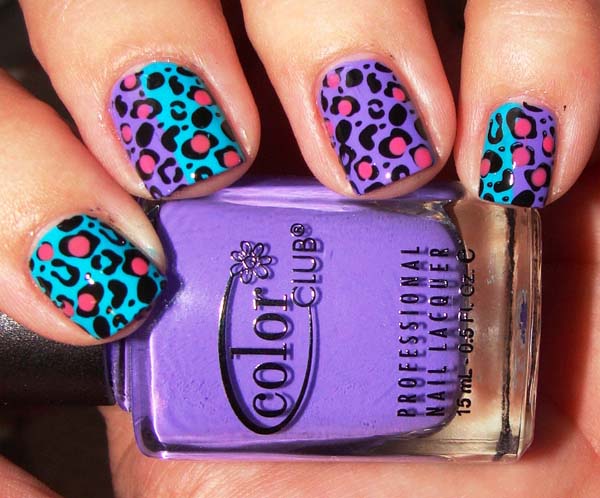 Things to keep handy for nail art
If you are interested in doing nail arts on your own, then grab these products before trying. These are going to get you a beautiful nail art than ever before. We know this sounds interesting! Here you go with the details.
1. Nail filer
Shape up the nails. Give a clean, uniform look to each nail.
2. Cotton balls
Clean up nails with cotton balls. A clean surface makes it easier to work.
3. Nail polish remover
Use a nail polish remover to clean the nails. You can also use it for cleaning the edges after a manicure.
4. Basecoat
Start with a base coat. It provides a smooth base to the nail paint.
5. Nail polishes
Choose nail polish as per the choices. It depends on you!
6. Topcoat
A topcoat is essential to make nails shinier. It protects the nail arts too. And fast-drying topcoats are true friends of busy women!
7. Nail art tools
Grab some nail art tools. By the way, you can use a toothpick, bobby pin, sponge, and so on when you do not have tools handy!
8. Q-tips
Clean the mistakes with a Q-tip dipping in a nail polish remover. Q-tips are cheap and easy to get!
9. Hand cream
Finish the nail art with hand cream. Apply it after drying the nails.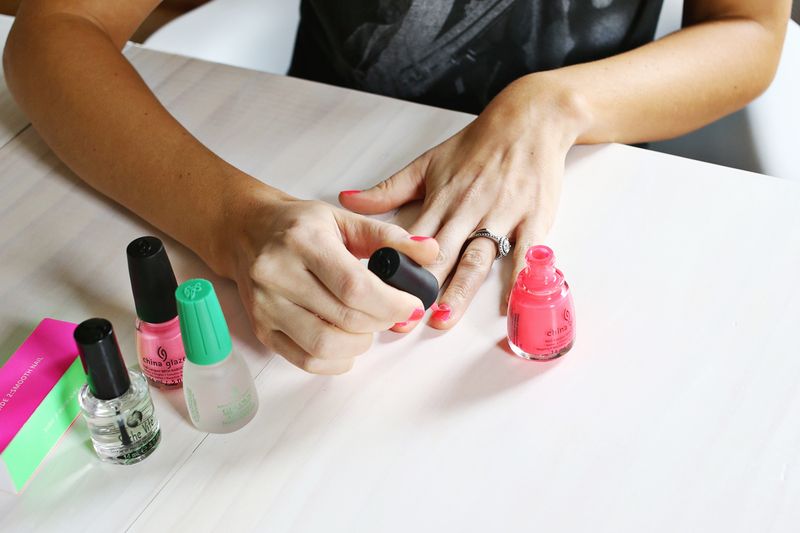 Finally
You can try these five colorful nail designs for short nails anytime at home. But before trying any nail art, take good care of the nails. If you have dry cuticles and nails, then use cuticle oils and hand creams regularly. These awesome nail arts are great to try on any occasion. You can choose your favorite ones from this range! Take a break from your regular nail paints now!