10 Coachella 2020 Fashion Trends & Outfit Ideas
Coachella is the one-time street style meets high fashion and something utterly extraordinary is born. Gone are the days when this boho festival was all about denim cutoffs and fringe bags. Coachella 2018 pulled out all the stops and we saw beautifully printed kimonos, embroidered denim shorts, and even minimalist styles.
Check out these amazing trends that cemented the Spring Summer line for most brands thanks to this year's Coachella festivities –
Floral Vibes
This outfit by @emmasedition perfectly encapsulates the floral trend that was a common sight this Coachella. Here, it has been styled with color blocked flats in peachy coral while the forest green jewel-colored romper is allowed to shine. You can go for something off the shoulder like @emmasedition or play on the existing summer spring trends like bell sleeves.

Style Tip: This outfit is a great way to show restraint and let the trend speak for itself. You don't need to overload your outfits this Spring/Summer 2018 with too many accessories. Less is more when it comes to fashion.

Outfit Details – Floral romper styled with tie up flats, a bracelet, and classic sunnies.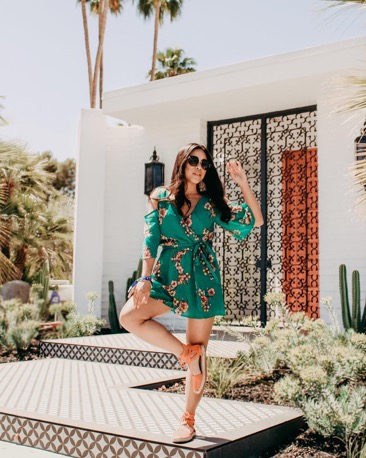 Mermaid Goddess
If you thought the mermaid trend was old news, think again! As shown by @gabbyepstein here and various other Coachella goers, the Mermaid trend is alive and kicking in all its glory. This look, for instance, has a central color theme – cotton-candy pink. The cute bubblegum hair braided in fishtail braids is set against the over the top outfit which still manages to look extremely balanced. From the metallic belt and chains to the color shifting flash tattoos, this outfit is a winner.
Style Tip: If minimalism isn't your thing, this over the top outfit will definitely speak to you. It's a masterclass in knowing which accessories go together and having a central color theme helps to draw the eye to all the details.
Outfit Details – Body chains in bronze and gold, cotton candy hair, flash tattoos on the face and neck, matching lycra bottom and bandeau top in pink.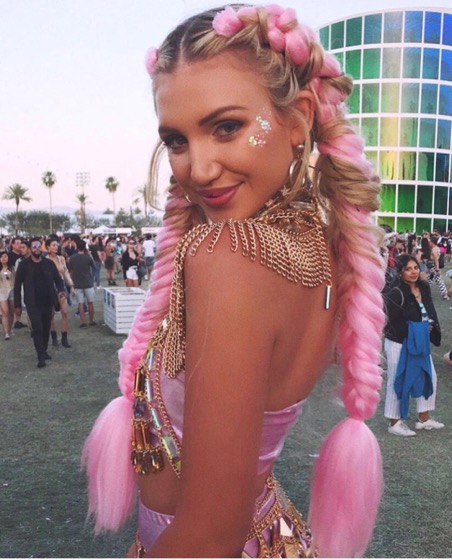 Cali Gal
If cut off denim shorts didn't make at least one appearance at Coachella, the fashion police would be mind boggled. Here, the cut off distressed look is elevated to look sensual and feminine by @ashleysarahaas who's playing up the crochet, denim, and long summer jacket combo pretty well. Styled around a baby pink palette and with floral accents, the long fringe jacket adds silhouette to the look. The simple crossbody leather bag and pendant necklace further enhance the #CaliVibes in this outfit.
Style Tip: This is the perfect "rave to lunch" look and can be styled up or down, depending on the kind of fashion statement you're trying to make. Use more accessories like chokers to add an edge to this outfit or tone it down – it's fun, flirty, and oh-so-summer!
Outfit Details: Simple stacked band bracelets, baby pink crochet top, floral fringe summer kimono, cut off denim shorts, cowgirl hat, and pendant necklace.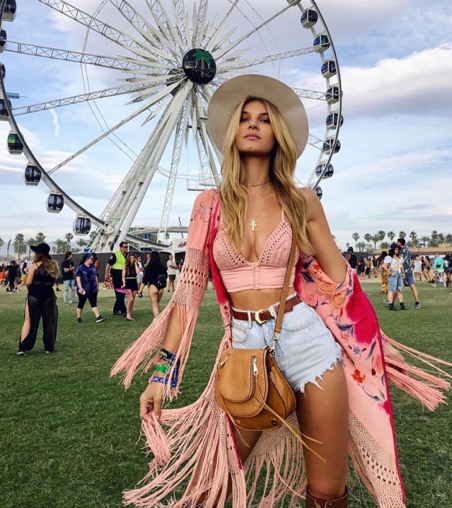 Rave Chic
Raves and festivals like Coachella can sometimes bring out our inner Anna Wintour which means that even when you're not trying, you can sometimes be too hard on your outfit. In this look at Coachella 2018, @xeniaoverdose shows that one statement item in your outfit is enough to turn heads. Playing with the silver white vibe, this outfit is quintessentially rave chic. The voguish doily miniskirt is understated because the limelight definitely belongs to that gorgeous chainmail bralette top!
Style Tip: If you're trying to style a chainmail dress or top, this look has several pointers on how to nail your outfit. Neutral pieces with textural elements give the top the credit it deserves while still giving a very put together "I'm going to a rave" end result.
Outfit Details: Chainmail top, backpack, choker style layered necklace, doily miniskirt, and bracelet.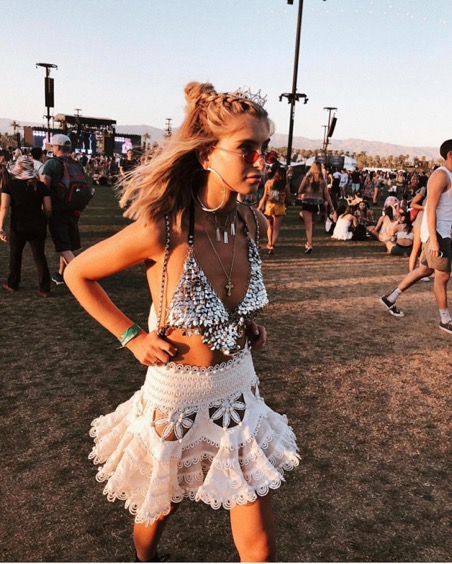 Maximum Boho
Playing up on the currently trending floral patterns in the fashion scene, @_emilytom proves that even a comfortable maxi dress can be perfect for a festival like Coachella. With a simple floral pattern, this dress lends itself to easy styling and all day comfort in the sweltering heat of the desert. Styled with tan booties, sunnies, and a stylish watch, it's an outfit that would work for many a glorious lunch dates and raves.
Style Tip: Boho is the end game for most Coachella outfits but you don't need too many patterns clashing with each other if you're someone who likes to keep it simple. A beautiful and fluttery maxi dress styled with cute boots and accessories can look as good as extensively complicated looks, given the right styling.
Outfit Details: Floral maxi dress with off shoulder sleeves, tan boots, stacking bracelets, sunnies, and classic watch.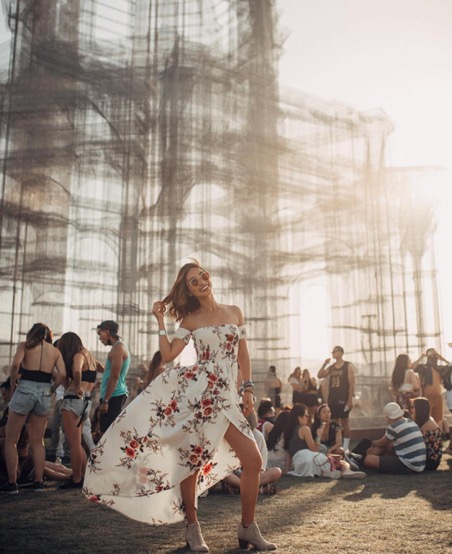 Minimalist Diva
Too many colors can be difficult to style and @imnotsorrydarling is definitely not in the mood to play with complicated outfits in this Coachella look. With a white zippered playsuit in denim and a v neckline, the outfit is kept minimalistic. She's styled this playsuit with some boots that are comfy to be walking around all day. Add a cute sailor cap like @imnotsorrydarling and you are ready for that diva look!
Style Tip: When going minimalistic, stick to 2 colors and keep your accessories in that color zone. In this outfit, for instance, only black and tan make an appearance which adds gravitas to that white jumpsuit.
Outfit Details: White denim playsuit, tiered necklace, beaded bracelet, sailor cap, tan boots, and fringe fanny pack.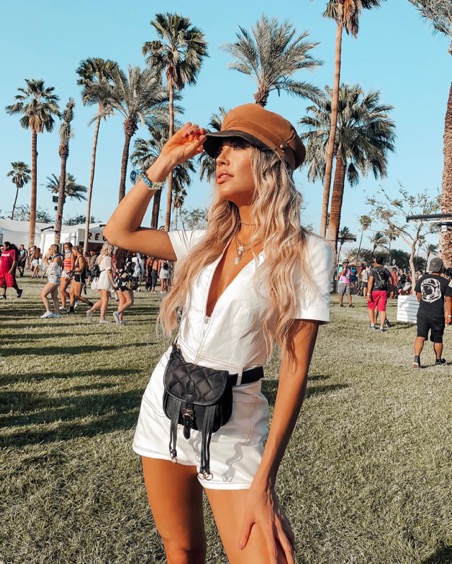 #Beychella Street Look
Beyonce wasn't the only person playing the sporty and casual street chic vibe this Coachella. Comfortable looks have been quite a trend on the festival season this year and this one from @lisadengler is no different. She has styled some basic distressed denim shorts with an understated bishop sleeve floral top. Accessories are minimal with the chrome aviators in gold adding some desert charisma to the look and a simple white crossbody clutch. Footwear can be boots or sneakers to finish off this gorgeous look.
Style Tip: If comfy is your mantra when you visit festivals and raves, stick to the simple shorts & top combo but keep it interesting with prints and texture, like @lisadengler and her floral magic #Beychella street look.
Outfit Details: Bishop sleeves top with floral embroidery, distressed cut off denim shorts, white crossbody purse, gold chrome aviators, pendant necklace, and metal bracelets.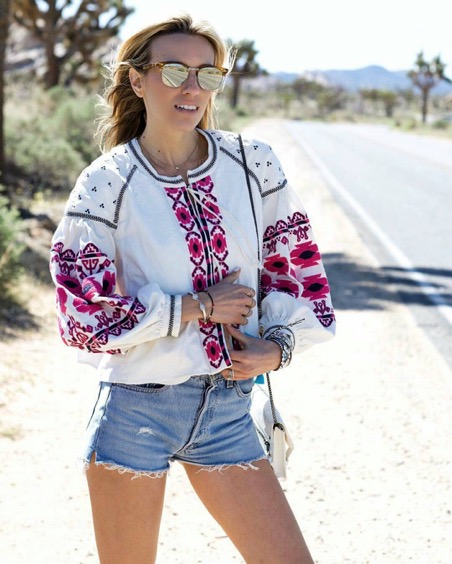 Racy Lacy
With lace making such a huge comeback on the runway, it's no wonder that Coachella saw a lot of it and in such innovative styles as well. No longer the bridal look of choice, lace is not festival'tastic and this look from @naila with high waist shorts and a matching crop top set proves that. Styles with effortlessly voguish boots with coin detailing, there isn't anything that doesn't work in this outfit. Change the shoes and you have a party outfit ready, put on a jacket and it's an evening ensemble ready to floor all.
Style Tip: With set outfits like this, you can go all out with your accessories. As shown here, @naila has kept them to a minimum but a fringe handbag or a backpack, kimono with prints, and loads of cute stacking bracelets can work wonders to elevate a simple look like this one.
Outfit Details: White lace crop top and shorts set, stacked bracelets, coin work boots, white bikini set underneath, and pastel cat eye sunnies.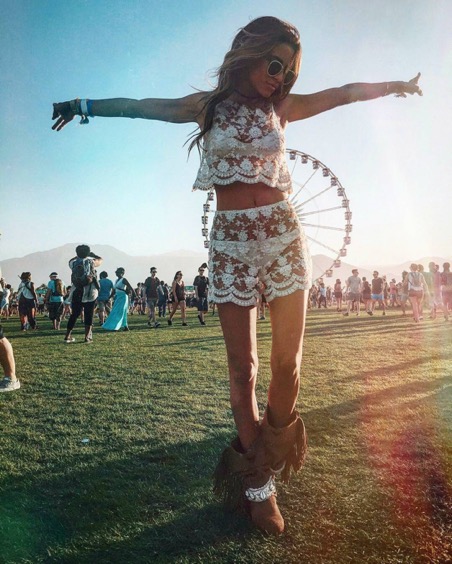 Color Blocked Hippie
You can't go wrong with a feminine and chic dress like the one donned in this picture. The vertical flamingo pink and rust stripes create the illusion of height and the simple rope belt further accentuates the romantic overtones of this outfit. It is styled with oxford shoes, a matching rust choker, and a cowgirl hat to protect from the sun. It's a gorgeous rave look that is casual and comfy but in no way something that would be overlooked.
Style Tip: With slit maxi dresses like this one, a great way to dress up or add glamour to the outfit is by using stockings. Oxfords work great with this look but strappy sandals or pom pom flats would also look beautiful if you're trying to enhance the hippie aspect of this outfit.
Outfit Details: Slit maxi dress, straw panama hat, velvet choker, pendant necklace, rope belt, and Oxford shoes.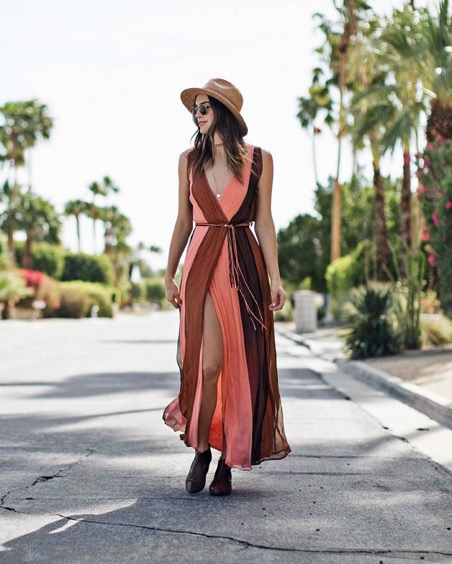 Belle of the Fest
Several 60s and 70s styles from the hippie era have made a comeback in recent years and bell bottoms are one of them. Love 'em or hate 'em but this style is here to stay for Summer 2018. In this gorgeous look by @jessimalay beautiful printed bell bottoms are given a style upgrade with a belt and a gorgeous crop top. The pants are definitely screaming for attention and the other neutral elements of the outfit are making sure that they get it!
Style Tip: Bell bottoms immediately draw the eye to themselves so it's important to full @jessimalay's example and keep everything else toned down. They can also be styled with a basic tank for a casual look.
Outfit Details: Grey printed bell bottom pants, black crop top, double buckle belt, fringe handbag, peep toe sandals and classic sunnies.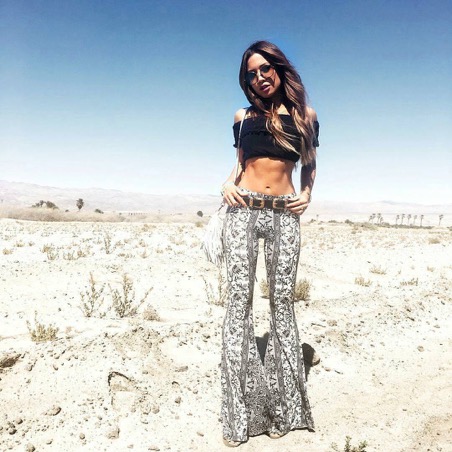 Expert Tips to Stand Out in Coachella & Other Fests
Do you ever wonder why bigger fashion websites and Coachella centric instagrams feature a select few styles and not others? The reason is innovation – Coachella and other fests are all about looking different and letting your inner style goddess come through. That doesn't mean you can't get a little inspiration from trends but remember – you do you!
Here are some amazing expert tips from festival goers and styling geniuses that stand the test of time –
Look Towards Small Brands – Mass produced is out but more than anything else, generic is never trending. Smaller brands not only put more effort towards innovative styles but they also have a keen eye on the festival scene. Brands like One Tribe Apparel, Offbeat Cuts, Mali Pah, etc are smaller and have gorgeous clothing and accessories that would not be commonly seen on the festival circuit.
From kimonos and harem pants that help in elephant rehab and rescue to handmade bags that support local artisans and create employment, these smaller brands bring their own unique twist to existing prints and patterns. Plus, it doesn't hurt to support brands that are doing some good in the community.
Upcycle Your Wardrobe – If you have access to a talented local boutique that offers upcycling services or are a savant with the sewing machine yourself, you can turn your existing wardrobe into a wonderland. From a basic jacket becoming Beyonce'worthy to old washed out denim turning into amazing distressed shorts, there is no limit to upcycling your current wardrobe.
Lay out clothes that catch your eye and rifle through your Marie Claire to find out the trending styles on the ramp right now. You would be amazed at the money you can save by upcycling. The biggest upside to this approach is – no one else would be wearing what you're wearing!
Wear Your Outfits Before Your Fests – A lot of people make the mistake of wearing their festival outfit for the first time during the festival itself. There are so many issues that can come up with this approach that almost no expert suggests it. While you're not Kim K and can't have a tryout session with your designer, your friends can be amazingly accurate when it comes to your outfits.
So take your festival outfits out for a spin before the big day itself and wear them to a simple lunch date or a party to test them out. Are the shoes comfy enough to be worn all day or do they hurt your feet within hours? Is the dress prone to wrinkles within hours or does it stay smooth after hours of wearing? Do your shorts keep bunching up and causing you discomfort? Questions like this would be answered when you wear your outfits before your fests.
Don't Underestimate Accessories – No matter how out there your outfit is, accessories maketh or breaketh your look. If you're going for an understated look, stick to small pendant necklaces or chokers, a basic bag, and comfortable shoes. If you have a simple outfit, you can go gaga over accessories to amp up your look. Look for big fringe bags, metalwork boots and shoes, pom pom sandals, bracelets, layered statement pieces, rings, anklets, body chains, and so much more.
If you're on a budget, it's also cheaper to invest in a bunch of cool accessories than shelling out hundreds of bucks on an outfit. Again, smaller brands have some pretty festival'worthy stuff in the accessories department that you should check out.
Look For Trends From Last Decade – It's a well-known fact in the fashion industry that trends repeat themselves every couple of decades or so. For instance, the choker trend from the 90s made a comeback last year and is still going strong. So, when you're planning your outfits, look towards the last decades and the trends that were big during those years.
The best way to do this is to grab copies of Vogue and Marie Claire from that era and check out the main style elements that the models are donning. You can also check out celeb pictures from those years to nail down the major fashion influences and model your outfit accordingly.
Remember the Importance of Comfort – If you're going to a fest, you cannot forget that you would be out there in the sweltering heat amongst throngs of people. If your belt is too tight or your shoes give you shoe bite, you would not be able to enjoy yourself and it will ruin your entire day. So, remember that comfort plays a big factor in picking the right outfits for festivals like Coachella. And don't forget to pack spray sunscreen that could just go on top of your makeup and not ruin your whole look.
This is why so many people are seen wearing flats or boots to these festivals, they know they're going to be on their feet for a long time. You'll rarely see badly fitted tops or dresses that keep sliding off because it's annoying to keep fixing your outfit. It's always advisable to invest in a big bag that can carry a lot of important stuff for you.
Ultimately, you need to remember that your style grows with you. The more you learn about fashion, trends, and the industry influences, the better your outfits will be. Social media is a great way to find out about trends and styles that are big right now. For instance, the mermaid and unicorn trend has been blowing up since the latter part of last year and people are still hashtagging their unicorn outfits on Instagram right now. Finally, remember that you're there to have fun with your friends and whatever you wear, that it the main purpose you're there after all!