What To Wear To Your Best Friend's Indian Wedding As Guest For Men
Weddings come with lots of happiness, be it dashing new clothing, lots of dance, or mouth-watering food; everything induces a different level of excitement. When a best friend is getting married, then the excitement level is entirely different, and one has to ensure that they choose a unique and fantastic dress. One common mistake that almost all men make is making a late decision about what they will wear. Going through the trends a month prior helps in choosing the best outfit. There are a couple of outfits that are evergreen in trend and look cool on such occasions.
The best outfits for such occasions are as follows.
1. Floral Jacket and Jodhpuri Pants
Turning eyeballs is easy with floral jackets' as it helps in standing out of the crowd. The best thing about these jackets is that they are simple and comfortable. Jodhpuri pants, on the other hand, are loose and soft, which automatically adds lots of comforts. When the outfit would be supremely comfortable, then the facial expressions would reflect confidence, and it is equally important as the right outfit is.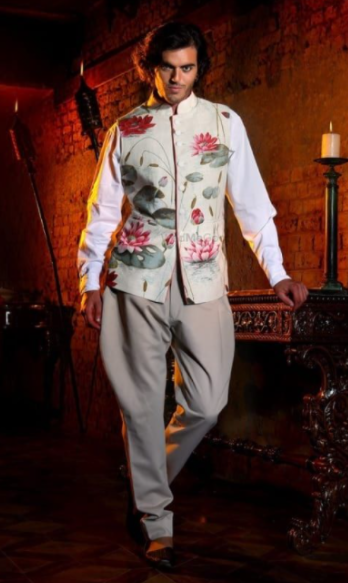 2. Ethnic Jacket, Kurta, and Denim
A light-coloured kurta with a dark-coloured ethnic jacket is the best combination. In case there is a theme, it becomes easy to match kurta or ethnic jacket according to the theme and still manage to look good. Denim of black colour is common and can quickly go with all the colours. Formal shoes would look great with this outfit. After all this, an individual is completely ready with an attractive and mind-boggling look.

3. Western Wear is Evergreen
A western outfit can look good on many occasions, and a dark-coloured coat on a light-coloured shirt is always in trend. In footwear, one can choose loafers, which look excellent with pants. Adding to the supremely fabulous outfit could be a good perfume, which is another factor that attracts people.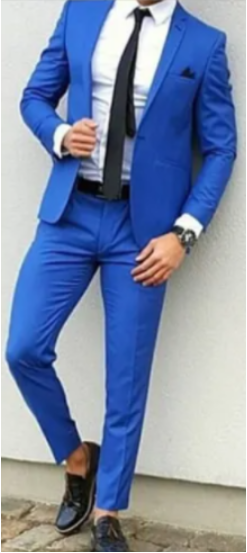 4. Shervani and Salwar
This outfit goes perfect when one has to attend the wedding of someone close to them. A simple sherwani with a nice soothing colour looks better than a servant with stones embedded on it. Matching salwar, along with the sherwani, gives a complete look.

5. Black Shirt with the Black Velvet Jacket
Black is always suitable for parties and wedding functions. There are many black shades available in the market, and one can choose the one that suits the most. The all-black look is always attractive and black velvet would further add a royal look to the attire. An excellent wristwatch with some chrome treatment will be completing the entire look with ease.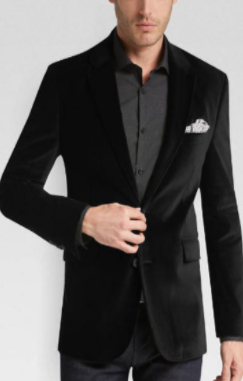 6. Black Tuxedo and Bow
It gives a more decent look in comparison to any other costume. Along with the coat, it is good to add a bow, any red or black colour, according to the outfit. A designer can help in getting a perfect matching of shirt, tuxedo, pants, and footwear. One has to carry a good smile on their face, and the rest of the work costume will do.

7. Regal Shervani
A regal sherwani is the sherwanis, which are silk and have some work on the front side. They give a more shiny and royal look at parties, so one can indeed look for one such sherwani. Along with that, there would be silked pyjamas, which are loose and comfortable enough that one would be able to dance without worrying about the other pyjamas' which have tight-fitting.
8. Bandhgala with Churidar Pants
These kurtas look fantastic, and if someone has a beard on their face, it will be an add-on. The reason being is the attractive look a man gets after getting a well-groomed beard is incomparable. Churidar pants might be comfortable while dancing, but they give a great look when some wear them with jutis. The attire will look fantastic, and one can surely try this. One can carry a dupatta along with the silk sherwani, which will give a more royal look.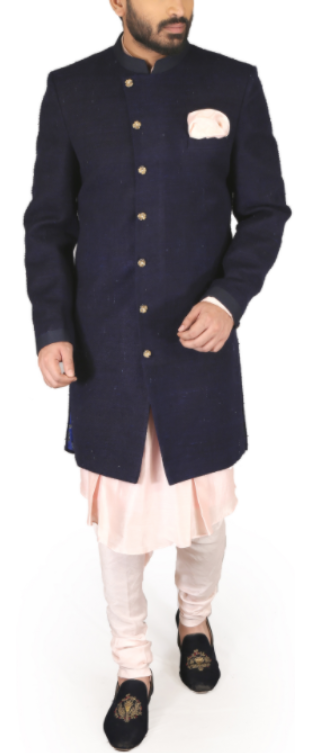 9. Indo western kurta and Nehru jacket
The combination for both of them has to be fair, and one can look for some recent trends online to make the best combination. A pyjama will look perfectly fine with the combination. Nehru jackets hold a lesser length in comparison to the kurtas. One has not to tie the buttons of the jacket.

10. Kurta with Denim
Kurta and denim can work fine for other wedding functions and might not be good enough for the wedding occasion. It will be comfortable enough, and one can indeed look for some rugged types of denim along with kurtas.

11. Check Coat along with Check Pant
Check always stays in trend, and one can choose some dark colour in check for such occasions like weddings. In footwear, a loafer will look good, and along with that, one can look for a belt with some chrome treatment on it. A light-coloured shirt will look good inside the coat, and it is not necessary to wear a tie along with a check coat. In the majority of the trends, models do not wear ties or bow with check coats.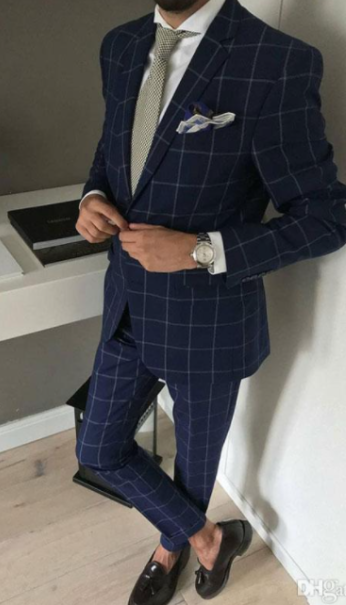 Conclusion
These outfits can indeed be the priority before doing a complex search about the best ones. Along with these outfits, it is highly recommended that a man take care of the grooming session, which should happen three days before the occasion. Facial doesn't show effect early. Instead, it takes at least three days to get glowing skin. Accessories like footwear, watch, bow, tie, wallet, and perfume cannot be forgettable at any cost, so one can prepare a to-do list to ensure that they carry each one of them. An individual has to carry a good smile on their face, which will reflect good energy.
Also Read: How To Get Ready For A Marriage Party