What Is A Cuff Bracelet And How Is It Different From Bangle
Cuff Bracelets for women are a great add on accessory. But what is a cuff bracelet? Read the article to know more about it.
We all know that ladies require no special occasion to shop for jewellery starting from earrings necklaces. They just love to wear them. But if you notice minutely, you will find the preference for specific jewellery varies from person to person. Some are found to be more attracted to earpieces. While some can not restrict themselves from shopping for beautiful neckpieces.
Now a trend of shopping for attractive wrist jewellery is on. And why they should not! As several types of wrist pieces are available in so many different types of fashionable forms. 
If you want to impress your wife on your anniversary, you can try to give her either bangles or a cuff bracelet.
This blog deals with cuff bracelets and bangles and the difference between them.
What is a bracelet?
Wow, how beautiful a bracelet looks on the wrist of ladies!  Yes truly, a bracelet is a form of jewellery that enhances the beauty of your wrist portion. These are generally available in round shapes that revolve around your wrist. If you like something very unique, you can try bracelets made of cloth or colourful beads. You can even try traditional metal bracelets. Leather and Plastic bracelets can even go very well with your several precious occasions. It looks funky as well as creates a style statement.
Have you ever tried bracelets that contain shells, wood, crystals, plastic hoops, rocks, pearls? If not, should try it once. A very unique concept with bracelets! These look perfect for a different party look.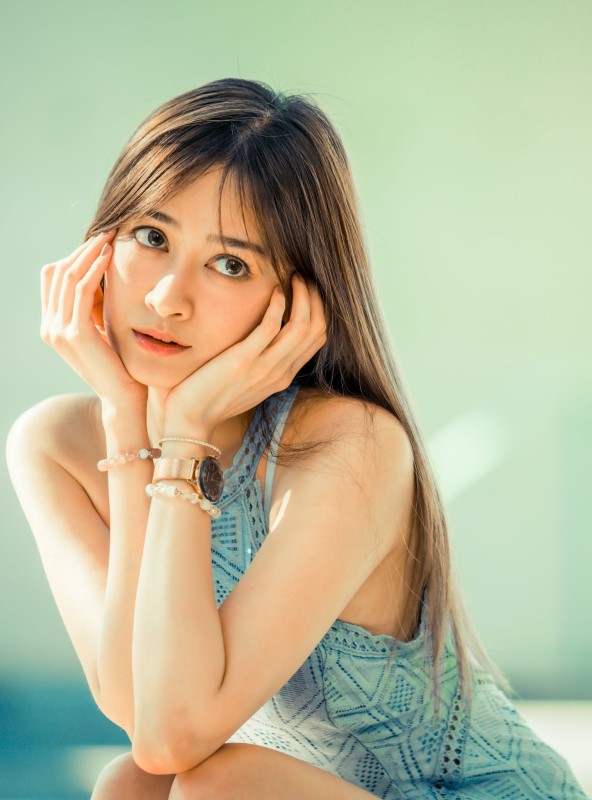 Nowadays you can even find women wearing watches in bracelet fashion. Confused? You can watch time but the watch straps are designed in bracelet fashion. Here also, you will get options of leather, crystal, plastic, or any other decorative material. Hence in this way, both your purpose and a dream to remain fashionable fulfills. 
Very few people are well aware of all types of bracelets. Yes, you have options of bracelets of different materials but can choose from a wide variety of bracelets, such as Chain bracelets, Tennis bracelets, Beaded bracelets, and Multi-Strand bracelets Cuff bracelets, Charm bracelets, and many more. 
Is there any health benefit of wearing bracelets? Yes, if you wear magnetic bracelets, you will gain enormous health benefits. Problems like arthritis, dizziness, low immunity get resolved with magnetic bracelets.
Out of so many types of bracelets, the Cuff bracelet is a hot favourite of everyone. So let us discuss interesting facts about the Cuff bracelet.
What is a Cuff Bracelet?
Finally the answer to your question- What is a cuff bracelet is here.
A unique form of a bracelet that both men and women can wear. You all may not know but these cuff-style bracelets are in existence from ancient times. Cuff bracelets are usually available in different metals. But silver and gold cuff bracelets are widely preferred. This is widely advisable for women as they look cool with that. If you want, customized cuff bracelets are also possible. 
Well, the usually enrich available shape of Cuff bracelets is flat. Because the metal is flattened and then curved to fit your wrist. Otherwise, these forms of bracelets are possible to give any shape you like.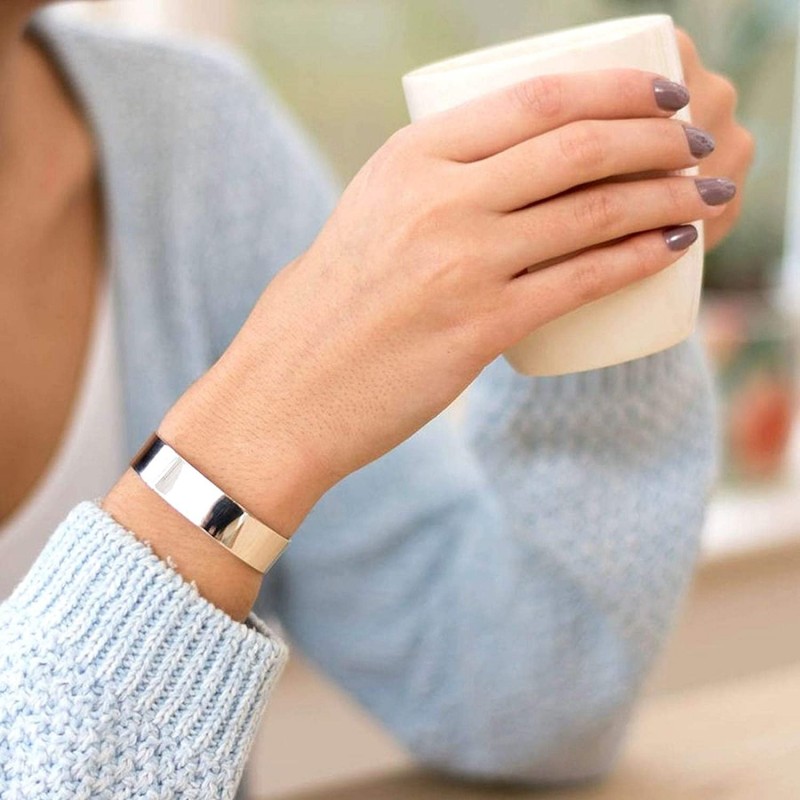 Men are normally recommended to go for Cuff bracelets made of leather. Because leather suits men over women and it enrich men's qualities. So no need to worry anymore for boys. Because you can attend social groups or stuff like byke races wearing black leather cuff bracelets. Why black only? Because this coloured leather cuff bracelet uplifts your masculine looks. Try to avoid any tone of brownish leather cuff bracelets. 
If you want to buy a cuff bracelet, do not buy before ensuring its fitness to your wrist. So it is better to measure the size of your wrist and thereafter buy it. Because an almost tight-fitting cuff bracelet looks awesome over your wrist. It is more advisable for women than men. Why? Because leather is easily adjustable over the metal one.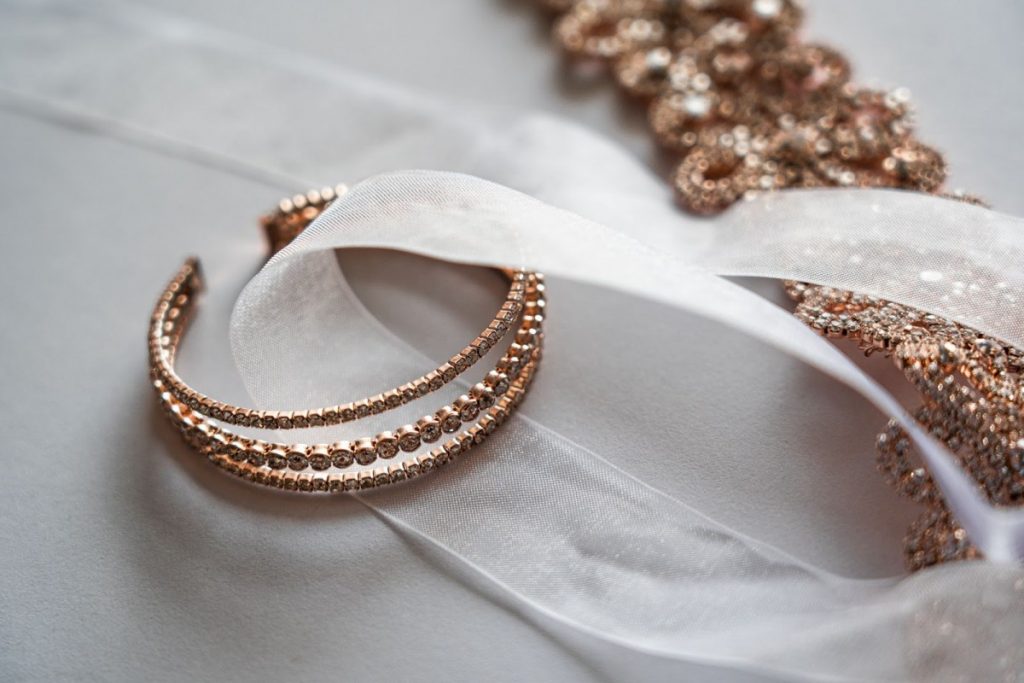 A very big advantage of cuff bracelets is there for women. Ladies nowadays do not like to wear too much jewellery. Now the trend is the minimum number of jewellery but maximum fashion. A cuff bracelet with a big earpiece is enough to make your looks different from others at the party. It means that a cuff bracelet can help you stand out and become the centre of attraction.
Bangles
Round-shaped colourful jewellery usually women wear on traditional occasions. These bangles are generally made of tough materials like metals, wood, glass. People of Asia and Africa widely prefer the usage of beautiful bangles. Both bride and ladies invited can wear ethnic bangles and attend wedding ceremonies. 
No matter if you are a married or unmarried woman, bangles and bracelets are for both of you people. It gifts a graceful look to the ladies and enhances the overall beauty. Something that pampers the beauty of your arm is none other than bangles. Those come in different sizes, shapes, and colours too.
You can even wear bangles that get closely matched with your sarees or churidars or lehengas. Not only bracelets but bangles are also ideal for gift purposes.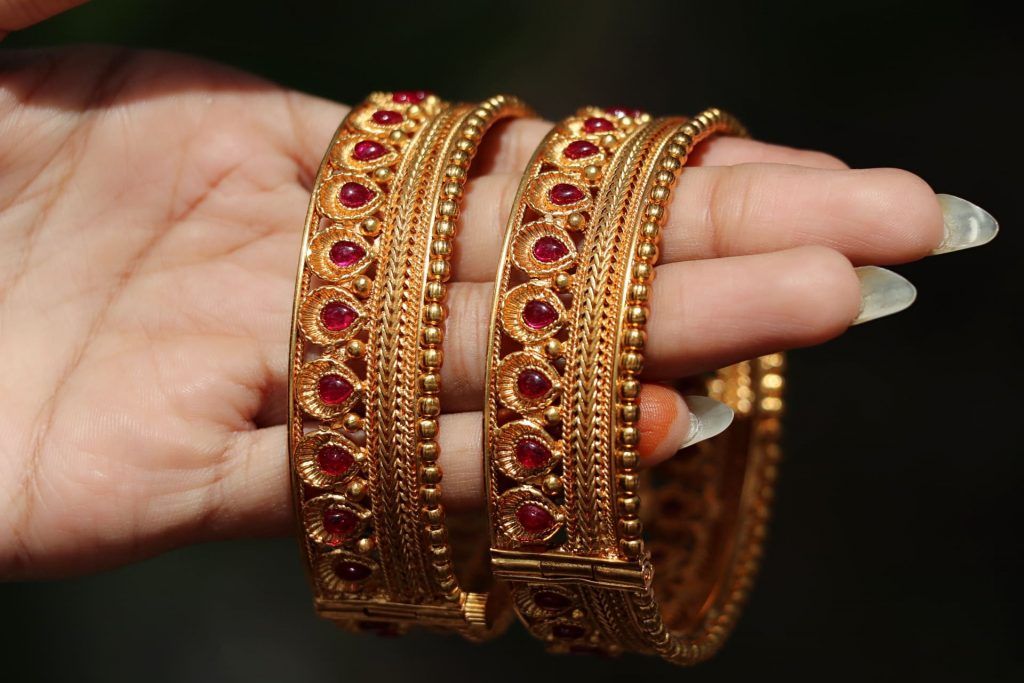 Which one is better: a cuff bracelet or bangle?
Well, there is no such definite answer to this question. As both of these have their preferences and utilization. But surely, there are several distinctions between the two. Differences are as follows:
Bracelets are for both men and women. Even cuff bracelets are designed to suit both men and women. But bangles are not for women. 

Women need to wear bangles in pairs in both hands. Those are enough to cover both of your hands. But it is enough to wear a cuff bracelet around your wrist. Cuff bracelets are only to enhance the beauty of your wrist and not the whole hand.

Bangles are preferred only in traditional get-togethers like puja, wedding, reception. But bangles are not suitable for young star parties as cuff bracelets are.

Cuff bracelets are sometimes made of materials that make them adjustable to wear. Even open-end cuff bracelets are also available in the market. So not to worry about the size of your wrist as in the case of bangles. If you wish to wear pretty-looking bangles, you need to choose bangles according to your wrist size.
So, decide your occasion and shop for bracelets or bangles whichever goes well with your occasion.
Also Read: