What is A Skater Dress & How To Wear It?
You have a large number of dresses in your wardrobe. But how do you know if one of them is a skater dress or what is a skater dress? Which differs this style of clothing from others? Skater dresses are the ideal mix of stylish and elegant. They flare out at the waist and cut off above the knee. Skater dresses can style in many ways.
You should experiment with different skater dress variations as well as different jewellery combinations. Explore your choices and see which skater dress style perfectly represents you. 
What is A Skater Dress?
Designers also made famous a few well-known styles by mainlining many unique dress cuts. A style of A-line dress is referred to as a "skater dress." The silhouette of the letter "A" is defined by a skater dress that fits comfortably at the waist and flows out there. On the other hand, a skater dress is cut slightly above the knee rather than falling to the ground. 
It suggests the wearer would be able to walk about easily while still looking elegant. Skater dresses with cuts below the knee or a little higher on the thigh are also available. The A-line cut will give your outline a classic hourglass shape in any event.
Who Is Suitable for Skater Dresses?
You may be thinking, which body types are appropriate for skater dresses. The skater dress is a perfect style for any body shape or size because it is both flexible and stylish. You'll want a knee-length or just above-the-knee style if you wear plus-size clothing or are short in stature.
The key is to find a skater dress that suits your body type perfectly. It will not be very flattering whether it is too tight or too loose at the waist, like any other ill-fitting dress.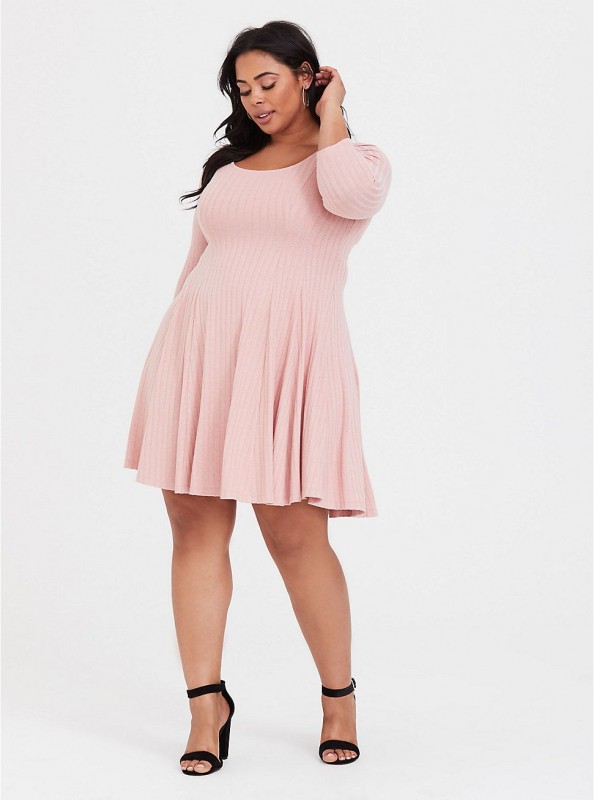 What Are the Different Skater Dresses Types?
Skater dresses are available in a wide range of designs, colours, and patterns. Even so, some are called staples or have to for your closet, so they go with a wide range of accessories and accessories that you most likely do own.
The red skater dress is ideal for a night out with friends or anytime you want to stand out. Wear it when you would like to be gorgeous and bold. The black skater dress is a classic piece that you can wear with just about anything. 
It's perfect for an office party or a date night, and it's simple to put together regardless of how much or how little time you have to prepare. Another classic option is the white skater dress and a lighter colour perfect for brunch and the warm summer and spring months. A lace skater dress is much more elegant and suitable for a black-tie case, wedding, or dinner party.
How to Wear a Skater Dress?
How different can skater outfits be? Let's look at some of the latest models and see what you have to choose from. Skater dresses naturally show the hips, and if you're quite slim, a low-rise belt or a long top will help highlight the hips even more and give you a curvier appearance. 
Also, your skirt must have a lot of flares. A skater dress is a good way to make your legs look longer, so it's a good way to make yourself appear taller and better looking if you're short. If you are more busty, it is very flattering because of how the fabric drapes below the waist, emphasizing the body's curves.
What Legwear Should Wear With a Skater Dress?
In the winter, you also can wear a skater dress. It's all about keeping cosy and toasty without feeling bulky or frumpy. You'll want to pair it with long boots, knee-high socks, or thick tights in the fall and winter.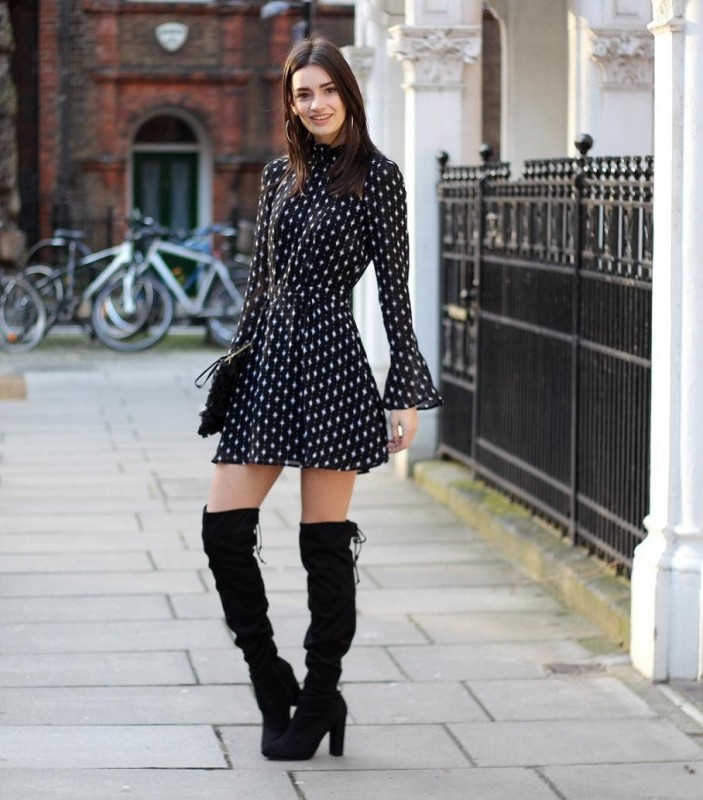 You'll look trendy while keeping your legs warm and protected. Use black and white or other colours that compare but complement each other.  Cute sweaters and socks are also suitable, as long as they are more suited and not too stretchy. You'll want to add some accessories and a cute pair of pumps and make sure they match for an even more put-together look. To put it differently, if you do have silver earrings, you can wear silver heels.
What Shoes Do You Wear With Your Skater Dress?
You should wear your skater dress with a pair of gladiator heels or ballerina flats that are knee-high in the spring and summer. You may also wear a pair of converse runners or boots for a more casual look.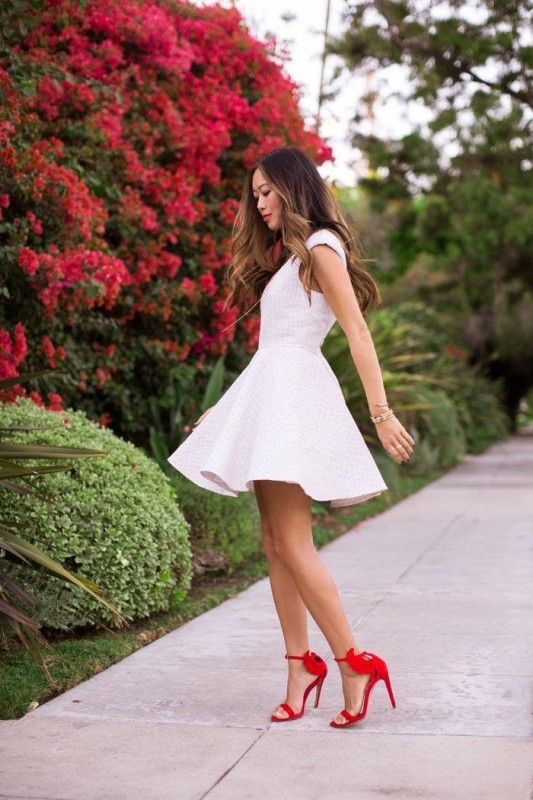 If your skirt is styled, you can pair it with a pair of simple or strong shoes. Optionally, if you have colourful or patterned sneakers, you can pair them with a solid-coloured or neutral-coloured skirt.
If you have long legs? Wear high tops to create a thinner leg line and low tops to create the opposite effect if your legs are thicker. Closed-toe shoes are generally the perfect option for a skater outfit.
What Top Do You Wear With a Skater Dress?
Not all tops are made equal, which means that not just any top can do when it comes to wearing your skater outfit. When worn with a skater dress, crop tops, V-necks, scoop necks, and fitted tees all look fantastic.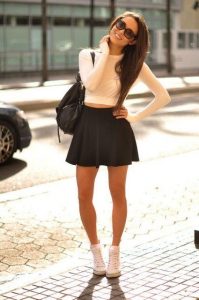 Wearing a loose or off-the-shoulder top with your skater dress will not be as flattering. Of course, you'll have to play around with what you have in your closet.
You may want to try wearing your hair unbuttoned or tucked and have some fun with it. If you've nailed down a favourite theme, you'll be able to wear it over and over again as your go-to outfit.
Another thing to avoid is getting so much stuff started on at the same time. If you have a patterned skater outfit, you must stop wearing a patterned sweater with it. To avoid looking too busy, you should have one solid colour and one pattern.
Conclusion
The skater dress is a timeless classic that is increasing in importance and should be a part of any well-rounded wardrobe. It's a style that can be worn in many ways and is suitable for almost any occasion.
Also Read: