10 Best Blushes in India in 2021
You can use the best foundations and concealers to perfect your skin, but without a good blush, your face will look lifeless. A pop of color can instantly take a makeup look from flat to full of life. Blushes are one of the most underrated makeup products, which doesn't make sense because they can really change the look of a face, give it color as well as dimension, and bring together the rest of your look.
As with any other makeup product, the blush you pick can make all the difference. There are certain pointers to keep in mind when choosing a blush. Remember: what looks good on someone else might not look good on you. Here is how you can choose a blush:
By Skin Type
There are two kinds of blushes available in the market – powder and cream. Both have their own sets of benefits over the other! Powder blushes are a boon for oily-skinned beauties as they absorb excess oil coating the skin and prevent it from making skin look shiny. However, the downside to powder blushes is that they don't last long and require frequent touch-ups.
Cream blushes, on the other hand, provide hydration and moisturization along with that pop of color. They are designed for dry skin, are water-resistant, and last longer. Because they are so soft, they can be applied using fingers and give a much more natural look. However, they might not work for oily skin.
By Skin Tone
Fair-skinned women suit blushes that have light pigmentation and come in shades of peach and coral. Women with wheat-ish skin should opt for shades of mauve and richer shades of peach to bring out their natural color. For dusky women, there are shades of plum, wine, fuchsia, and earthy browns to inject healthy color into their skin.
Without further ado, here is our list of best blushes available in the Indian market.
If you are someone who likes their blush to be pigmented, this one by Sugar Cosmetics will make you fall in love instantly. It is incredibly lightweight, infinitely blend-able, and can be built upon the skin to transform looks from casual to dramatic. It comes in five different shades that look stunning on Indian skin – 01 Peach Pink, 02 Pink Pinnacle, 03 Mauve Marvel, 04 Salmon Superstar, and 05 Coral Climax.
Features:
Glides on the skin like velvet
Well-suited for brown skin tones
Does not contain mineral oil or parabens
Check the cheapest price on Amazon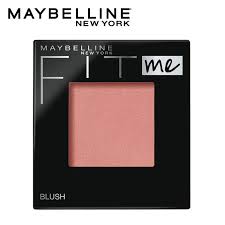 Maybelline's Fit Me collection is god tier – be it for foundation, compact, concealer, or blush. It is not only one of the best collections for beginners to explore but is a favorite among seasoned makeup buyers as well. This powder blush comes in six stunning shades perfect for everyday wear – Wine 50, Nude Peach, Coral 35, Rose 30, Pink 25, and Rosy Nude. It enhances the natural skin tone and makes your skin glow all day long.
Features:
Very lightweight powder formulation
Blends smoothly and wears off evenly
Stays true to and enhances natural skin tone
Check the cheapest price on Amazon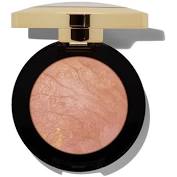 Sometimes, it pays to be fancy. This famous line of powder blushes from Milani feels and looks fancy but is actually not that expensive. It spreads on the skin smooth as shea butter and comes in 8 stunning shades, with some of the most popular ones being 05 Luminoso, 03 Berry Amore, and 01 Dolce Pink. More than an everyday look, these Milani blushes favor a more festive look because they are infused with shimmer and can last on the skin for hours!
Features:
Highly pigmented and buildable
Give skin a warm and radiant glow
Do not contain parabens, are vegan, and cruelty-free
Check the cheapest price on Amazon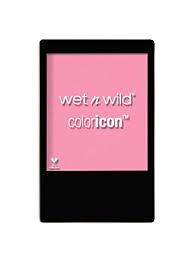 These easy-on-the-pocket charmers are many women's entryway into the world of blushes. Now, with an improved formula, Wet n Wild's iconic blushes are even more pigmented and blendable than before. They still look just as natural but can be built up to suit various looks – from sheer to bold. They come in shades ranging from soft pinks and neutrals to more vivid ones and leave skin with a healthy flush that will have strangers complimenting your skin.
Features:
Velvety-soft texture formula that blends easily into the skin
Contains jojoba oil for additional hydration and smoothness
Gluten and cruelty-free
Check the cheapest price on Amazon
5. L'Oreal Paris Le Bar Mono Color Powder Blush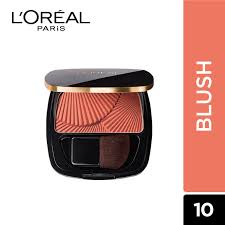 Gather around, oily-skinned beauties, for I have to tell you a tale about these amazing matte blushes from L'Oreal Paris. The formula is creamy but matte – so it will glide super smoothly and blend easily, but also won't budge from your skin for hours. This blush also comes in deep and rich shades like plums and maroons that suit the earthy skin tones of Indian women – from dusky goddesses to fair maidens.
Features:
Rich, earthy shades that complement Indian skins especially well
Has a matte formula to suit oily skin
Comes with a fantastic applicator to allow easy application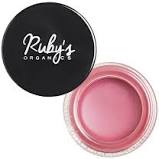 This is another fantastic cream blush in the market, and organic too. It contains various oil-based ingredients like jojoba oil and shea butter, which give it a creamy texture and help it glide smoothly over your skin. The texture ensures that the pop of color on your cheeks looks as natural as possible while also moisturizing your skin. Ruby's Organics Crème Blushes are available in 6 beautiful shades ranging from soft neutrals to vivid pinks and plums.
Features:
Lightweight, buttery, and silky texture
Intense hydrating formula with oils and butters
Free from parabens, vegan, and cruelty-free
Check the cheapest price on Amazon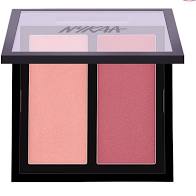 Nykaa's Blush Duo line features palettes of two complementary powder blushes side by side. So far, they have palettes in three shades – Brazilian Bombshell 01, Cali Chik 02, and Malibu Barbie 03. The formula stays on the skin for long and contains glow-enhancing minerals for that dewy, fresh finish.
Features:
The colors are very vivid and vibrant
Great pigmentation and value for money
Extremely lightweight and good for beginners
Check the cheapest price on Amazon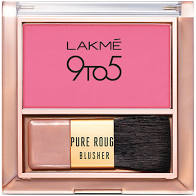 Lakme's 9 to 5 range just keeps getting better! After dropping an amazing range of liquid lipsticks, they've come out with a line of equally good blushes. They come in gorgeous shades – Coral Punch, Nude Flush, Pretty Pink, and Peach Affair – in a sleek case along with an applicator brush. These mild and neutral-toned blushes are aimed at the everyday woman looking for something casual.
Features:
Matte formula that is perfect for oily skin
Highly pigmented and buildable
Gives skin a glowing and luminous finish without making it shimmery
Check the cheapest price on Amazon
9. Makeup Revolution Blusher Reloaded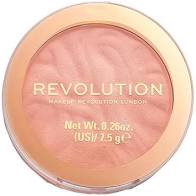 Women who like to stay low-key with their makeup, this is for you! Makeup Revolution's sheer velvet blushes come mostly in shades of corals and pinks, making them the perfect choice for when you want to look effortless but put-together. These blushes give your cheeks a warm blush and a healthy glow.
Features:
Very natural-looking sheer powder blush
Highly pigmented and can be built up for darker skin tones
Weightless formula and cruelty-free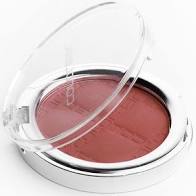 Ever wanted to feel like a blush is hugging your cheeks? Colorbar has got your back. The Cheekillusion blushes are so velvety and so smooth that they feel like a dream. They are very flexible – going from giving you a dusting of color to helping you make a bold statement. The best part? They are smudge-proof and very lightweight despite the luxurious formula.
Features:
Have an adhesive formula that makes it long-lasting and smudge-proof
Free from artificial fragrances and parabens
Feel silky on the skin and can be easily blended
Check the cheapest price on Amazon
Tips for Applying Blushes
Pay attention to face shape – Where you apply blush and how you do it depends a lot on your face's natural shape and the parts you want to highlight. Round-faced women should apply blush in upward strokes along the length of their cheekbones, while those with a long face should apply it over the apples of their cheeks and blend outwards.
Choose the best tools – A blush is only as good as the tool you use to apply it with. For cream blushes, stick to your fingers and don't forget to warm them up before. Powder blushes, on the other hand, need a precise application with a makeup brush, a puff, or a cushion to set into the skin.
A nice blush can infuse radiance and warmth into your makeup look. It can transform a look from flat and boring to lively and cheerful. Blushes need to be carefully picked out, keeping both your complexion and skin type in mind. The blushes mentioned in the list above come in many shade ranges, suit different skin types, and cater to all budgets. From casual everyday looks to fancy party looks, everything can be bettered through the use of these blushes. Invest in a blush to give your face a healthy, radiant glow.
Also Read: How To Wear Blush Tips & Tricks