10 Best Dark Circle Creams for Men in India 2021
It is a myth that men don't notice skin issues. If you woke up one day to find dark circles and puffiness under your eyes, you would find them difficult to ignore. Looking good feels great and we should all strive to look the best possible versions of ourselves, including men with dark circles. The obvious solution to this issue is an eye cream. But if you are the kind of man who uses one moisturizer and heads out, you will need help in choosing a good one.
Choosing an Effective Eye Cream for Men
When picking out an eye cream, pay attention to:
Your issues – Study your eye area carefully in the mirror to identify your concerns. Does your under-eye skin look tired and dehydrated? Or is it dry? Look for creams that target these concerns.
Ingredients – Study the ingredient list of each cream. It may contain something you are allergic to. Usually, creams that contain Retinol, Hyaluronic Acid, Vitamins C & E, Caffeine, and Green Tea are good.
Online reviews – They usually give a pretty accurate idea of how well a cream works, what the formula is like, whether it makes a difference, and if the quantity of the product is good enough.
With these pointers in mind, let us look at the eye cream options available for men in the Indian market.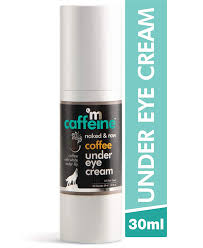 As is evident from the name, this eye cream from MCaffeine is infused with pure Arabica Coffee, which is rich in antioxidants and fades away dark circles. It also contains Caffeine to tone under-eye skin and make it less puffy. The White-Water Lily and Sweet Almond Oil nourish skin; Vitamin E helps undo sun damage, while Hyaluronic Acid hydrates to make skin look younger.
The cream is pretty lightweight and absorbs swiftly into the skin. The antioxidant-rich ingredients fight free radicals that contribute to aging and fine lines. To top it off, this cream does not contain mineral oil, parabens and suits all skin types. It is ideally applied twice a day – once in the morning, before heading out, and once before bedtime.
Check the cheapest price on Amazon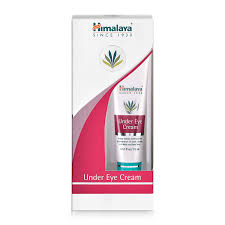 For those who trust herbal brands, Himalaya is the best option. Their under-eye cream lightens and tightens skin as well as the area around it. This cream is completely natural, which means it will have absolutely zero side effects and is a good option for those with sensitive skin.
This Himalaya Herbals cream keeps skin moisturized and nourished. The formula is slightly greasy, so it is best applied at night instead of in the daytime. This gives the product time to absorb into the skin and work its magic. The product claims to reduce dark circles by 80% in just four weeks. Additionally, it also prevents wrinkles and fine lines from forming.
Check the cheapest price on Amazon
One can't go wrong with any product by Lotus Herbals. This eye gel boasts of ingredients like hydrolyzed Wheat Proteins, Rice Bran extracts, Soy Bio Peptides, as well as Vitamins A and E. These ingredients combine to lighten dark circles and reduce puffiness in the eye area.
This gel has a weightless gel-based formula that penetrates into the skin without making it look greasy. With regular use, it results in younger and softer looking under-eye skin. It also has rejuvenating and hydrating effects, which reduce the appearance of dark circles, fine lines, and crow's feet.
Check the cheapest price on Amazon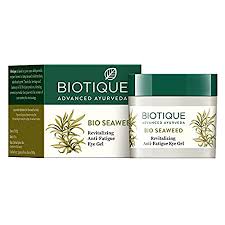 When it comes to lightweight eye gels, this one by Biotique is a favorite. The Seaweed extracts in this product do away with signs of aging, tension, and everyday stress, while Almond extracts soothe and relax eyes. It also contains Honey, Himalayan Water, and Nutmeg Oil, which tone the skin around the eyes and combat puffiness and fatigue. The little tub packs a lot of product but can be unhygienic because you need to scoop the gel out with your fingers.
Despite the minor drawback, this gel works wonders at cooling and refreshing the under-eye area, especially for those who stare at computer screens all day or wear glasses. The hydration it provides reduces dark circles. It is best used twice daily – morning and evening, in gentle patting motions around the eye.
Check the cheapest price on Amazon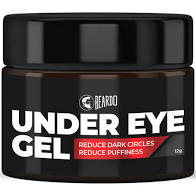 Beardo is a leading brand with many amazing skincare products for men. Their under-eye gel is no different. Containing active natural and organic ingredients like Aloe Vera, Chamomile Extract, Shea Butter, and Carrot Seed Oil, this gel has a non-sticky, non-greasy formula. It gets quickly absorbed by the delicate skin under the eye and works to even out dark circles.
The natural and organic ingredients in this gel moisturize the skin and soothe it, reducing the appearance of fine lines and crow's feet over time. This gel fights early signs of aging while making sure your dark circles stay away, eye bags are reduced, and puffiness is gone. This eye gel is best applied in massaging, circular motions under the cleansed eye area and left overnight.
Check the cheapest price on Amazon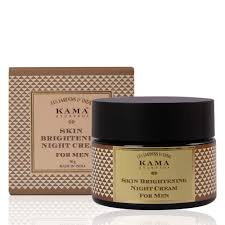 This one might be heavy on the pocket, but the effects are simply unparalleled. Kama Ayurveda's night cream contains the goodness of Kashmiri Saffron to brighten skin and reduce the discoloration caused by dark circles and pigmentation. Indian Madder and Aloe Vera fight fine lines and ageing, Vetiver and Lotus cleanse skin of blemishes, and Licorice protects against infections.
This will be one of your best investments if you are dealing with age-related dark circles and pigmentation. It is a perfect overnight leave-in treatment. It promotes the growth of new skin cells, reduces darkening of under-eye skin, and evens out skin tone. It is best applied on cleansed skin at night, gently massaged with upper strokes until it is completely absorbed.
Check the cheapest price on Amazon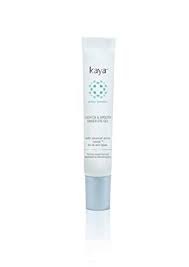 To achieve even-toned skin free from dark circles and puffiness, look no further than this eye gel by Kaya. The brand is famous for super-effective formulas that have been developed and vetted by licensed dermatologists.
This eye gel contains Haloxyl complex, which improves blood circulation around the eye area, thereby reducing dark circles, pigmentation, and puffiness.
This gel visibly lightens dark circles from the very first use. The gel texture absorbs into the skin almost instantly, and makes puffy bags under the eye vanish. The gel is so gentle that it can be used by people with all skin types – dry, oily, and combination. For best results, gently dab the gel into your skin using your fingertips and use circular motions.
Check the cheapest price on Amazon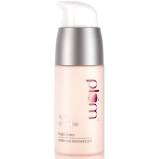 Plum's Bright Years range has been lauded by skincare enthusiasts ever since its launch. It is perhaps the most well-known vegan beauty brand in India, with results to match the hype around it. This under-eye gel plus serum is aimed at people in their late 20s and early 30s. It contains natural wrinkle-fighting ingredients, plant actives from Hawkweed and Daisy, and plant stem cells.
The combined effect of these powerhouse plant ingredients is that your under-eye skin becomes visibly lighter and free of dark circles. The bags of puffiness around your eyes also fade away, while fine lines smoothen into soft skin. Moreover, the sagging under-eye skin undergoes tightening and firming to make you appear younger. This is a product that will stick with you for a while.
Check the cheapest price on Amazon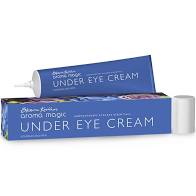 This is one of the most underrated brands on this list. This eye gel by Aroma Magic contains Olive and Rice Bran oils to lighten and repair skin. Combine this with extracts from the Goji Berry Fruit to nourish the delicate skin around the eyes and minimize wrinkles, and you've got a magic product.

Aside from lightening dark circles, this cream also makes skin firm and fights fine lines. Instead of applying once or twice a day, use this cream as frequently as you want to. It's so light on the pocket that you won't even mind if you go through several tubes of this!
Check the cheapest price on Amazon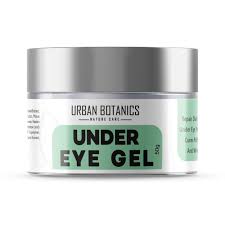 This eye gel by Urban Botanics contains Hyaluronic Acid for hydrating your under-eye skin to combat dark circles caused due to overworking and tiredness. It also has Niacinamide and extracts of Quinoa, Tomato, and GrapeFruit to restore skin's vitality.
Despite an overload of amazing ingredients, this cream promises to be lightweight and non-oily. It is free from sulphates, parabens, and alcohols, making it a good option for sensitive skin.
Check the cheapest price on Amazon
Conclusion
It is time to stop believing that eye creams are a fancy product or something that only women use. If you do not want your dark circles to make you look tired or much older than you are, you must invest in a good eye cream. The earlier you start using them, the more you can delay aging. Identify your skin concerns and use this list to pick out an eye cream for yourself.
Also Read: DIY Coffee Eye Masks To Reduce Dark Circles