Best Skin Glowing and Whitening Creams in India
Healthy, glowing skin is the skincare goal of every woman, irrespective of age. Our face is the first impression we make on the world, and it is natural to want it to look radiant. However, pollution, sun damage, and dead skin cells can sometimes take away the glow of our skin and result in dullness, dark spots, and pigmentation.
The glowing and whitening creams in the market target every concern that leads to dullness. Be it hyperpigmentation due to age, uneven tanning due to sun damage, blemishes due to ill-health, or even regular dullness that occurs for no reason – you can fight all these concerns using a good quality day-cream suited to your skin type.
This article compiles a list of creams guaranteed to fight dullness and make your skin glow from within. The creams listed below will suit every budget, from students and homemakers to professional working women, and are easily available online. Make sure to pick a cream based on your skin type: dry, oily, normal, or sensitive.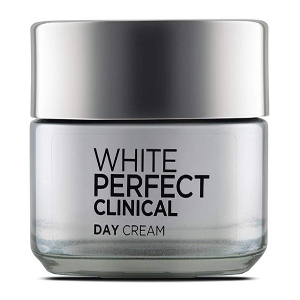 Combining an advanced skin-brightening solution with in-built UV filters, L'Oreal's day cream is inspired by clinical facial treatments. It works by reducing pigmentation and dark spots and preventing skin darkening due to the sun.
Key Features:
Skin appears brighter and moisturized from the first application
Improves skin texture by eroding old and dead skin cells
UV filters reduce the formation of dark spots
Provides protection against the sun's UV rays
Gives a dewy effect to the skin
Recommended for: Normal to dry skin
Check the cheapest price on Amazon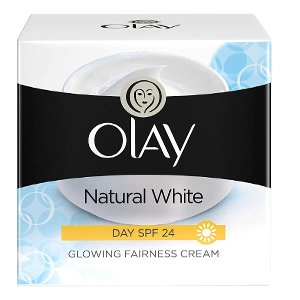 This day cream from Olay contains the power of three skin-nourishing vitamins: Vitamin B3, Pro-B5 and E. It makes your skin healthy from the inside, while also causing the skin to renew. As a result, your dull skin transforms into glowing skin
Key Features
Advanced sun protection with SPF 24 and PA++
Anti-oxidants in the cream aid in skin renewal
Reduces effects of sun darkening and dullness
Lightens skin tone and prevents further tanning
Vitamins in the cream brighten skin and reduce dark spots
Recommended for: Normal to dry skin
Check the cheapest price on Amazon
3. Garnier Skin Naturals Light Complete Serum Cream SPF 40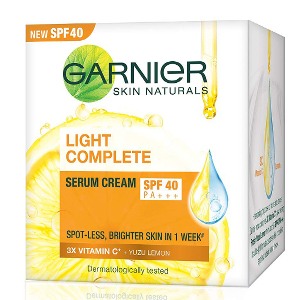 This cream from Garnier is one of the oldest and well-known creams on this list. It contains Japanese Yuzu Lemon, which has Vitamin C and amazing exfoliating and anti-oxidizing properties. It promises brighter skin within a week of usage and sights all signs of sun damage.
Key Features
Makes your skin glow for hours
Provides very high sun protection
Works for sensitive, oily, and dry skins
Controls oil production and has a matte effect
Has a pleasant and refreshing fragrance
Recommended for: All skin types
4. Pond's Flawless Radiance Derma+ Moisturizing Cream SPF 30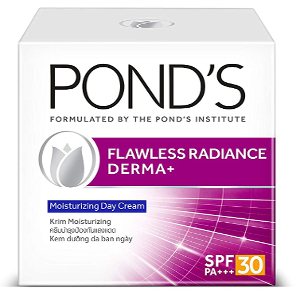 This new day cream from ponds takes inspiration from advanced derma treatments. It contains a patented skincare ingredient called DermPerfect to give you the benefits of professional skincare treatments – skin-brightening, pore-tightening, and spot-reduction.
Key Features
Targets the source of dark spots to give you clear skin
Corrects skin imperfections like large pores and dull spots
Provides some of the highest sun protection among day creams
Has a hydrating serum-like formula which is perfect for summers
Improves skin texture and makes it luminous
Recommended for: All skin types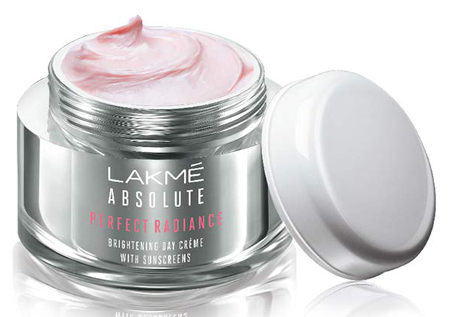 This day cream from Lakme guarantees crystal radiance. The micro-crystals and vitamins will give illuminate your skin from within all day long, while also protecting it from sun damage.
Key Features:
Gives a gorgeous pink glow without any white cast
Soft texture and very lightweight
Non-greasy formula that absorbs into the skin fairly quickly
Micro-crystals in the cream have a skin-polishing effect
Contains physical sunscreen
Recommended For: Normal to oily skin
Check the cheapest price on Amazon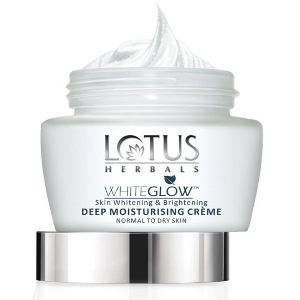 The next cream is from Lotus Herbals, a well-known brand in the skincare industry. It is a 3-in-2 product as it tackles three important skin concerns: brightness, moisturization, and protection from sun.
Key features:
Makes the skin glow from within
Provides intense moisture in the winter months
Hydrating effect that lasts all day long
Leaves skin feeling soft and supple
Has a silky texture that gets absorbed easily
Recommended for: Mostly dry skin
Check the cheapest price on Amazon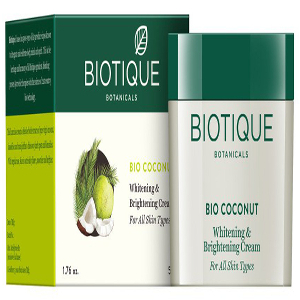 First on this list is a cream by Biotique, made from organic plant extracts grown in the foothills of Himalayas. It contains pure virgin coconut, manjistha, almond oil, and dandelion as its main ingredients.
Key Features:
The fatty acids in coconut moisturize and lighten the skin
Manjistha contains detoxifying properties and makes the skin clear
Reduces dark spots and blemishes
Brightens skin and evens out skin tone
Has a soft, herbal fragrance
100% vegetarian and free of chemicals and preservatives
Recommended For: Normal to dry skin
Check the cheapest price on Amazon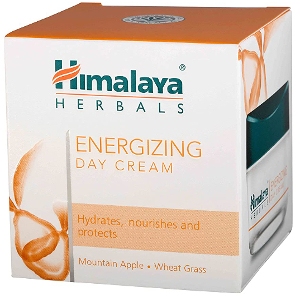 When it comes to herbal skincare, the name Himalaya is the first one that comes to mind. This whitening day cream utilizes liquorice and white dammer extracts to hydrate, lighten, and clear skin complexion.
Key Features
Non-greasy and hydrating formula
Lightens complexion and clears up uneven spots
Contains antioxidants to prevent pigmentation
Inhibits the production of melanin to tackle blemishes
Free from mineral oils and parabens
Recommended for: All skin types
Check the cheapest price on Amazon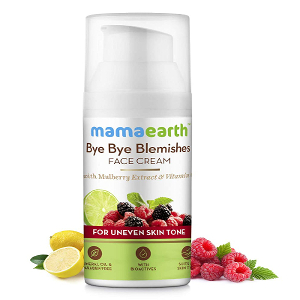 Mamaearth, a new but fast-growing and organic brand has launched this face cream to tackle blemishes specifically. The mulberry and daisy flower extract in the cream fight everything from pigmentation and dark spots to discoloration and uneven skin tone.
Key Features:
Reduces pigmentation from within by reducing melanin deposits
Improves skin elasticity by restricting collagen breakdown
Free of SLS, parabens, and mineral oil
Nourishes skin from within to make it glow
Completely safe for sensitive and acne-prone skin
Recommended for: Normal to sensitive skin
Check the cheapest price on Amazon
10. WOW Skin Science Fairness Cream SPF 20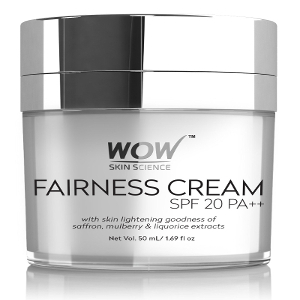 WOW is one of the newer skincare brands, but their products are fast gaining popularity. This fairness cream contains skin-brightening actives like mulberry, liquorice, and saffron extracts, as well as kojic acid to slow down melanin production.
Key Features
Lightens skin up to three tones by reducing melanin production
Has mild anti-ageing effects too
Shea butter nourishes skin to make it supple all day long
Free from mineral oil, parabens, and synthetic fragrances
Comes in an air-tight jar with a vacuum pump to prevent exposure to air
Recommended for: Normal to oily skin
Buying Advice
How do I know what my skin type is?
There is an easy test to figure out what type of skin you have. After washing your face, check to see how long it takes for the oil to show on your face. If your skin becomes oily again within an hour, you have oily skin. If your skin is not oily within the hour but also not super dry, then you have normal skin. If you can't go without a moisturizer after washing your face, you have dry skin. If you frequently get redness and rashes, you have sensitive skin.
How do I choose the best product for myself?
You should make a note of your skin type and your skin concerns, and then choose the product that best matches your needs. For example, if you have oily skin, you will need to choose a cream with a non-greasy formula.
When should I apply a cream?
The best time to apply a moisturizing and hydrating cream is immediately after you have used a face wash or cleanser. Don't wait for your face to dry completely, apply the cream while there is still some dampness on the skin. Use the tips of your fingers to apply the product using gentle motions.
I have sensitive skin. How do I know which cream is safe for me?
If your skin is extremely sensitive and gets irritated easily, always do a patch test before trying out a new product. Apply a little amount in the area behind your ear and let it remain for 24-48 hours. If nothing happens, the product suits your skin and will cause no allergic reactions. Ideally, choose a cream without SLS, parabens, synthetic ingredients and added fragrance.
Do I need to apply sunscreen even with creams that have SPF?
While a good daily moisturizer is an important step to achieve glowing skin, a sunscreen is essential every time you step out of the house. Even if your day cream contains SPF, your face needs to have the protection of SPF 50 or above, coupled with PA+++ to filter out UV damage. Mild SPF in a day cream is not enough to protect your face from sun damage.
What kind of products should I avoid?
One of the easiest ways to check if a product will suit you is to check the ingredients label. If a product doesn't disclose their full ingredient list, it is best to avoid it. You should also look out for your skin concerns and avoid products that can make your condition worse.
Conclusion
A good cream matters as much as having a regular skincare routine, so make sure to use the product daily after cleansing your face. Only long-term use will give you visible results. That, and daily sun protection using a strong and potent sunscreen. Don't forget that one of the biggest causes of skin tanning and dullness is exposure to sun. Even if your cream has SPF, top it up with a good quality sunscreen and reapply it every 3-4 hours. We hope this list helps you find a good day cream to get the glowing skin you deserve to have!