Best Sun Tan Removal Creams in India in 2021
Remember when you left the house without sunscreen that one time, thinking it'll be okay? And then ended up with horrible tanning and painful sunburns? All of us have had to deal with tanning due to sun exposure and it is not pleasant. Even when the painful, irritated skin heals, it leaves behind marks that are not easy to get rid of. Let's look at how one can tackle sun tanning.
Why Tanning Happens
The sun gives us warmth and light, but also harmful UVA rays. Exposure to the sun for long periods of time can result in the UVA radiation penetrating into our skin, which makes the skin protect itself from burning by forming a dark, protective outer layer. This darkening of skin is known as tanning. Tans usually fade away with time, but are also stubborn. Also, it is not recommended to go without sunscreen even if your tans heal in a couple of days because they can hasten ageing, and have also been linked to Melanoma, a kind of skin cancer.
Dealing with Sun Tans
Dehydrated and flaky skin is one of the worst aftereffects of sunburn. Sun tan removal creams are a good option for those who require moisturization and hydration along with protection from the sun.
1. VLCC De-Tan Sun Screen Gel Crème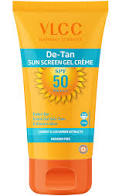 Although this is a sunscreen, it has great moisturizing properties. The formula for this cream contains Saxifrage and Grapefruit extracts that slow the process of aging and also lessen pigmentation, helping you achieve that even complexion. Aside from this, this cream also contains SPF 50, offering a powerful layer of protection against the sun's UVA and UVB rays. This cream needs to be applied on all exposed areas of the body, especially face and neck, at least 10 minutes before going out.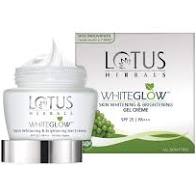 This wonderful cream by Lotus Herbals is a 3 in 1 miracle that not only removes tans but also brightens and clears your skin. Containing grape and mulberry extracts as well as milk agents, this cream reduces pigmentation and helps even out skin tone while also reducing the appearance of dark spots. The formula combines gel and cream textures, making it a good in-between product for those who can't choose between the two. It is also lightweight, which makes it perfect for summer months. This cream contains SPF 25 for advanced sun protection and is a must for those with combination and oily skin.
Check the cheapest price on Amazon
3. Auravedic Pure Lightening Whipped Body Butter
Fruit ingredients are great for removing tans as they cool and hydrate skin while also containing lightening properties. That is why this body butter containing the goodness of mangoes and peaches is such a hit. The active fruit enzymes in this product repair damaged and tanned skin, healing the good, old-fashioned way – naturally.
4. Makari Anti-UV Whitening Cream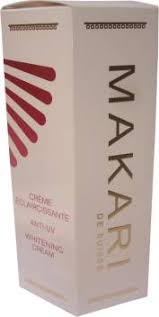 Products that solve your immediate problem are great, but those that prevent the same problem from recurring are even better. This cream by Makari is one such product. It not only helps lighten tans but also prevents them from forming again, making sure that nothing can come in the way of you and clear, even-toned skin. To top it off, this cream suits all kinds of skins and is dermatologically tested to prove its effectiveness.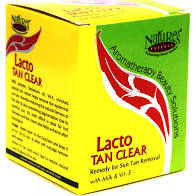 Nature's Essence has to be one of the most popular tan removal creams on our list. Everything about this product is perfect – from the milk proteins that even out complexion naturally to the honey that moisturizes and geranium oil that rejuvenates and revitalizes damaged skin. This cream will completely remove your tan while also making your natural complexion shine. Additionally, it offers protection against pigmentation caused by the sun.
Check the cheapest price on Amazon
6. Auravedic Pure Brightening Sun Block Lotion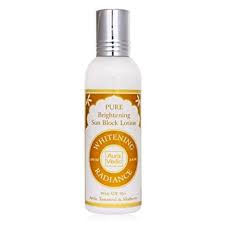 Yes, this list has two products by Auravedic, but both are super effective, so can you really blame us? Technically, this cream is a sun block, but it also has amazing hydrating qualities. It not only repairs sun damaged skin but also makes it glow from within. This cream brightens skin without any side effects and is also paraben free. It has a non-sticky, non-greasy formula that is water resistant and protects against UVA and UVB rays.
7. Fair & Flawless Suntan Removal Cream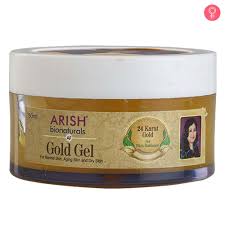 If you are looking to undo the damage caused to your skin by the sun, look no further. This cream reverses sun damage while also massively improving your complexion and making sure your skin tone is not uneven. It fights dark spots and unpleasant hyper-pigmentation caused by sun exposure. In just a few uses, you will notice that your skin is more elastic, supple, firm, and glowing from within. This cream is a must-have in everyone's arsenal during summer months.
Tan Removing Cream – A Buying Guide
We have provided you with some of the best options for tan removal in the Indian market. However, while choosing from this list, you will need to keep certain things in mind. The following tips will help you select a tan removal cream suited for your skin in the future, as well.
Pay Attention to Ingredients – When tanned, your skin is already irritated and inflamed, so it's best to choose a cream with a gentle formula and natural ingredients. Read labels and try to avoid products with alcohol, parabens, and other synthetic ingredients. Choose ingredients that hydrate skin from within.
Keep Your Skin Type in Mind – Even among tan removal creams, there are different textures that suit different skin types. Gel creams suit oily and combination, while dense creams work wonders for dry skin. Make sure to purchase a cream that will suit your skin and not irritate it further.
More is Better – Tan removal creams need to be applied multiple times a day, for more than a week, usually. Thus, you need a cream that is not only good but offers good quantity at a reasonable price, so that you can heal your skin without burning a hole in your pocket.
Protecting Yourself from Tan
Bookmarking a bunch of products to use in case you get suntanned is great, but it would be better to avoid the problem entirely, right? Turns out, it's actually not too difficult to avoid suntans if you follow these tips religiously:
Most skin experts recommend SPF 50+ for the skin, with UVA and UVB protection. No matter what, do not skip sunscreen. Apply sunscreen 15-20 minutes before going out. If going to a beach, reapply every 2-3 hours.
It is ideal to keep exposed skin covered with hats, sunglasses, stoles, etc. in summers. Any extra protection is a good idea. If possible, avoid going outside in the peak hours of the afternoon, when sunlight is at its harshest.
Conclusion
Maintaining a regular skincare routine makes your skin more resilient. It also helps remove a tan quickly, which means less time until your skin is healthy again. Follow a cleanse-tone-moisturize routine every day.
We hope this list of creams, as well as tips for tan removal, has equipped you for the harsh summer months. Remember to take tans seriously and employ every possible protection against them. Your skin will thank you.
Also Read: Benefits of Biotique Tan Removal Scrub