6 Beautiful Sleeves Blouse Designs
It is almost the time of festivities, and ethnic wear is one of the very sought-after apparels for every occasion! With sarees or lehengas, women tend to focus more on the back, the neck, and the sleeves. These are the integral areas that can build the entire style of the blouse and make it appropriate for the entire look. There are different types of sleeves blouse designs with different sizes, colours, and work on them.
If you are going to stitch your blouse soon and are looking for some inspiration, you are at the very right place! Here are a few very innovative and pretty blouse sleeve designs that you can try this year for pairing with your sarees or lehengas. Let's check them out.
Different Types Of Sleeves Blouse Designs
1. Sheer cape sleeve style
Capes have always been a constant trend for quite some time. These are usually worn as normal topwear but look excellent if paired with a saree too! The sheer cape sleeve style is most appropriate if one is looking for a full-on glam-styled outfit. The sheer cape sleeve style is more suitable with floral and light-colored sarees. The flowy and chic look is perfect for daytime occasions. You can pair some good pastel jewelry to complete the outfit.
Apart from this, this blouse sleeve design is perfect for the hot and summer seasons. This is because the capes are mostly made of very lightweight and breathable fabrics. Thus, this sheer cape sleeve style is the best combination of both comfort and trendy!
2. Fringe detailed sleeve style
The fringes are yet another very classy design that can never go out of style! When attached to the blouse, the fringe laces will instantly amplify the entire look and give a modern vibe to it. It is great if you have a simple and basic saree but intent to make it more trendy. The fringe design can instantly transform your simple saree into a full-on designer saree!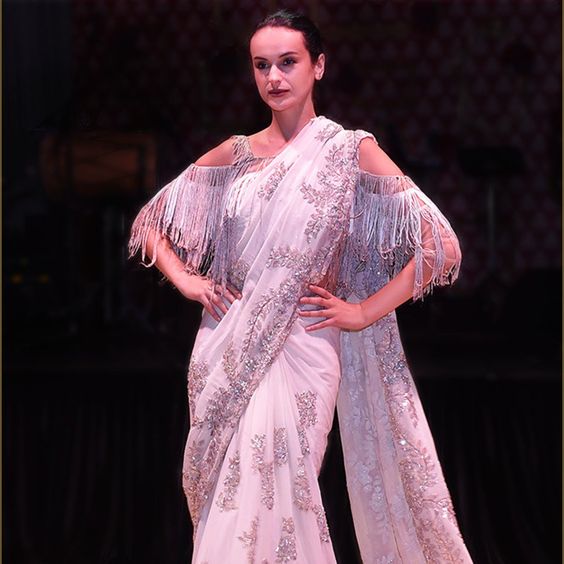 3. Cold shoulder sleeve style
The cold shoulder sleeve style is best suitable for soft silk, chiffon or other lightweight saree fabrics. It consists of a cut right at the upper portion of the hand(above the elbow) of any desired shape and size. The most common shape is of an oval or a triangle.
It works great if you are looking for something more on the modern and fashionable side since the sleeve can accentuate the look to a whole different level. The cold shoulder sleeve style is very common nowadays and is very sportingly flaunted by celebrities as well. 
4. Elbow-length sleeves with frill detailing
Since we have only covered the modern designs till now, here is an amazing option for people who prefer wearing traditional and bold sarees. This design consists of a small-sized frill that is situated near the elbow. It gives a very well polished and royal look. The blouse color should preferably be a solid color and not some designs in the body of the blouse.
This will add more focus on the frills in the sleeve and will give a very extravagant look! This blouse sleeve is perfect if paired with sarees like banarasi or chikankari since the designs and the length will complement the traditional look.
5. Transparent styled sleeves
The sleeves are usually made of net and are smoothly transparent. One can easily flaunt their fine hands with these blouse designs. This is also great for people who might have tattoos and will look to flaunt them with a saree. This will yet again give a very statement and fashionable feel to the complete outfit. This design is more suitable for color-blocked bright sarees and will subtly add glamour to the entire look.
6. Thick border sleeve style
These types of blouse sleeves either have an inbuilt thick border or can be added later by stitching a thick jari piece into the borders of the sleeve. This is yet again another very popular design for traditional sarees and works perfectly for any occasion. You can also add little embellishments or beads above the borders to enhance the overall design. This design is excellent for pure silk sarees and great for adding that shine and glamour!
Pair it with some heavy jewelry and a neat bun, and you are all set to steal the show with your perfect outfit! 
Wrap Up
Now, that's a wrap for your list of some very gorgeous blouse sleeve designs. These are very trendy during this year and, therefore, a must try for all the ladies out there. These blouse sleeve designs look perfect for every age group and is perfect for both casual and special occasions.
Thus, if you have an auspicious occasion arriving soon, don't wait any further. Choose your favorite blouse sleeve design amongst the list, get it stitched by your local tailor, and let the compliments pour in!