Traditional Dresses Inspiration From South Indian Actresses for Females
If you are in search of an apt inspiration for decking up in traditional attire, you have arrived at the best place! Here we are revealing the best dressed South Indian actresses who show us the right ways to wear traditional outfits. These outfits have altogether a different ethnic essence which brings forward the real Indian beauty in you.
Let's get into the in-depth discussion to know how they rock in style and how you could achieve it for yourself.
1. Kajal Aggarwal inspired summery traditional look
If you are in doubt how to choose silk sarees on a hot summer day, get some views from Kajal Aggarwal. The actress shows us how to create an eye-soothing effect with the colour combination of a saree. Here we see her wearing a yellow silk saree with a sky blue border. This type of pastel-coloured silk saree looks amazing on any woman on daytime traditional occasions and puja.
Keep the makeup simple to pop the colours of the attire. It is best to wear a Kundan necklace and earrings to match with the entire look.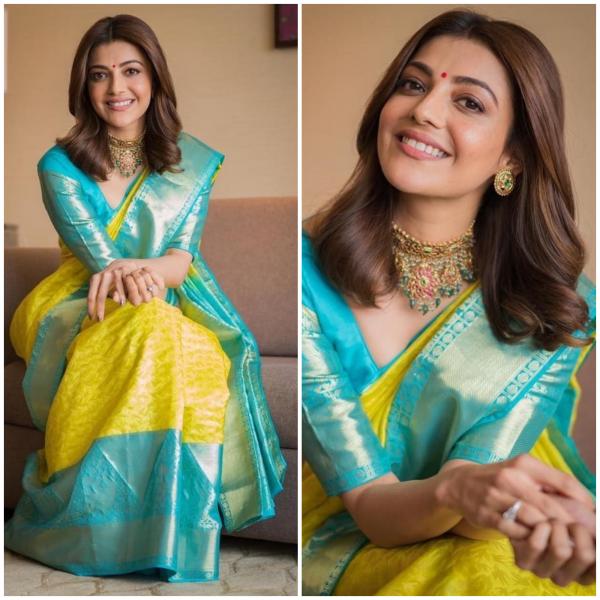 2. Tamanna Bhatia inspired gorgeous traditional look
Tamanna Bhatia, a renowned actress of the South Indian movie industry, is a beauty queen. She creates a stunning look with grey-red Benarasi silk saree and heavy ornaments.
Women who are planning to attend night time traditional occasions can wear such broad bordered silk sarees. It makes the appearance more gorgeous and unique at the same time. And if you wear Antique jewellery of Kundan jewellery sets, it emphasises the whole look. Keep the makeup simple and wear a bindi to give a touch of traditional culture.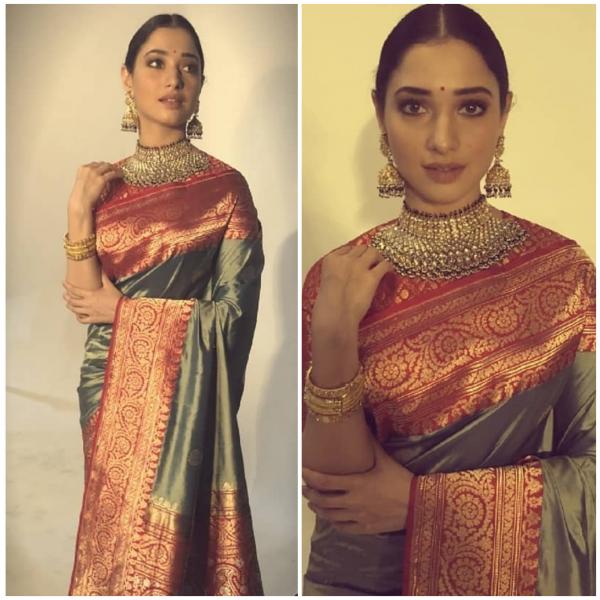 3. Shruti Hassan inspired day time traditional look
The famous South Indian actress Shruti Hassan looks like a princess in the pink saree. She shows us how to carry a saree during the daytime with minimal makeup and accessories. Any woman can follow her traditional look paired with silver jewellery for casual occasions. The light pink cotton saree with embroidery detailing looks flattering.
You can wear such light coloured cotton saree with light makeup to dazzle in daytime outings. Do not forget to wear a matching bindi to spice up the look!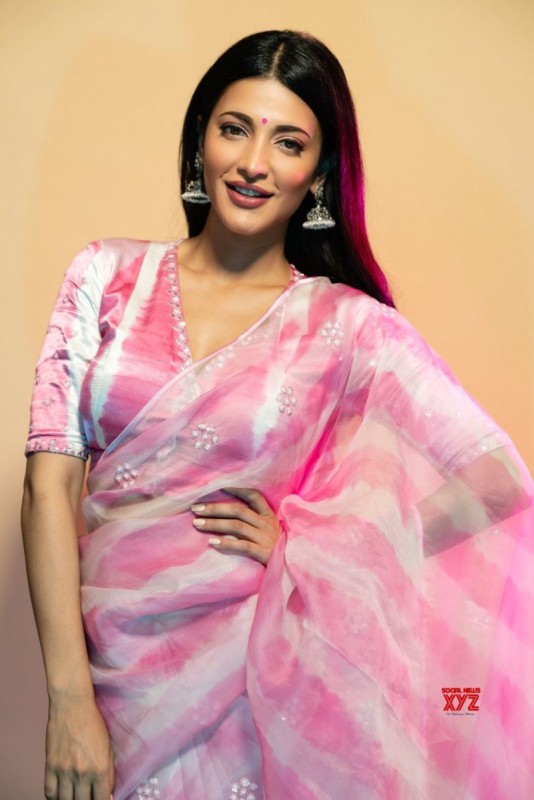 4. Rakul Preet Singh inspired classic South Indian look
Rakul Preet Singh is a famous actress who never fails to impress with her fashion sense. Here we see her in a bright pink silk saree with check motifs all over. The vivid yellow border of the saree brightens the appearance.
Any woman can follow such a colour combination of saree to stand out against the crowd while heading toward an occasion. The actress guides us here how to pair the right kind of accessories, including a belly chain to make it more attractive. A simple hairdo is more than enough to complete the look!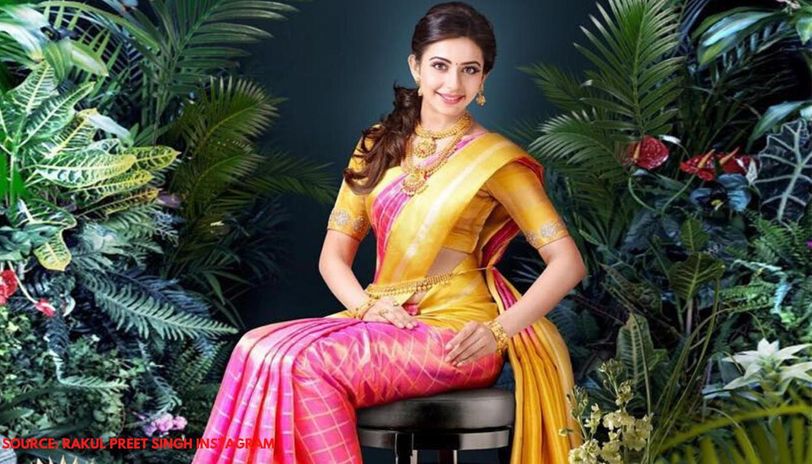 5. Anushka Shetty inspired royal look
Anushka Shetty has an immense sense of styling sarees. Her royal look looks amazing in a blue traditional South Indian silk saree. She paired this look with traditional ornaments. Wear the same sorts of jewellery to sport a traditional South Indian look in a silk saree. Royal blue, magenta and red are the colours to choose to create such a glamorous look.
Braid the hair and add some flowers to look like a typical South Indian woman! And complete the makeup with bold coloured lipstick and bindi.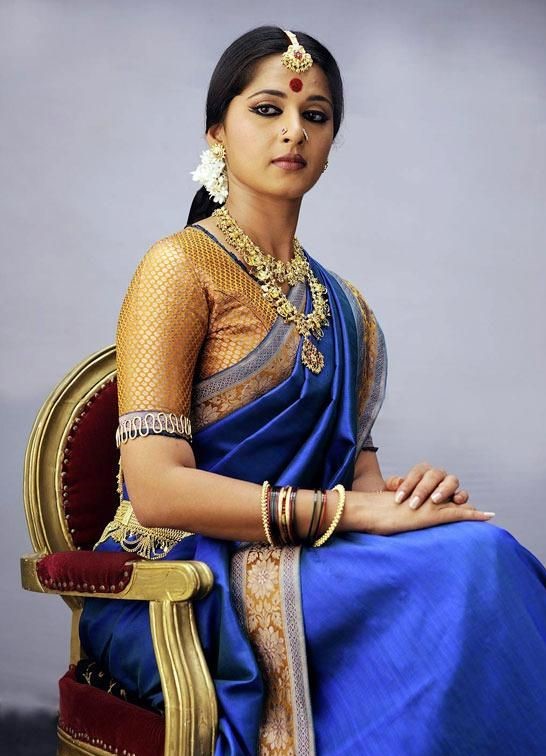 6. Trisha Krishnan inspired bridal look
Trisha Krishnan is an inspiring South Indian actress whose sense of style dons the industry. Here we see her in a deep green traditional south Indian silk saree. She looks dazzling in the matching saree-blouse combo. Any woman who is looking for a bridal makeover with such traditional saree can follow this look.
A bride can pair appropriate Kundan and Antique ornaments to rock in style. And do not miss that belly belt/chain while recreating her style. A Baju bandh on arms revamps the appearance of the bride!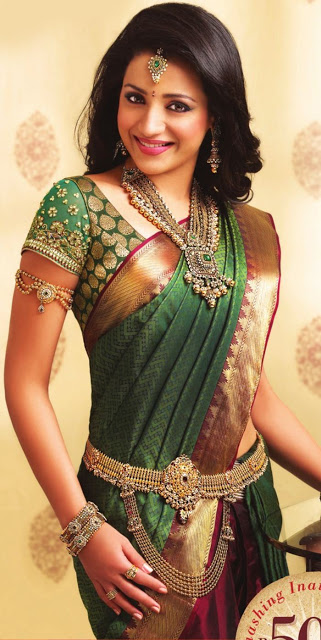 So, here you get the ultimate guide for traditional dress inspirations and South Indian look for females. All you need to do is to choose your favourite one and recreate it!
Did you like these looks? Which was your favorite one? Let us know in the comments below.