Best Concealer For Indian Skin in India 2021
Flawless skin comes with a time tag. Skin starts losing its texture, real colour and elasticity around 35 or so.
Sometimes it happens earlier- in your twenties. And when you should be showing off your perfect complexion to earn brownie points in the matching game, you suddenly find yourself scampering for a concealer. But, now we are going to help you find that one perfect concealer that will cover up your blemishes, pigmentation, redness, and marks so you don't have to scamper like a headless chicken anymore!
All you need to do is read this article through to the end and let all the information soak in.
Let's begin with something you can't do without knowing. There are different types of concealers. All you have to do is know which one to choose based on your skin type and requirements. Here's a checklist:
Different types of concealers
Liquid concealers are extra versatile when it comes to covering up your skin marks and blemishes. You can use more brush strokes if a light application doesn't accomplish the task.
This type of concealer works very well with normal, combination, and oily skin. This is a product that doesn't cake up. You can choose from various finishes like satin, dewy and matte.
Cream-based concealers are the second type of concealers available to you. They can be perfect for you if you have dry skin. They work for normal or combination skin types too.
Remember, they do tend to crease when worn for long hours. To avoid this, you may have to blend them in again and set them with powder to achieve the crease-less look.
Stick concealers are the other type of concealers. They come in a roll-on stick packaging too, and give good coverage. They are easy to carry around and they are usually thick, ultra-creamy, and pigmented.
Now we present the top 7 brands of concealers available in the market. Choose the one that calls out to you and get rid of your pigmentation woes.
Top 7 concealers for Indian skin in 2020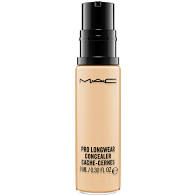 According to M.A.C, this is a kick ass fluid concealer that provides full coverage for up to 15 hours. The concealer is light-weight and is designed to give you a natural matte finish. It also is transfer-resistant and water-resistant, according to M.A.C.

Key benefits
Gives full coverage
Tested by dermatologists
Non-comedogenic
Suitable for most skin types
Lasts for about 15 hours without drying or creasing
Brightens skin
Check the cheapest price on Amazon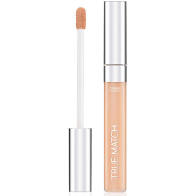 This product is available in a cylindrical pump dispenser pack. It is ultra-light and small. It covers dark circles and spots like a pro. It looks natural even though it has a creamy consistency.
Key benefits
Long-lasting for 12 hours
Matt finish
Super pigmented
Brightens skin
Check the cheapest price on Amazon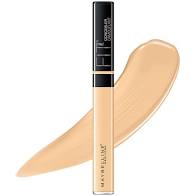 This is a unique product formulated by one of the best in the cosmetics space- Maybelline. It claims to bring on the glow. It's a creamy gel-based, light concealer with light-reflecting radiance pigments for the glowy look.
Key benefits
Sensitive skin compatible
Non-comedogenic
Pick for the glow
Doesn't crease
Available in a travel-friendly package
Check the cheapest price on Amazon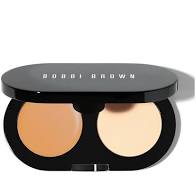 This is a concealer kit that you will fall for instantly. Bobby Brown is a high-end brand that delivers. This concealer covers up serious dark circles and is especially good for your under-eye area. It is creamy, and gives excellent coverage and is suitable for all skin types.
Key benefits
It blends in easily to conceal flaws and it also adds sparkle by illuminating dark circles.
It is rich in antioxidants, vitamins C and E.
It conditions as well as shields your skin from UV rays.
It also has kaolin, a natural mineral. This helps the concealer stay for long without settling into troughs.It's also available in various shades.
Check the cheapest price on Amazon
5. NYX Professional Makeup Gotcha Covered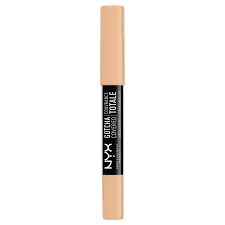 This is an innovative concealer formulated by NYX. It has a creamy texture and is very good for dry skin. Apply with a damp sponge for best results.
Key benefits
You need to apply only small amounts of this concealer.
Best for dry skins.
Glossy, glam finish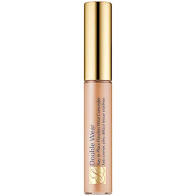 This is a long-staying product with claims of lasting for up to 15 hours. It's also a light-weight cream formulation that helps create a flawless complexion.
Key benefits
Transfer-resistant and color-true formula
Infused with minerals and emollients for conditioning your skin
It blends in easily.
Light-weight
Contains SPF 10
Long-staying
Dermatologist tested
Check the cheapest price on Amazon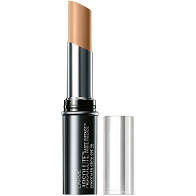 This concealer stick is the best for you if you have oily and combination skin types.
Key benefits
It is super pigmented.
It provides medium-full coverage.
You don't need a setting powder after using it.
It is long-lasting- stays for 5 to 6 hours.
It blends in well.
Good for everyday use.
It covers up dark circles well.
Check the cheapest price on Amazon
How should you choose the right concealer?
Choosing a concealer needs deliberation and care. The thing to keep in mind is to choose a product that suits your skin type and age. If you have dry skin, don't go for a liquid concealer that has a matte finish because it will highlight the dryness. Matt finish is also a no-no for older skins. Liquid concealers are otherwise suitable for wrinkled skin as they don't crease due to their thin consistency. Satin finish liquid concealers are very suitable for aging skins.
If you have oily skin with enlarged pores, creamy concealers are not for you as they clog the pores and make them look bigger.
For minor skin discolorations, a concealer that gives light to medium coverage is good. And for the under-eye area, be sure to select a shade of concealer that is just about a shade or two lighter than the color under your eyes . Go for a radiant shimmer for the under-eye area to look younger. Similarly, for your face, select a concealer that matches the color of your foundation.
Working women prefer stick concealers as they are easy to apply. They blend easily too. These are not good for oily skin, though, as they tend to clog up the pores.
Cream concealers are good for normal, dry, combination, or sensitive skin and are best for covering discolorations and undereye circles. They can crease into lines and wrinkles and need to be pressed with loose or pressed powder. Busy ladies, take note.
Just experiment more with the concealers; you will get there, we promise!
How to apply the concealer?
Now that you have zeroed into the perfect concealer for yourself, here's a guide to using it.
Prep with moisturizer -This is a must for every skin type.
Apply foundation on your face and follow with the concealer for intense coverage. All you need for this is a concealer brush, a sponge, or your fingers.
For concealing spots and blemishes, just dab some concealer and blend thoroughly.
After this, seal the look with a light dusting of setting powder. Do note that a concealer with a matte finish doesn't need to be set with powder. This will only make the area dry and flaky.
You follow the very same application techniques regardless of the type of concealer you are using. A few people apply the concealer first and then the foundation- this is OK too. The rule of thumb is to avoid applying liquid or cream concealers over a powder foundation. This will give your face a mottled look. To apply the concealer first before applying a powder foundation. It's also best to use a radiant finish concealer in the under-eye area or add a shiny highlighter on top.
Following the points given above will help you look your best and accentuate your beauty.
Do try them out and let us know.
Also Read: Best Compact Powder for Indian Skin: Oily, Dry, & Combination