7 Ways on How To Make Face Look Thinner
Did you recently gain a few extra pounds? Even though there is no harm in gaining a few extra pounds at times, it might make your face look slightly chubbier and round! Most people tend to love sleeker and sharper jawlines instead of chubby faces!
And if you are one of them, too, you either have to wait until you shed those extra pounds or try out these tricks that we will discuss today to make your face look thinner real quick! On that note, let's get started with the seven best tricks that are readily accessible, easy, quick, and great for making your face look slimmer! 
Learn how to make face look thinner
1. Use a sharp contour or bronze on your face
If you are concerned about your chubbier cheeks hiding your cheekbones or double chin, nothing beats the good old trick of bronzing and contouring! Even though you can try both for your makeup routine to look even more snatched, we recommend using anyone to prevent the cakiness! 
Just follow your regular makeup routine, including your concealer, foundation, etc., and add a suitable shade of bronzer or contour on the hollows of your cheeks and your jawline! You may also want to contour your nose a slight bit to give an illusion of a slimmer nose! The contour or bronzer will create a shadow in those areas, which will hide the appearance of the chubbiness, making your face look snatched!
However, ensure to take the right shade of bronzer or contour. If you choose three to four shades darker from your skin tone, it might look muddy and noticeable. To make your contour look subtle yet perfect, prefer going one to two shades darker from your skin tone, and you are good to go!
Check out these best contouring products: Best Contouring Products In India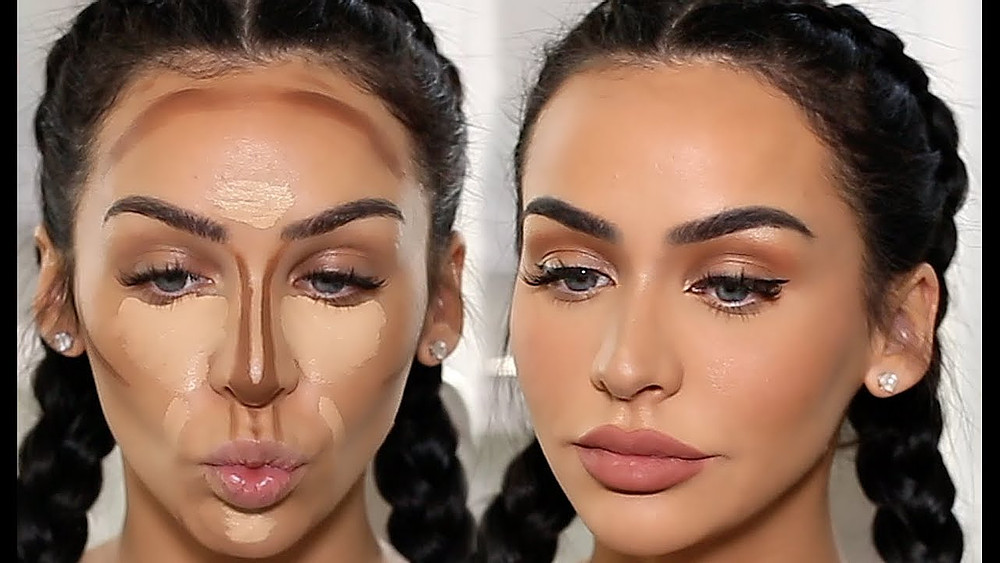 2. Avoid over-plucking your eyebrows
If you are one of those people who love keeping thin and slim eyebrows, you are making a great mistake! Sure thin eyebrows look great on slimmer faces, but when your face is more on the chubbier end, you need to stop over-plucking your eyebrows! 
Try growing your eyebrows the next time and ensure that you do not over pluck them. Pluck out the extra hair growth and give it a structure instead of hampering the original width. If you have thinner eyebrows right from the beginning, you may need to try out remedies that can promote the growth of your eyebrows and make them look thicker! Hence, the main idea is to keep your eyebrows dense and thick, which will give an overall illusion of a thinner face!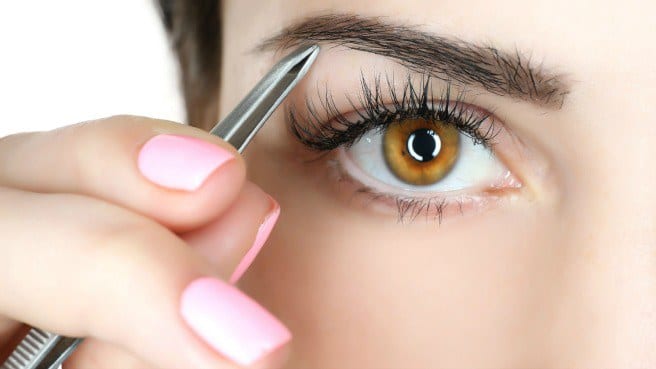 3. Apply your blush correctly
You may not notice, but your blush placement plays a massive role in how your face looks post makeup! Let's break that down even further!
When you apply your blush right at the apple of your cheeks and nose, focussing towards the centre, you give an illusion of a chubbier and round face!
Since we are focussing on making your face look thinner, you need to change your blush placement during your makeup routine! Place your blush on your cheekbones and try to make a carve on your cheekbones! 
Additionally, avoid bright pink shades for your blush since that can wear you down with such a blush placement. Choose neutral or coral shades for your blush and maintain the placement. It will give you the natural flush of colour along with adding the right dimension to your face! While this itself instantly makes your face slimmer, pair it up with a slight bit of contour or bronzer, and you will notice a visible difference in your overall face structure!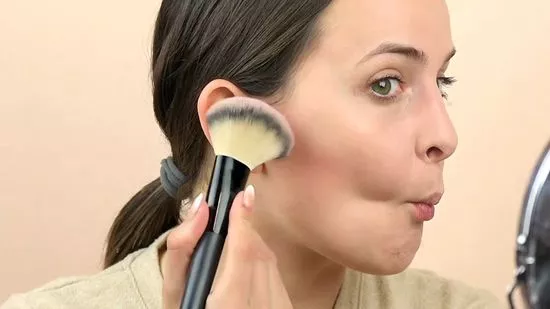 4. Highlight the highest points of your face
Nothing beats a good pop of highlighter at the end of your makeup routine, which gives you the right dewiness and shines to your face! Choose bright highlighters, especially Champaign or golden shades, that will make your features pop! Apply it on the highest points where the lights usually hit, preferably on the bridges of your nose and the cheekbones!
Likewise, avoid using a highlighter at the apple of your cheeks which makes your cheeks look even chubby and plump!  Check out other areas where the light directly hits your face! Add a tad bit of highlighter to those spaces, and you can find your face looking thinner in no time!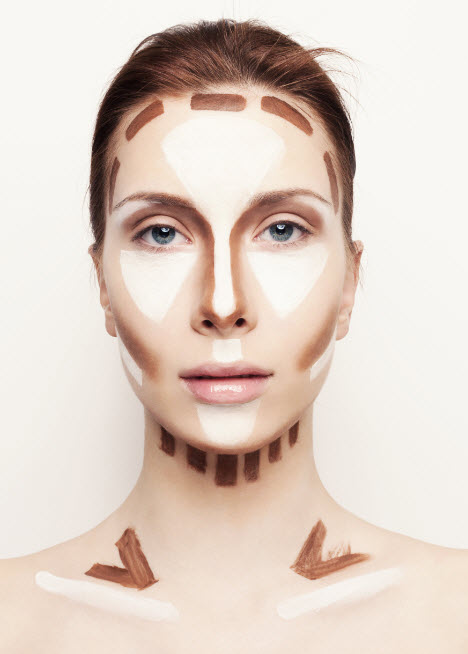 5. Practice a cat eyeliner
If you prefer kohl more instead of eyeliners, you might need to change your makeup routine today! Adding kohl on your lash line in a regular manner makes your face look even rounder! Instead, start practising and ace the art of creating cat eyeliner! You will get multiple tutorials on the internet to ace the technique. Once you get a good hold of this art, there is no going back! 
A cat eyeliner instantly gives an illusion of a slimmer and lifted face! When you draw the arch towards your eyebrows in a diagonal erection, you lift up your entire face making it look thinner!
However, in case you are not the most proficient in using eyeliners for your eye makeup, you can also try using kohl and creating a cat eye instead. Even though the results would not be as flattering and sharp as an eyeliner, it would still do a decent job of making your face thinner and snatched!

6. Try face shaping tools
If you want immediate results, this tip might not be an ideal choice since this tip focuses more on the long-term results of face slimming. There are multiple facial exercises that focus on eliminating your double chin or carving out your cheekbones. Regular practice of those facial exercises will help in carving out your facial structure. 
You can either use your knuckles or fingers for those facial exercises. Nonetheless, if you want to take it a step higher, you can use facial massaging tools like a gua sha. It is perfect for carving out facial structures while promoting the overall blood flow in your face and giving a radiant glow to your skin!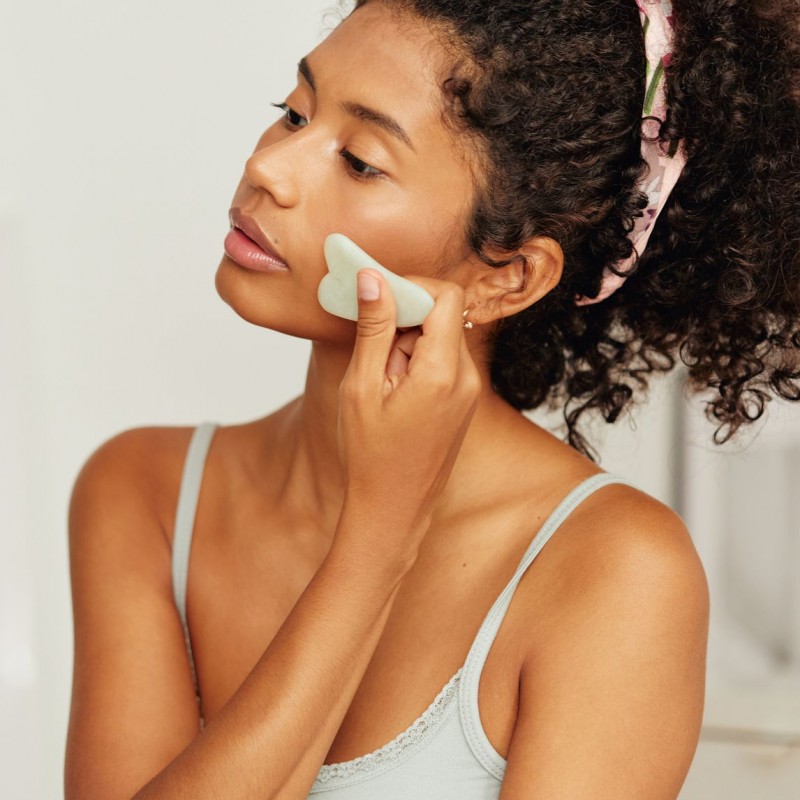 7. Try out different hairstyles
Your hairstyle has a lot to do with your overall facial structure. While you can explore multiple hairstyles, the goal is to choose the ones that hide the chubbiness of your face. Instead of going for regular cuts, try out layers or waves for your hairstyle. Choose middle partitioning instead of separating your hair from the sides. This will ensure that the hair is distributed at the right places and give your face a better dimension. Alternatively, you can also choose to have long bangs on both sides to give a more even structure!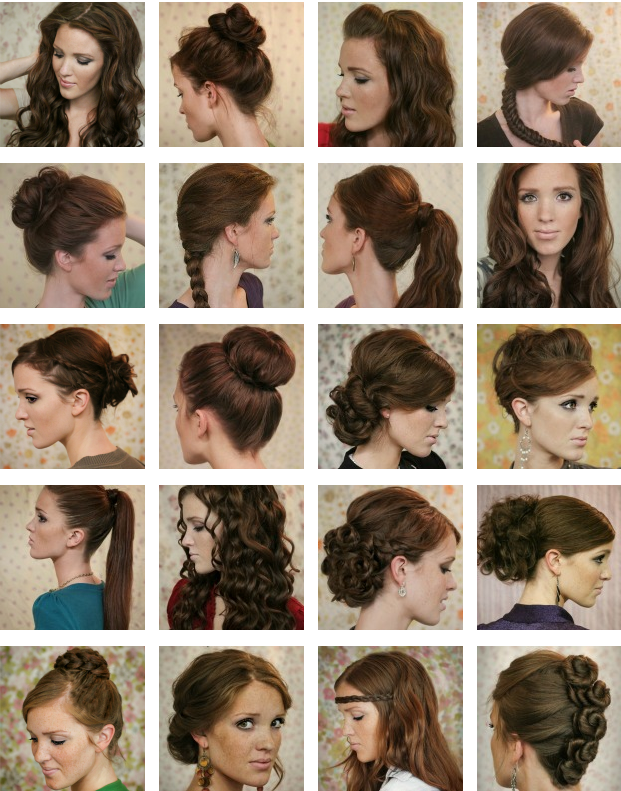 Final Thoughts
You should never be guilty of gaining a few extra pounds sometimes unless you put your health at risk. On the other hand, if you are born with a chubby face and have tried countless ways to lose weight and make your face thinner, maybe it's time to reconsider this. Every facial structure is beautiful in its own way.
If you are still worried about your facial shape and want to get rid of chubbiness, these tips are proven to help you in achieving a flawless and chiselled facial structure. In fact, most of these tips and tricks are temporary. Thus, sooner or later, you have to be comfortable and loving to your original face structure!
Also Read: