Best Himalaya Face Packs for Glowing Skin
Himalaya is a well-established Skin Care Brand. It's been around for a while and carries good brand recall and reputation.
A lot of women trust Himalaya for its skin-centred product range.
Himalaya herbals is a company that concentrates on herbal products that are beneficial for the skin. These plant and herb-based products are truly non-violent and benign. They don't cause allergies and are free of synthetic, chemical-based skincare ingredients.
These products are value-efficiently priced and yet offer very good quality.
Especially in demand are the face packs.
Himalaya Face Packs for Glowing Skin are absolutely in the must-have category. They deliver each time. They relax you, they are also easy to apply, and they give you the feeling of toned and tightened skin just after a single-use.
They hydrate, remove excess oils, and deep–clean your pores. So, if you want to introduce face packs into their skincare regimen, but don't know where to start, here's a list of top Himalaya face packs for glowing skin that will do the trick every time.
Not only will you see noticeable transformation in the way your skin looks and feels, but you will also feel pampered and cosseted, something that makes face masks all the more fun.
Face packs are a necessary part of your skincare routine and help improve deep cleanse the skin while tightening it and, at the same time, provide specific benefits for treating different skin ailments such as dull skin, acne, blackheads and pigmentation.
We have more detailed information about these facial masks. Use these two or three times a week. This will ensure that you get the best results.
Himalaya face packs for glowing skin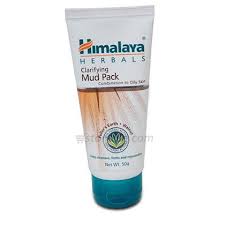 Mud face packs are really effective at unclogging skin pores.
This pack is made using only natural materials like walnut, Fuller's earth or multani mitti, khus-khus, and mineral clay. All are great for the skin. This Fuller's earth-based formula is also rich in minerals that help tackle acne and clearing out blemishes.
Key Benefits
It removes tans and imparts even-looking facial skin.
If you have oily skin, this is one of the best Himalaya products for you. If you have combination skin, this product works well as it removes excessive oil.
This clay mask helps get rid of blackheads and dead cells. It improves blood circulation apart from just improving the skin tone.
It is great at removing tan and pimples too. Use this face pack regularly to see dramatic results.
It comes at a reasonable cost of just Rs.60 for 50g. What we feel is that this product is a steal at the selling price. Use it to refresh and clear pesky impurities from your face, and look fresh and lovely!
Check the cheapest price on Amazon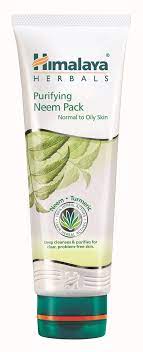 Neem is a natural skin disinfectant that's been a part of the Indian skin regime for decades, if not centuries. What this great Himalaya skin product does is to add apricot in with neem. Apricot scrubs gently and neem clarifies.
This face product, another gem by Himalaya, gives you an even skin tone. The consistency of this greenish mask is thick and creamy. It is like Multani mitti when it dries.
You can use Himalaya Herbals Purifying Neem scrub along with this pack. What's also great is the fact that the neem granules are not harsh in any way, making them ideal for sensitive skins.
Key Benefits
It mops up the excess oil of your face and cleanses impurities cleaning your skin and leaving it glowing and refreshed.
Its antibacterial properties help in reducing the frequency of new eruptions and shrinking the size of existing pimples. You must try it if you have oily, combination, and acne-prone skin.
It works like a beauty, especially if you have blackheads and are looking for a herbal scrub. It doesn't just remove those blackheads. It also prevents their recurrence.
It is a thorough cleanser and is also value-efficient in pricing. A steal, in other words!
Check the cheapest price on Amazon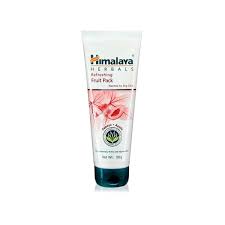 Fruit face packs are popular as they are rich in antioxidants and alpha hydroxy acids, which give you plump, youthful skin.
Key Benefits
This face pack gives you skin brightening and anti-ageing benefits.
It is a refreshing formula that is available in a squeezable tube.
It is eminently user-friendly and easy to use.
The consistency is smooth and this makes applying it very easy.
It is especially good as deep cleanses and dries at the same time.
It removes the dirt embedded in the facial pores. Post-application, your skin feels radiant and plump.
This pack works especially well on normal and also on oily skin.
It hydrates by infusing plumping moisture into your skin directly to make quick changes.
Finally, it comes at an extremely value-efficient tag.
Check the cheapest price on Amazon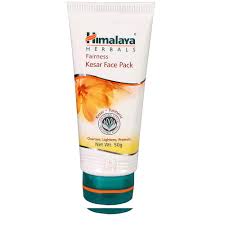 This is a saffron-based product for the face. It is imbued with the goodness of saffron and is formulated using a super-effective herbal formula to revitalize your skin and add glow to your countenance.
It works from within, accelerating the regenerative processes of your skin. It evens out skin tone as it contains turmeric, Aloe vera, walnut extract, and as we mentioned, saffron to cleanse the deep-settled impurities in your skin to make it grow healthily.
Walnut beads are added to the mix as they are excellent natural exfoliants.
They slough off dead skin and remove blackheads while turmeric and saffron enhance your complexion.
The face pack also contains Cinnablock, a patented herbal ingredient that works as a sunblock to save your skin from harmful UV rays of the sun.
Since fairness packs are used to remove tanning and darkening of the skin due to sun exposure, this product works really well.
By removing tan, this product by Himalaya gifts you an even skin tone. The kaolin helps deep cleanse your skin and unclog pores by removing dirt and makes it healthy.
The best thing is that the mask does all the above without drying out your skin but keeps it hydrated naturally.
Key Benefits
It revitalizes your skin and adds glow to your countenance.
It removes tanning and darkening of the skin due to sun exposure.
It evens skin tone by removing tan.
It does that without drying the skin.
Check the cheapest price on Amazon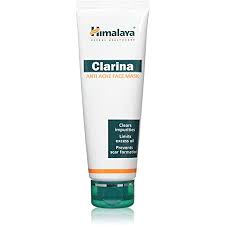 Himalaya Clarina Face Pack is very good if you have pesky breakouts on your face. It is armed with anti-inflammatory and antimicrobial properties, which help in healing acne that's fresh.
It also helps acne scars to clear up because it contains antioxidants that trigger the regenerative processes of your skin. It has emollient and astringent effects. It also soothes skin and helps in the management of acne, plus it relieves itching.
Key Benefits
It prevents skin breakouts.
It has anti-inflammatory and antimicrobial properties.
It clears up acne scars.
It has emollient and astringent effects.
It also soothes skin
Check the cheapest price on Amazon
How To Use Himalaya's Face Masks
The way to use these masks is easy. The steps to be followed are given below –
Just rub them in a circular motion on your face and neck.
Let the pack stay on till it dries out. Rinse out with water and pat dry. Don't pull your skin.
And you will feel the difference. You are recommended to use these packs on your face once a week. Check the label for more precise instructions and stop if you feel any discomfort.
Conclusion
Before you choose any product, make sure to know what your skin type is. This will help you choose the right product and also help you standardize the right care regime. It's always best to go natural and herbal.
All the best.
Also Read: