Best MAC Blushes From Fair To Medium Skin In India
MAC is a brand in cosmetics that needs no introduction as it's been there in the market for decades. Being a global cosmetics brand, MAC's products are suitable for all skin tones, and no one feels left.
MAC offers a wide range of products like lipsticks, foundations, eyeliners, and blushes. MAC cosmetics has made a name for itself in the beauty industry as a trustworthy brand offering high-end products for enhancing any feature of the face. MAC's makeup products are extensively popular all over the world. It has also become a well-known and prestigious brand in India since its launch. When it comes to blushes from MAC, there are hundreds of options to choose from.
MAC blushes are loved by all, as they offer an instant facial glow. A good blush can make or break any makeup look. Blush is one makeup item that you can not dismiss, be it a glamorous or an everyday look, it looks so pretty on the skin. Even if you do not like to put makeup on, blush is one makeup product that you would surely like to reach out to whenever you go out.
Using a blush can give you a youthful look and make your skin look healthy and glowing. If you have tried many products and nothing seems to suit you and end up looking too much, then you have not found the right product yet.
Blushes from MAC are very famous because they successfully deliver what one would want from a higher-end makeup product. Their colour range in blushes is broad, and it has something in store for every skin tone. Moreover, the pigmentation of the blushes is stunning which lasts longer on the skin.
You must know a little more about blushes as there is a broad spectrum of variety when it comes to blushes. As per the blush finish, the following guide explains in short what type of MAC blushes are out there in the market:
● Matte Finish Blush: As informed by the name, a blush offers matte texture to the skin, giving it a natural flush of colour. These are also long-lasting and very pigmented, so the colour payoff is incredibly amazing.
● Satin Finish Blush: These blushes give a subtle sheen to the face for a dewy look. They are soft looking on the skin and offer subtle colour.
● Sheer Tone Blush: These bushes are generally buildable upon application because they apply sheerly on the face. You can choose to apply it subtly, or upon build-up, the colour can look more pretty.
● Sheer Shimmer Tone Blush: These blushes have specks of shimmer, which works as giving a highlighted flushed look. They can also be used as a highlighter.
Due to the variety and range of blushes that MAC makes, it is normal and possible to get confused while making the right choice. With its pinky, peachy, mauve, plum, bronzey, shimmery, sheer, and many more shades in blushes, it can get overwhelming to get the one shade that will suit you the best.
Getting a blush for the Indian skin tones is quite tricky as many shades come under the Indian skin tones, right from very fair to highly dark skin tones. But not to worry, there is a MAC blush for you out there. You only have to know your skin tone and choose what shade looks best on you.
Best MAC Blushes For Medium Skin In India
1. MAC Dollymix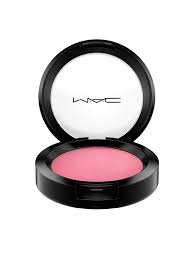 Dollymix is a bubbly pink shade of blush that will brighten your face giving it a healthy look. It is a sheer shimmer finish one that will also flush your cheeks with a pinky glow. If you fall between the fair to medium skin tone, this blush from MAC cosmetics is a perfect choice for parties and weddings. As it's a sheer tone blush, the color can be build-up according to how much you like, thus giving you more control.
2. MAC Mocha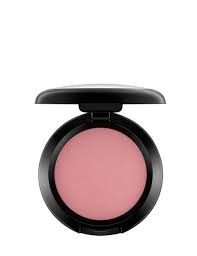 Mocha is a soft pink shade with a hint of mauve in it. It is a matte powder blush offering a natural flush of colour to your cheeks, making it ideal for everyday use. This bestselling product is suitable for oily skins as well as being a matte finish one. Being cool-toned, it is preferred by people with fair skin tones.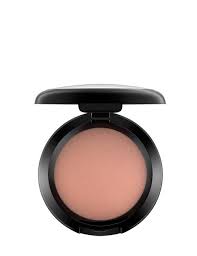 Gingerly is a good option if you don't like the traditional pinky blushes. It has a warm bronze shade that will help you in achieving a sun-kissed and edgy look. It is a matte finish blush which makes it longer lasting on the skin throughout the day. This blush can also be used as a bronzer which adds to its multifunctionality. It is ideal for Indian dusky skin tones.
Check the cheapest price on Amazon
4. MAC Breath Of Plum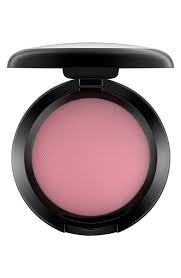 This blush has a mauve shade that is wearable for everyday use and for events as it won't budge. Breath of plum is a blush with a sheer and buildable matte finish that lasts a long time. It is suitable for any Indian skin tone as you can build up the colour according to your skin tone. This refreshing colour looks genuine on the skin with its unique colour that suits well on the Indian skin.
5. MAC Frankly Scarlet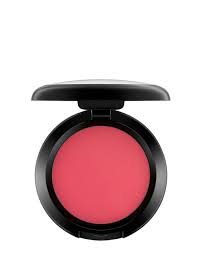 As the name suggests, Frankly Scarlet is a red shade of blush, that will look gorgeous on dusky and deep skin tones. It is a matte finish blush that will give your skin a beautiful red hue and lasts longer. It is very pigmented, so go light-handed while applying. Fair skin tones can also use this lovely blush by using it lightly to get a rosy look.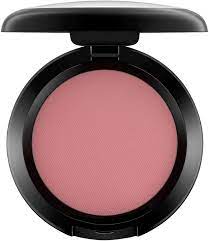 Desert rose blush has a pink tone with peachy undertones. Being a matte powder blush, it will last longer in the harsh weather of India. For light to medium to deep skin tones, this blush is an excellent choice for everyday use as it looks natural and beautiful on the skin. If you love wearing a deep colour when it comes to lipsticks, this blush will go very well with them.
Check the cheapest price on Amazon
7. MAC Melba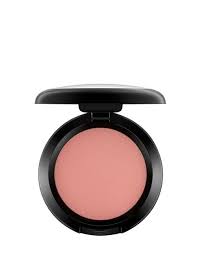 Melba blush is a beautiful coral peach color nicely flattering the variety of skin tones in India. The traditional pinky shades in blushes do not always flatter all the skin tones. So this blush gives you a brilliant option to opt for a natural look for your skin. This a matte powder blush that will not budge all day long, making it a great choice.
8. MAC Trace Gold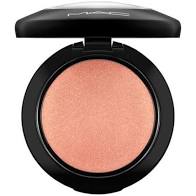 Trace Gold comes in the category of sheer tone blushes. It has a shade of peach-gold shimmer. With its beautiful pigmentation, you can achieve the look that a highlighter will give you. So it functions in fulfilling the role of a blush and a highlighter giving you a sun-kissed and dewy look. It goes perfectly well with fair to medium skin tones. The texture of this blush is a shimmery one that does not have chunky glitters in it. It goes smoothly on the skin. It is an outstanding choice for events like weddings and parties.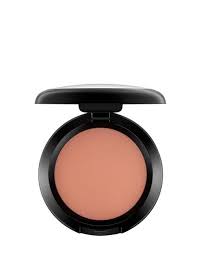 As the name suggests, Coppertone is a bronze blush that is more of a muted beige. It will complement the Indian skin tones beautifully with its flawless mix of peach and brown undertones. It is also a matte powder blush that makes it very ideal for daily use as it would not budge. While using a bronzer can sometimes be tricky because it can look patchy and harsh, this blush will help you achieve that natural bronzed-up sun-kissed look effortlessly.
Check the cheapest price on Amazon
10. MAC Ambering Rose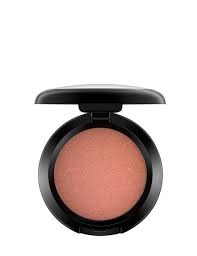 Ambering rose is a stunning brown blush with peach undertones. It is a shimmer tone blush with specks of gold in it, and it goes very well with Indian skin tones. It will provide you with a dewy effect giving a rosy tint to your cheeks, and we all want a glow when we attend events like a wedding. This blush will go very well with a dark smokey eye balancing your makeup with its perfect reddish tones.
Conclusion
These were the top picks for the best MAC blushes available in India for the fair to medium Indian skin tones. When it comes to buying a makeup product vis-a-vis a blush, we highly recommend selecting the one that suits and fulfils all your requirements. Do not rush into impulsive purchases while buying any blush and dealing with its inconsistency. Know your skin tone and determine what suits it better than the mostly chosen monotone pink blush.
Try our recommendations and decide for yourself the best blush from MAC cosmetics that will compliment your face and make your makeup pop out.
Also Read: