7 Types Of Women's Shirts
There are different kinds of women's top wear such as blouses, shirts, t-shirts, etc. But, a shirt is that one staple apparel that is perfect for every occasion. If anybody said that shirts are only meant for formal occasions, then they are indeed wrong and have an outdated fashion sense! There are different types of women's shirts that your wardrobe can have.
You can either wear it as an Indo-ethnic or even a fancy party dress by pairing it with different bottom wear. The options are limitless!
One of the most prevalent fashion rules is to own at least a plain basic white shirt in your wardrobe. Well, that is actually true! A plain white shirt is versatile and trendy! But why just be limited to a simple plain white shirt? Why not try some different patterns and designs?
There are different types of women's shirts depending on the style, fabric, design, etc. Hence, you can always have an OOTD every day with a good shirt!
Types of Women's Shirts
1. Long shirt
A long shirt is the best choice if you love spring and summer vibes. These mostly have a length that is just a bit more than the standard size. There are different designs available in the long shirts like florals, checks, or even solid colours, which look perfect if tucked into the bottom wear partially or even left open. It mostly has a polyester fabric and has a flowy feel to it. You can also add a statement belt in the middle, cinch it to your waist and wear it as a shirt dress!
It will help in accentuating and flaunting your natural curves. You can also tie up the longer portion into a small knot. This gives a very casual look and is quite viral nowadays.
There are different knot styles you can opt for, which you can easily find on the internet with just a few clicks! Paired with heavy ornaments, the long shirts are the perfect choice for any beachy or holiday trips with your loved ones!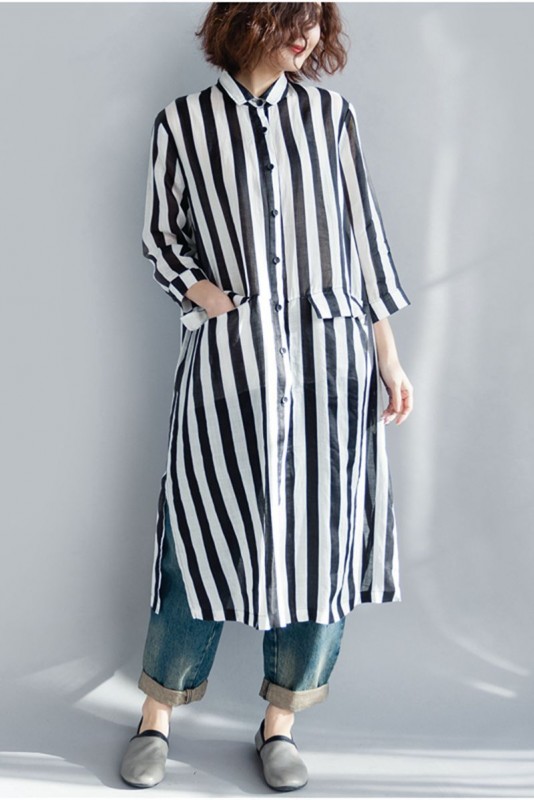 2. Sleeveless shirts
A sleeveless shirt is very similar to a tank top but has collars in it. It covers the edge of the inner shoulders. These types of shirts are mostly preferable during the warmer seasons since it is highly comfortable. There are different fabrics of sleeveless shirts available like linen, polyester, cotton, etc. You can pair it with a statement blazer, too, for a chic yet formal look.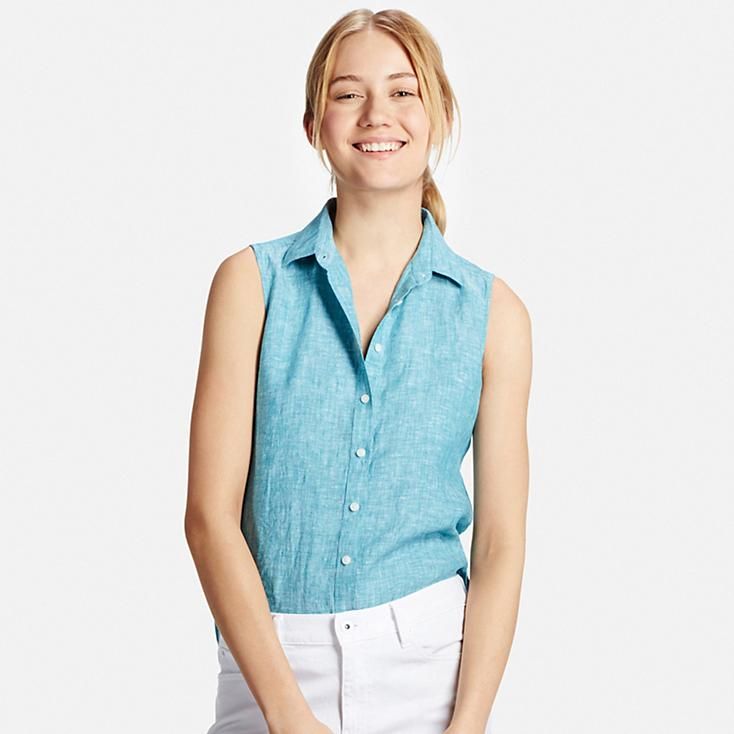 3. Pin-tuck shirt
The pin-tuck shirt is another very widely favoured women's shirt of all time! The pin-tuck shirts usually have simple folds or narrow pleats. These are designed in a symmetrical pattern, like top to bottom or sideways.
The folds and the cuts of the fabric are the main attractive feature of the pin-tuck shirts. The pin-tuck shirts look flattering on any body type. These shirts are also perfect if one is not very comfortable in wearing tight-fitting shirts since the pin-tuck shirts offer a great structure to the body with the pleats and hide the bulges with ease.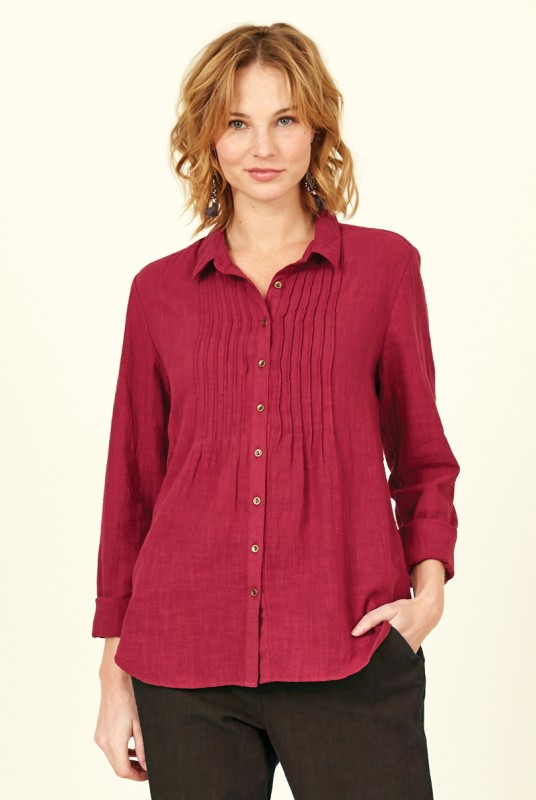 4. Tuxedo shirts
A tuxedo is the one shirt you will need for your office meetings and other formal occasions since it is the perfect choice for people who are looking for pure formal shirts. Tuxedos are generally available for both men and women. The design and the patterns are pretty similar to the regular shirts, but if you have a close look at the details present in the tuxedo shirts, it has collars with tips or points that might fold out to look like wings.
Many tuxedo shirts also have pleated bibs, which consist of vertical pleats. You can either go for buttons or cuffs as per your interests. You can also replace the top four buttons of the tuxedo shirts with tuxedo studs for a more sophisticated look. The cuffs in the tuxedo shirts have a French-style or barrel style since they are mostly rolled back and are tightened by cuff links.
There are countless different variations you can eventually choose from in tuxedo shirts. It is primarily available in pastel and neutral colours. Pair a tuxedo shirt with some regular formal trousers or plain jeans to ace the formal look!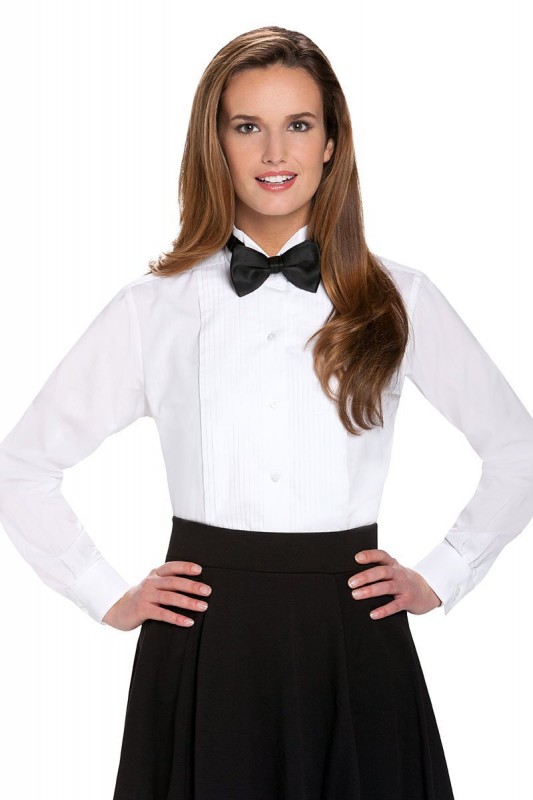 5. Ruffle shirts
Ruffles are that one specific pattern that can never go out of trend! Be it regular blouses or shirts. Ruffles can instantly amplify the entire look and give it a stylish and bright look to the whole outfit. The ruffles are mostly situated at the front, wherein a bit of fabric is gathered together. It is also called the "poet blouse" or "pirate shirt."
The bouncy frills right at the front are an ideal choice if you are looking for some statement shirts. Pair them with some good pencil skirts or skinny-fit jeans, and the outcome is incredible!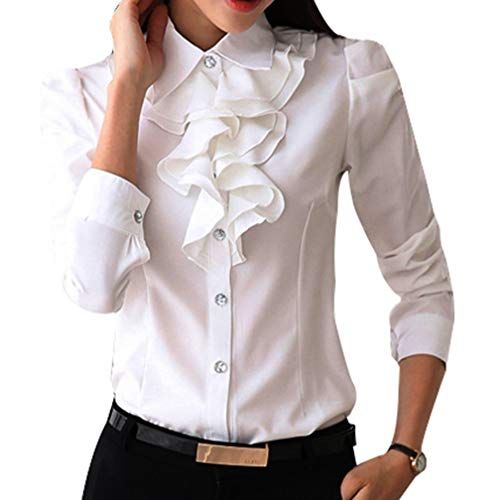 6. Polo shirt
The polo shirts are very similar to your basic t-shirts. The fabric is sometimes also very similar to regular t-shirts too. The polo shirts usually have a few buttons until the chest. It mostly has short sleeves and has regular collars. It is great for casual college and workwear. You can also find beast pockets here for easy storage of some quick essentials. It is great for the summers since the fabric is very soft and has a great airflow passage which keeps the body cool during humid weather conditions.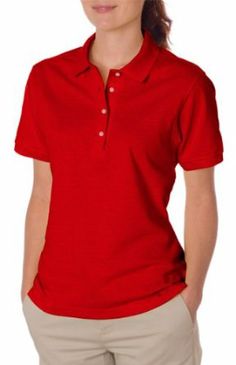 7. Peplum shirts
Peplum shirts are another very popular option for women who are not very comfortable wearing tight-fitting shirts. The peplum shirts usually have extra material located near the hip area with a little flowy and bouncy vibe to it. It helps in hiding the tummy fat if present and also looks very modest and classy.
There are different types of shirt collars present in these peplum shirts, such as v necks, collars, etc. You can also have different designs like cross necks, etc., which yet again enhances the entire look of the shirt.
Let's just say that the bottom part and the collars are the main centres of attraction in these types of shirts! The buttons are either present right till the bottom or are present in the chest area. You can either get a sleeveless peplum shirt or a sleeved one as per your requirements.
Pair it with a good pair of boxy jeans and some pretty ornaments and stilettos, and you will look absolutely stunning!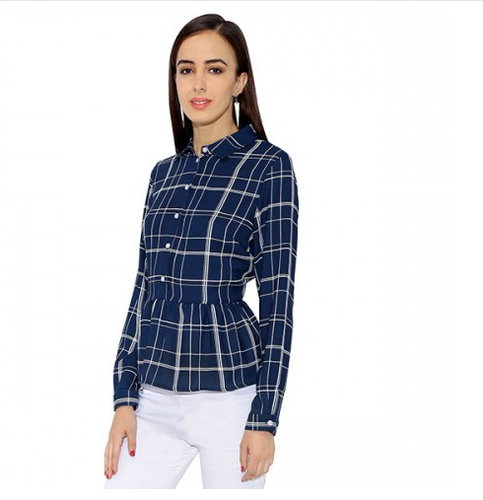 Final Thoughts
These are some trendy yet very underrated types of women's shirts. Shirts are perfect for every body type. You can wear these shirts on every occasion depending on how you style with the accessories and the bottom wear. You can go for neutral colours like whites or nudes if you are looking for shirts for meetings, or you can opt for bright popping colours like reds or neons for a quirky outfit! A shirt is one of the safest choices for women who are into statement and stylish clothes without showing skin at all.
All in all, this one versatile apparel is a must-have in your wardrobe this year! Thus, get your shopping cart ready, pick out some great women's shirts, pair them with your favourite jeans or trousers and let the compliments pour in!
Also Read: